Home and office laser engraving became much easier nowadays thanks to affordable laser machines.
Machines became easy to operate and have a very user-friendly interface for laser cutting and laser engraving. Also people start making a lot of handmade things and sell them on Etsy.com
Let's see how laser engraving and cutting machines can help.
Why is it important to read posts about laser engravers
A lot of engraving machines became quite portable and easy to use. And if you do not plan to make an industrial amount of laser cutting or laser engravings then a small machine on your desktop is a good option.
In some cases, a laser engraver might prove to be the most advantageous manufacturing technology for your specific application.
We also want to avoid you from buying cheap and non-branded fake Chinese lasers >>>
Things to consider
First of all, before buying a laser machine / CNC or a 3D printer you need to decide what you plan to do using it. We have a detailed post explaining what you need to know before buying a laser machine.
Here is a good post about what you need to know before buying a 3D printer >>>
And here is a post about the choice of a CNC machine >>>
We always encourage you not to buy very cheap solution modules and machines. That can be very painful and might be simply a big loss of your time and energy.
From eager hobbyist to failed entrepreneur: Living in the world of Chinese Knockoffs
However, if you plan to just play with it and do not have an intention to do something professionally then maybe some low-cost unit might be a good way to explore a new laser engraving/laser cutting field.
Purpose and type of engraving
Once you decide to get a machine – determine the goal. Make a list of materials, applications. Will it be for business or hobby?
So you simply get a product that does not perform as it should.
Price
The budget of the machine will be depending on your goal. There are a lot of very low-quality and low-cost frames on the marketplaces like eBay, Amazon, Banggood, Aliexress, DHGate. You can even buy a small machine like Neje for about 100-150 USD on eBay but it is very likely you will not be happy with it. Another bad thing that happens with cheap units – that the sellers can be gone in a few months or so and you will not get any support and it will not be possible to get a replacement if something went out of order. That is a big problem. Another upsetting thing is that a lot of suppliers lie about their laser parameters. so you simply get a product that does not perform as it should.
Choice of materials
The choice of the material that you plan to process is very important. For example, if you plan to do  plywood laser cutting or make some RC
models then you need to make a proper choice of plywood.
A lot of people are getting upset because the laser cannot cut 3-6 mm (3/16" – 1/4") plywood. The problem is that they are using the wrong plywood with high density and very strong glue that is used for plywood production.
Take a look at the post about plywood density.
The same goes for metal – if you plan to do metal engraving using a diode, not a DPSS laser you need to make a proper choice of the material. For example, diode lasers do not engrave at all, they can only do etching on stainless steel, anodized aluminum, and titanium.
If you plan to etch on copper then you would need to get a special engraving paste or thermal grease.
However, if you get a DPSS laser then even with 4 watt average power it will be enough to engrave and mark all types of metals without any paste
Learn more about laser abilities
Endurance lasers: all about cutting and engraving abilities of diode, DPSS, fiber, Co2 lasers.
Software for laser engraving and laser cutting
The selection of software is a separate topic but the key point is that paid software is much better than free one.
Usually, a paid license is about 40-50 USD per year but it will save a lot of your time to prepare an image for laser cutting or engraving. We recommend Lightburn and T2laser.
Read a detailed post about the best laser engraving/cutting software
Size of the working field
There are different sizes of machines on the market but still, most of them have a very limited worktop. The max DIY engraving frame has 1×1 m (3×3′) size and mostly all CNC and Co2 machines have even less.
In some applications, you might need a bigger working size or some custom design
https://endurancelasers.com/custom-cnc-frame-design
Endurance has built different special custom frames with a working size of 2 x 1.7 m (6×5′) with 80 watt Co2 laser and 2 industrial frames with 2×2 m (6×6′) and 6×4 (18×12′)
Those sizes are not typical and require a lot of work to produce such frames and not so many companies offer custom machines.
Usually, the most common working size is about 50×60 cm (20×24") which is ok for home and small workshops but not enough if you plan to do some more industrial applications like fabric laser cutting.
Best Laser Cutters and engraving machines 2021
Best Laser Cutters in 2021 – Buyer's Guide
Endurance lasers work with all types of CNC machines: JFT 3040 3-Axis CNC Router, MillRight CNC Power Router, BobsCNC E3 CNC Router Engraver Kit, Genmitsu CNC 3018-Pro Router Kit, MY SWEETY 1610 CNC Machine, Carbide 3D Shapeoko 4, Ooznest Workbee, Onefinity Woodworker, Inventables X-Carve, The MPCNC – V1, Shark (NextWave), Stepcraft 420 – 840
| Laser Engraver | Laser Type | Engraving Area (in inches) | Laser Power (mW) | Market Price (USD) |
| --- | --- | --- | --- | --- |
| NEJE DK-8-KZ engraver | Diode blue laser 405 nm | 1.6 ✕ 1.6 ✕ 3 | 200 – 500mW | $70 |
| SuperCarver K2 | Diode blue laser 405 nm | 1.5 ✕ 1.5 | 500mW or 1,000mW | $160 |
| Mophorn 40W Laser Engraver | CO2 | 12 ✕ 8 | 40W | $380 |
| Orion Motor Tech 40W Laser Cutter | CO2 | 12 ✕ 8 | 40W | $400 |
| Cubiio | Diode blue laser 405 nm | 3.9 ✕ 3.9 | 800 mW | $777 |
| Snapmaker combo | Diode blue laser 405 nm | 4.9 ✕ 4.9 | 200mW | $800 |
| Flux Delta+ | CO2 | 6.6 (diameter) | 200mW | §1000 |
| TEN-HIGH 40W Laser Engraver | CO2 | 15.7 ✕ 11.8 | 40W | $2,229 |
| Emblaser 2 | Diode blue laser 405 nm | 19.66 x 11.81 | 5W+ | $2,250 |
| Glowforge Plus | CO2 | 20 x 18 | 45W | $3,995 |
| ZMorph VX | Diode blue laser 405 nm | 9.8 ✕ 9.25 ✕ 3.3 | 2800mW | $4,399 |
| Dremel Digilab LC40 Laser Cutter & Engraver | CO2 | 18.4 x 12 | 40W | $6,000 |
| Triumph Laser Marker & Engraver | Fiber (industrial) | N/A | 30W | $6,550 |
| Epilog Laser Zing 16 | CO2 | 16 ✕ 12 | 30/40W | $8000 |
We are quite skeptical about laser machines with less than 1000-2500 USD price range.
The problems will appear once you would need to do a high-precision laser cutting or laser engraving. For most Co2 tubes it could be a lifetime. For example, low-cost Co2 tubes work only about 3000 hours.
And as we previously said – the company can simply disappear and stop supporting its customers.
A few years ago there were companies that made machines with Acan and CNCC LaserAxe software, now they are not working anymore and their users cannot get any support.
How Does a Laser Cutter Engraver Work? 
A very basic explanation of the laser work
As you may see in the video footage – the laser beam hits a surface and vaporizes it. If the beam goes through the material vaporizing it all the way down this process is called laser cutting – if it vaporizes only part of the material from its surface – that is laser engraving.
It is necessary to know that different materials need different wavelengths for cutting. For example,  transparent acrylic can only be cut with a Co2 laser with a wavelength of 10600 nm (10.6 um). That happens because of the absorption coefficient.
Diode lasers can also do a lot of work especially such powerful ones as 15 watt (15000 mw).
Comparison of different types of lasers and different wavelengths
All you need to know about diode lasers
More about different types of lasers
Laser Cutter types and techniques
As we already said above – for each material it is very likely that you would need a special laser. However Co2 lasers are quite universal for laser cutting and laser engraving. 
Diode lasers can also do a lot of work especially powerful one like 15 watt (15000 mw).
Comparison of a different types of lasers and different wavelength
Laser Cutter Materials – examples
Endurance customers can do a lot of nice things with the laser
Explore our photo maker gallery
CNC machine or 3D printer?
This question may always be a question of choice. First of all, it is necessary to say that a CNC machine is primarily used for carving and removing material and a 3D printer is used for adding material.
What is CNC machining?!
All you need to know about 3D printing
So, that really depends on your applications. Our choice would be to have both machines in your workshop.
Some people consider some combo units when you have a 3D printer + CNC + laser. For example a Snapmaker.
(but do not forget to upgrade it with a more powerful laser)
Laser Engraver Picks in 2020-2021. Real customer feedback and review.
Let's get started!
LASER ENGRAVER GUIDE
NEJE DK-8-KZ
The NEJE DK-8-KZ laser engraver is one of the worst machines ever with very unreliable mechanics, low-quality software and n0 support from the suppliers! A very limited laser module with just 200-500 mW laser beam power.
You only can engrave on very soft materials and no cutting options at all. You should avoid buying this system.
LASER ENGRAVER GUIDE
Super Carver K2
The SuperCarver K2 Laser Engraver is an affordable option for novices, particularly those who want an easy to use machine. This design comes available with a 500mW or 1000mW 405 nm blue diode laser, the latter version costing a little bit extra. The aluminum alloy frame provides stability, and also makes the image positioning more precise.
This laser engraver is equipped with a 500mW / 1000mW blue and purple laser head and offers a small engraving area of 38 x 38mm. It's compatible with a wide range of materials, including mahogany, bamboo, paper cards, ivory, leather, flammable plastics and more (but not with metal or acrylic). You can find this laser engraver on retail websites such as  GearBest for under $80.
Endurance did not test this model and we cannot rate it but it is quite obvious that for 80$ it will be more like a toy, not a real machine.
Super Carver K2 machine unboxing
LASER ENGRAVER GUIDE
Mophorn 40W Laser Engraver
The Mophorn 40 watt is a Co2 machine that engraves materials like fabrics, wood, crystal, film and various plastics – operating at a speed of up to 13.8 in/s. If you use it as a cutter at 1.38 in/s.
With the included CorelDraw software you can begin drawing designs for your laser engraver instantly. Apart from the laser engraver and software you also get a water pump, smoke pipe, smoke fan, and other useful items.
LASER ENGRAVER GUIDE
Orion Motor Tech 40W Laser Cutter
If you're looking for a high-quality laser engraving machine that can fit on your desktop, look no further than the Orion Motor Tech laser engraver. This compact machine offers an engraving area of 300 x 500mm. This laser engraving machine has a resolution ratio of 0.001 in 0.026mm/4500DPI, and operates at a maximum speed of 500mm/s. If you decide to use it as a cutter, it will run at 80mm/s.
What set the Orion laser engraver apart from others is the user-friendliness and low price of around $400. The Orion laser engraver operates with a 40W water cooling laser tube and high-precision stepping motor. You can utilize a variety of materials, including plastic, leather, stone, crystal, and more. However, beware, if you decide to buy the Orion laser engraving machine, there are other components you will likely need alongside it. The package also includes a smoke pipe, smoke fan, water pump, power wire, USB cable, and a USB dongle key.
LASER ENGRAVER GUIDE
Cubiio
The Cubiio laser engraver took Kickstarter by storm and created immense public interest in the technology. It introduced some ingenious innovations that are particular to this machine. For one, users can control the machine wirelessly with an app that is available on the Apple Store and Google Play app store. The laser engraver itself consists of two units. The laser module that can be mounted onto a tripod to engrave onto immobile surfaces.
By default, the laser module is attached to a laser shield that protects your eyes from the laser beam and extracts toxic fumes and smells.
In sum, the engraving area is 3.9 ✕ 3.9 in (100 ✕ 100 mm).  Cubiio can engrave and even cut materials like cardboard, textiles, leather, and wood.
Endurance lasers never heard anything about this module.
Cubiio overview
LASER ENGRAVER GUIDE
Snapmaker
The Snapmaker is a 3-in-1 3D printer, laser engraver and CNC carver in a super-compact all-metal design. When its Kickstarter campaign launched on March 2017, the Snapmaker created a huge media buzz catapulting it to the position of the third most funded 3D printing project on Kickstarter. Switching between the 3 modules of the Snapmaker is easy.
Snapmaker offers the full laser engraving package. That means the software allows you to choose from three laser engraving modes: black & white, grayscale, and vector. However, be warned. The first two modes can take excruciatingly long since at 200mW the laser module is comparatively weak.
Snapmaker 2.0 Modular 3-in-1 review
The maximum work area of this laser engraving machine is 4.9 ✕ 4.9" (125 ✕ 125 mm) – meaning you can engrave items the size of a smartphone. You can process a variety of materials with this laser engraver, wood, bamboo, leather, plastic, fabric, paper, and non-transparent acrylic.
In sum, the Snapmaker is a great laser engraver for those curious about the technology. But if you want to get serious about laser engraving, you should consider one of the more powerful alternatives listed here.
LASER ENGRAVER GUIDE
Flux Delta+
The Flux Delta+ is not an ordinary laser engraver. The hardware you see is host to all kinds of CNC functions including 3D printing, laser engraving, vinyl cutting, and more.
But let's zero in on the laser engraving function: You've got a 6.6-inch (diameter) work area covered by a 200mW laser module. This laser can engrave wood and leather, a somewhat limited selection of materials compared to other machines in the list; but bear in mind that you're getting a lot more than just a laser engraver for $1000. An additional benefit comes in the Flux Delta+'s laser's ability to shading.
However, note that you'll need to get the Flux Delta+ Deluxe Package – the basic package doesn't come with the laser engraving module.
Flux Delta+ overview
Learn more about Beamo FLUX >>>
LASER ENGRAVER GUIDE
TEN-HIGH 40W Laser Engraver
If you're looking for a laser engraver that lands somewhere in between affordable and professional-grade, the TEN-HIGH 40W Laser Engraver is as good as it gets. It has a powerful 4oW CO2 Gas laser, an engraving area of 15.7 ✕ 11.8 inches, and an engraving speed of up to 30mm per minute.
Although it can quite cut through metal, you can still engrave designs into coated paint on metal materials. Other materials include plywood, acrylic, density boards, leather, felt, paper, fabric and more. The manufacturer also has a small-sized 430 laser engraver available, along with upgraded versions of their pre-existing products, making the entire TEN-HIGH ecosystem accessible to all.
LASER ENGRAVER GUIDE
Emblaser 2
This chic, orange-tinted machine is a capable laser engraver and cutter created by Darkly Labs. It's a fairly modern option on the list in terms of design and user experience, but technically the engraving/cutting department is fairly standard. This machine packs a  5watt+ solid-state diode laser that the manufacturer claims is equivalent to a 15-20watt CO2 laser.
But it's the little bells and whistles that make this machine particularly interesting: the built-in camera for material alignment, workspace lighting, and modern proprietary software all lead to a laser engraver experience that's refreshingly convenient. Just like higher-end options such as the Glowforge Plus or Dremel LC40, there are fume extraction and air filtration accessories available – but the Emblaser 2 is, of course, significantly more affordable.
Emblaser 2 review by MatterHacker
LASER ENGRAVER GUIDE
Glowforge Plus
Armed with a 45W CO2 laser tube, which provides high cutting power and precision of up to 1/1000 of an inch, the Glowforge Plus is the middle ground between the well-loved Glowforge Basic and the Glowforge Pro.
It's a machine optimized for home and office use, with a small form factor and safety features like water cooling. It also engraves 20% faster than the baseline Glowforge Basic, which makes it a capable engraver for a more invested user. After all, it's not just any casual hobbyist who will shell out $3,995 for a laser engraver.
Endurance lasers have heard different feedbacks about Glowforge plus. Some people complained about software that it does not work if you are offline, some people said that mirror focusing is complicated. Some people said that the machine is overpriced.
Glowforge plus honest review
LASER ENGRAVER GUIDE
ZMorph VX
Arguably the best all-in-one 3D printer on the market, the Polish company ZMorph has created an extremely versatile hybrid machine. The ZMorph VX functions as a dual extrusion printer, laser cutter, as well as CNC mill. Swap out the tool heads, and you can go from extruding paste materials to engraving patterns into wood.
With a simple design and expansive ability, this printer is ideal for those who consider themselves a jack of all trades. For the complete kit with all available tool heads, the retail price will run you around to €4399.
LASER ENGRAVER GUIDE
Dremel Digilab LC40 Laser Cutter & Engraver
This $6000, the sleek, matte-black machine is an incredibly capable tool, comfortable engraving acrylic, wood, leather, and aluminum. It's a big machine with a big price tag, and you'll need a big well-ventilated space to use the base model we recommend for most users.
Upgraded versions come with an external water cooler or air vent, but you should only invest in those if you're going to be cutting or engraving more seriously – the vast majority of users will probably benefit most from just placing this machine next to a window.
If you need a machine for a home, classroom, or studio environment, though, this is one of your most solid options. With official UL certification, this machine is fully at home wherever you are.
LASER ENGRAVER GUIDE
Triumph Laser Marker & Engraver
This laser processing machine is designed with the idea that manufacturers to add serial numbers to their parts. Therefore, it is marketed as a laser marker, but it is capable of laser engraving just as well. Powered by a 30 watts fiber laser you can even process metals like aluminum, copper, gold and silver with ease. The included rotary attachment allows it to engrave round objects like rings.
The laser is built for a lifetime of up to 100,000 hours giving you a high return for your investment. In case, something should be wrong with your laser machine, the manufacturer offers a free maintenance service and a one year warranty.
Triumph's fiber laser engraver and the marker is a great addition to any professional workshop.
LASER ENGRAVER GUIDE
Epilog Laser Zing 16
Epilog has a vast product line consisting of differently sized laser engravers, from desktop to industrial. You can start off with their Zing Laser Series, which is their entry-level desktop laser engraver range. The Zing 16 is both considered low-cost and high-quality machines. This line of machines uses air-cooled CO2 lasers promising a long lifespan and making them easy to maintain. If you require an exhaust tube, you can attach an air compressor to remove heat and combustible gases.
The Zing 16 offers an engraving area of 16" x 12" (406 x 305 mm) and is estimated to cost just under $8000.
Endurance lasers think that the working size is limited for that price range.
Epilog Laser Zing 16 overview
How does Laser Engraving work?
The high heat of the laser beam vaporizes the material thereby cutting into the part's surface and physically removing material. This process leaves a cavity in the surfaces that is not only visible with high contrast but also noticeable by touch. There are noteworthy differences in the depth of this cavity that varies between 0.02″ in metals to 0.125″ in harder materials.
Usually, the engraved areas become black. Multi-layer materials offer an alternative, as they enable engraving other colors than black. By removing the top layers the lower layers become visible.
Another variant of laser engraving is relief engraving. The laser creates a deep engraving with distinct heights. This variant is beyond any doubt the most impressive since the overall effect is that of a wooden sculpture. If you want to create a relief engraving, you need a grayscale design and set your laser to translate the different values into different heights.
https://endurancelasers.com/endurance-lasers-all-about-cutting-and-engraving-abilities/
What are the typical applications of Laser Engraving?
This process has become very popular for customizing parts made of metal, leather, plastics, wood, glass, and acrylic. In particular, it is a great tool to add numbers, letters, logos, images, and serial numbers to parts.
Laser engraving is today a technology commonly used for producing promotional products like pens, signs, and displays.
Outside the maker scene, many consumers enjoy the possibilities of laser engraving to produce objects customized with their names. One of the most noticeable applications is engraved jewelry, like wedding rings.
How does Laser Engraving compare to traditional techniques?
In short, the idea of "one tool fits all" applies. Laser engraving is a universal tool that can be applied to a wide range of materials. Meaning that you don't need to buy dedicated tools for each of them.
Laser engraving is a money-saving technology. When parts are engraved using mechanical tools it is necessary to fasten them with clamps. This adds to the work hours and may damage the parts. Since laser engraving is a contactless technology that does not require fastening parts, you save not only time, but you also avoid the risk of damaging the parts.
Conversely, this also means that your tools like drills or cutters do not suffer from wear and need to be replaced saving you even more money.
Lasers engrave your designs with the highest precision onto the parts and can achieve an extremely high degree of detail. Moreover, since every design is saved as a file you can reproduce them at the same level of quality.
Traditional carpentry, wood-cutting and leather decorating are crafts that require long years of practical training to achieve mastery. Love it or hate it, but with laser engraving, anyone can create items at a level of quality high enough to make a living! – Many people using laser engravings sell their goods on platforms like Etsy, Ponoko, etc.
Compared to CNC engraving machines, laser engraving is not only faster, but you can draw on a larger number of font options and the end result is by far more legible.
HOW TO DESIGN FOR LASER ENGRAVING
For the short read, peruse our six-step guide. If you want to delve in deeper, consult our in-depth dossiers that will help you improve your laser engraving results.
First, make yourself familiar with the distinct effects raster engraving and vector engraving create on different materials. This allows you to design your part in way that is aesthetically pleasing and cost-efficient. – Learn about the fundamental differences between these two techniques.
Wood is not the same as stone. You should also be aware of the different ways materials react to laser engraving. – Read the laser engraving materials guide to learn how to achieve what effect on the desired material.
Next, create the design in a graphics program like Gimp, or Photoshop for raster files and AutoCAD, Illustrator, or InkScape for vector files. – Learn more about the software used to create laser engraving graphics.
Transfer the file into the laser engraver and fasten the part on the work platform. Depending on the design and materials, you may use tape, but some laser engravers offer mechanical solutions.
Choose the laser engraving settings according to the specifications provided by the manufacturer. Use presets to speed up this step of the process. – Read about the Do's & Don'ts of how to maintain your laser engraver and achieve eye-catching effects.
Run the laser engraver.
Usually, it is not necessary to post-process laser engraving parts. If necessary assemble the part, i.e. attach chains, glue walls and components together. In short, work your magic.
Raster Engraving vs Vector Engraving – all you need to know to get started!
You can use both raster and vector files for laser marking, engraving and etching. However, depending on the intended use, you should choose which one you apply for your design.
Raster files (JPG, PNG, etc.) are the go-to format for large engravings like fillet letters, images and stamps. If you want to engrave any image made with a camera, raster engraving is what you want to use. Just like on computer screens, the image is put together by gradually adding points to form any shape you can imagine. Sometimes this method is also called "area engraving". This method is especially well suited to materials like acrylic because it lends a beautiful frosted finish with a distinct contrast. Avoid raster engraving large glass, stone, and ceramic surfaces, since the end results may be visually uneven.
Vector files (SVG, EPS, etc.) are composed of lines that are traced onto the surface sequentially. If your design consists of minute lines and curves, then vector engraving is the appropriate method. Professionals also call this approach "scoring", and sometimes it is also called "line engraving". Vector engraving lends itself well to wood because the burned outline creates a stunning contrast with the warm surface of the material. It is less suitable for materials like acrylic since the melted outline is only faintly visible. The video above illustrates the strengths and weaknesses of both methods.
For the best effect, it may be worthwhile to combine both methods. The final parts feature the evenly engraved surface from raster engraving and also the crisp outline created by the vector engraving. This effect works especially well on wood.
The difference between both methods can be a substantial cost saver even when you order only one piece from an online service. But how do you decide? As a rule of thumb, if your surface details consist of large, relatively simple shapes you should opt for vector engraving, as this is the quicker and thus more economic laser engraving method. However, if the design covers a large area that contains many intricate details, you should choose raster engraving method. However, ultimately you should decide based on what works best for your design!
Guide to Laser Engraving Materials – everything you need to know.
Laser engraving is so much more than fastening any material in the work area and pushing a button. Every material has its own quirks and idiosyncrasies that will sometimes help you achieve your design goal and sometimes make it hard on you. The following list will guide you through the properties of the most common materials.
Laser Engraving of Leather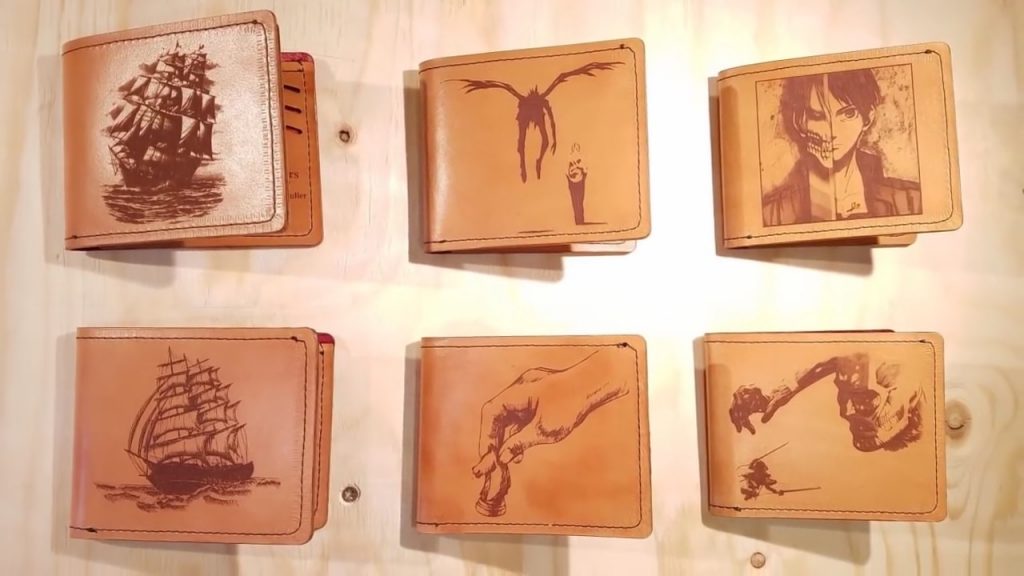 It is possible to laser engrave finished leather, producing a look similar to hot-branding. Avoid raster marking large surfaces, since the leather will turn powdery. Therefore, vector marking is recommended.
Since leather is a natural material, it may deform during laser engraving if too much power is applied.
Because of the many varieties of leather, it is difficult to come up with a general rule for laser engraving it. Hence, there is no way around determining the optimal laser engraving settings for each kind separately. To this end test your machine with a grayscale matrix (see above).
Laser Engraving of Paper / Cardboard
Because of the many varieties of paper and cardboard, it is advisable to determine the optimal laser engraving settings for each kind separately. To this end test your machine with a grayscale matrix (see above).
Laser Engraving of Wood
Besides natural woods, there is also plywood, which has several advantages. This laser engraving material consists of several sheets of wood that are glued together. As a result, plywood boasts of a raised mechanical resistance, water-resistance and lightness. All these properties have made plywood a staple for builders, designers, artists, and craftsmen.
In terms of laser engraving, plywood has an additional advantage over natural wood. When cut into sheets, the latter reveals grains in alternating shades that stem from different kinds of growth during the seasons. These differences also translate into different laser engraved surfaces. Usually, the lighter areas will come out lighter and the dark areas will be darker.
As a rule of thumb, unless the desired look of your design is kind of zebra pattern, you will be better off using plywood that has a uniform surface.
In addition, you should always apply higher laser power when engraving hardwood. Only then you will have smooth results.
To determine the optimal laser engraving settings, test your machine with a grayscale matrix (see above).
The effects the laser has onto the glass surface can be manipulated using a number of practical methods.
Apply a moist paper towel to achieve a smoother surface finish and a white engraving result. Take care that there are no air bubbles or overlaps because this would distort the effect. Once the engraving is finished the paper towel can be wiped off easily.
An alternative to paper towels is application tape. Like most paper towels, application tape is an excellent measure against surface roughening. The same caveat concerning air bubbles and overlaps apply. However, the final engraving color is not a bright white but grey. Once the engraving is finished the tape residue can be removed off easily.
But what to do when your laser engraver has not have enough power to engrave glass? Even then you can achieve designs with high-contrasts! Simply mask the glass surface with tape and  engrave the design into the tape. Next, cover the revealed area of the tape with a thin layer of paint using a brush. After the paint has dried, peel the tape and remove the tape residue carefully.
Learn more on Pick3DPrinter.com >>>
Laser Engraving of Stone / Rock / Granite
Experience shows that it can be a piece of work to laser engrave stone. You will get the best results with polished stones. To avoid distortions of the laser engraving motif, try to use stones that have a flat surface. You can align natural stones with the laser by using modeling clay as support. When you set the laser's focus, apply an average value to achieve a uniform result.
If your results are poor, consider changing the Z-offset value. This simple trick can significantly improve the result of your engraving. Many professional laser engravers report that hard stones are easier to process if you choose a negative Z-offset value of 1mm or even more. The physics behind this workaround are simple. The closer the surface to be engraved is to the laser, the more energy enters.
But what to do when your laser engraver has not have enough power to engrave stone? Or, when working with extremely hard stones that yield no satisfying results? Even then you can achieve designs with high-contrasts! Simply mask the glass surface with tape. Then you engrave the design into the tape. Next, cover the revealed area of the tape with a thin layer of paint using a brush. After the paint has dried, peel the tape and remove the tape residue carefully from the stone's surface.
Avoid Smoke Stains
Laser engraving on materials, like wood and leather, can sometimes stain the surface surrounding the engraved area. While some makers like this "branded" look, it can be easily avoided. Protect the surface of the part using masking tape. The tape is so thin that it will not diminish the power of the laser much. If you feel that may be an issue, just increase the laser power a few notches. After the laser engraver is done, peel the masking tape off your part.
Keep your Laser Engraver Clean
Tidiness at the workplace should be a no-brainer. However, with regard to laser engraving, we're not merely talking about courtesy towards your co-workers. Materials like wood, plastics or rubber leave large amounts of dust that may cause unwanted results like discolorations, burnt debris or even distortions.
Install an exhaust system that has the necessary capacities. This will take a lot of weight off your shoulders. However, it will keep clean the entire machine.
Anyway, you must clean the laser engraver regularly by hand. You can remove most of the dust with a simple kitchen-cloth.
You should also pay extra attention to the machine head and the laser lens. These components should be free from dust and smut at all times to avoid laser engraving mistakes.
In case your part is smaller than the work platform, cover the rest with paper. This simple trick will increase the efficiency of your exhaust system and save you a lot of manual cleaning.
Laser Safety
Watch out for laser safety! Class 4 lasers can cause serious damage when operated irresponsibly. Assess your needs carefully before you make a decision. You will sleep easier if you buy a machine that is less powerful, but still does what you need.
Power Supply – Testing and examining
What kind of power connector does the machine require? Can you plug it into any socket in your office/workshop, or do you need a power line to operate it?
It's clear that the laser unit takes a lot of power. However, some people are not aware of just how much power the other components consume. The cooling and air exhaustion modules will make themselves felt on your electricity bill. So do the math and try to calculate, if the benefit of setting up a laser engraver in your office or workshop is worth the costs.
Cooling and Air Exhaust
Strong lasers require constant cooling, but there are important differences between  different solutions. How does the cooling unit of the laser work? Tubes that are made of metal/ceramic use air, and can last up to 5.5 years. However, they are substantially more expensive than cooling tubes made of glass. The latter use water as a cooling agent. The downside of this method is a great deal of inconvenience since you need to place a bucket next to the laser engraver to catch the wastewater.
Laser engraving makes a lot of mess. Large amounts of dust are produced that can be harmful when breathed in. Hence, it is necessary to install an exhaust pipe to maintain a healthy environment in your workshop. This pipe requires a diameter large enough to remove all of the dust. Otherwise, the engraver remains a health hazard.
How to assemble a laser protective box (shield) for your laser engraving machine
In addition, you should take into account that air filters produce a lot of noise that may distract you in case you are thinking of setting up a laser engraver in your office.
More interesting stories to read!
All you need to know before buying a laser or an engraving / cutting machine
https://pick3dprinter.com/laser-engraving-on-glass/