Infinite Abilities Of This Diode Laser
Independent laser cutting test results for 10 watt laser with air assist
Technical information
An Endurance 10 watt PLUS (10000 mw max power output) 445 nm blue diode laser module for 3D printer / CNC machine.
Laser engraving using a rotary jig
A real Endurance customer makes a 10 watt PLUS laser review
Get everything you need in the package to get started today with an Endurance laser 10 watt PLUS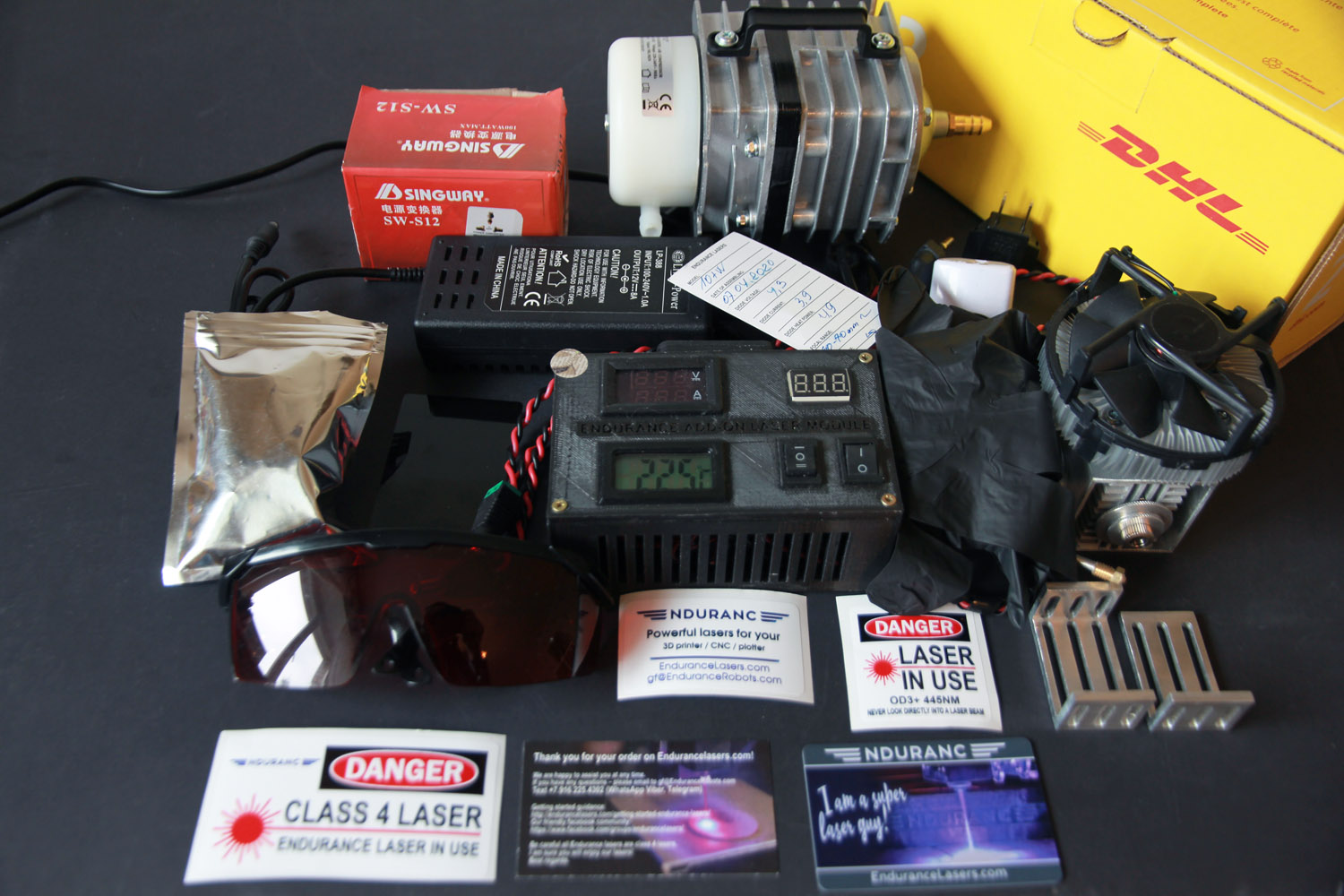 10 watt PLUS getting started video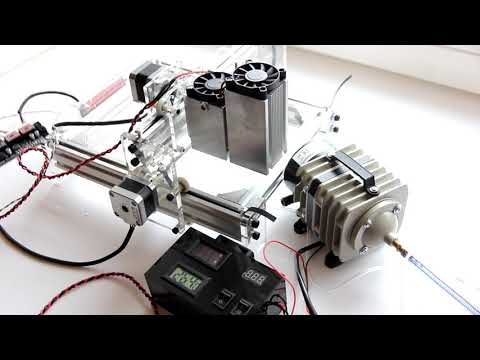 Proceed with a fast and secure checkout. Free DHL shipment worldwide. Get your laser in 3-5 days.
Etching on metal using 10 watt+ laser by our customers.
One of my first tests with the 10w+ kit. I did the outline first to test the focus and then a scan. Bamboo 2400mm/min @ 60% power. Very happy with the results (by Sal Gironda)
It was made by Graham Ham
It was made by Connor Bredin
Our customers make and share. Impressive images.
Do not miss our current discount!
Proceed with the purchase and get the best price!
An Endurance 10 watt+ laser module inside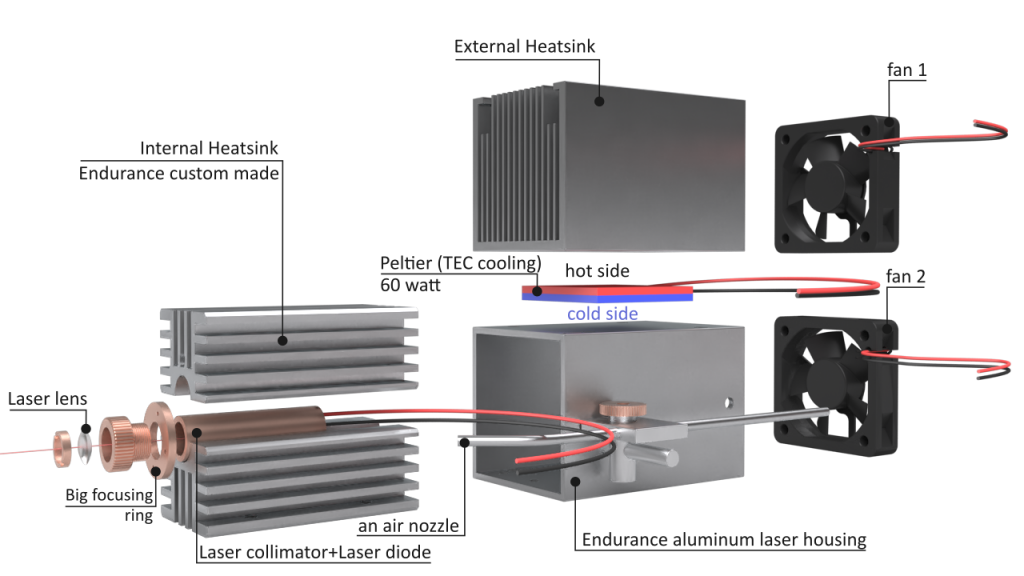 New Endurance laser improvements for 10 watt and 10 watt+ laser modules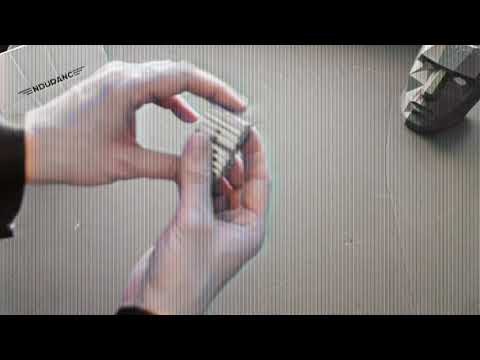 An advanced laser cutting using 3/16" (3 mm) birch plywood.
Fast and clean wood/plywood cutting with an air nozzle and air compressor.
Buy the "invincible plus" powerful 10 watt+ (10000 mW) laser right now!
A Brand New 10 Watt+ Diode Laser Upgrade For Your 3D printer & CNC Machine.
All about the 10 watt plus laser module you need to know
The Endurance 10 watt+ "Invincible plus" was created by Endurance in August 2018. The laser is one of the most advanced diodes (semiconductor) lasers on the market at the moment with a wavelength of 445 nm.
High continuous power. Efficient TEC cooling. Air assist.

Laser power supply
The 10-watt laser supports 9 – 16 volts. There is no need for additional power converters.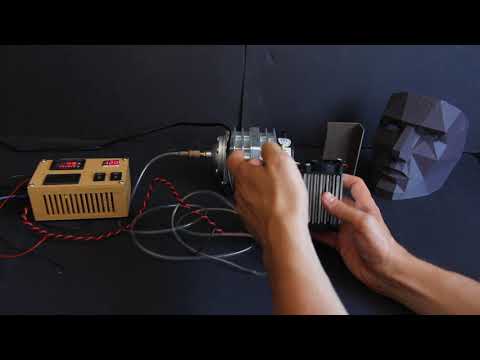 Advantages of Endurance laser.
The Endurance 10-watt+ "Invincible plus" laser
Key improvements compared to a 10-watt laser
– Added an air assist. (story by Tom "Bomber" Rueckl)
– A big laser box ver 1.1
– An advanced TEC cooling system.
Adjusting TEC cooling capacity for your 10 watt PLUS laser.
Use this adjustment if the temperature of the heatsink reaches 10-15C and you see water condensate.
Normal heatsink temperature: 15-35C
The technology of an Endurance 10 watt PLUS laser.
A laser box allows monitoring of the temperature, voltage, and current of the laser diode.
A TEC cooling system keeps the laser diode safe from overheating.
A better heatsink surrounds the laser diode.
A big focusing ring allows to setup focus with fewer steps and makes it more accurate.
A polished aluminum housing of the laser looks good to the eye.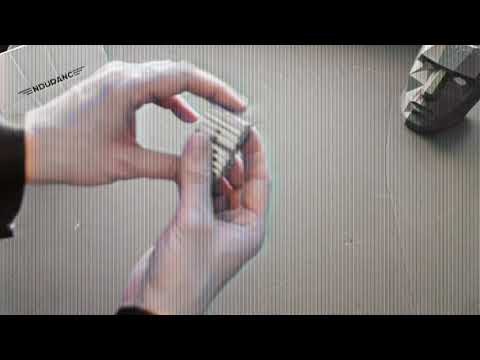 The Endurance brand new 10 watt+ (10000 mW) solid-state (semiconductor) laser add-on for any 3D printer and CNC machine.
Why do our customers buy a 10 watt+ laser?
We deliver everything you need to get started.
Very easy to convert your 3D printer / CNC router into a laser cutting/engraving machine.
Unlike most Chinese lasers and engraving machines, an Endurance 10 watt+ laser can work continuously up to 48-72 hours. Has an extended lifetime of 10 000+ hours.
The real rated optical power output is 10 watts (10000 mW).
Endurance provides the ultimate customer support in many languages.
Explore Endurance laser box abilities (controller + driver)
Buy the "invincible plus" powerful 10 watt+ (10000 mW) laser right now!
Our customers' experience with a 10-watt laser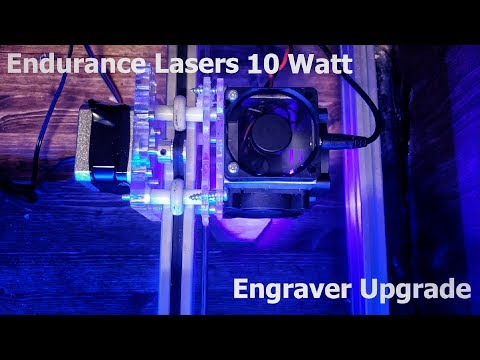 Stylish industrial design using light aluminum.
Effective cooling system with a custom developed heatsink.
True constant power output checked every time before shipment.
Very efficient and reliable laser control board.
Compatible mounts with most 3D printer & CNC machines.
Adjustable laser power via TTL.
Preset and tested laser focus.
Additional protection of the laser diode.
Add an accessory for your laser
Air pump Hailea ACO-318 for cleaner cutting and engraving (less charring).
Arduino board for changing a duty ratio (laser power) and frequency (periods of on/off position).
TEC cooling system for better laser cooling (increases power up to 10%).
Additional metal mounts (easier to hook and mount).
Additional laser connectors (all compatible mounts for the main board).
Temperature sensor to control the laser temperature.
Wi-Fi camera to monitor the laser operation remotely.
Voltmeter + ammeter to monitor the laser power consumption in a real time.
Additional step-down "buck" DC/DC converter to run 2.1W, 3.5W, 5.6W, 8W, 8.5W lasers from 24V pin.
The Endurance MO1 PCB to feed the laser from an external power source.
G2 (short focal) lens for better and faster laser cutting and metal engraving.
Endurance provides the best tech support for our customers.
1. Prompt responses explaining about how to connect the laser to your 3D printer/CNC machine or XY plotter (Whatsapp, Viber, Telegram, Facebook messenger, Twitter, Skype, E-mail).
2. Detailed guidance to prepare a G-code for laser cutting/laser engraving (video playlist).
3. Friendly and dedicated Endurance facebook community.
4. Immediate troubleshooting. Remote help with measurements and necessary tests (video call + TeamViewer).
5. Lifetime warranty on all Endurance lasers.
1. Ultimate and promt tech support.
2. Rated and continous high power lasers.
3. Reliable and lifetime warranty.
4. Advanced experts community.
5. Friendly facebook group.
6. Fast and secure delivery.
7. Big library with detaliled guidance and tutorials.
8. Research and donation programs with universities all over the world.
9. Simplified customs clearance procedure.
10. Certified product.
11. Free plugins for g-code preparation.
12. And… more than 1,7K customers already chose Endurance lasers.
Our customers make and share their project with us.
If you already have a laser: 5.6 watt, 8 watt, 8.5 watt, 10 watt.
Get a second laser to convert your laser into a 2x laser attachment.
Get a free aluminum platform and special off on the Endurance 10 watt laser.
Install both lasers and focus them at one spot. Get more power out of 2 lasers at a time.
CNC makers and hobbyists are welcome
Special mounts and laser connectors for MPCNC, Stepcraft, X-carve, Shopbot, CNC Router Parts, GarageWorx, Shapeoko, Laguna, CaMaster, Axiom, Shop Sabre, Probotix CNC machines.
A strong and friendly CNC laser community with advanced skills and knowledge.
In the parcel
We ship everything you need to get started. It will take 5-15 minutes to mount and wire the laser to your 3D printer or CNC machine.
Plug and play
All Endurance lasers are plug and play. Just mount the laser to the spindle or extruder without removing them. Connect wires to the fan/spindle/laser pin on your board.
Use the same software, just generate a g-code and run the laser from your computer or SD card.
Certification
IN 4Q 2018 we passed a certification procedure in Russia.
Our certificate (PDF)
Tests and proof of work
All Endurance lasers are assembled and tested manually which reduces the risk of failure. Every single laser is been tested before shipment on a special testing stand.
Taxes and duties
All prices include all sales taxes but do not include import duties.
However, in 98% shipments our customers do not pay any additional taxes or customs duties. We fill all papers carefully for each country following regulations and importing rules.
Support & help desk (pinouts inquiry)
Get an instantaneous help over any messenger indicated at the top and bottom of the page (under phone numbers).
Laser safety and security

Your safety and security is our top priority. All Endurance lasers are shipped with protective goggles. Operating lasers wearing protective goggles is secure and harmless.
However, if you want an additional protection you may add an acrylic plate or window to your 3D printer or CNC router. It should be made out of black, green or red acrylic. It will not let the laser light go out and will make the laser operation more comfortable.
Keep in mind that Endurance lasers do not affect 3D printer bed so no additional protection is required.
All Endurance lasers are class 4 lasers.
Some Endurance drawings (sketches)
10 watt and 10 watt+ laser aluminum housing.
Endurance custom build heatsink
Support and guidelines