Comparing diode lasers and Co2 (gas) laser machines.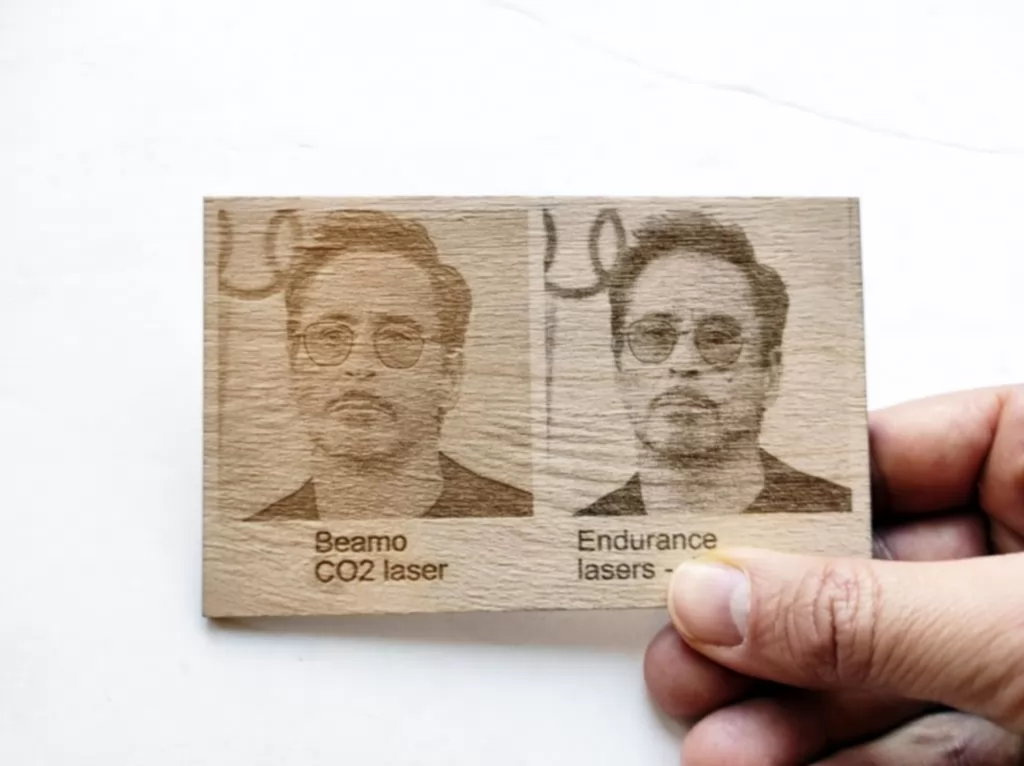 Who fires the most?!
There is a big dispute going on for the last couple of years about what is better – a diode laser or a Co2 laser.
Which machine to chose: a Co2 or a laser diode frame?!
What laser technology is better and why?!
Obviously, there are two ways of different technologies. The phrase "laser radiation" is the only thing they have in common.
We are not here to explain the Co2 laser technology or diode laser (LED) technology, there is a huge amount of articles explaining their basic principles, including Wikipedia.
Here we'll try to give a basic overview of the key differences between these technologies and to show which one is better for 3D printer makers, enthusiasts, and small businesses.
Ok, let's fight!)
First of all, we need to say that Co2 lasers have one big advantage – it is raw laser power.
The smallest tube that you can find on the market is at least 25 watt and most Co2 machines have the 40-80 watt output power. Professional and industrial units have up to 150 watts.
The industrial units can reach up to 400 watts.
In fact, that is huge power suitable for fast laser cutting almost any materials except metals. That is a key advantage of this technology.
If you need a laser for industrial production then a Co2 is your choice.
However, this technology has certain limitations too.
All Co2 lasers work at a wavelength of 10,6 uM which is at least 15-20 times longer than the visible light spectrum. Why does it matter? It's very easy – the FAR infrared spectrum is not suitable for all materials, for example, it cuts glass and transparent Plexiglas very well, but it cannot engrave metallic surfaces without a special paste, such as Cermark (which is quite expensive).
Almost all materials except metals have a high absorption coefficient of this wavelength.
Absorption wavelength spectrum for different materials: glass, metal and others.
It means that cutting and engraving are quite easy to do.
So, what problems does a Co2 machine have?!
The key problem of Co2 laser machines – is the size. All of them are very big and bulky. A Co2 tube requires much space. More power => longer the tube => bigger the size.
The size does not really matter when we are dealing with an industrial machine but once we are talking about a garage, a workshop, or a small store it does matter. Most small entrepreneurs or hobbyists simply do not have enough room for bulky equipment.
Another thing that needs to be taken into account is that the mirror systems for Co2 lasers are quite fragile and do not like to be transported a lot. It means that the laser machine is not very much transportable. The heavyweight of the machine makes it hard to import and export it, and the shipping costs are extremely high.
Diode lasers features:
Portable and low weight (around a hundred grams with a heatsink).
Suitable to be installed on any frame (compatible with GRBL, RepRap, Arduino, etc.).
Less powerful (no single diode can create more than 10 watt optical power).
Can be easily shipped almost anywhere without the risk of being damaged.
Does not require a complicated power system (requires stabilized current and voltage).
Have a wide spectrum of wavelength ranging from 405 to 1080 nm.
Can be fiber-coupled quite easily.
Have a long lifespan (if the diode does not work anything really happens to it).
Proceed with a fast and secure checkout. Free DHL shipment worldwide. Get your laser in 3-5 days.
Co2 tubes features:
More powerful (can reach 400 watts).
Very fragile (glass tubes can be damaged easily).
A complicated mirror system to aim the beam required (to aim the laser beam you need to use special mirrors to transport the laser beam).
Can degrade within a few months (low-quality tubes have a high diffusion rate what makes them useless within 6-12 months).
Very hard to be fiber-coupled (a special PIR fiber required to get laser radiation into the fiber).
Have a limited wavelength of 10.6 uM (10600 nm) (is not suitable for metal etching without special paste).
Non-visible radiation (far infrared) from the Co2 laser makes it riskier to operate in the open system.
In general, it is quite obvious that if you have little working space and do not need to cut something 24/7, do not need to cut very thick materials (10 mm or more of plywood or wood), then a diode laser is the best option.
Most people prefer diode lasers over Co2 machines because of their smaller sizes. Unlike the diode laser, you cannot install a Co2 tube on a CNC machine or 3D printer without a very complicated mirror system. And without a perfect enclosure, it might be extremely dangerous to work with.
One customer has written to us:
"Before buying the CNC I had a cheap K40 CO2 laser machine that I still have, but believe the tube is bad or going bad because it gradually got weaker until I just can't use it anymore… Hence why I decided to purchase the Endurance laser from you since you provide such solid support and help and stand behind your product. Additionally, the diode attaching to the CNC is an exciting prospect for me and I think will open up a whole new area to explore, especially because I will not be constrained to a small 12″ square space to engrave but can do the length & width of the CNC work table."
Besides, a Co2 tube can simply stop working because of time.
High-quality Co2 tubes cost a lot and, therefore, the price of the entire unit is much higher.
So, when you see a Co2 machine for less than 500 USD on eBay or amazon think twice before you buy it since that machine might fall short.
We will not discuss the laser beam alignment and quality of the mechanical parts. This is another problem of low-quality Co2 machines: their mechanical parts are very weak and require a lot of work/upgrades to do.
The other customer said:
"I then came across your site offering the laser attachment for this and was wondering if it is a good choice to be able to combine the 2 machines into one.
I'd save a lot of space."
With a diode laser, you can have a 3D printer plus a laser cutter and a laser engraver.
Or if you install the diode laser on a CNC machine with a spindle it will allow you to carve, cut, and etch.
A few words about laser machines
We generally spoke more about laser diodes and Co2 tubes, however, I want to direct your attention to laser machines as well.
Diode laser machines have a lower weight and are easy to be shipped and transported. They do not require a lot of power. The portability means that you can take a frame like CNCC or Eleksmaker and put it on the surface to be engraved, for example, a skateboard, sailboard or a wooden table.
Contest Gallery – Best Endurance Photo Maker (winners were picked)
You can easily keep them in your garage, workshop, or even your basement. Laser diode machines do not make a lot of noise when working and if you do not cut hazard materials no fume extractor is needed.
A pretty good frame for a laser diode unit costs around 100-200$ (without the laser)
Avoid low-quality diode lasers.
However, a pretty good Co2 machine would start from 2-3K USD. The use of a cheaper one might cause more headaches than joy.
Here is what you can do with 80 watt Co2 laser
Proceed with a fast and secure checkout. An Endurance "PRO" laser modules. Ultra reliable.
Hold your fire!
All these opportunities make diode lasers a better option for makers, hobbyists and enthusiasts. However, if you need an industrial solution and plan to do a lot of commercial laser cutting and engraving then you need a high-quality Co2 laser machine, like Trotec for example.
We believe that 8 watt / 8.5 watt / 10 watt / 10 watt+ lasers can be a pretty good option to upgrade a 3D printer or a CNC machine.
Endurance lasers: all about cutting and engraving abilities of diode, DPSS, fiber, Co2 lasers.
Laser cutting abilities with diode lasers >>> 
An Endurance 80 watt Custom Co2 Laser Machine with 6×5′ (2×1.7 m) working size area
Keep in mind that most lasers for cutting and engraving are class 4 lasers.
Read more >>>
Comparison of a different types of lasers and different wavelength