Do not buy non-branded Chinese laser modules!
Another fake 40W 450nm Blue Laser Engraver Module Head Kit For CNC 3018pro Engraving Machine for 105 USD!!!
Checking fake datasheet
Product Description:
Technical Parameters
Shell material: aviation aluminum (why not call it, space aluminum?!)
Module center material: copper
Color: blue
Power control:Compatible PWM&TTL (signal control voltage 0-5V) (it is a lie, the laser will not turn on at 0.5V TTL signal)
Input interface: 3P (+,-, PWM/TTL); 2P+2P(+,-)+(PWM/TTL)
Light shape: point-like fixed focus (the focal length with the engraved object is 20mm) (it is not pointed, the diode laser spot is a rectangle for all multimode models)
Interface specifications: 3pin 2.54
Power supply current: 3-4A (constant current)
Laser wavelength: 450nm
Working current: 40W (they measure current in watts, lol! I thought the current measures in amps)
Focus power: 7W (that might be true)
Power supply voltage: 12V (requires power adapter 12V 5A)
Optical lens material: efficient light transmittance (usually BK7 glass is used for that types of lenses with AR coating)
Laser light source: semiconductor blue light (it is hard to understand the meaning of this)
Working life: 10000-15000 hours (check feedbacks below! Most Chinese lasers stop working after 100-200 hours)
Heat dissipation method: high-speed double ball fan cooling at 13,000 revolutions per minute, safer and more durable (impossible to understand this, especially 13,000 revolutions per minute)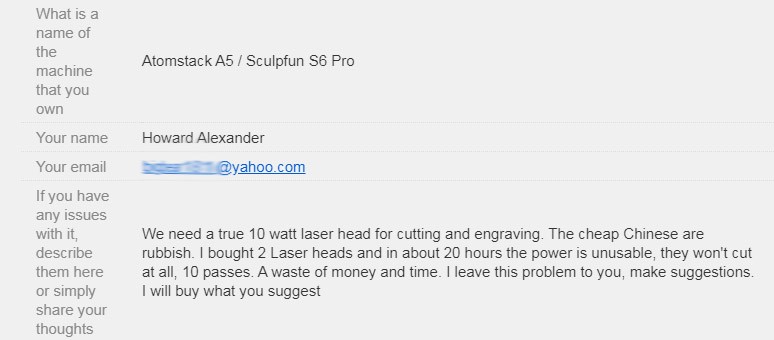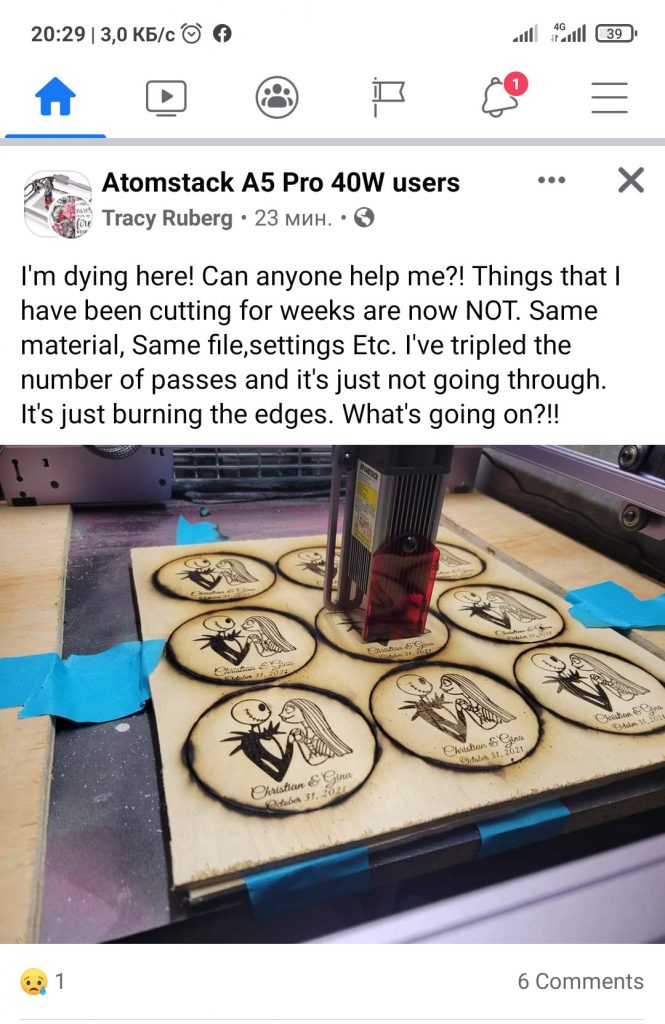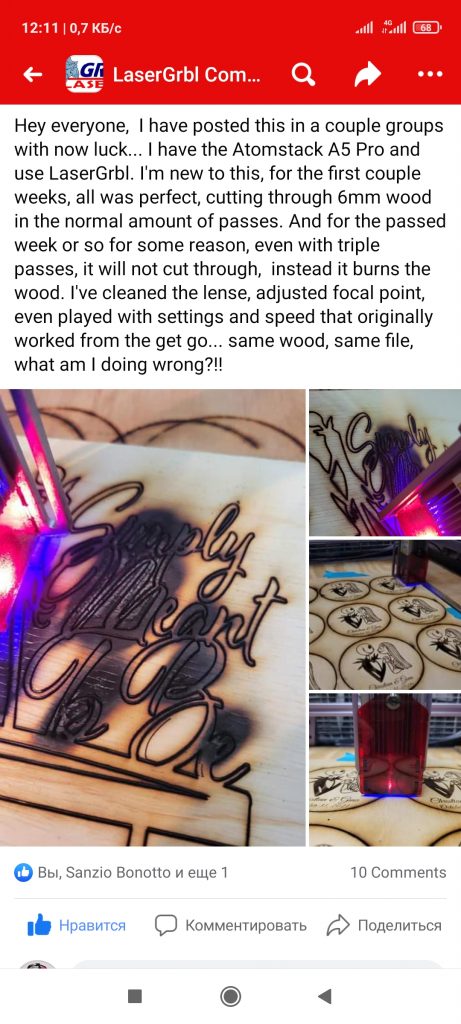 Listen to an audio podcast about diode lasers with Alan Joyce
The truths about buying cheap Chinese lasers.
In this post, we would like to draw your attention to falsely advertised Chinese lasers.
The problem is that many Chinese supplies lie about their real laser power output. Keep in mind that there are no single diodes for 440-450 nm wavelength that can produce more than 8-8.5 watt power in CW. They can produce 9-10 watt of power in short pulses but no single diode laser can give more than 8.5 watt of power continuously.
Endurance 10 watt lasers create 7-8 watt of power in CW and can give 9-10 watt output in short pulses.
The most powerful 445 nm laser on the market was presented by Endurance lasers in 2020 has 2 diodes combined into one laser beam >>>
So, let's back to a real story.
How many of us have seen these types of listings on eBay or similar online stores?
A common reply from eBay seller once you have a problem with the laser or an engraving frame

I get such messages every day from customers all over the world!(

A real customer review about greyscale laser engraving  with LE 5040 laser module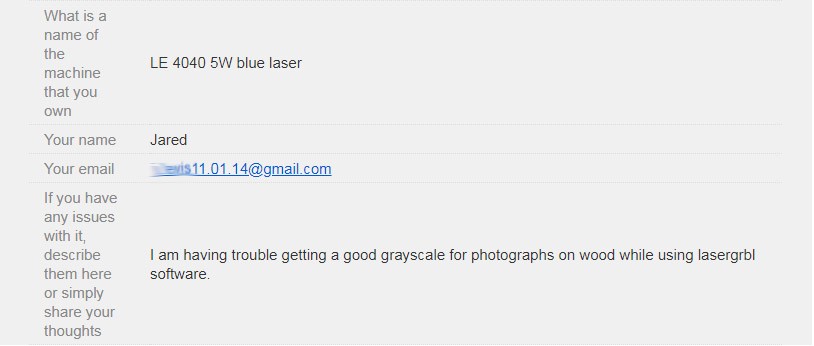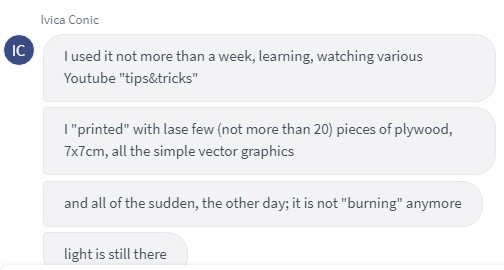 A Neje laser problem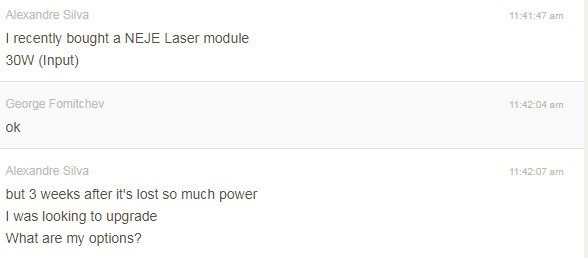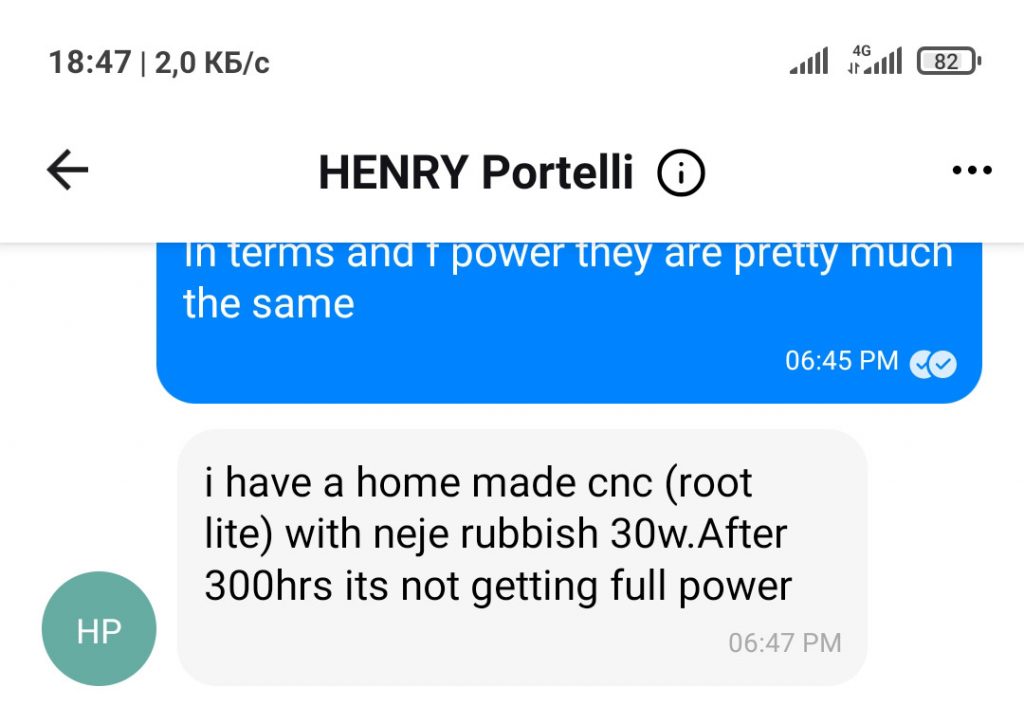 Do not buy fake lasers on eBay or Amazon. It is a high chance that you will be deeply disappointed.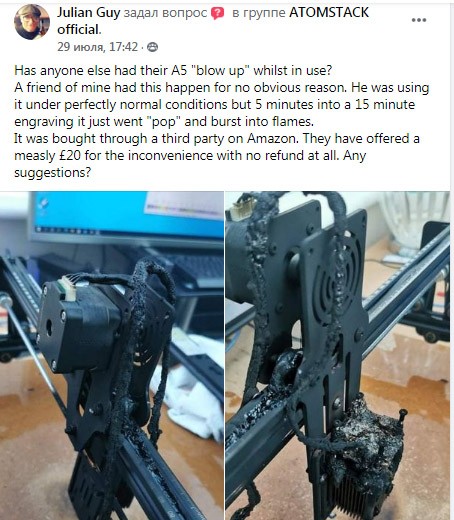 "Laser Head 15W Engraving Module Diode Marking Wood Cutting For Engraver"
"Engraver Metal Marking Wood Cutting Diode Laser Head Engraving Module 15W New"
Something like this >>>
There are countless product listings with this type of wording selling 15W, 17W, 20W, 40W, 80W etc Lasers.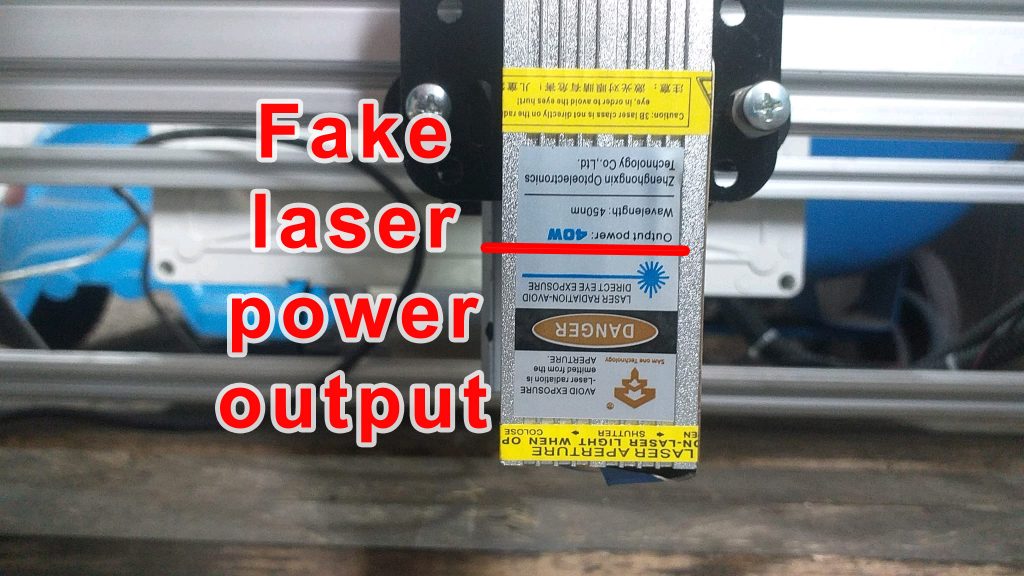 This is a story about my own personal experience.
On Monday, July 17th, 2017 I placed an order for one such product specified as-as a 15W Laser Head.
This was exciting as I had already a few months earlier purchased a 4W Chinese Laser and after much tribulation getting it to work on my home-built CNC Router along with figuring out a Post Processor for the CAD/CAM software I was using namely Vectric Aspire. I was so impressed with the 4W laser I started looking for one of a higher power. I found on eBay one specified as 15 Watts. I immediately thought, just imagine how much more I could do with that sort of power. So without hesitation, I placed my order. (I admit that my knowledge of lasers and power ratings at that time was very limited). Also, the 15W unit was priced only a little more than the 4W one I already had. (that alone should have raised a flag with me).
In the meantime, I spent countless hours experimenting with my current 4W unit learning so much of what could and could not be achieved with it.
So after about 3 weeks, the 15W laser head arrived. I was now getting very excited. Before going any further I also must mention that the two lasers 4W and 15W were purchased from different eBay stores. Also being an electronic Engineer (retired) I had things like quality bench power supplies, oscilloscopes, multimeters, etc. I had already extensively tested the 4W laser so knew the measurements for that. I connected the 15W to my bench power supply and activated the TTL line to bring it to life and it did. So my immediate expectation was this being 15W compared to the 4W should be drawing substantially more current for the set 12VDC. Well, there is the rub, it was actually about half an amp less (0.5A), that couldn't be, ohms law states otherwise, Power Watts=Voltage multiplied by Current (P=IxV). Now admittedly I was looking at the input power and not the actual Laser Diode driving power and not taking into account the DC-DC Converter efficiency but still, the 15W (supposed) laser should be to a degree much higher. So I did some calculations testing the original 4W unit calculating its input power then taking its output power as 4W it worked out to be around a 21% differential. So if I then applied that differential to the 15W laser, applying the same percentage the 15W laser came out at being roughly 3.5W.
So as not to come to any immediate conclusions I figured let's do some practice tests. I created some simple cutting test G-Code for trying on various materials like Black Acrylic, Ply Wood, cardboard, etc. Then I proceeded to run the set of tests, first using the 4W Laser. Then I ran the exact same tests with the 15W Laser. Well, the results were conclusive in that the now supposed 15W laser did underperform the 4W by what would be around I figured 10% to 15%. This confirmed that the power calculations based on their input Volts and Amps I previously did and figuring the actual power of the 15W unit at around 3.5W must have been relatively close to factual.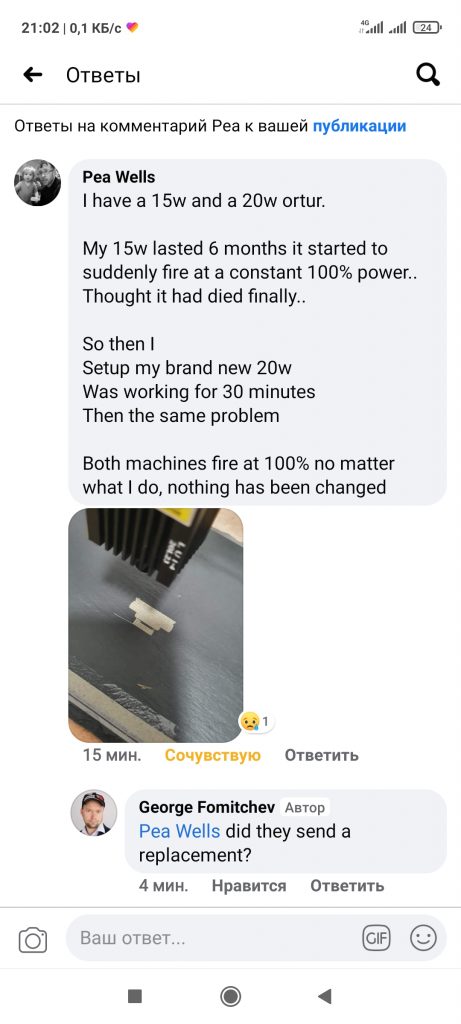 So now to cut a long story short I proceeded to have an exchange of communication with the supplier. This went back and forth for a few weeks with me stating that I was an electronic engineer and presenting them with my figures and test results photos. In the end they had no option but to concede, but not actually admitting it, that their product was indeed not as specified and promptly refunded my full purchase price. They did not even want me to return the item but said I could keep it. I never did try to even use it again. The thing is that same eBay store still sells the same laser with the same heading, plus many other stores even going up to 17W. UNBELIEVABLE.
I continued with the 4W laser, though I did not use it a lot, then one day mid into a job it failed to just a very weak beam. Probably in hours of use it had had a total of 30-40.
At this point totally over and distrusting the stated specification of Chinese-made lasers. I had heard of Endurance on one of the FB CNC groups I belong to. I found the Endurance website and that evening placed my order. George from Endurance responded immediately and before I went to bed that night everything was arranged. about 2 or so weeks later my 8W Endurance laser arrived and without exaggeration within a couple of hours I had it mounted on my CNC router and it was working perfectly. My immediate reaction was of amazement this thing was cutting and engraving way better than I ever imagined. I now have a 10W+ laser that I have modified to expand my own knowledge and to give back something to the Endurance community. Endurance opened the path ahead for me and every day is a learning experience for all Endurance users and wants to be users.
Read more >>>
I am a hobbyist, I started out with 3d printers a few years ago and when covid hit I started making face shields and ear savers for local health care providers and first responders. 6 months later I got a Creality laser for my Ender 3 pro, it was ok however any kind of software was lacking that would make it run easy.
Our customers made and share. Real comparison a Chinese laser vs. a 5.6 watt Endurance laser
Laser power test. Upgrade your Chinese laser with a laser lens pack, lens spacer, and add an air nozzle for better laser cutting
PS. Never buy from this supplier! (by George I Fomitchev)
Dear,
Sincerely sorry to give you inconvenience caused for the case.
Our colleague is off duty today due to the weekend.
She will check the order\\\'s status next monday.
Pls contact us next monday.
Pls don\\\'t worry.
We will take the responsibilty if the parce is returned to us.
Apologize again for the inconvenience caused and look forward to hearing from you.
---
Upgrade your Chinese diode laser module
Replace your laser driver with an Endurance laser box
An Endurance Laser Box – ultimate tool for your diode laser.
Add an air assist (air nozzle) to your laser module
An Endurance laser air nozzle: ver 1.0 / ver 2.0 (fully open-source). Make your laser cutting fast and accurate!
---
I ordered 4 DIY engraving machine frames and the package never reached us… Tracking: UBI000171629RU
We were waiting for 4 month since March 2019.
https://www.ebay.com/usr/cnc-mall?_trksid=p2047675.l2559
https://www.ebay.com/itm/163382603084?ViewItem=&item=163382603084 (shortly  they just removed the listing…)
cnc-mall – is a scam and fake seller!
Read more
From eager hobbyist to failed entrepreneur: Living in the world of Chinese Knockoffs
Why to chose Endurance lasers?!
Endurance lasers LLC is a US-based company that makes diode laser heads for 3D printers / CNC machines and XY plotters.
We deliver high-end (non-mass market) products with exclusive support!
Our lasers work (10000 hours) 50-100 times longer than most Chinese analogs.