Precision Meets Affordability: Black Friday Deals at Endurance Lasers – Engrave with up to 70% Off!!!
In this post, we will highlight TOP-20 things you can make with the laser.
First of all, we need to say that there are different lasers with different power, the energy of pulses (for pulse lasers), wavelengths, and laser beam quality.
That means that every laser can do a different job.
For example, some work with metals, some work with glass and acrylic.
Here you can get more information about different types of lasers and their abilities… 
Let's get started – TOP – 20 things you can do with a laser
#1 – photoengraving on black glass
You can do photo engraving on painted glass with all types of lasers including diode, Co2, DPSS, and fiber ones.
The laser removes the black paint and leaves the glass transparent.
It will not take long to make such a picture from the "Leon" movie.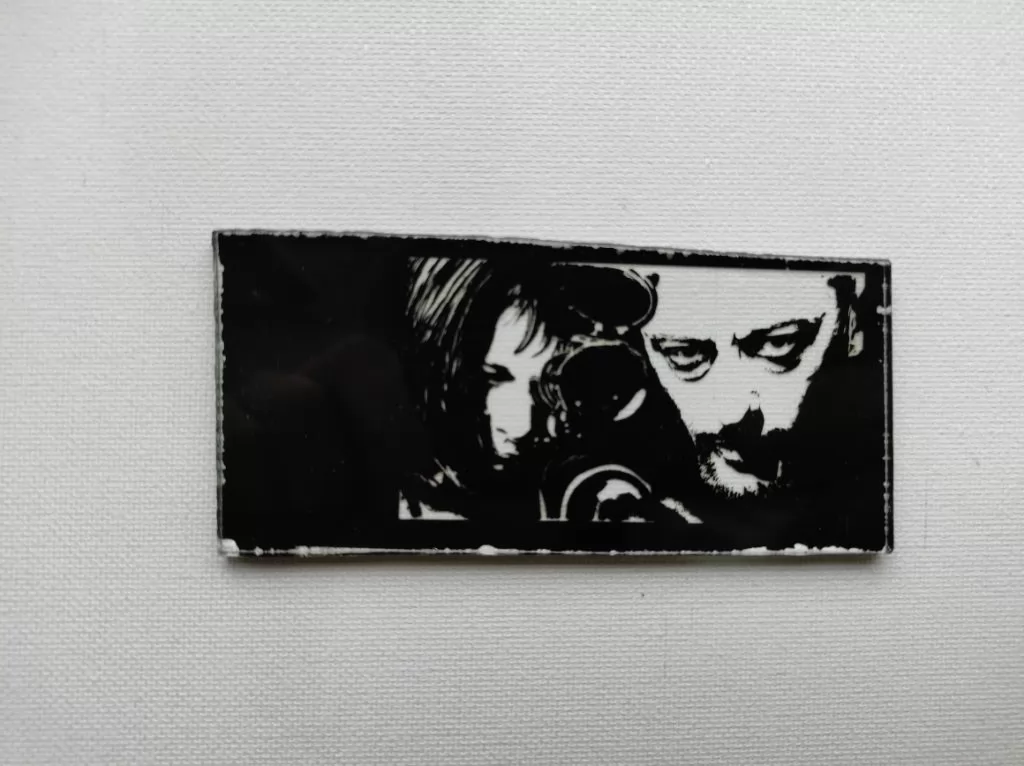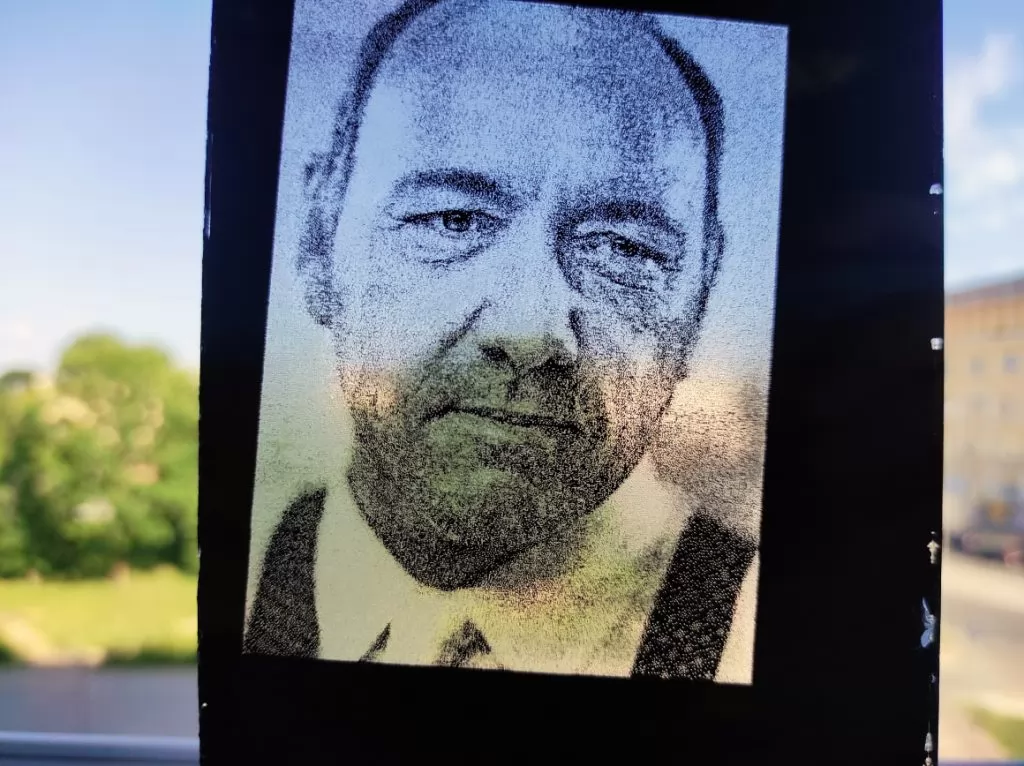 (Actor Steven Spacey)
#2 – laser engraved beer mugs. Laser etching on glass.
The key thing is that glass is transparent for a wide wavelength range. It can be engraved or etched with a Co2 laser or with some other if the glass is painted beforehand.
That is how I did laser engraving on glass using a 15 watt DUOS laser.
The laser beam goes through the glass and after it hits the back it returns and marks the glass.
However, a Co2 laser (10,6 um wavelength) engraves fine on the surface.
#3 – an acrylic badge
Acrylic is very similar to glass. It is also transparent for a wide range of wavelengths. That is why you need to make it nontransparent (by either painting it or coating with some sort of tape) to be able to engrave on it. Or just use a Co2 laser for this task.
A 10 watt PLUS PRO laser can make it.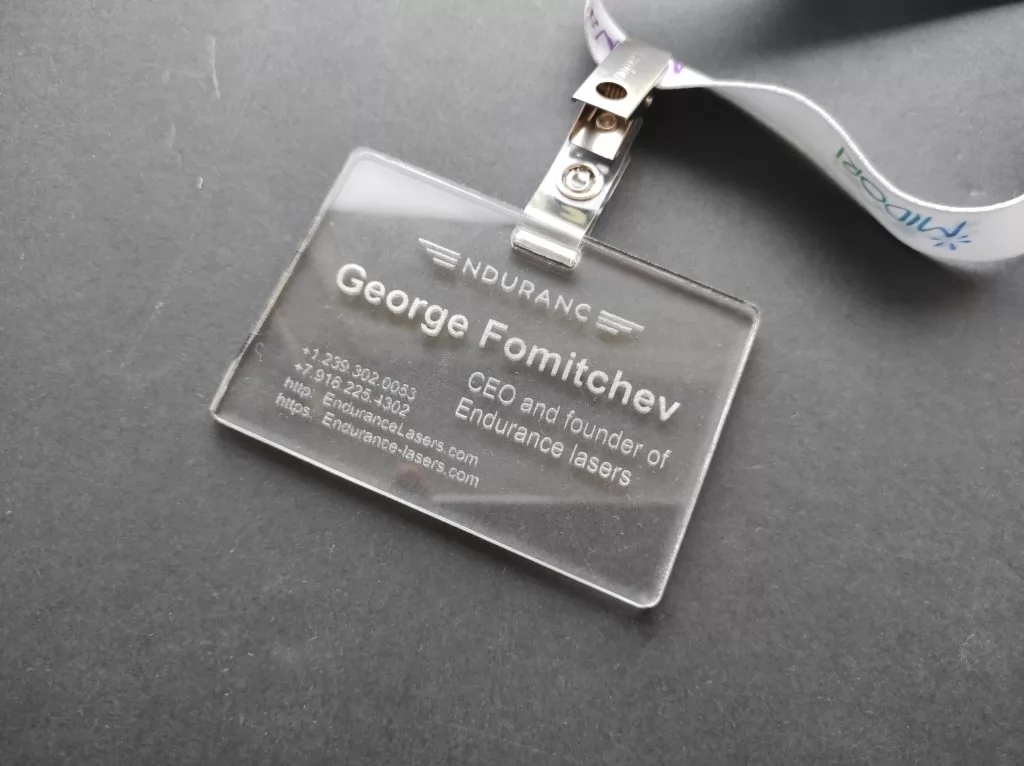 Dog tag.
#4 – an acrylic DIY chess
It is super cool to make something that you can use almost every day. I made DIY set of acrylic chess for my son.
Black Friday Brilliance: Top Laser Heads on Sale!
Cut chess pieces out of transparent acrylic, paint one set black and here you are.
It will take you a few hours to make everything done.
For that you need at least a 40 watt Co2 laser >»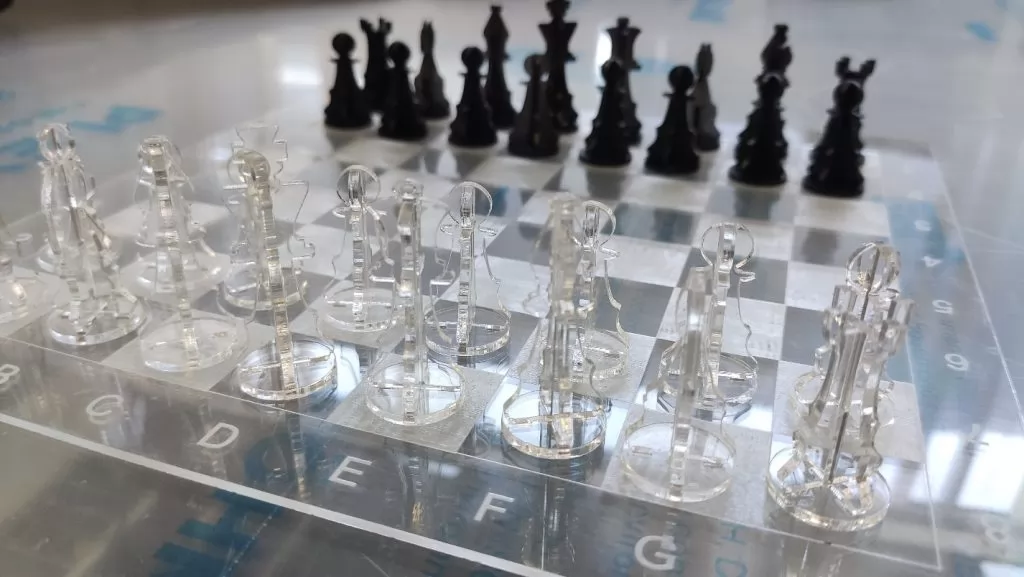 #5 – a kitchen tile engraving
Our customer Michail from Greece uses an Endurance  10 watt diode laser in his business.
Michail creates ultra-modern designs in Greece . Check his post about it >>>
Tile engraving became quite popular nowadays. You can "personalize" things too!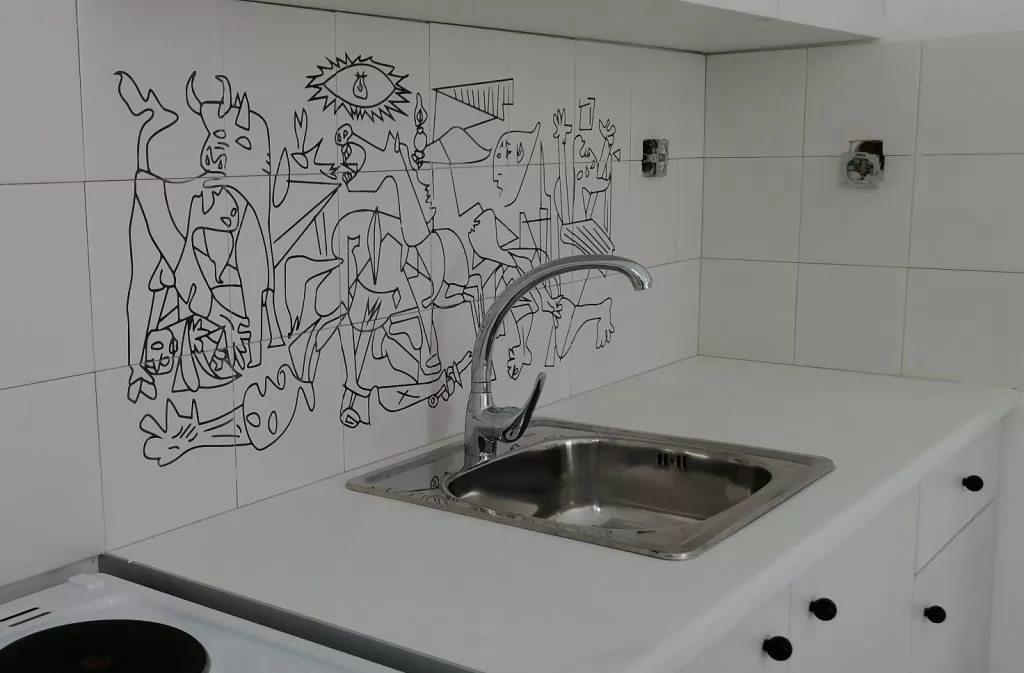 #6 – 2D laser engraving inside transparent acrylic or glass
Another thing that you can do with a laser is inside 2D  laser engraving.
To make this photo engraving you need a DPSS or fiber laser installed on a galvoscanner (galvo machine).
Lasing with multi passes makes inside acrylic small cracks creating an image.
Michael Douglas laser engraving inside a transparent acrylic piece.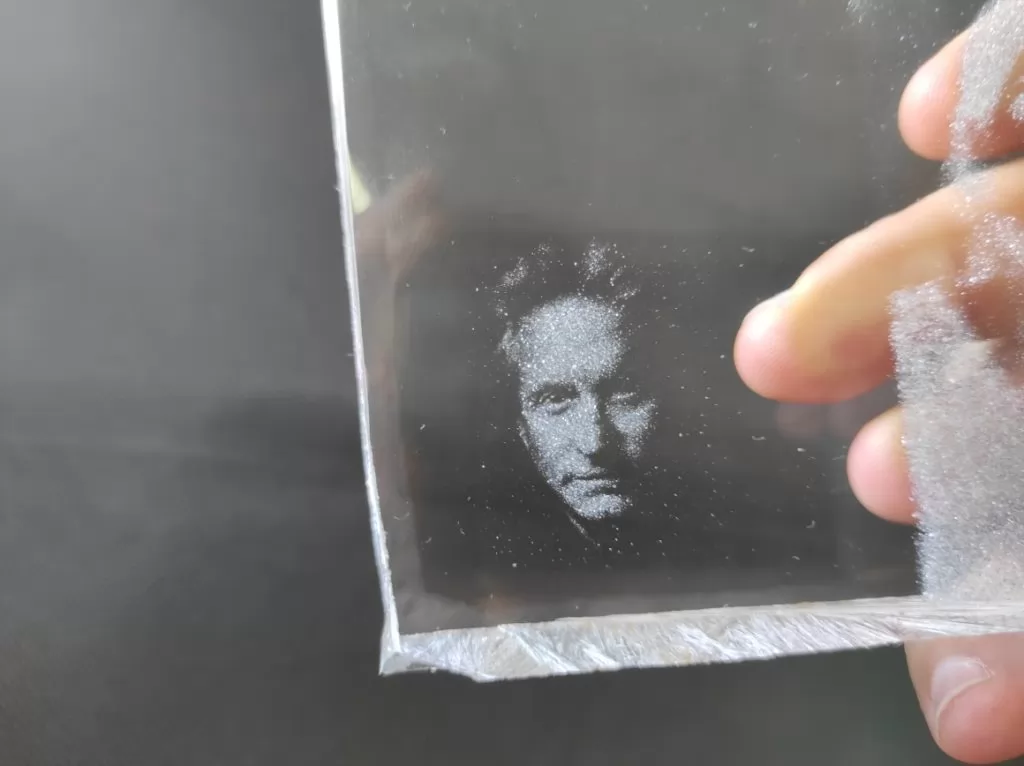 #6 – seals and stamps
With a Co2 or diode laser + a 3D printer, you can make seals and stamps.
You can engrave a seal or a stamp cutting it out from a piece of rubber. Using a 3D printer you can print out a holder for your seal or stamp.
An entire process will take no more than 60 minutes.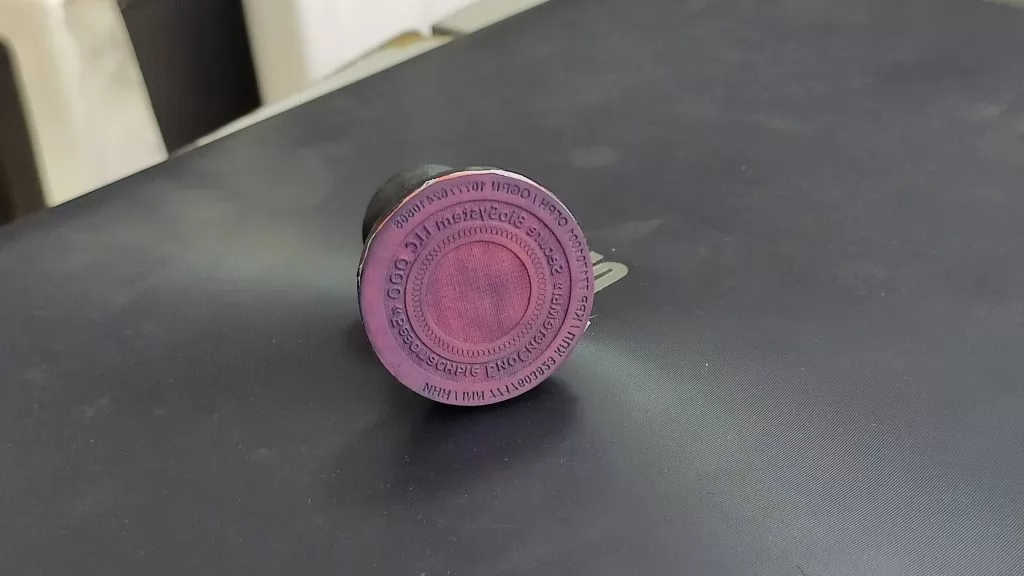 A detailed guide about how to make your own DIY stamp >>>
#7 – mirror engraving
One more quite impressive thing that can be done with a laser is mirror cutting and engraving.
It is important to remember that you need to paint and engrave an image on the backside of the mirror to avoid a double reflection of the image that you will have if you paint it on the reflective surface.
It is possible to engrave on the mirror using all types of lasers, however, for mirror cutting you'd better  use a 10 watt DPSSL with a short focal F=20 mm lens.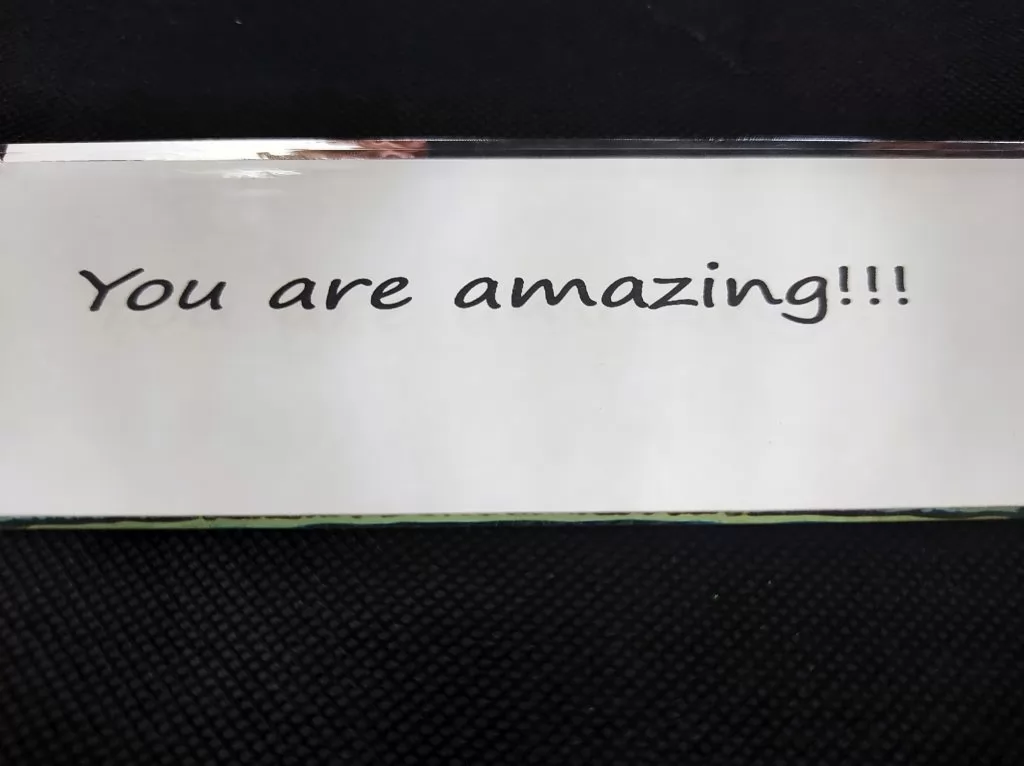 Read a full story about mirror engraving and cutting >>>
You can engrave on the mirror with diode lasers
#8 – color silver engraving (marking)
For jewelry marking you do not need a lot of power. A 4 watt pulse dpss laser is enough for that.
Color silver engraving is affordable today for hobbyists.  A post about it will be later uploaded to our blog.
You can create a lot of nice things engraving on silver, gold, stainless steel, palladium and other types of metals.
Engraving something special such as a symbol, a phrase, a monogram, you will make your ring,  necklace or pendant unique.
The engraving process is very easy but we suggest using a galvoscanner with a red pivot laser to make sure that you position your item correctly.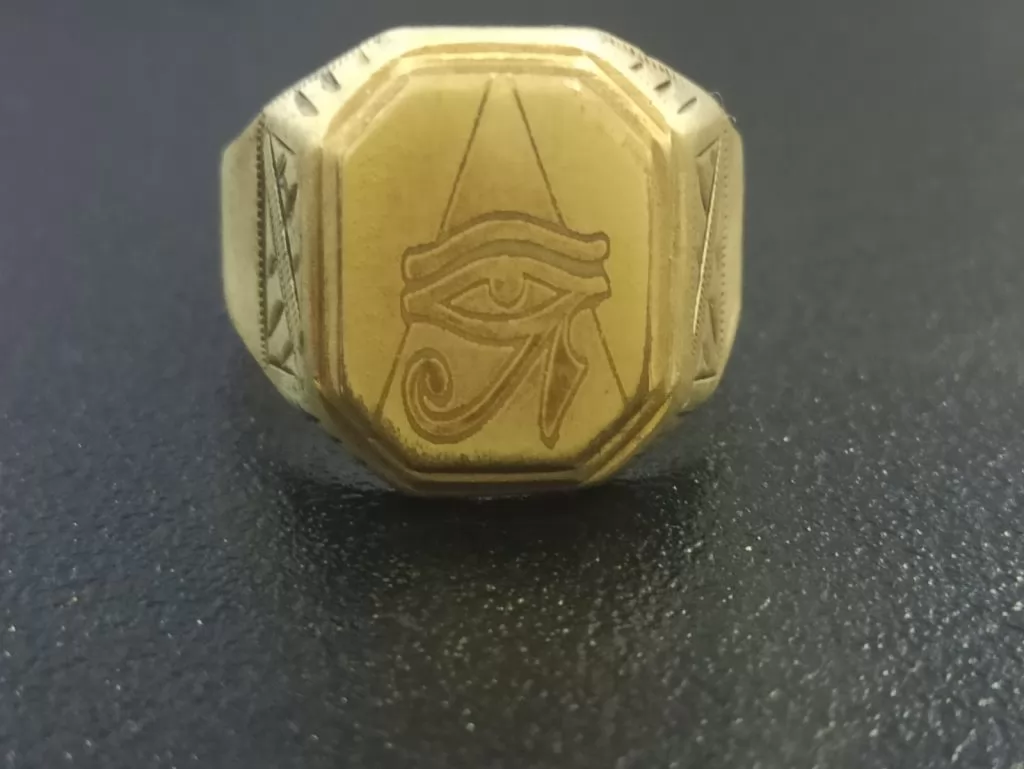 Engrave "I love you" on a ring.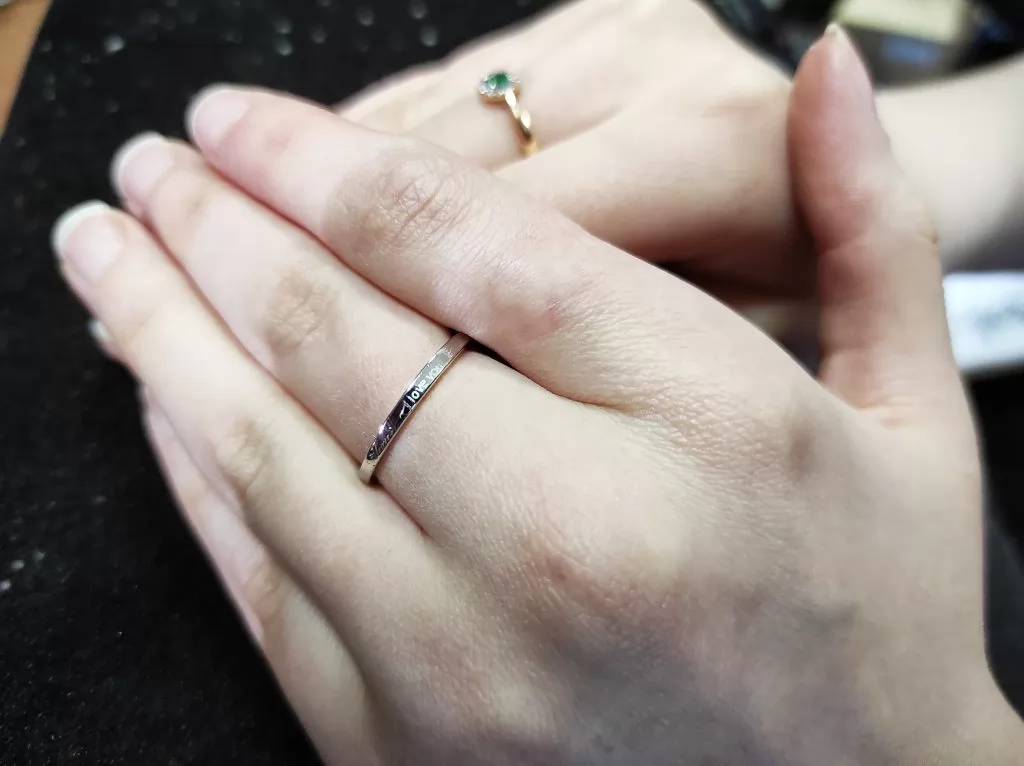 #9 – engraving on musical instruments
Our Greek customer, Michael engraved a violin for his customer. We engraved music scores on a violin fretboard.
I am sure that is very helpful for young violin students.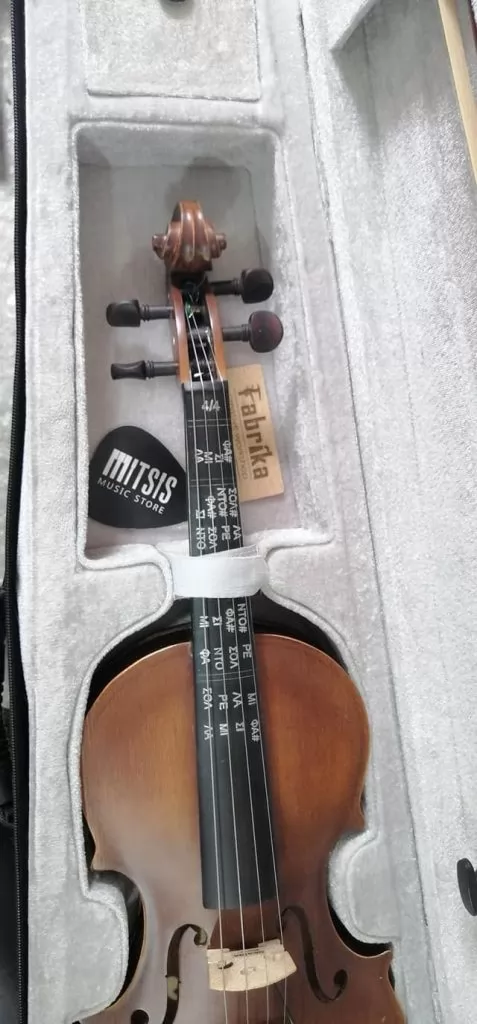 #10 – color glass etching (engraving)
Not many people know that with a laser you can color engrave/etch transparent glass.
We posted a detailed instruction on "how to do a color glass engraving".
It is a unique technique developed by the Endurance lasers lab.
Color glass engraving (marking)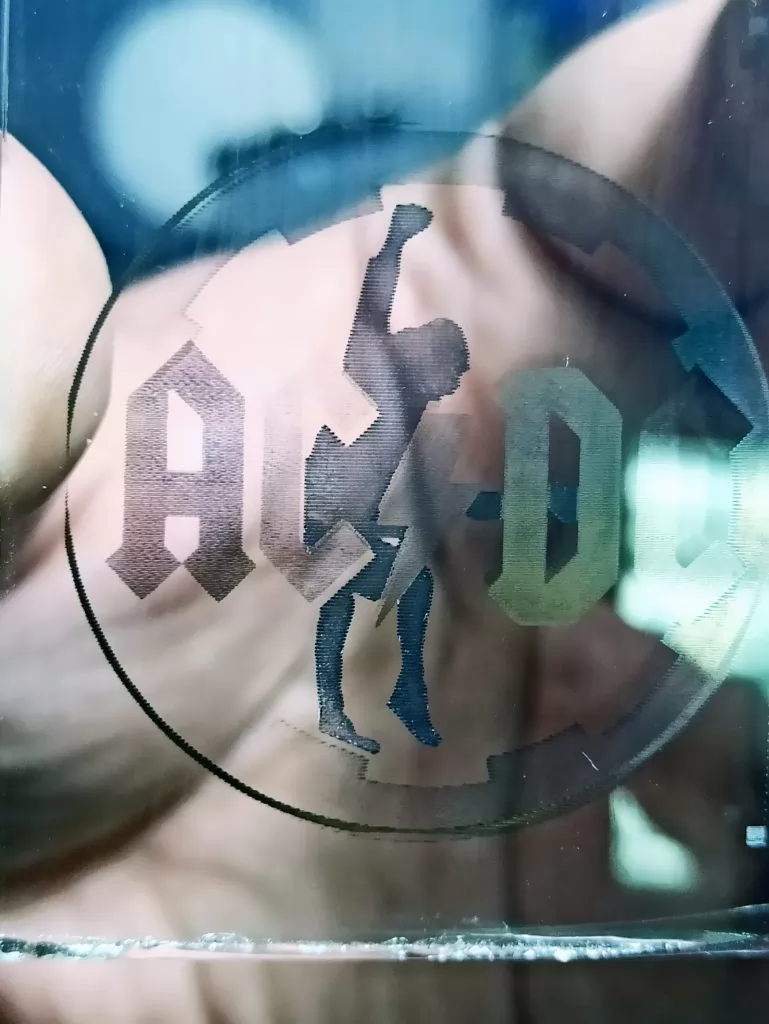 Read a detailed guide.
Color glass engraving. All you need to know to get started
#11 – A painted and laser engraved American flag
This item was made by Chris Croft and he did it really well.  He carved the flag, then painted it and  did a laser engraving on the right hand. Look how accurate and neat the image is.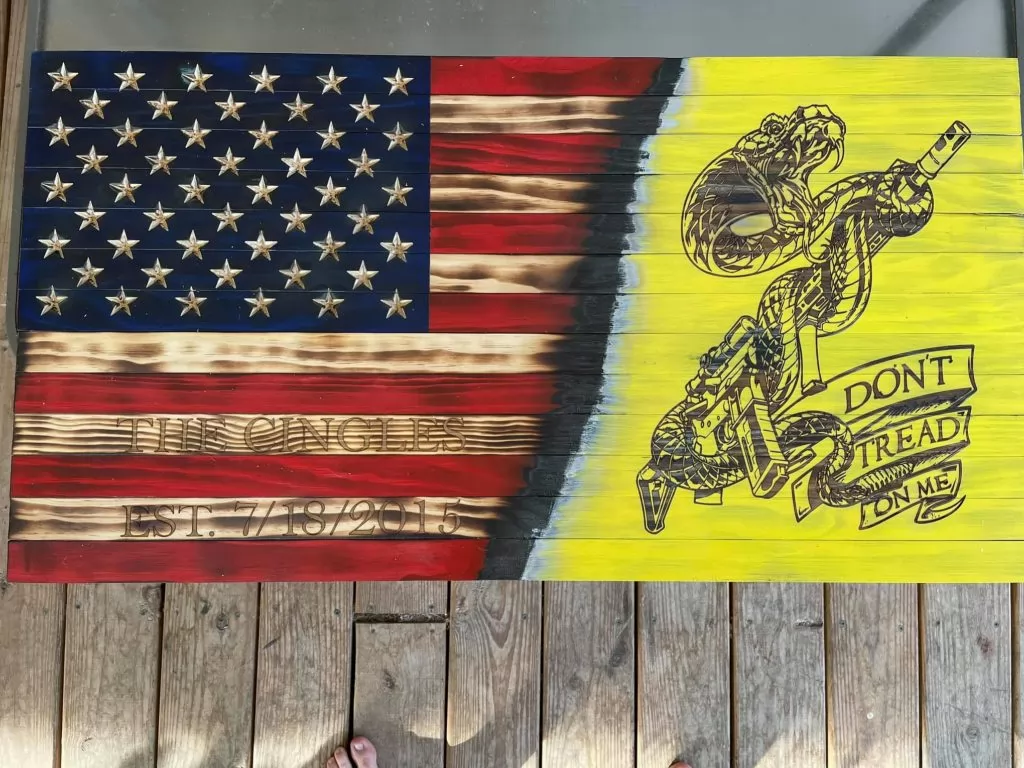 #12 – A laser engraved knife
Another customer of ours Cephas Buck engraved his knife.  I should say that knife laser engraving is very popular among hobbyists and knife makers.
Marking knives with names or special inscriptions.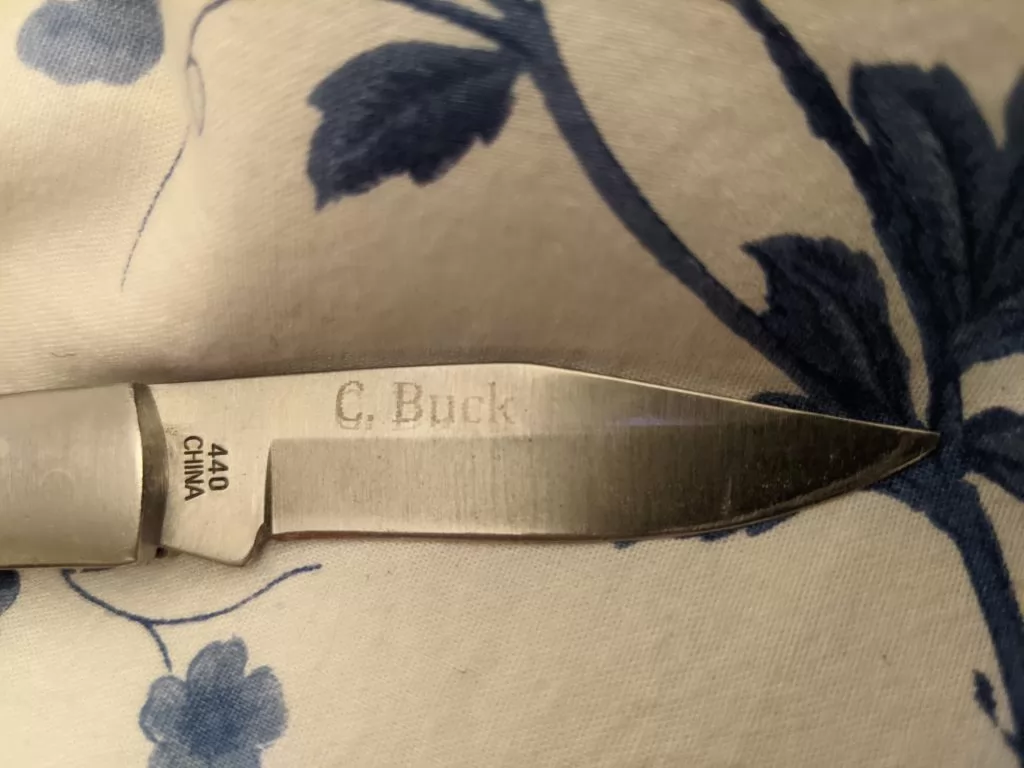 This knife was engraved with a  80 watt Co2 laser  without any engraving paste or chemicals.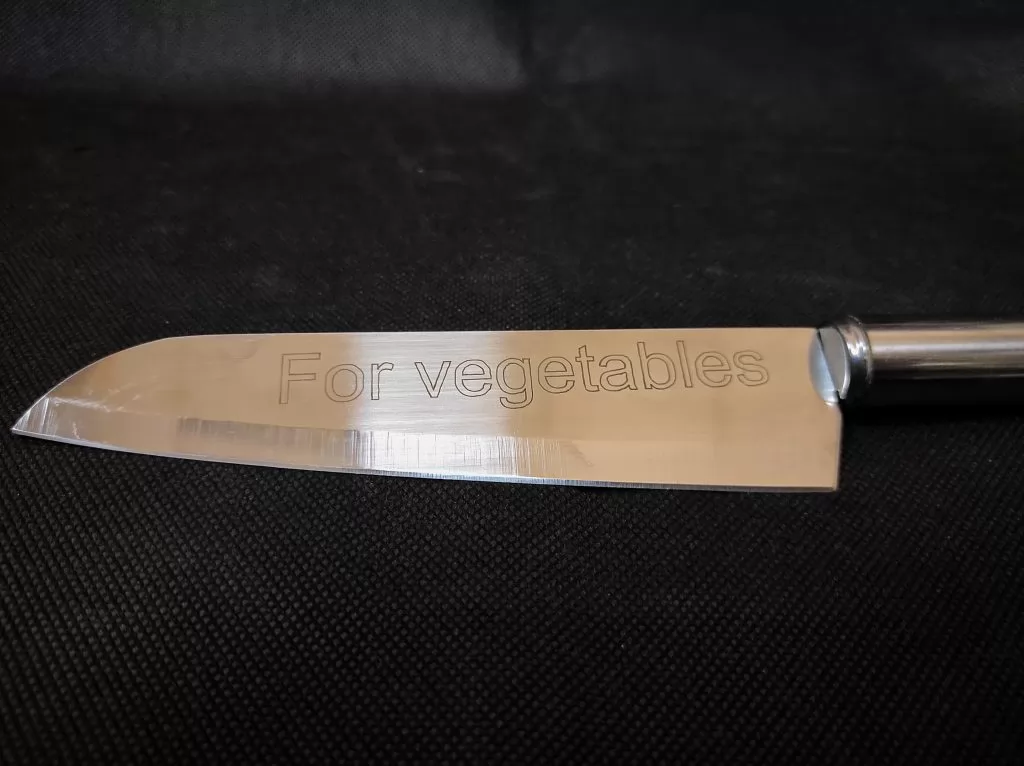 A real case showcase by Cephas Buck with an Endurance 10 watt Pro laser
Another customer engraved a knife and a leather knife sheath with a similar  10 watt PLUS PRO laser
I'm proud to say that  Endurance lasers can do etching on stainless steel without any chemicals or engraving paste sort of like Cermark.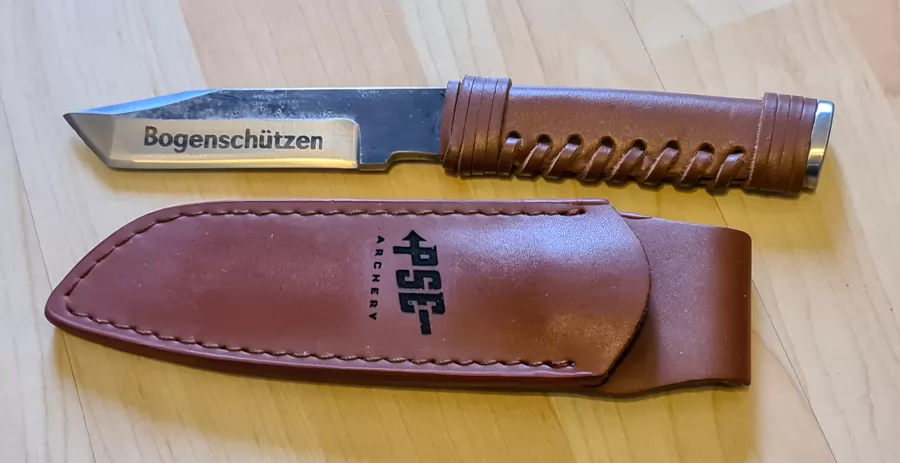 #13 – musical instrument
This instrument was made by David Moyer  with  an Endurance 10 watt laser.
This is quite an impressive result. He did everything with the laser. He cut an instrument  body out of a cigar box and engraved a fretboard.
David makes different nice things. Check his Facebook. He makes a lot of posts in our Facebook community.
He sells his items on flea masters and other sales in PA.
#14 – leather wallet engraving
This BTC wallet I made for myself. A beautiful bitcoin symbol can be nicely engraved on genuine and synthetic leather.
Keep in mind that you need to be very careful so that the power of the laser does not burn out your leather item.
This one was made with an 80 watt Co2 laser machine.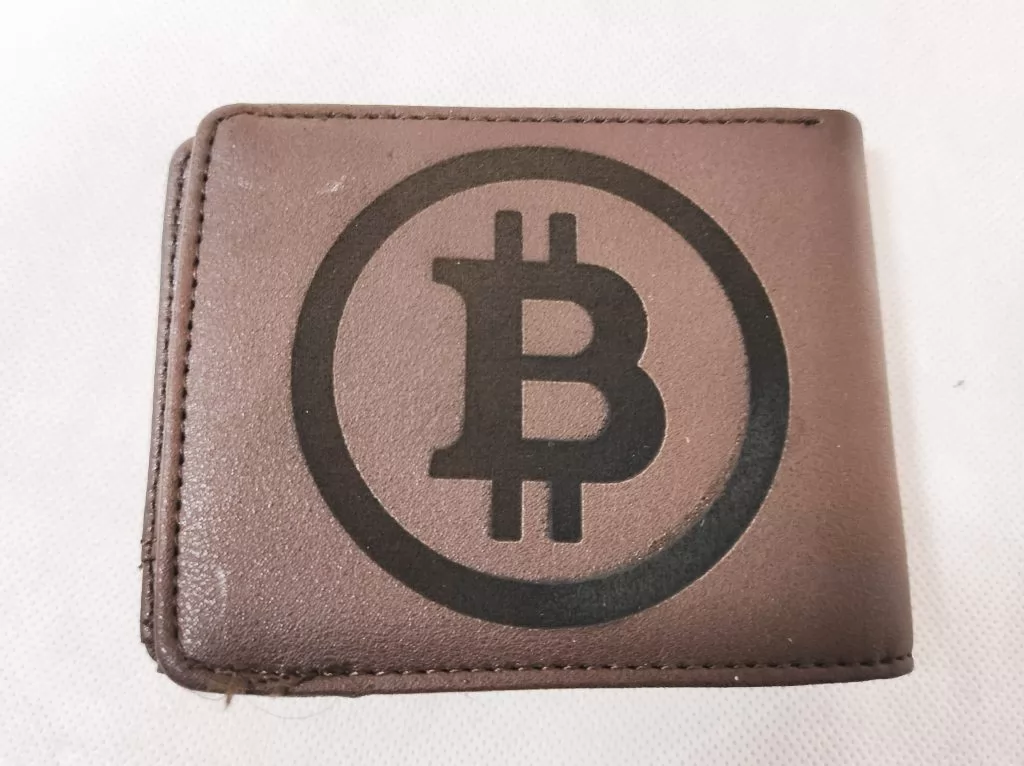 Bitcoin wallet engraved
#15 – a DIY plywood puzzles
David from Datulab.Tech makes a lot of interesting things with our 10 watt PLUS PRO laser
How to make a puzzle combo: wood + plywood + acrylic + leather = something special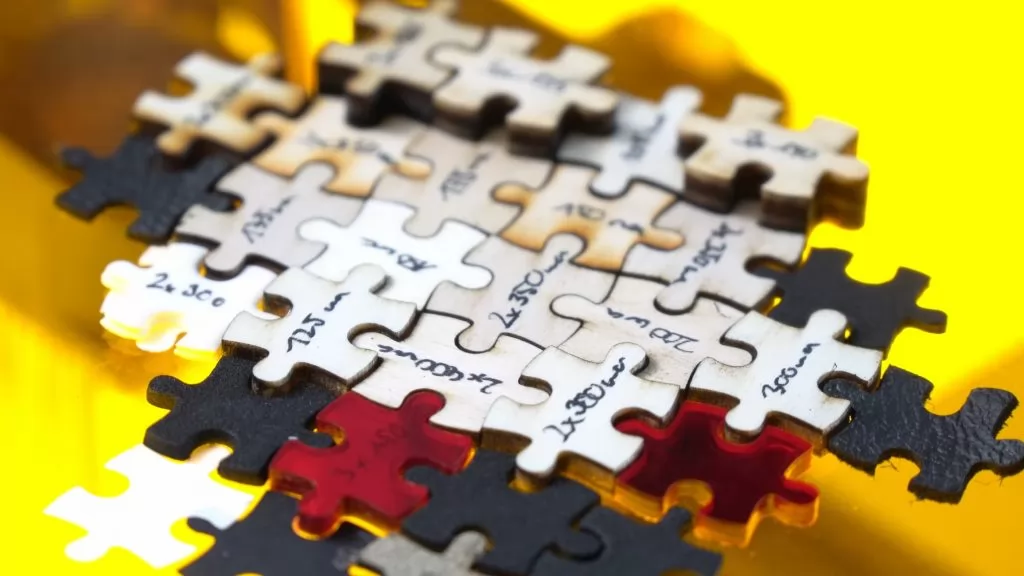 #16 –  a great photoengraving for a restaurant
This masterpiece was made by another Endurance customer for a restaurant.
This really amazing photo was engraved on a piece of birch plywood.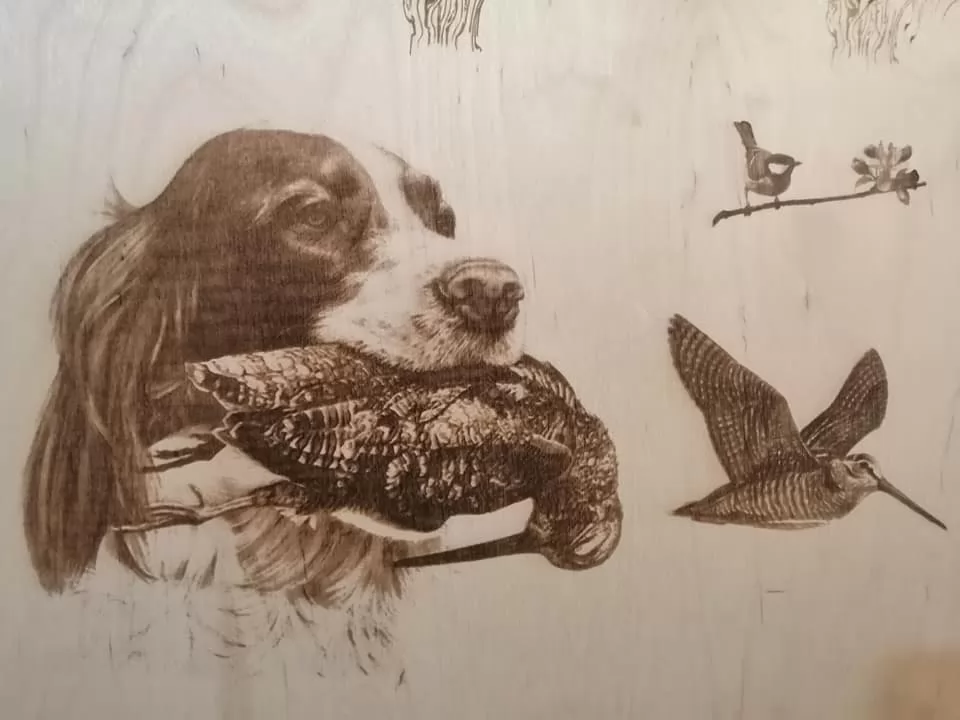 #17 – plastic cards with an engraved photo of the owner
One company ordered our 4 watt dpss infrared Nd:YAG laser attachment  for plastic cards engraving.
These types of cards fit for text and photo engraving.
Sample engravings on white plastics
#18 – an impressive photo engraving on stainless steel
I was amazed to discover that a 15 watt diode laser  is able to engrave on stainless steel and make greyscale engravings that are similar to real photos.
This is a regular AISI 304 stainless steel piece that can be purchased on eBay or Amazon. This photo will last for ages with no risk of damaging it.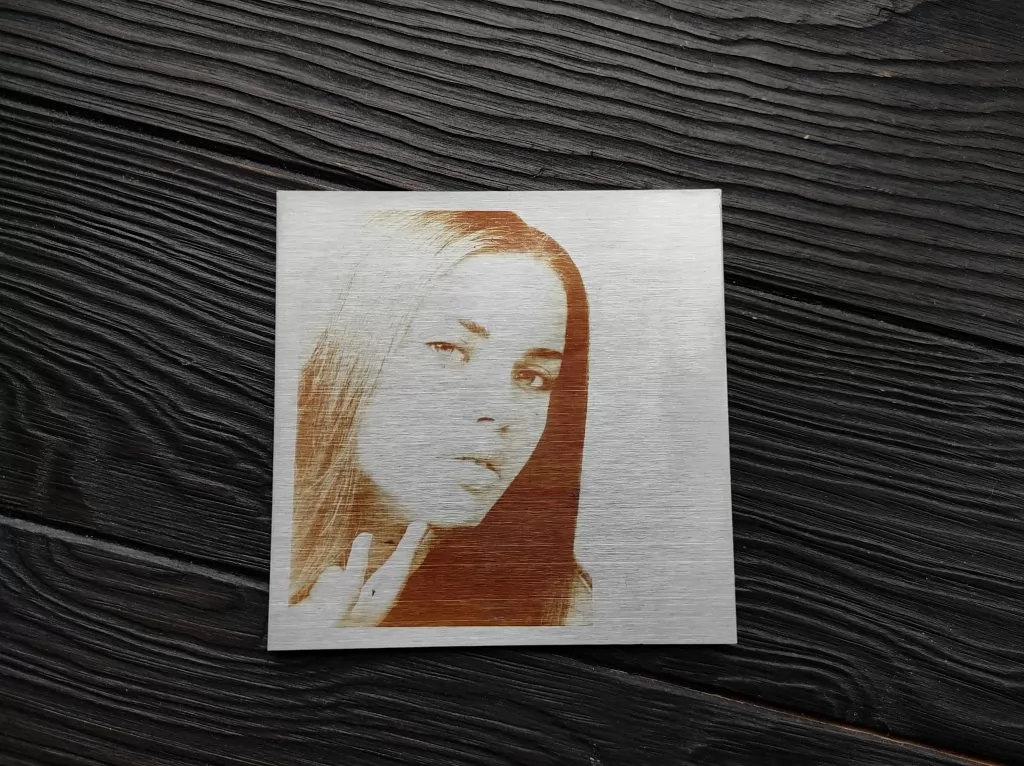 #19 – a color engraving on stainless steel
Many people would like to do color metal engraving but can hardly afford it as the equipment (a laser machine) for color engraving can cost thousands of dollars. However, Endurance lasers can also do it and the price of our lasers is much less.
Keep in mind that not all types of stainless steel are good for color engraving.
But you can also engrave on titanium. Titanium allows getting more "tint" colors.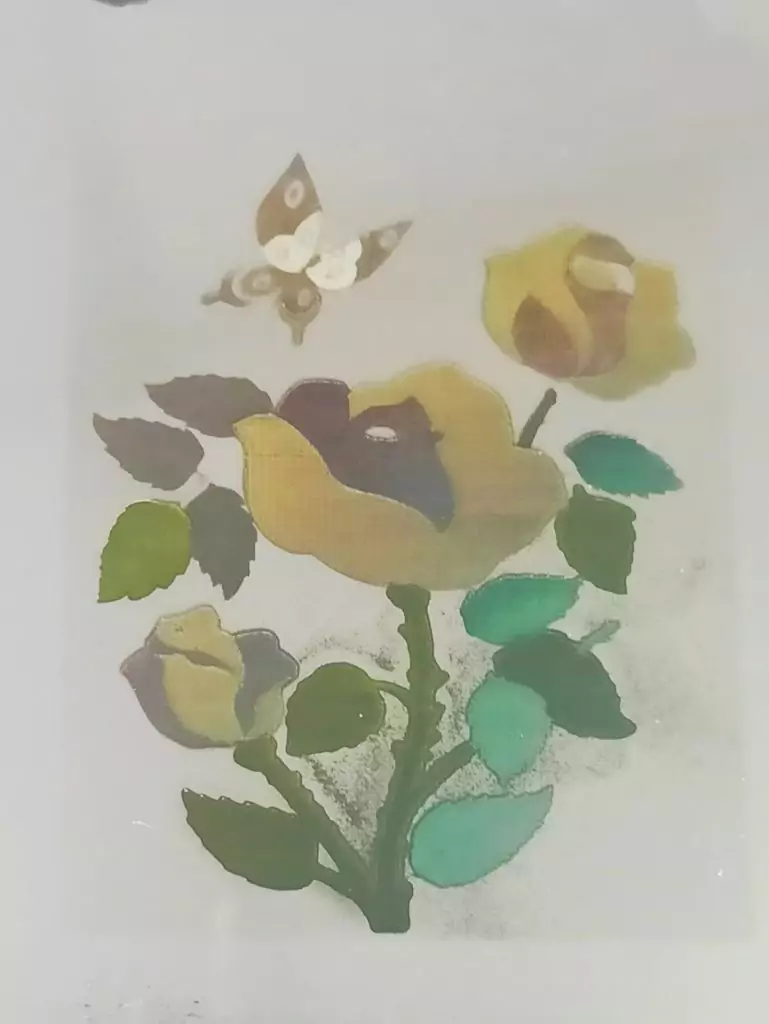 How to make a color metal engraving on stainless steel – all you need to know.
This butterfly was engraved on a piece of polished titanium.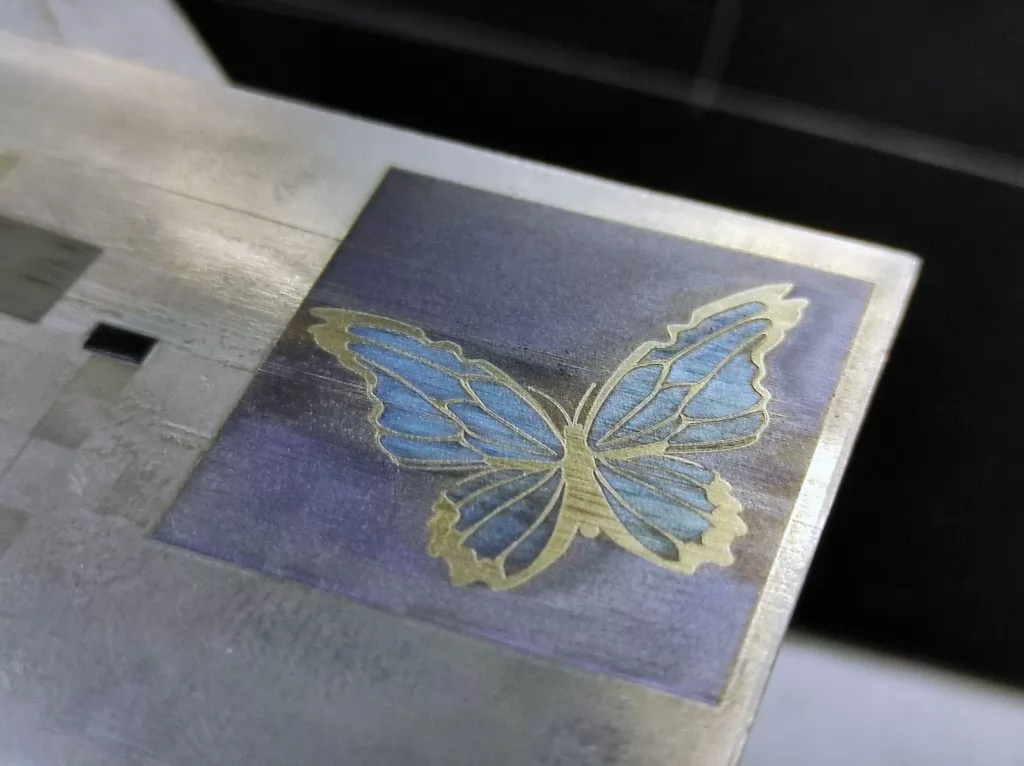 #20 – a 5 mm glass cross.
This is an impressive example of glass laser cutting. The problem is that glass is very hard to cut, especially to get even and smooth edges. To do the task we had to paint the glass.  And look at the result: a 5 mm glass piece gave in.  An item of a complex shape was cut out.
In our laser lab we made a test cutting of 1.8mm transparent glass and did great. As a result we got an item of a very high-quality heart shape.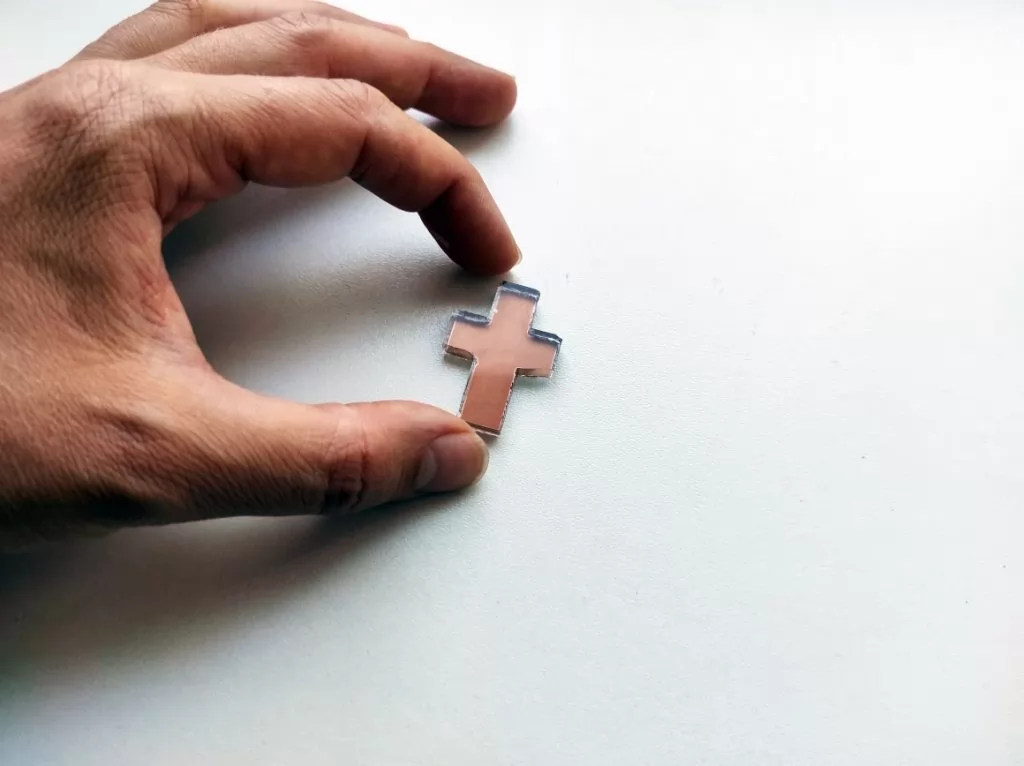 Watch a live video showing cutting of 1.8 mm transparent glass (BK7)
As you can see,  lasers are great tools to create marvelous items for hobby and business.
A lot of our customers are great at making things, which they sell on eBay, Amazon, and Etsy.
Endurance lasers: all about cutting and engraving abilities of diode, DPSS, fiber, Co2 lasers.
TOP-20 3d printing ideas you can use this Christmas and New Year 2021-2022
Lasercut and 3D Printed Medieval Instrument – Nerdy Gurdy Project