Super Deals!! 40% Discount on all lasers.
Tint colors (YETI) on titanium
Color engraving on titanium using 30-watt Raycus laser installed on a DIY Galvo Endurance marking machine
Engraving on titanium should be done above the focus level, by 5-7mm. Thanks to this, the metal will not fade, but will only be covered with a colored film.
| | | | |
| --- | --- | --- | --- |
| Color | Power, % | Speed mm/sec | Amount of repeats (loops) |
| Polished | 100 | 1500 | 1 |
| Gold | 100 | 1000 | 2 |
| Blue | 100 | 400 | 2 |
The parameters are individual. We recommend that you first use a speed of 1000 mm / s and 100% power, and experiment with the number of repetitions.
Passing the same place several times, you will receive different colors.
"Yeti" (color) metal engraving. Stainless steel, Steel, Titanium!
All you need to know about making a color engraving / marking on metals.
Testing stainless steel, aluminum, brass, copper and titanium!
It really depends on what laser module are you using, what type of metal do you have?
There are a few key parameters that you need to take care of:
Focusing
Power
Speed
These 3 parameters are available on any fiber or DPSS laser module.
However, fiber lasers have additional parameters that can be changed, like:
Pulse width (pulse duration).
Frequency of pulses.
The energy of pulses.
Unlike DPSS modules very expensive and advanced fiber lasers have an active Q-Switch that allows you to change these 3 parameters.
When you hear about laser engraving of metals you easily visualize a dainty drawing with slight blackening or ornate calligraphy on gifts and souvenirs. As for color engraving, it is something new even to those who have first-hand knowledge of the laser equipment. It is because this technological process is much more complicated.
TOP SALES! The best laser head for your 3D printer / CNC machine / engraving frame.
The time-consuming and painstaking process of color laser engraving on metal is used to decorate exclusive gifts and souvenirs.
The principle of laser engraving on metals is the surface removal of the material with the UV ray. The size of the grove obtained at the point of the local heating depends on the lens focusing and radiation power. A by-effect of the laser interaction with some metals is a physical and chemical reaction called the heat-tint effect, which results in the change of the metal surface color.
The color engraving is possible on oxygen hungry materials such as: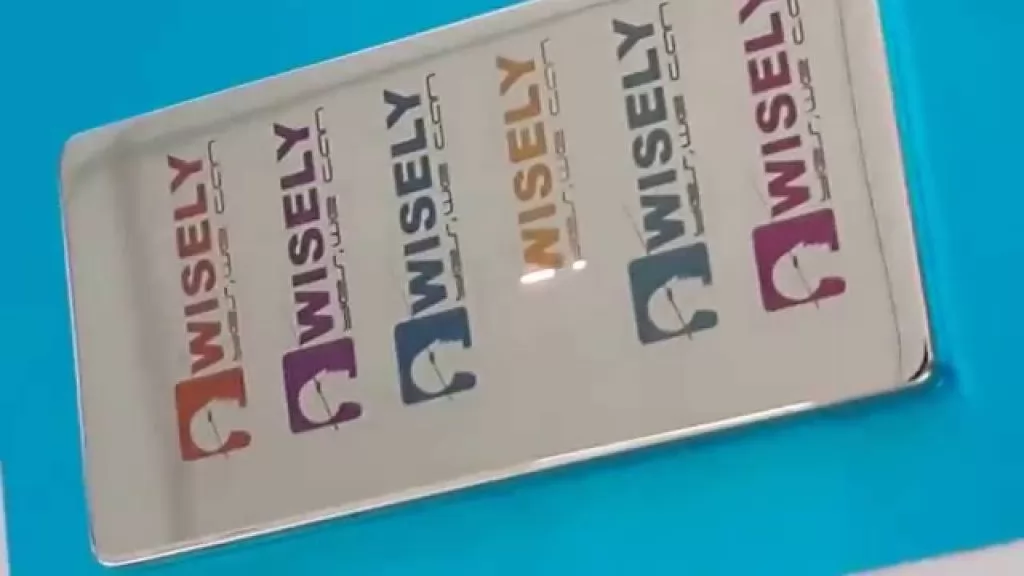 titan;
stainless steel;
zirconium;
aluminum;
nickel;
brass;
silver.
The color, as such, appears in the result of the light interference in the oxide film. Its hue and intensity depend on several factors:
pulse duration,
metal thickness,
thermophysical parameters of the processed material,
radiation power,
oxide film thickness.
The main problem of the color engraving of metals involves the correct selection of the above-mentioned parameters and the seamless operation of the laser. This task is quite a challenge since a single pulse lasts only a few nanoseconds. At the same temperature and exposure time, the heat tint will vary for every metal.
By changing the wavelength in the specified range it is possible to obtain additional hues and smooth tone transitions.
Here are some pieces of advice to get a golden color.
Normal steel is fine and easy to engraving. Just adjust the engraving (marking) speed and hatch line space.
If you want a blue color to adjust the frequency and duty cycle of the laser.  Do it very slowly. The most important thing is to do engraving out of the focus point. It will take some time to find a good point to do the necessary color engraving.
Defocusing amount(distance away from focus point, higher or lower) with +4mm、+3mm、+2mm、+5mm。
laser frequency from 10kHz to 35kHz adjustable。
When the defocusing amount  is <1mm:
(1) black color :                    Speed:           5-12mm/s      Hatch line space:0.01-0.02mm
(2) white color :                    Speed:  1000-1500mm/s     Hatch line space:0.05-0.08mm
(3) golden color:                  Speed:     100-800mm/s     Hatch line space:0.03-0..05mm
2. When the defocusing amount is 1-3mm, 
with adjusting the power from low to high(20%-100%),
speed is high to low, the hatch is from 0.1-0.02mm,
the color will become yellow-blue-light green-Pink-purple-dark purple-yellow-black.
for example how to get blue or golden color?
3. When the defocusing amount is 2-4mm, 
with adjusting the power from low to high(20%-100%),
speed is high to low, the hatch is from 0.1-0.02mm,
the color will become light yellow-yellow-blue-light green-purple red-deep green.
These parameters are also depending on the reflectance and materials of the stainless steel you want to mark,
The color laser engraving looks eye-catching and changes the hue depending on the angle of viewing.
Specific performance features
Before doing color laser engraving on metal workpieces, additional processing of the image is required. It is necessary to increase its brightness and contrast to make the chromatic edges more vivid.
To indicate every color as a separate layer in the model file for the laser equipment and set sequential engraving of the specified layers.
When setting the equipment parameters, bear in mind that to achieve color saturation monopulse prints must be superimposed on the metal surface with overlap.
The denser are the overlapping points of the laser contact with the product surface the denser is the color.
The laser engraving colors are highly resistant to light, chemical and mechanical effects. Color laser engraved objects have a characteristic pearl-metallic sheen achievable only with this processing method.
Constant parameters
Repetition rate
25-30 kHz
Pulse width
7-10 nm
Travel speed
2000 mm/min
Wavelength
1064 nm
Variable parameters
Power
0-10W
Focal range
+-15 mm from the focus range'
Tint colors on stainless steel
How to make a color metal engraving on stainless steel – all you need to know.
Tint colors on stainless steel (2 different types)
Tint colors on Aluminum
Tint colors on steel
Tint colors on Titanium
Download original images in high resolution >>> (Cloud 1/ Cloud 2)