6, 8, 10 and 15 watt infrared lasers with 808 nm wavelength have laser cutting/engraving abilities. They cost from 695$, but the pre-order price starts at 485$.

Endurance started final tests of powerful infrared diode laser modules before producing them and shipping
Endurance 6 watt / 10 watt / 15 watt infrared (IR) 808 nm laser modules.
What is so great about the new infrared 808 nm Endurance diode lasers?
We expect infrared lasers to be more efficient with less heat generation.
New 808 nm diode lasers will have a smaller dot size ~50-75 uM.
It is more comfortable to use an 808 nm laser module since its light is not visible.
Laser cutting / engraving abilities
All experiments with laser cutting / engraving abilities will be made after the laser official release.
808nm High Power C-Mount Laser Diode specs.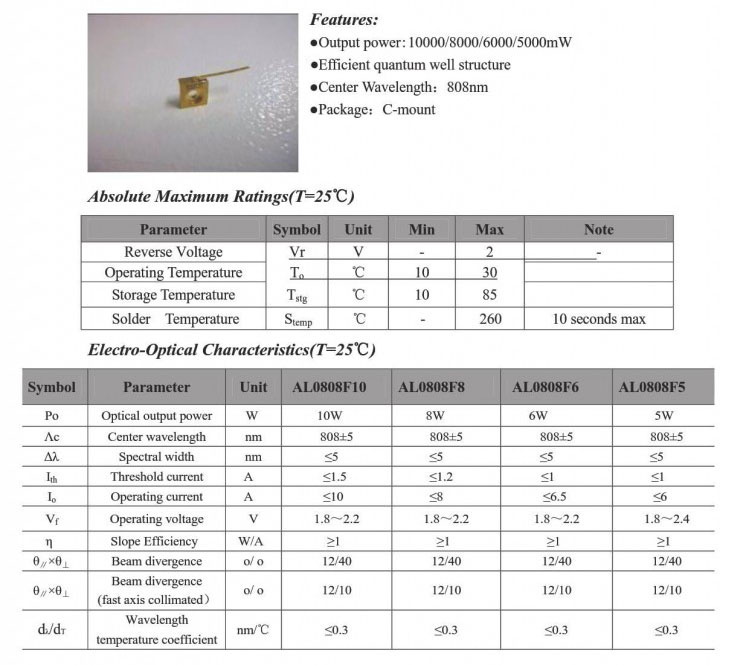 Full PDF tech specs of the laser diodes we use for our lasers.
808nm 10W T-mount Laser diodes
About the Endurance IR 808 nm laser modules.
These laser modules are compatible with any 3D printer / CNC machine / XY plotter.
These laser modules are compatible with any 3D printer / CNC machine / XY plotter.
In this modules Endurance use 808 lensed laser diodes in C / E / H mounts with 6 / 8 / 10 / 15 watt output.
The diodes are securely fastened in a copper/aluminum cowling.
These infrared diodes are equipped with a regular 3 element lens with a focal range of 5-15 mm.
We use a custom build heatsink. For better diode cooling 4 fans are installed.
The laser driver has a voltmeter, an ammeter, a temperature sensor and a special DC/DC module with preset voltage and current.
The DC/DC already has a current stabilizer and a Zener diode to prevent unexpected voltage jumps.
The laser controller board has a TTL (PWM) working by a 0-12V signal.
Every laser module is sent with an Endurance MO1 PCB which enables to use an external power supply to feed the laser when the mainboard does not have enough power.
Uniqueness of the product
A small / portable infrared 808nm diode laser attachment.
With real rated power output and a TTL output to control the laser intensity.
Compatible with most 3D printers and CNC machines.
Demo video footage
Proceed with a fast and secure checkout. Free DHL shipment worldwide. Get your laser in 3-5 days.
Estimated retail prices:
6 watt – 695$
10 watt – 995$
15 watt – 1295$
Pre-order price:
6 watt – 485$ (save 210$)
10 watt – 695$ (save 300$)
15 watt – 895$ (save 400$)
Pre-order is available
Place order now and save 30% (free delivery included).
Lead (delivery) time is 4-12 weeks.
Keywords: infrared lasers, watt, wavelength, price.
Key concepts: cutting laser, engraving laser.