Endurance Infrared lasers are versatile, precise, and powerful enough to be used for engraving, marking, cutting, and other applications. They are also compatible with most machines in the market. The installation of the laser is not difficult for users to install onto their existing machines.
You can connect them with your 3D printer, CNC machine, XY plotters.
Endurance offers 6W, 10W, and 15W output infrared lasers. These high-performance infrared lasers have a small beam diameter, and so can be used to accurately engrave on various materials.
Compared to other laser modules, Endurance features high stability with a durable frame consisting of a brass mouth housing and copper mount and there is a custom-made heat sink. The laser is capable of having more efficiency and less heat generation.
A noticeable difference from laser diodes is the dot also is different from other diodes. The infrared dot seen will be a slightly visible thin red dot instead of blue.
They have high beam quality work with wavelengths of 808nm.  The spot produced with focus is very small at ~50-75 uM. Glasses should nevertheless always be worn. In case of accidental eye contact with the laser source or reflection with the infrared light.
The difference from a diode laser can be seen from different effects on the application of materials. The infrared laser will also give accurate, stable, and reliable power for your projects. They have a consistent high operating performance and can work without fail. An Endurance infrared laser is very high performance and will last about 10,000 hours.
Once in focus with a 6 watt infrared laser is capable of cutting materials such as acrylic and plywood,
Features of the Infrared laser include rust removal and corrosion reduction. This can help extend the life of metals and give them a new life. The renewal ability of the infrared laser can be used to reuse metals and reverse the rusting effect.
Watch the video demonstration here to see how the 10W Endurance laser removes rust from an old steel blade covered with rust. This is a chemical-free method of rust removal that is fast, clean, and efficient. You can remove rust from various old steel plates, metal parts, and more.
You can also engrave on a range of materials including MDF wood, plastic. The PLA plastic can photoengrave well. This video demonstration shows how you can get stunning results on PLA.
The 808nm infrared lasers will give you great accuracy and quality results for your project. There is a noticeable advantage to using an infrared laser compared to your projects. The abilities are not limited and can help you accomplish your project
6, 8, 10 and 15 watt infrared lasers with 808 nm wavelength have laser cutting/engraving abilities. They cost from 695$, but the pre-order price starts at 485$.

Endurance started final tests of powerful infrared diode laser modules before producing them and shipping
Endurance 6 watt / 10 watt / 15 watt infrared (IR) 808 nm laser modules.
What is so great about the new infrared 808 nm Endurance diode lasers?
We expect infrared lasers to be more efficient with less heat generation.
New 808 nm diode lasers will have a smaller dot size ~50-75 uM.
It is more comfortable to use an 808 nm laser module since its light is not visible.
Laser cutting / engraving abilities
All experiments with laser cutting / engraving abilities will be made after the laser official release.
808nm High Power C-Mount Laser Diode specs.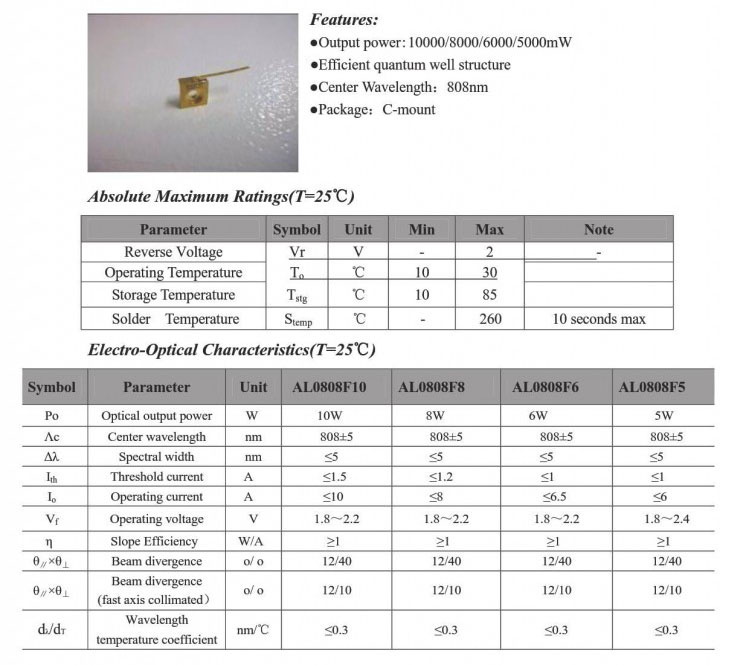 Full PDF tech specs of the laser diodes we use for our lasers.
808nm 10W T-mount Laser diodes
About the Endurance IR 808 nm laser modules.
These laser modules are compatible with any 3D printer / CNC machine / XY plotter.
These laser modules are compatible with any 3D printer / CNC machine / XY plotter.
In this modules Endurance use 808 lensed laser diodes in C / E / H mounts with 6 / 8 / 10 / 15 watt output.
The diodes are securely fastened in a copper/aluminum cowling.
These infrared diodes are equipped with a regular 3 element lens with a focal range of 5-15 mm.
We use a custom build heatsink. For better diode cooling 4 fans are installed.
The laser driver has a voltmeter, an ammeter, a temperature sensor and a special DC/DC module with preset voltage and current.
The DC/DC already has a current stabilizer and a Zener diode to prevent unexpected voltage jumps.
The laser controller board has a TTL (PWM) working by a 0-12V signal.
Every laser module is sent with an Endurance MO1 PCB which enables to use an external power supply to feed the laser when the mainboard does not have enough power.
Uniqueness of the product
A small / portable infrared 808nm diode laser attachment.
With real rated power output and a TTL output to control the laser intensity.
Compatible with most 3D printers and CNC machines.
Demo video footage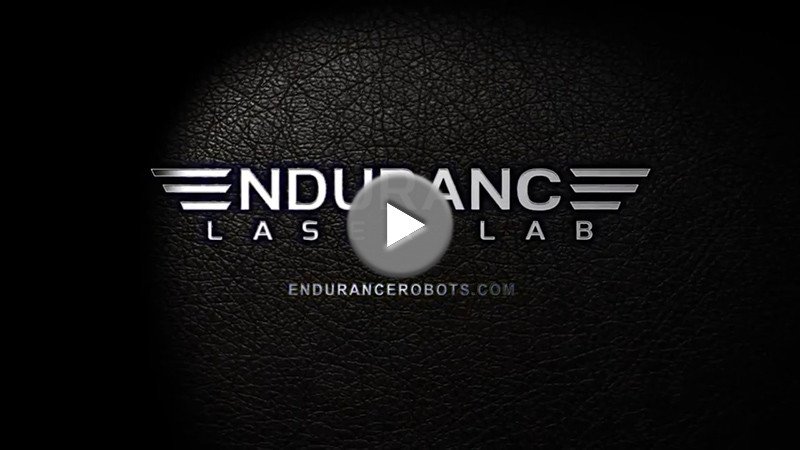 Proceed with a fast and secure checkout. Free DHL shipment worldwide. Get your laser in 3-5 days.
Estimated retail prices:
6 watt – 695$
10 watt – 995$
15 watt – 1295$
Pre-order price:
6 watt – 485$ (save 210$)
10 watt – 695$ (save 300$)
15 watt – 895$ (save 400$)
Pre-order is available
Place order now and save 30% (free delivery included).
Lead (delivery) time is 4-12 weeks.
Keywords: infrared lasers, watt, wavelength, price.
Key concepts: cutting laser, engraving laser.