Super Deals!! 40% Discount on all lasers.
Endurance lasers
LLC (DUNS: 040396344 / EIN 301168249) plans to work on some projects in late 2022
Endurance fiber laser converter with a board a portable handheld rust removal
Fiber laser repair. For that project we are considering Fujikura instruments.
Fujikura FSM-100p+
Fujikura CT-101
Fujikura CT52
For that project, we consider Microscopy Camera Axiocam 506 color (D)
X-ray non-linear crystals inspection. For X-ray inspection we plan to use the following devices

Our next step is to connect the X-ray emitter (I.A.E, Italy) C339 E/XM15 T 0.1/0.3 (https://www.iae.it/product-details/c339/) with a high-frequency power supply device of our own manufacture 23-35 kV up to 120 mA.

For nonlinear crystals check we plan to use
3-axis Magnetic field Sensor FLC3-70

FLC3-70-HT, FLC3-70. Those sensors will allow us to measure of weak magnetic field for Lithium niobate (LiNbO3).
Laser R&D
Ti:Sapphire laser
At the moment we are looking for Ti:Sapphire laser by Coherent (complete installation: Mira 900-P + Verdi G10) and this laser module LMFC-405-PLR6-FCAPC-1K
We plan to work on short LD pulses like 0.1-10 ns and we plan to use following controller "Controller, PXI, PXIe-8840, Intel Core i7-5700EQ, 2.6 GHz, 4 Cores, 4 GB RAM, 34 Slots, Windows 10" & Keithley 2635B SourceMeter, 10A DC, 200V, 200W, 0.1fA / 100nV, 1 Ch.
All measurements we plan to make using a Keysight DSOS254A High-Definition Oscilloscope: 2.5 GHz, 4 Analog Channels  (current oscilloscope can we also used for laser pulse detection)
To produce films for laser phase mixing we would need to use 3D surface measurement instrument. We consider using CT350T CT 350T / CT 250T – 3D surface measurement system for absolute thickness measurement by cyberTECHNOLOGIES
We are considering that a stable interference pattern is possible in the visible spectrum but in NIR as well. We plan to make some studies and research for 1060 nm wavelength and we consider ordering a single mode fiber coupled laser diode, 200mW @ 1060nm, QFLD-1060-200S.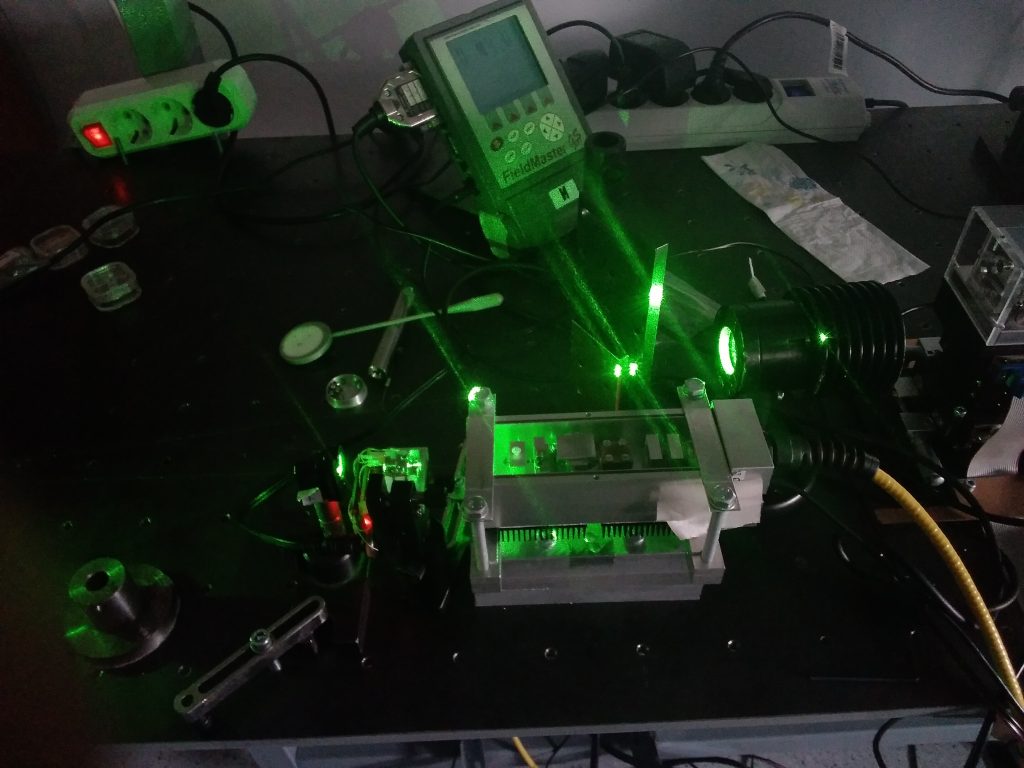 1. Testing with a new TEC cooling water chiller 
2. Testing pulse duration and pulse width with Cr:YAG / lithium niobate.
3. Preparing a new design for 200-500 watt system.
4. Working on  532 / 355 nm (SHG/THG) laser radiation.
TOP SALES! The best laser head for your 3D printer / CNC machine / engraving frame.
1. Improving on a laser beam quality
2. Testing a water cooling system
3. Development of a portable version of the system
Improving the power supply and laser controller.
All calculations were made and we are waiting for components to arrive to make all tests and experiments
We ordered lenses:
Megapixel Fixed Focal Length Lenses
2/3″ sensor support, F1.4 brightness (exc:SV-5026H)
f6mm – f100mm, 13 models
Iris and focus are adjustable
All models filter-ready (VST filters are available)
f75mm・f100mm models support 1″ sensor
We plan to make a smaller laser beam spot ~ 10×10 microns. Now we have about 25×25 microns with a short focal F=20 mm laser lens 
The water cooling chiller is in development
Multi-purpose chiller is ready for Co2 lasers and DPSS laser modules with good temperature stability.
4.5 watt 532 nm green impulse laser is ready
Microchip laser is in the development stage.
Misc (potential project)
Explore Laser Tweezers
3-5X LD combination
Going concern projects
Fiber laser upgrade package: PWM control box + focusing system
A universal autofocusing system for lasers — diode, DPSS, fiber, Co2. Laser focusing upgrade kit.
Endurance fiber coupled diode laser 440-450 nm 5.5 watt (5500 mw)
Multi-wavelength laser modules: 1064 + 445 nm / 808 + 445 nm / 1064 + 532 + 355 nm
An Endurance water cooling system (water + TEC Peltier chiller) — a chiller for your laser
Endurance lasers present a first unprinter. Removes paint on different surfaces.
LIBS / LIPS device. Explore the material with a laser induced plasma spectroscopy
Waist of single-mode laser radiation — determining the depth of focus.
For all our R&D purposes we are buying optics and optical components from Thorlabs, Edmund optics and Newport.