All you need to know about engraving on bamboo – a real customer story
Quite few years ago I had purchase two bamboo starter plants from a Oregon bamboo farm.
TOP SALES! The best laser head for your 3D printer / CNC machine / engraving frame.
This was timber bamboo it took several years for the plants to take hold and grow well.
As you can see it can exceed 4-5 inch thick and grow in 50 days to over 50+feet high.
If left tol mature the wall thickness can be nearly 19mm in thickness.
Bamboo needs to be harvested as a pole in two the three years after it reaches its full height.
Bamboo is a grass not a tree and I have no idea why they might sell processed bamboo as a wood.

Engraving the bamboo is quite nice using a 8 watt laser beam set at 40% power speeds of 2400 mm/min to 1200mm/min pictures come out very nice if darker at 1200 speed some fine paper brings great life images. Above picture is a pen or pencil holder very easy to make with mature heavy wall bamboo. This is a Florida Snake engraved on bamboo a non dangerous snake he like to hunt and eat mice.
His dinner engraved on bamboo the snake was 1200mm mouse was 2400 speed.
Now I had a very thick wall 8" section of bamboo and engraved it and cut slots and holes for display picture I have engraved. I used a table saw to make base flat and also made top flat for where mounting pictures. I put a couple of dragon flys and a frog just for the fun of it.
This is the view of I made in lightburn for the top slot and holes. That are all laser cut.

Laser cutting bamboo can cause it to burn out of control my best results were from cutting on flat surfaced bamboo. I did use air on this cut the long slot was set to 3mm wide the holes are 12 mm.
My next attemp was on round tops of bamboo to make same slots and holes. It took a lot more time to burn thru then it went up in smoke. From now on its flat bottoms and tops if slotted thru with laser cutting.
I tried twice but the same fire was in the hole. On the big hole it seem the air assist got to much flow.
Getting started with Endurance diode lasers – focusing, settings, parameters, misc
On the top I had reduced the flow and it still burn out of control. All of my bamboo shown has been in my barn for over two years. Very very dry bamboo. Very very flamable if cutting its great for engraving.
I think one could easly make a design and a totem pole faces into it.

Florida Key deer and Florida Cougar No rotator was used in these engravings – only long focal lenses
Focus point was set on the highest part of the bamboo. It shows that from the focus point there is enough of the laser kept in focus for fine engraving all though the distance change is a few mm from the original setting.
I hope you all enjoy my information and keep on doing what your imagination drives your engraving talents.
More details about bamboo laser processing
Engraving Bamboo you will find it does not always come outright. Some bamboo will laser fine some will not.
Lasering bamboo with 2 watt laser or a 10 watt laser is all the same but how you do it is what matters.
When you look at the bamboo you will see if is done in parts. Which means some bits are harder then others.
Bamboo

As you can see on this picture above there is three parts which are going to be hard all other will be soft.
to laser over them you will end you with a lighter look then the rest of it. i have found working on speed and
angle of engraving helps give the hole engraving the same look. even on the hard bits to the soft parts.
Test Bamboo Engraving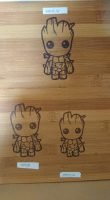 As you can see from the picture above the top one is the best way as this when't over a hard part and soft part.
This was done at a 45 degree angle and a speed of 1000. with a 2.1 watt laser other laser power will be a different setting.
Used For This Test
1. Laser Grbl
2. 2.1 watt Laser
3. Bamboo Chopping Board
If you have any more questions about bamboo laser engraving – ask us in a Livechat!
Photo laser engraving on wood, plywood. How to make it yourself.

Got a question? Ask our experts and we will help you!