Engraving Bamboo you will find it dose not always come out right. Some bamboo will laser fine some will not.
Laseing bamboo with 2watt laser or a 10watt laser is all the same but how you do it is what matters.
When you look at the bamboo you will see if is done in parts. Which means some bits are harder then others.
Bamboo

As you can see on this picture above there is three parts which are going to be hard all other will be soft.
to laser over them you will end you with a lighter look then the rest of it. i have found working on speed and
angle of engraving helps give the hole engraving the same look. even on the hard bits to the soft parts.
Test Bamboo Engraving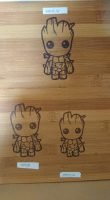 As you can see from the picture above the top one is the best way as this when't over a hard part and soft part.
This was done at a 45 degree angle and a speed of 1000. with a 2.1 watt laser other laser power will be a different setting.
Used For This Test
1. Laser Grbl
2. 2.1 watt Laser
3. Bamboo Chopping Board