Are you looking for a quick and easy engraving / cutting tool?
Are you happy with your 3D printer or CNC machine?

---

Experience the true power of a 10 watt Endurance laser attachment.
Bring ultra abilities to your 3D printer or CNC machine.
Infinite Abilities Of This Diode Laser
Material
Laser cutting
Laser engraving
Stainless steel
-
+ (speed ~25-250)
Copper and brass
-
+ (speed ~25-250)
Ceramics
-
+
Aluminum
(painted and anodized)
-
+ (speed ~150-500)
Natural stone
-
+ (speed ~150-400)
Glass
-
+ (speed ~100-400)
Leather
2-3 mm (single pass)
+ (speed ~400-750)
Hardboard
+ 3-4 mm (single pass)
+ (speed ~500-1000)
Cardboard
+ 3-5mm (single pass)
+ (speed ~500-1000)
Paper
+
+ (speed ~1000-1500)
Fabric
+
+ (speed ~300-750)
Felt
+
+ (speed ~300-750)
PVC
3-5 mm (single pass)
8 mm (2-3 passes)
+ (speed ~500-750)
ABS
3-5 mm (single pass)
8 mm (2-3 passes)
+ (speed ~500-750)
PLA
3-5 mm (single pass)
8 mm (2-3 passes)
+ (speed ~500-750)
Acrylic
3-5 mm (single pass)
8 mm dark acrylic (1-2 passes)
+ (speed ~350-750)
Wood / Plywood
4-5 mm (single pass)
8 mm (4-8passes)
+ (speed ~400-1500)
*) Max laser cut: 10 mm wood, plywood, acrylic, MDF, balsa and other soft materials
Technical information
Laser came in mail extremely
Laser came in mail extremely fast and in great condition. Was very easy to setup and looks professional! Definitely happy with my purchase and this product!
I was informed about Endurance
I was informed about Endurance Lasers by another company, T2Laser which produces laser software. I had a great experience with T2Laser so I thought if they were recommending Endurance Lasers, then it would be worthwhile. I had looked at other lasers over the years, but the most powerful were 3.8 W. I wanted something more powerful. As soon as I contacted George at Endurance, he was very informative and helpful. I really focus on customer service with companies when I buy something, so I wanted to see how he responded to questions. He responded quickly and very thoroughly. I liked that he gave me a personal response each time tailored to my needs. I purchased the 10W laser and as I went through the setup, Endurance Lasers answered every question I had and even looked over my electronics to make sure their product would work with it properly. I'm fully functioning with the 10 W laser and even though I had more complex setup than typical, I was functioning within a day of beginning the installation, which took very little time at all (2 hours total time). Thanks! Will be purchasing more in the future!
my 10w lazer is fantastic
my 10w lazer is fantastic still in the testing stage will cut through 3mm ply 3 passes at 20/255 and 5 passes 200/255 with home made air assist well worth the money well done endurance
Are you item owner? Share your opinion, please.
Laser Type
Nichia diode
Laser Optical Power Output
10000mW ± 15%
Focal Length
2-10 cm (variable) for 3 element lens | 2-10 mm (variable) for G2 lens
Laser Wavelength
445 nm
Lens Type
3 element long focal lens / G2 short focal lens
Operation Time
Tested 48-72 hours continuous
Voltage
12V DC
Current
5-8 Amps
Cooling
Active air blowing with 4 fans
Mount
Ultra compatible and universal
Installation Process
Minimum Laser Pixel (spot) Size
0.1 mm (100 uM)
Power adjustment
Endurance MO1 PCB
Laser Dimensions (W x L x H)
60 x 95 x 60 mm (2.4 x 3.7 x 2.4)''
Laser Weight
220 g (1/2'' lbs)
Laser Driver
External laser control box
Lifetime
10 000 hours
Maintanance
Is not required
Additional power
Required for fans
What is great about 10 watt laser?
4 fans and big heatsink cool the diode efficiently
Well tuned laser control board keeps diode safe and brings 10 watt optical power output
2 switch position: TTL mode / 100% output
What goes in the box?
We kindly put everything you need in the parcel.
10 watt laser module.

Necessary

Endurance laser board driver (plastic or 3D printed shape).

Necessary

AC/DC 12V 1A power supply for fans.

Necessary

Protective goggles.

Recommended

Endurance MO1 PCB. TTL controller.

Recommended

G2 (short focal) lens.

Optional

Advanced laser mount pack.

Optional

Laser actuator.

Optional

AC/DC 12V 5A power supply for the Endurance laser driver.

Optional
Attention!
All Endurance lasers have true advertised and rated power output and can work continuously for more than 48 hours!.
---
Do you want to see test results of the continuous laser power of Endurance lasers?
Please leave your email and we will send you a report shortly!
Laser cutting and laser engraving for home and for business.
Advantages of Endurance lasers
Multi-level testing system.
Industrial components.
The guaranteed duration of the continuous operation ~48-72 hours.

True continuous power output
Our products have the rated power output as advertised – unlike Chinese analogues.
Can be turned on and off with 0-12V.
Variable power output.
Universal and compatible mount.
Compatible with most 3D printers and CNC machines.
Do not like the laser?
Simply return within 14 days and get a full refund.
Laser attachments and laser engraving (marking) machines.
Why do our customers buy lasers and engraving machines from Endurance?
We assist and give advice by phone / email / messenger / telegram / whatsapp / viber.
We help to install and tune the laser. We offer qualified after-sales support.
We ship everything you need in the parcel to get started.
We ship all units within 4-24 hours.
All our lasers are tested and could work up to 10000 hours.
Do you have an old model? Upgrade your unit with more powerful one.
Endurance flagship 10 watt (10000 mW) diode laser module.
Why to choose an Endurance 10 watt laser?
We deliver everything you need to get started
Invincible power allows to create incredible thing with your 3D printer / CNC machine
Unlike many Chinese lasers the Endurance 10 watt laser can work continuously up to 48-72 hours Its lifetime is about 10 000 hours.
Real rated optical power output of is 10 watt (10000 mW).
Endurance provides and ultimate customer support with full guidance and tutorials.
Galleries of the product
Support and guidelines
Important Notes
You need 2 separate power adapters: 12V a 5-7A adapter for the laser and the other - 1A for the fans.
Check the focus of the laser: tune the focus accurately for G2 lens (optimal range is 6 mm [1/4'']) .
Check the schematics of your electronic contral board, the laser or the spindle power output should be 12V and 5-7A (The Endurance MO1 PCB is already build in this laser)
Compatibility and installation process.
Endurance 10 watt laser can be installed on any 3D printer and CNC machine.
Does not require additional mounts, connectors.
Ready to go in 15 minutes after you get it.
Necessary manuals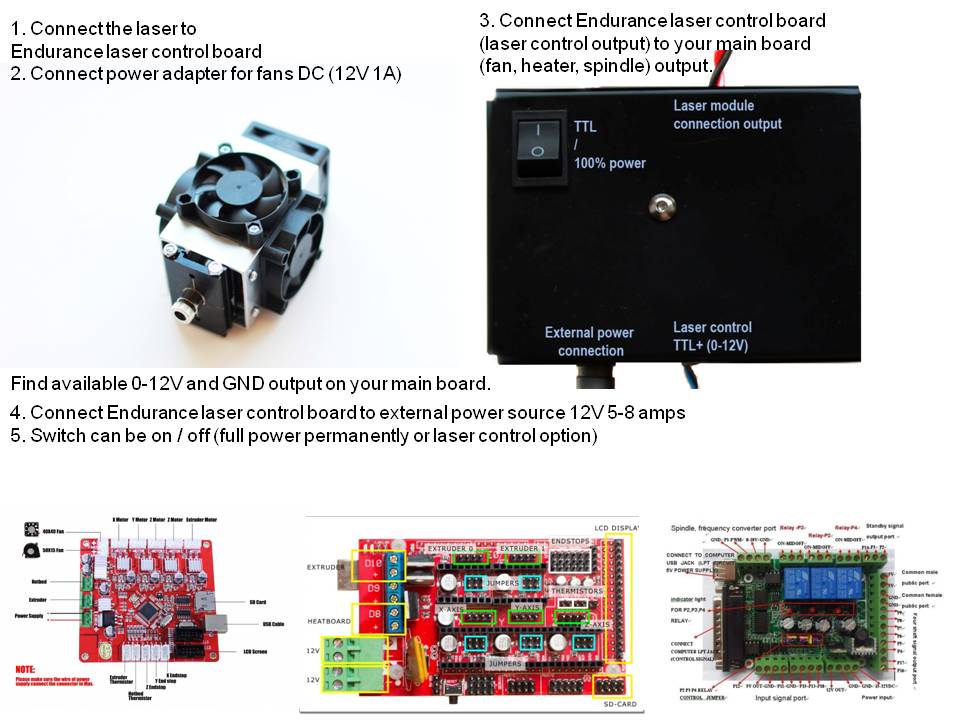 Share your opinion and evaluate the product