Super Deals!! 40% Discount on all lasers.
Keyholder with shelf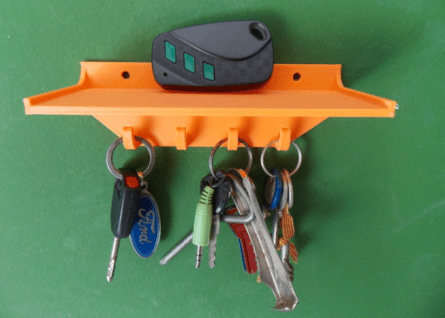 A 3d printed key holder with a shelf is a functional and good-looking way to keep all the keys organized in one place. The model can hold four keys at a time with extra space on top for small items you may like to set there. The design is a smart and convenient way to remember where keys are at most times. This can hold keys, watches, jewelry, and other items. You can customize the print and create different colors that will complement the colors of the wall or match furniture and other items around the room.
Link to download: Key holder with shelf by Gerardorl – Thingiverse
Shishi Odoshi "Deer Scarer" Japanese Water Fountain
This Japanese water fountain or endless waterfall is a very decorative item for your home. This can liven up your living room or any room with the effect of never-ending water. The Japanese Shishi Odoshi means deer scarer. These are supposed to be devices made to frighten away animals that threaten agriculture. The device works by filling up with water, it tips the other end over and makes a small noise. The noise is meant to scare away the deer in your garden and keep it protected just like the real thing!
Link to download: Shishi Odoshi "Deer Scarer" Japanese Water Fountain – Fully Working by jelson – Thingiverse
Moon Lamp
You can try a new way of lighting with a moon lamp that emits a soft glow of light. This moon lamp makes a warm glow of light that shows the moon right in your room! The model includes everything you need to print your exact replica of the moon. Once you print, assemble, and turn it on, it looks truly amazing. This is a nice type of lighting for romantic evenings or simply for a comfortable ambient light for reading. This is perfect for people that are into astrology. They can see all the features of the moon like the craters. The glowing moon can bring a serene ambiance into your home.
Link to download: Download free STL file Lamp -Moon • 3D print model ・ Cults (cults3d.com)
Voronoi Dining Lamp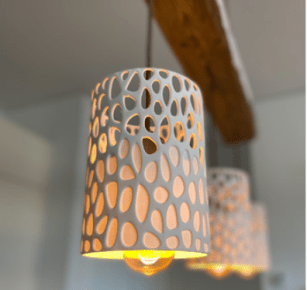 This 3d printed Voronoi dining table lamp is a great addition to any home and brings beauty to the dining room. The light housing is a great mix of artistic design and modern technology that is made to be used for a hanging set of lights. A dining area is a place where family and friends gather to enjoy meals, talk, and laugh. This is a great choice to improve an ordinary dining environment. You are also able to print in any color and shape, the Voronoi dining lamp will look great with its modern style.
Link to download: Voronoi dining table lamp by ippe – Thingiverse
Modular glass holder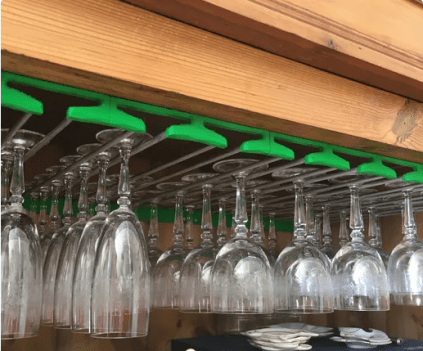 A 3d printed modular glass holder can be easily fixed under a shelf in your kitchen. This model helps organize the glassware all in one space and gives your kitchen a more well-kept, organized, and stylish look. You can create the glass holder for any many glasses you need and place them under your shelf as you wish. It will certainly decorate your kitchen! Wine glasses that were once in a congested space can become more easily accessible now. This glass holder fits well under shelves and cabinets, which clears up and adds more shelf space with this neat glass holder!
Link to download: Download free STL file Glass door • 3D printable model ・ Cults (cults3d.com)
Giant Hidden Shelf Edge Clock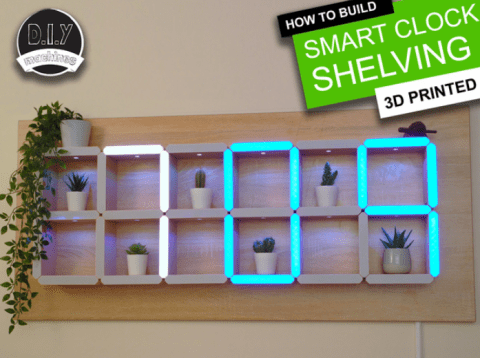 This is a project with an ambient light sensor for when you want some special lighting in your space.
This model is well designed and it is an opportunity for beginners and experts to challenge themselves. You can customize and choose your own colors for the LED lighting. The shelf is very attractive especially with the hidden giant clock. The giant clock is hidden within the edges of the shelves. You will also have integrated LED down-lighters that shine to show your items on the shelves. To help with the assembly please watch the video with the link provided below for step-by-step instructions.
Link to download: How to build a Giant Hidden Shelf Edge Clock – 3D Printable | Elegoo Arduino Nano | Smart Home | LED by DIY_Machines – Thingiverse
Modular Box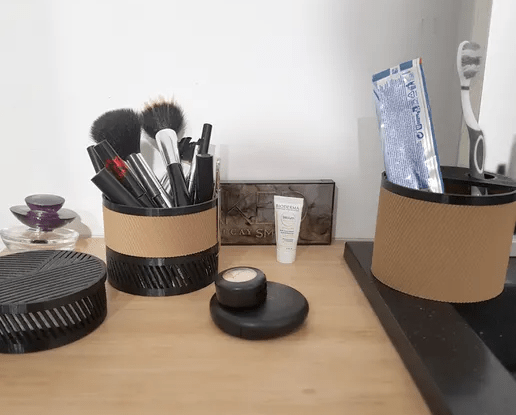 This is a small storage set that is both practical and beautiful. The design by studio DARROW is ideal to store small everyday objects of your daily life. The box is for anybody in the household and they can use it to store things like jewelry, makeup, cotton, scissors, nail cutter, etc. If used for toothbrushes in the bathroom, then the bases at the bottom are perforated to let the water run out. The composition storage box will also be a space-saving item in any of your rooms while keeping all your small objects organized in one place.
TOP SALES! The best laser head for your 3D printer / CNC machine / engraving frame.
Link to download: Download free STL file Modular box – DARO • 3D printer object ・ Cults (cults3d.com)
Planter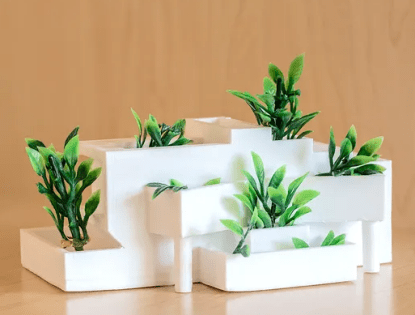 A 3D printed planter is a great part of a kitchen, allowing you to have plants directly on your countertop window, or anywhere around your home. This is an attractive design style of modern architecture. The features of the design also include 10 pots and seed storage compartments and a 2 story floor. Each plant gets enough light and water thanks to the design of the structure, and it will last for a long time. Inside the compartments, you can grow flowers, herbs, or even house plants. Your filament choice will also offer possibilities of color for your personal preference.
Link to download: Download free STL file Modern Architecture Planter • 3D printable model ・ Cults (cults3d.com)
Vase Collection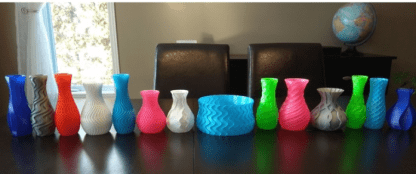 You can have a great collection of 3D-printed vases in your home. The vase collections include 5 vases that have a unique design on each of them and they also come in different sizes. These vases are well designed to be decorative to fit anywhere around your home. You can consider putting the collection at different parts of your home and print in colors that will complement your furniture and other parts of the house. They can also be used during different holidays and occasions. With more vases, more flowers can be added like the cuttings of roses and sunflowers.
Link to download: VASE COLLECTION by Jean-pole – Thingiverse
Deer Bike Rack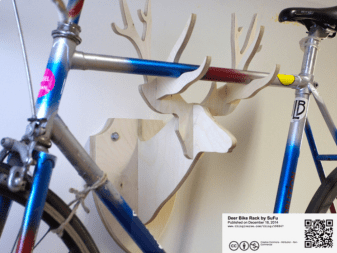 The deer bike rack allows you to use a set of deer antlers to hang your bike. It is a versatile piece and you can use it also as a coat rack, decorative item, or hanging what you like. The shape of the deer is easy to cut and assemble together with a CNC machine. You can hang your bike on the antlers and create more space on the ground. You will also keep it safe from falling over, getting scratches, or other objects in the home that may scratch or hit the bike on the ground.
Link to download: Deer Bike Rack by SuFu – Thingiverse