Super Deals!! 40% Discount on all lasers.
You might have a lot of DIY projects on your mind, but are unsure which way to go about it or which one to choose. We have made these top ideas just for you. These designs are all ready for you to be made. This year there are lots of choices that may be perfectly suited for you. You can make any of these top projects for yourself or friends and family to enjoy. We have collected and reviewed various ideas for you and given you an easy description of each so you will get filled with ideas from the variety of projects.
WALL ORGANIZER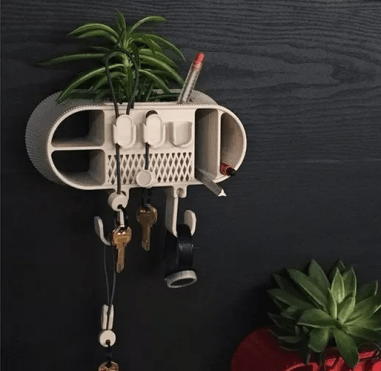 This multifunctional wall organizer is great for everyday objects. The design is smart-looking and a suitable organizer for a wall. With this DIY wall organizer, you can easily hang up keys, store pens, small flowers use the shelf for decor, and even put succulents in them for small indoor greenery. This wall organizer has two hooks, three connectors, four compartments, a shelf at the bottom, and also a space of pocket on top to put whatever else you want. This DIY wall organizer allows you to accomplish style and functionality by giving you a place to store items while adding decor.
Link to download: Download free STL file Wall Organizer • 3D printer design ・ Cults (cults3d.com)
Animated Pixel Lamp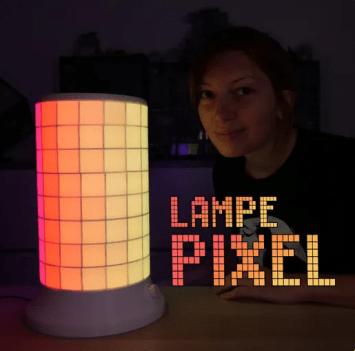 This is a great DIY project for anyone who appreciates well-designed and visually pleasing lights around their homes. This lamp is a great project that is made up of carefully aligned LED lights that are connected to create a small light show made up of vibrant colors that illuminate any room. It is well designed to look good anywhere. If you're looking to build something unique, or just want to impress your friends and family with new stylish lighting then this pixel lamp is an eye-catching decorative model. The lamp includes easy to assemble parts, an easily adjustable brightness knob that is also an on and off switch.
Link to download: Download free STL file The Animated Pixel Lamp • 3D print design ・ Cults (cults3d.com)
Phone Holder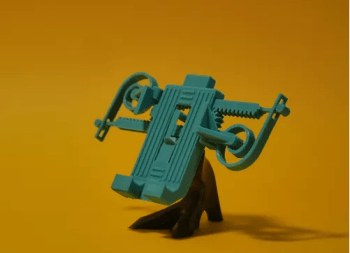 This is a very versatile 3d printed phone holder and you can use this anywhere in your home or your car. A smartphone is difficult to use while driving. This phone holder is great for everyday driving and can be mounted easily in a car. This makes driving safer and can reduce the risk of accidents. It is well designed and it can be customized in different colors. Just remember that some filaments are not heat resistant and cannot withstand the temperature if left in a car for a long time. The design is made to be adjustable for most phones and easy to use.
Link to download: Download free STL file PRINT-IN-PLACE PHONE HOLDER – FOR SPACE?! • Model to 3D print ・ Cults (cults3d.com)
Mini Desktop Humidifier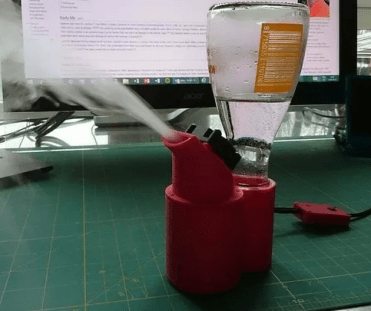 A 3d printed humidifier is an excellent idea and this desk humidifier will be great to use around a home or office. A humidifier has many amazing benefits for health and the environment. A humidifier can remove dryness and add humidity, reduce snoring, and prevent Influenza. Remember to waterproof your print and make it watertight. This desk humidifier is well designed and it will look great in different colors. The wiring instructions are included in the link provided below. It works with different shapes of bottles you can set on top. The shape is simple and has two cylindrical attached parts with a snout that extends to bring out the water vapor.
Link to download: https://cults3d.com/en/3d-model/home/mini-desktop-humidifier
MULTI-PURPOSE JAR DISPENSER'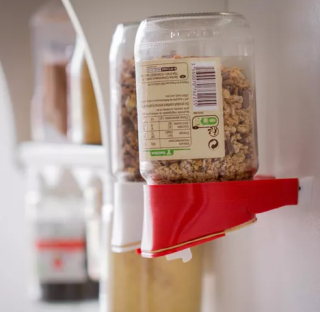 This DIY dispenser is a convenient item to have in any household. Dispense your favorite food with this jar dispenser.
TOP SALES! The best laser head for your 3D printer / CNC machine / engraving frame.
This project is both functional and unique. It allows you to use an empty glass jar to dispense many different foods. You can put tea, dried legumes, coffee, chocolate powder, mint, rice, or even cereals and more. You don't have to move the jar out of a cupboard or off a shelf to get its contents again, it can be easily accessible where you put the dispenser. This jar dispenser is a great way to be eco-friendly and creative by recycling any recently used jar.
Link to download: https://cults3d.com/en/3d-model/home/distributeur-bocal-polyvalent
Zen Fountain Garden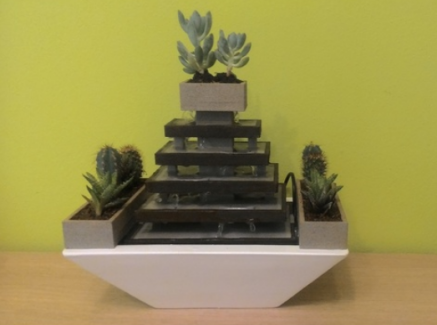 The top ideas for 2022 DIY include a zen fountain with a cactus garden. This DIY zen fountain with a cactus garden is a great project that will look good anywhere. The zen fountain with a cactus garden includes an aquarium pump and rocks surrounding the fountain. The fountain is composed of six shelves, two side vases, and the support to have it standing inside the vase. An aquarium pump can be used to recirculate water so you will have water running into your fountain. This DIY zen fountain with a cactus garden is a great project that will look good anywhere. It can be built over a weekend by anyone with moderate skills. It can be an attractive part of your living room, patio, or deck.
Link to download: https://www.thingiverse.com/thing:2974425
Wall Art Gears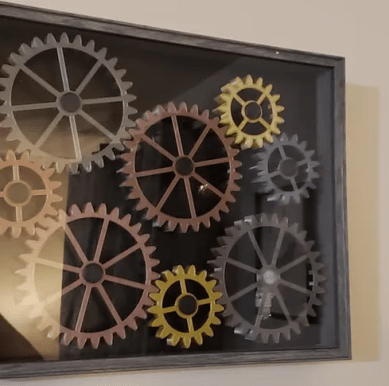 This model of wall gears is a creative model that will look great in any part of your home. The gears all move in unison as they rotate. There are 8 gears that are in two types of sizes that interlock with one another. The wall gears will look cool with a variety of colors. With different sizes and colors, they can all have a visually impressive look as they rotate. This DIY project is a creative model that has a futuristic look once assembled and it's sure to be the centerpiece of any room.
Link to download: https://cults3d.com/en/3d-model/art/wall-gears-v2
Self Folding böjlig (shelf)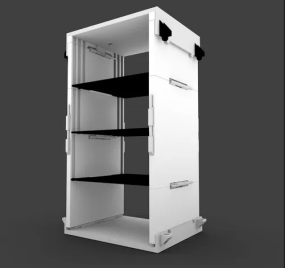 This Folding shelf is a very convenient and space-saving alternative to inflexible and rigid shelves. This DIY shelf is lightweight and easy to move. When you need to move or store the shelf, just fold and store away! When you are ready to use it again, you can set it up in a matter of minutes with very little material use. The space is divided into four spaces that are great for a variety of items. The entire shelf does not take much space and when it is folded you can easily store it in a closet. In case of difficulty, you can refer to the GIF and the mounting picture provided in the link below.
Link to download: Download free STL file Folding shelf böjlig (because Swedish names for furniture, it makes pro) • 3D print design ・ Cults (cults3d.com)
Solar Wind Turbine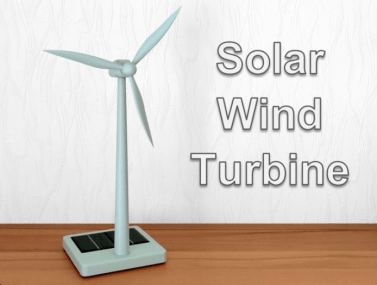 This Solar Wind Turbine is a great backyard project that you do not need to be a professional handyman to construct. This DIY is perfect for anyone who would like to earn some engineering by building their own functional Solar wind turbine. Today, it is very important to live a more sustainable lifestyle and understand how clean energy works. This model can show the way solar energy is used for power and for learning about how wind turbines work and their importance as an important source of energy. It is portable, lightweight, and easy to assemble.
Link to download: Solar Wind Turbine by PhilippHee – Thingiverse
Magnetic Levitating Moon Lamp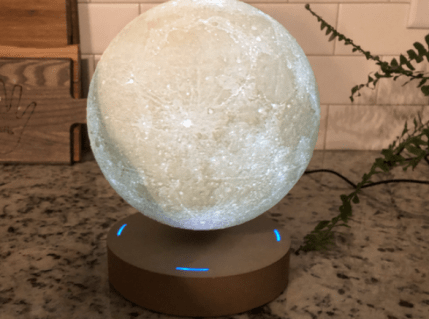 This DIY Moon lamp is well designed and it is a 3d printed work of art and science.
This DIY floating moon lamp is a project that you'll be proud to display anywhere. The lamp is well designed and with its detailed features, like craters and shadows on the surface of the moon, it will look as realistic as the moon. The levitating moonlight is a creative DIY that can creatively illuminate any space. If you enjoy astrology and our nearby planets then this is a nice project for you.
Link to download: Magnetic Levitating Moon Lamp by glafebe6 – Thingiverse