These are great ideas for the spooky day of Halloween and this selection of the top ideas will help you create some amazing 3d prints for Halloween this year. These are great projects we have added for you. This is made up of the best 3D Printing DIY projects this year for Halloween. You will find everything you need to make this Halloween special. The themes of Halloween and the 3d print designs will give you the opportunity to make an awesome addition to Halloween. You can make 3d printing for Halloween a new tradition and make some new and exciting prints with this list of top ideas.
Nightmare before Christmas – Jack Skellington with Glowing Pumpkins by 3DCustomizationCo – Thingiverse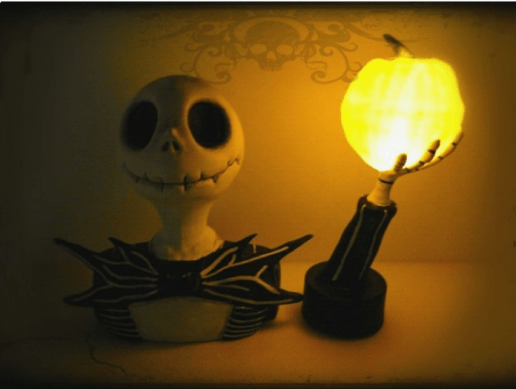 Looking for some DIY 3D printed Halloween decorations and you are a fan of Nightmare Before Christmas? Then this Jack Skellington with Glowing pumpkins from is the perfect DIY for you.
Jack Skellington himself, and glowing pumpkins that cast a haunting glow on the lawn with every spin of the carousel!
. The glow in the dark pumpkins add a special touch to this Halloween-themed statue.
The model includes a Scarecrow, Jack Skellington and two glowing pumpkins! Find all you need to showcase the Nightmare Before Christmas on a mantle
he DIY project has detailed instructions for making the skull and all of the decorations on his body out of glow-in-the-dark filament.
The Nightmare Before Christmas Jack Skellington 3D Prints will make an amazing addition to any home or outdoor display.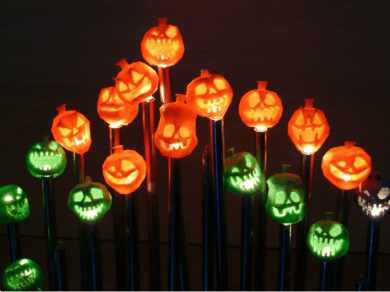 Have a blast this Halloween with these little low poly pumpkins. They can be stacked by snapping them together or if you have some 3D printed items like our Jack O' Lantern, then use them as ornaments on the other model.
Nine different little low poly pumpkins ready to be printed for Halloween. Included are: Chompy, Slurpy, Crushy, Piercy, Slicey, Crunchy, Munchy, Smoochy and Squashy. They can be stacked by snapping them together. LED lights can be put in them through the bottom. Use single little pumpkins as decorations or stack them together then you can have them as a tower or hang them up.
Or hang then up in a tree or from the front of your house.
This printable might be useful for Halloween decoration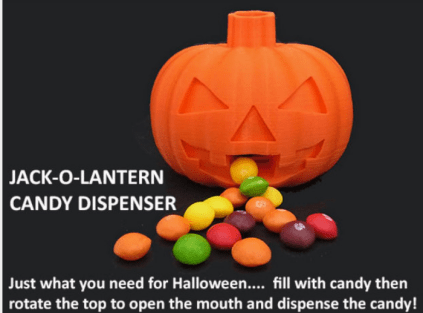 This Jack-O-Lantern Candy Dispenser is a fun way to dispense candy during Halloween. You can Scale up the dispenser and uniformly to dispense larger pieces. Scaling down is not recommended as it will reduce the internal clearances and the dispenser will not rotate to open / close. This is a fun print that will hold a large amount of small pieces of candy. You can place this jack-o-lantern in the front of the house for trick or treaters. This can also be enjoyed in a variety of different colors or the traditional Halloween orange pumpkin.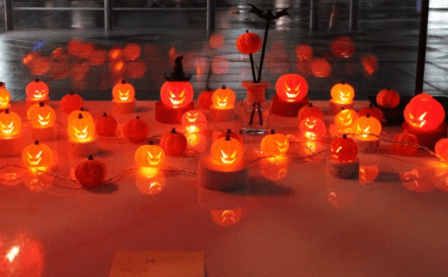 A great 3D printed idea for Halloween are these spooky Jack-O-Lanterns. This DIY Jack-O-Lantern is a great project for Halloween and it is a fun way to decorate. The Jack-O-Lantern is probably one of the most iconic Halloween decorations. This set of miniature glowing Jack-O-Lantern will illuminate your space and make it stand out as you celebrate the spooky night of Halloween. This pumpkin lantern design is a fun and festive and it can be printed and used for indoors or outdoor. The unprinted parts required are tea lights that can be bought at IKEA or various other stores.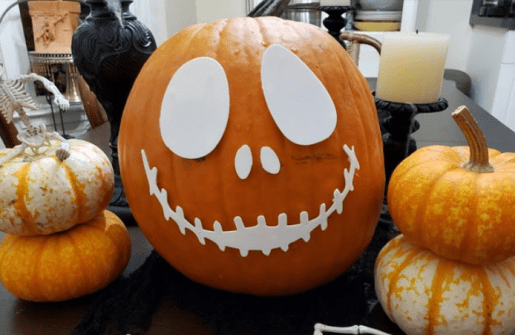 With this Halloween pumpkin decor you don't need to waste time trying to carve out a pumpkin or carve the eyes and other details into your pumpkin. Make your pumpkin into a fun decoration that everyone will love by using 3D printed decor that can be attached directly by pushing the pumpkin decor in. This push-in pumpkin decor is great for staircases, Halloween parties, front porches, and more. The decorative pieces can be printed in the color of your choice to compliment the paint scheme of your surrounding decorations on your porch. Make a dozen in different colors to make your house stand out from the others
Boneheads: Skull Box w/ Brain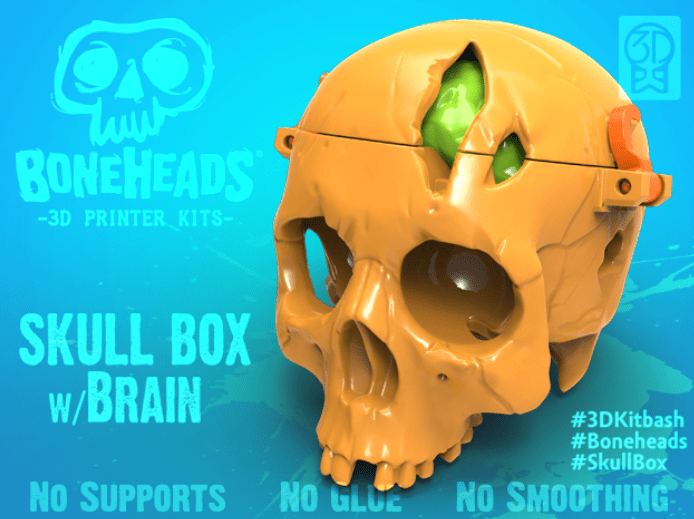 This Skull Box is a perfect spooky display for Halloween. This piece is sure to make any haunted house, and streets, more frightening. The Skull Box is well designed with an open-close lid with clamps on both the left and right sides of the skull and a small pocket of space inside. This also features a skull with cool skull details all around the model. This 3D printable Skull Box is the perfect size for placing around different types of tables, windows, and other places on Halloween. This item comes with a free printable brain which can be placed inside the skull's cranium.
Watch the demo here:
Link to download: Boneheads: Skull Box w/ Brain – via 3DKitbash.com by 3DKitbash – Thingiverse
Halloween Crow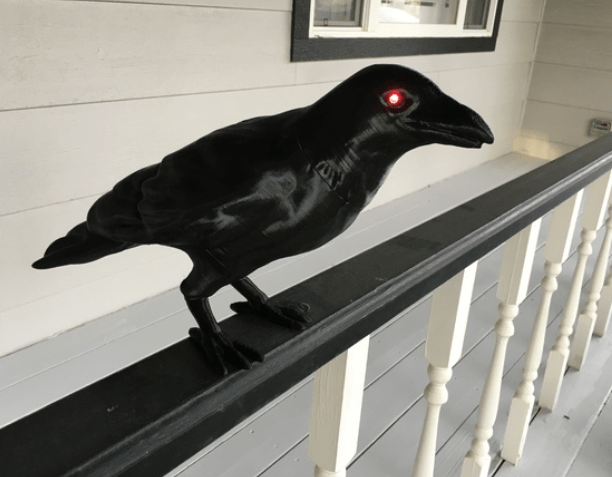 This crow will add to a Halloween decor for the front of the house. The spooky crow stands and has an eerie look with a glowing LED eye. This is a scary sight to put near windows and bushes. This crow model is designed in 4 pieces that are designed to be assembled after printing. You can use super glue to attach the sections. For the eye hole, they were made with a Dremel, and then red LED lights were added with hot glue. This crow is a good choice for anyone looking for a scary creature to display and frighten this Halloween.
Link to download: Thingiverse – Digital Designs for Physical Objects – Thingiverse
Twist Lock Pumpkin Container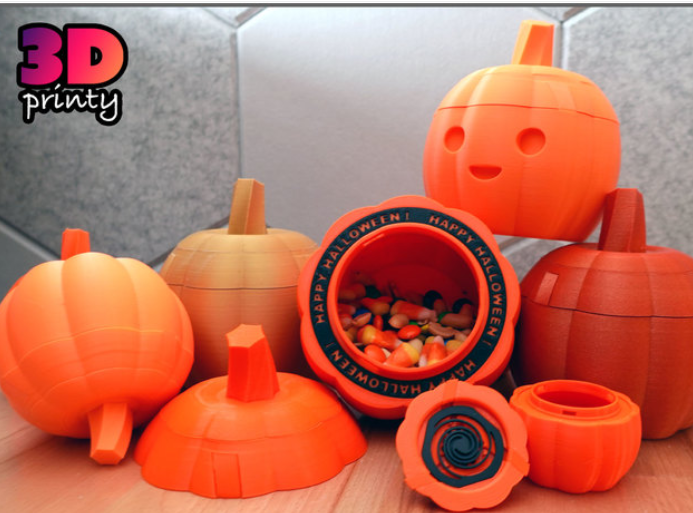 This twist-lock pumpkin container is a great storage container for candy and other Halloween surprises. The pumpkin is well designed from inside and out.
The lid twits from the top to release lathes and the lid will come off. The container can be used for candy corn and more! There are customization options also available. A ring shape insert can be written with a message like Happy Halloween. There is also space around the cap for additional customization. This is a well-designed container that doubles as storage and is also a decorative item for Halloween.
Link to download: Twist Lock Pumpkin by 3d-printy – Thingiverse
Skull lamp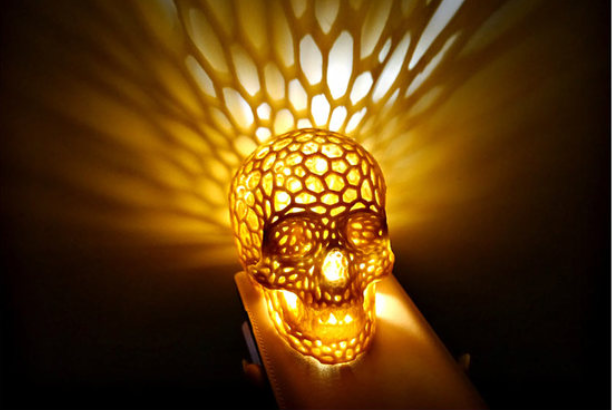 The Voronoi skull lamp creates a warm glow using the Voronoi pattern to illuminate the surrounding walls and rooms. The patterns look like a work of art when you set a candle inside. This is a great gift for Halloween and it's an excellent decorative addition to any place this Halloween. The decorative Voronoi skull is attractive to use and you can print several of them and put them across the room for a more spooky effect. With this 3d print, you will have a special decoration that you can use for future Halloweens.
Link to download: Skull lamps – Voronoi Style by shiuan – Thingiverse
Bowl of Hands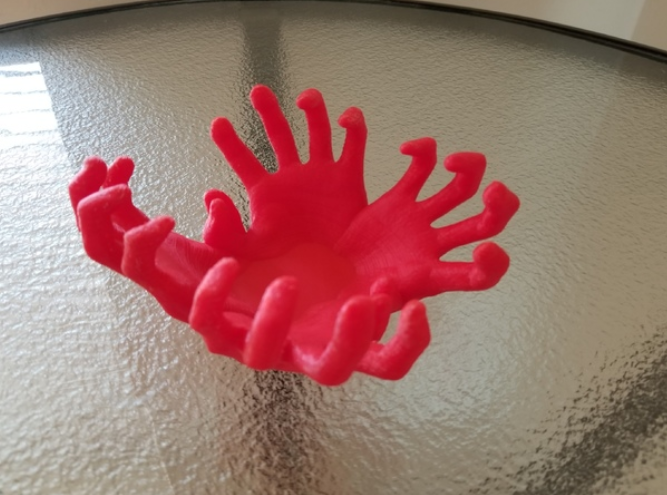 These are great Halloween 3d prints. 3d printed bowl of hands can hold candy or even other 3d printed designs to make them scarier together. It can be used during Halloween to put small items and earrings. This would be a good gift for anyone who would like to include a 3D printed bowl of hands. These Halloween 3d prints are fantastic for adding a little extra fright factor to most decorations or even using them as a party gift. These inspire Halloween and can be shown throughout Halloween when serving candy and treats or kept in the front of the door for trick or treaters.
Link to download: Bowl of Hands by PrimalR0de0 – Thingiverse