Thanksgiving is an annual celebration of togetherness and a time to be with family and friends. Each of your family members will appreciate your craftiness after you make one of these awesome 3d printable thanksgiving ideas. Make your celebration more fun and more enjoyable with some of the most unique 3d printable thanksgiving ideas. Whether you're having a formal gathering or a small party, one of these 3D printable thanksgiving ideas is sure to make the holiday period more memorable. We've rounded up some of the best 3D printable Thanksgiving designs for you to find amazing inspiration in our top three designs.
Simple Turkey Puzzle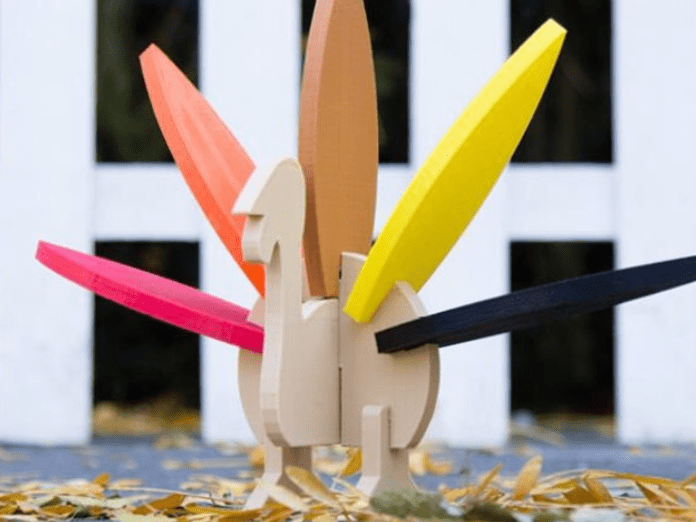 This turkey puzzle can be an amusing part of Thanksgiving this year. The shape and features of a real turkey are made from a few pieces. The parts to make a complete turkey include the legs, head, body, and feathers. All the parts can be printed with the traditional autumn colors of brown-yellow, orange, and black or even the colors of the natural bird. The choice of filament will help this small decorative item stand out. Once you put all the printed pieces together you can set it anywhere in your home this Thanksgiving holiday.
Link to download: Simple Turkey Puzzle by corben33 – Thingiverse
Turkey Shaped Napkin Ring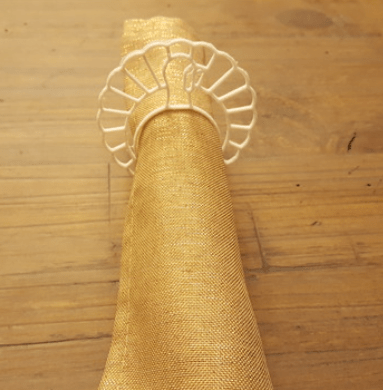 A thanksgiving table is full of all sorts of food like turkey, pies, mashed potatoes, and gravy. The table always looks great and a great addition to a perfectly set table are Turkey-shaped napkin holders. This model is decorative and will add to the thanksgiving table. Family and friends will appreciate the neatly set napkins tucked inside the center of a turkey and ready to use after enjoying a great meal.
It could also be used as a centerpiece for your dining table when it's time to enjoy a great dinner.
Link to download: Turkey Shaped Napkin Ring by cchilds – Thingiverse
Turkey Drink Coaster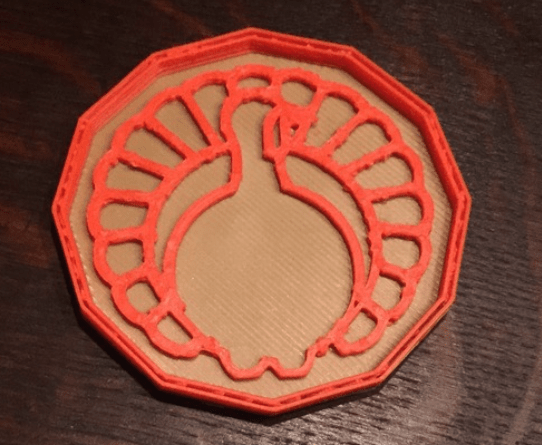 An excellent 3d printable is a Thanksgiving coaster. The feature of this coaster is a turkey in the center with the outer edges with a hendecagon. This coaster is good to serve both the purposes of decoration and functionality. It is a creative idea aside from some of the traditional types of coasters to decorate your kitchen area or living room table. You can use it on your table to keep your cups from causing stains and damage by protecting the surface. You can even set it on top to keep out bugs, show a drink is unfinished, or prevent contamination.
Link to download: Turkey Drink Coaster by tnever – Thingiverse
Butter Pig

This 3d printable butter dispenser is ideal for a thanksgiving dinner.
This pig butter dispenser will hold a generous amount of butter and will keep the butter fresh and airtight. They help keep the buttering process clean with easy to slice pieces. Just twist the curly tail and the butter cleanly comes out. This is much cleaner than other types of packaging. You can save the butter in the fridge inside the 3d printed model and just wait about an hour after you take it out if you are preparing to use it. This model is much better than an open plate butter that can melt easily, lose shape, or be difficult to store the unused parts.
Link to download: Butter Pig (Classic) by steveweber314 – Thingiverse
Corn Cob Screw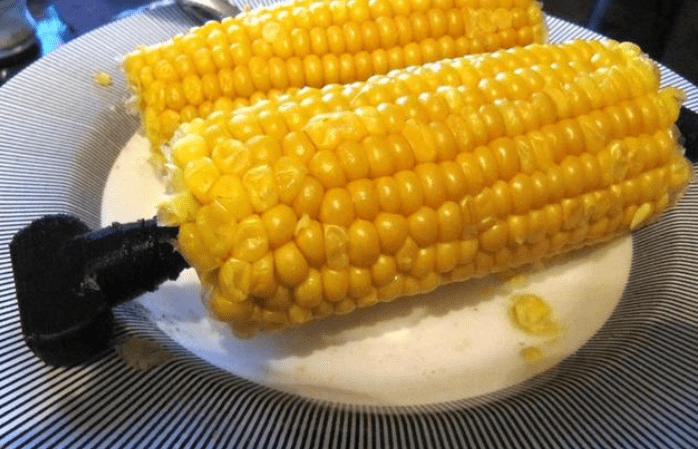 These corn cob screws are fun Thanksgiving centerpiece ideas that present a creative way to serve and eat the traditional Thanksgiving corn. The screws are designed to help you hold the corn in place when it is being eaten. This saves messes and reduces the need of wasting other utensils. The design has a great grip for anyone to hold their corn well. This is especially useful for anyone who likes to butter their corn before eating it. The screw will help hold up the corn while applying butter or eating the dripping butter from the warm corn.
Link to download: Corn Cob Screw by Fido – Thingiverse
Cocktail Plates with Wine Glass Holder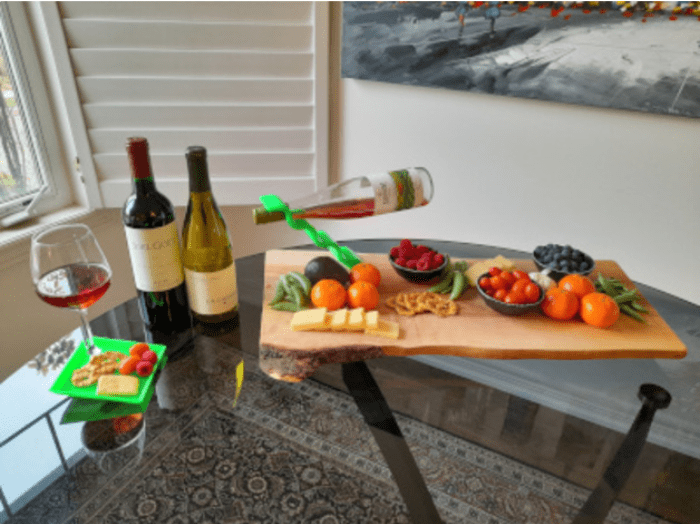 A set of 3d printable cocktail plates and wine glass holders will help you host the perfect Thanksgiving gathering for your friends and family. The beautiful display perfectly fits into a Thanksgiving party setting. The Wine glass holder is has a nice angled design and the cocktail plates have a slot cut into them for holding a wine glass and they can be printed in different geometric shapes. It is an excellent 3d printable model to showcase an interesting cocktail display and a nice idea is to print the parts and decorate n your table with some fall-colored filament that will match the Thanksgiving theme. Setting up a cocktail is far easier with this model and you don't have to be an expert host to set this display. This printable model can reduce the stress of setting up tables for a cocktail. Just simply print the Cocktail Plates with Wine Glass Holder and place them on top of your tables.
Link to download: Cocktail Plates with Wine Glass Holder by jgphilpott – Thingiverse
Thanksgiving Cookie Cutter Set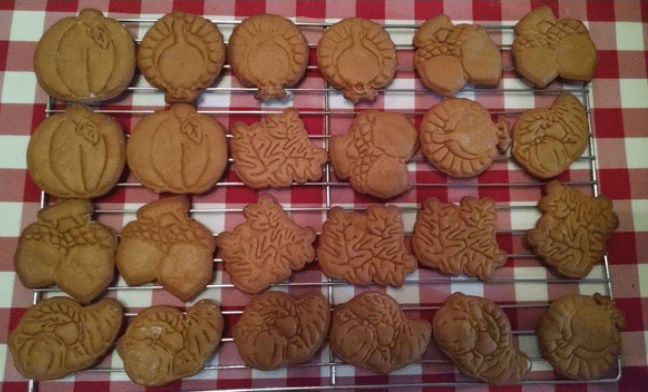 This cookie cutter set is perfect for the Thanksgiving holiday baking. There are various shapes you can make cookies and biscuits with including, chestnuts, cornucopia, oak Leaves, pumpkins, and turkeys. You can print as many of each. All that is missing after printing is a good recipe and you can start enjoying your delicious cookies. You can use your recipe to create a delicious set of cookies that everyone will have fun eating or you can also follow the link below for delicious sugar cookie dough and gingerbread cookie recipes.
Link to download: Thanksgiving Cookie Cutter Set by TeamOliva – Thingiverse
Thanksgiving wine charms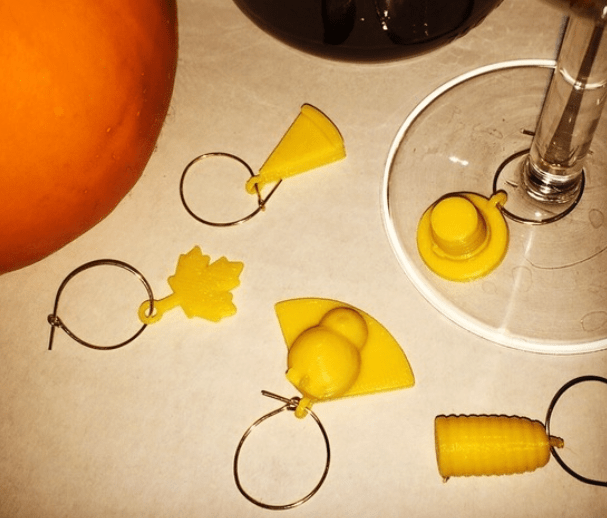 Enjoy the Thanksgiving holiday with family and friends, good food, and great wine.
You can make lovely wine charms with tags for wine drinkers. The charm figures include a Thanksgiving hat, pie, corn, tree leaf, and, bird. These can easily be added to the stem of any wine bottle. When it's time to propose a toast you can see all the different shapes of charms that can be waved around. This is a great way also to identify and keep track of which glass is which. They are also great as a place setting decoration or even as a centerpiece.
Link to download: Thanksgiving wine charms by cfmccormick – Thingiverse
Drunk Turkey Shot Dispenser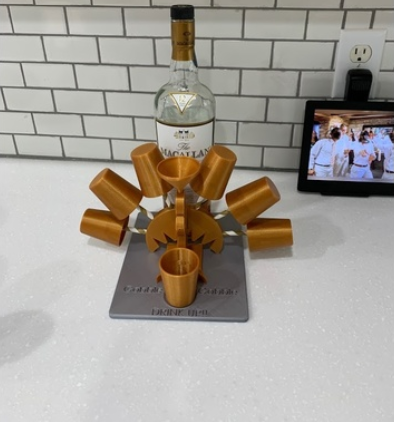 A Thanksgiving Shot Dispenser makes it easy and fun to serve drinks. This is an excellent 3d printable that guests who enjoy a good drink would find fun! You can make every round of drinks entertaining and amusing. This model has 6 feather-shaped cup holders where empty shot glasses are held. A printable funnel system sits on the back of the turkey and at the bottom base lies a cup where a shot cup gets filled up. This is a fun print for the people who gather around for thanksgiving to have fun and great laughter with this turkey.
Link to download: Thing files for Drunk Turkey Thanksgiving Shot Dispenser by Username2237 – Thingiverse
Turkey Light Box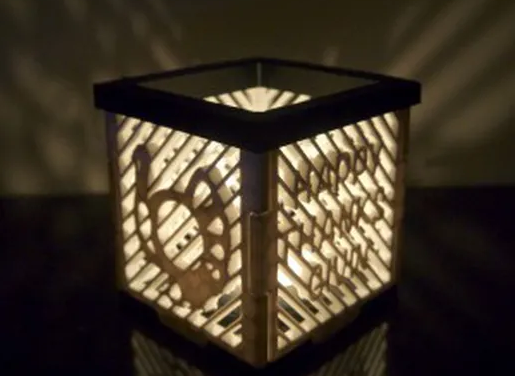 A decorative item to add a vibrant touch to your thanksgiving day is this 3D printed thanksgiving turkey lightbox. On the frame of the lightbox is an illuminated Turkey and on another frame, it reads 'HAPPY THANKS GIVING'. You can enrich your celebration and create an excellent decoration for your dining room table or any space you find that will look great. This is a simple yet elegant model to add the Thanksgiving-themed decoration in your home that will surely impress your family and friends. The designer informs us to be careful with the light and recommends using IKEA LED tealight candles.
Link to download: Download free STL file THANKSGIVING – TURKEY LIGHT BOX • 3D printer model ・ Cults (cults3d.com)