A real customer review working with CHEAP CHINESE LASER! STAY AWAY FROM NON-BRANDED Chinese lasers from eBay / Amazon / Banggood / Aliexress and other marketplaces.
I'm writing this article in the hopes that somebody thinking about buying an engraver with an all-purpose generic Chinese laser attached will read it, and not go through what I did…
I built a homebrew CNC router table about three years ago, and have been producing small wooden signs to sell at the local flea market and via my Facebook page. The machine has been running flawlessly since it's construction (other than smoking some spindles). I was looking to expand my capabilities and be able to engrave on more materials than just wood, so I started looking into getting a laser engraver. I wanted to etch on stone and steel, so I needed to get a laser with the power to do that. Did some research and from what I could gather, a 15-watt laser should do nicely, and I start looking for a complete setup. I wanted at least a 20×20 workspace, heavy-duty construction (stronger than the cheap models) with stiff corner joints, dual-motor Y-axis, a 15-watt laser onboard, and good customer support because I already knew stuff like this never plugs and plays. I found a company that was selling exactly what I was looking for, everything I wanted in machine options, they had good reviews and 24/7 customer support, so I took the plunge and bought it.
Laser power test. Upgrade your Chinese laser with a laser lens pack, lens spacer and add an air nozzle for better laser cutting
Three weeks later the machine arrives. I open the box and behold, a giant pile of "what do I do now?" Screws and nuts and rails, I'm trying to sort it out and get started. There are no instructions on assembly, and there are only 2 stepper motors. The photo on their website and the description said three motors…hmmm. A laser mount is a two-piece unit glued together, and that's broken at the glue joint, plus the hardware that holds the drive belts was not included. Now I'm aggravated, so I grab the phone and call the 24/7 customer support number and get a recording to leave a message. Well, I've waited all this time to get my hands on it, so I just start putting it together. Come to find out they changed the design and didn't update the pics and description on their website….thanks….thanks a lot!!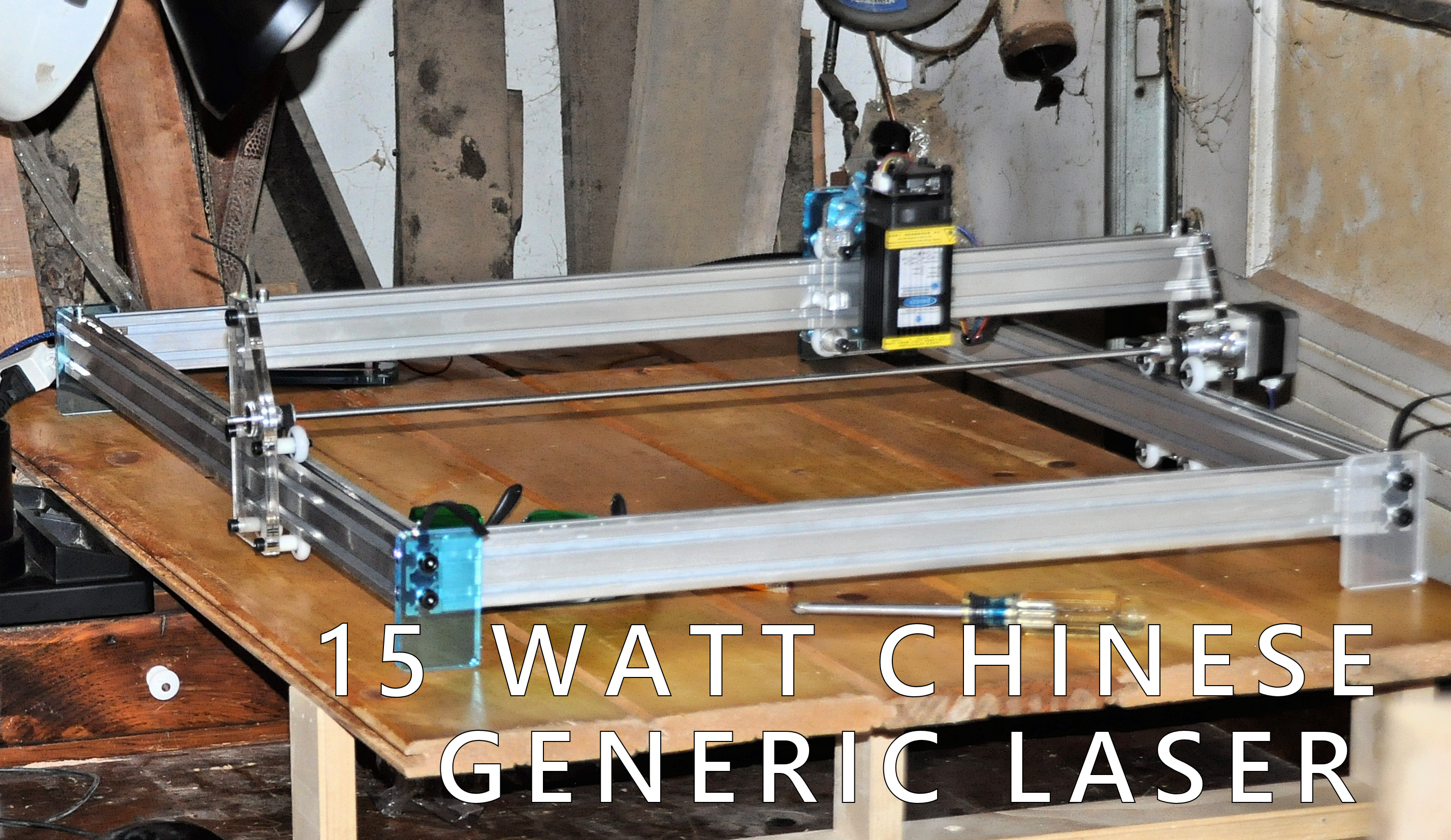 Ok, so I finally get this debacle built and ready for operation. Load a file in the software set the parameters, put a board under it and hit go. We're doing ok for about ten minutes, and then the laser just stops, like somebody pulled the plug. It wasn't really burning deep enough anyway, so I hit stop, then adjust the speed, flip the board over and launch it again. The stepper motors are chugging along and the laser is moving around as it should, but the laser isn't firing again. I check all the connections, everything seems legit and try it again, and just like before no laser beam. I couldn't grab that phone fast enough to call customer support…" please leave a message all of our technicians are busy"…..grrrrrr!!
At this time I resort to email. I send a message thinking I'll get an answer shortly since I paid a little extra for a machine with 24/7 support. Yea I got a reply…..tomorrow. Change the parameters to these and try again their message says. So I do what they say, and get the exact same result. Seems like the laser is going into thermal shutdown, but that doesn't make sense because I don't have it set real aggressive, and it's close to room temperature. So I send another email stating what it's doing and my opinion, and again they reply…tomorrow…ugh. At this point, I'm trying to diagnose the problem myself as it seems the support team isn't very supportive after all, and I just want this thing working. When it shuts off, it won't light for 12 hours or so, then suddenly it will just pop back on. So they suggest another change of the settings…..settings that make it move so slowly it will take forever to do anything, and it's still shutting down. I grabbed my multi-tester and check voltages, and the laser trigger line has the same voltage when it's firing as when it won't, so I suspect it's not the controller it's the laser. I send another email with my new data, and… oh it's Friday afternoon. Their 24/7 customer support doesn't work weekends, so I get an answer on Monday……MONDAY???? Again change parameters in the software they suggest, turn off my virus program there might be a conflict. "You're doing something wrong, there's nothing wrong with the laser." Yea I'm thinking the only thing I did wrong was buying this pile of junk. I log off the web, turn it all back on, and set it the way they want….same results.
We're out 5 weeks now from the purchase date, and still no operating laser engraver. My next message is me demanding a replacement laser. Now they start ignoring me. I get no replies. I try a couple more times but to no avail. They aren't gonna send me another laser, they are just hoping I go away. After numerous tries, I ended up filing a claim with Paypal to get my money back. I finally did get reimbursed, but this whole abomination took three months and 98 bucks return postage. Three months wasted on a cheap Chinese laser. Now take my advice will ya? Don't do what I did. Don't waste your money and time on a Generic Chinese laser…they are junk!!
written by DC Moyer
Listen to an audio podcast about diode lasers with Alan Joyce
The truths about buying cheap Chinese lasers.
---
Upgrade your Chinese diode laser module
Replace your laser driver with an Endurance laser box
An Endurance Laser Box – ultimate tool for your diode laser.
Add an air assist (air nozzle) to your laser module
An Endurance laser air nozzle: ver 1.0 / ver 2.0 (fully open-source). Make your laser cutting fast and accurate!
---
Read more
My Experience With Non-Branded Chinese Made Lasers. Fake laser modules! WARNING!
From eager hobbyist to failed entrepreneur: Living in the world of Chinese Knockoffs