Dear Endurance customers and followers in this post I would like to highlight key things using Endurance lasers.
First of all, I want to thank our customers and followers for their support and feedbacks. We take all the critics into our account and try to improve as much as we can!
Second – you have to be aware that diode lasers are a very fragile and sensitive matter. It does not mean that they are not reliable at all but tuning, running, setting up requires good knowledge in electronics, attention, and patience of course.
Third – in our Endurance laser lab – we tune and test all lasers before shipment. We test all components while the assembling process and quite confident that the laser you get will very high quality.
Forth – we setup voltage and current manually for every single diode, making sure it will give max power without risk of damaging the laser diode.
Fifth – due to shipment and customs inspections – the package can be opened and checked.
As you know we provide a lifetime warranty and we want to make sure that you get the best product that is why we decided to add warranty stickers and we want to give an explanation of how to operate, fix your laser module.
Once you get the laser – we encourage you to read this page https://endurancelasers.com/getting-started-endurance-lasers/ it will give you a quite clear understanding of what you should do and how.
I want to point you out at some very important bullets.
Before powering the laser – make sure that your switch position is setup at 0.
Make sure that your laser beam is not been aimed to anything that can burn or at anyone.
If you installed it already to your 3D printer – make sure it fastened tight and will not fall after some time.
If you did not buy a power supply (AC/DC) from us make sure it has enough power at least 12V 5A (minimum).
Make sure that all fans are working when you power the laser module.
Failure
Still, all products could fail. We wish we could make a laser module that would never break but sometimes it happens especially because we use a lot of different components from a variety of suppliers.
In case you want us to help you remotely – you need to make a very detailed video showing the case and send it to us.
In case you want to fix or repair something we have to avoid the warranty then.
If you are not sure – just send the unit back and we will send you a replacement.
After an inspection of more than 10 returned units we found out that some customers made critical mistakes like: screwing voltage and current potentiometer many times in a different directions, overloading the laser diode with too high voltage or current, removing the laser diode from the heatsink and then inserting it back without a thermal paste, etc.
Some customers, especially DIY makers, soldered a Zener diode in the wrong position.
Please remember that we already setup the max voltage and current for the laser you got. If you get a DIY unit then it is always on your risk to setup and tunes the laser diode. We do not provide a warranty on DIY units.
In case you feel that the laser diode it is not as powerful as it should be we need to make an inspection to find if it is a systematic mistake or not.
It is very important to avoid such problems in the future.
When we have sent a 2 spare laser diodes for a customer for fixing, he stated that he could not repair it and sent us back a laser module with 1 damaged diode and 2 diodes were just fine and worked properly. It means that it was just lack of knowledge and skills for repairing the laser unit.
Another thing that if a customer fails to cut something like we show on our videos – there could be a lot of reasons on that, not necessarily that our laser is not good enough – it could be that simply material is different. Even 3 mm birch plywood could have more than 10 variations.
Keep In mind that if you want to enlarge wires that go from your laser box / laser control board to your laser module you need to add copper wires with at least 14 gauge or 2.5 sq. mm diameter if you do not want to lose power on the laser diode.
For example, 18 gauge wire with 2 meter length would add enough resistance (with 0.2V drop) so that finally you could have the same voltage on your voltmeter from DC/DC but lower current since your wires consume power and you have the current drop at your circuit. We found out that some customers enlarge their wires then try to setup higher voltage and current on their DC/DC which causes laser damage since if you do not measure laser diode power output you can simply burn the laser VERY QUICKLY without knowing why.
Also another thing that polarity is VERY CRITICAL for our all circuit and burning the laser diode instantly.
We do not recommend making any measurements on a laser diode itself.
Some voltage fluctuations could also damage an entire circuit of the laser diode itself. Once we had a customer who had very strange voltage measurements even when the laser was off – it meant that he has a pretty aggressive magnetic field somewhere nearby which can damage an entire circuit.
For example, for our MO1 PCB if you miss the polarity for TTL wires with more than 6V it will kill opt coupler and TTL will not work.
I wish we could install protection in every part of the circuit and that is why we develop an Endurance MO2 PCB and have ideas about further an Endurance MO3 PCB.
We also want you to be honest with us if you did something wrong. We are happy to share your risk and support you but we need to understand where we have made mistakes, maybe some marketing info, video, or some comments.
All Endurance lasers videos are not necessary to follow. We made them as an example.
Especially when we setup 5.5V and 6A for the laser diode that was a demo video that is not a guide to follow when you want to make your own laser. These are recommendations but not general rules.
It happened that once a lot of our customers wanted to increase power and setup that voltage + current parameters.
Once again – all laser diodes are quite unique and most components that we get are also quite different.
For example, some DC/DC fails in TTL mode and you can only see it on oscillography.
That is why a lot of things have to be taken into account at the same time.
It is always better to have a bit less powerful unit but more reliable and more endurable).
The image of a burned (damaged) laser beam spot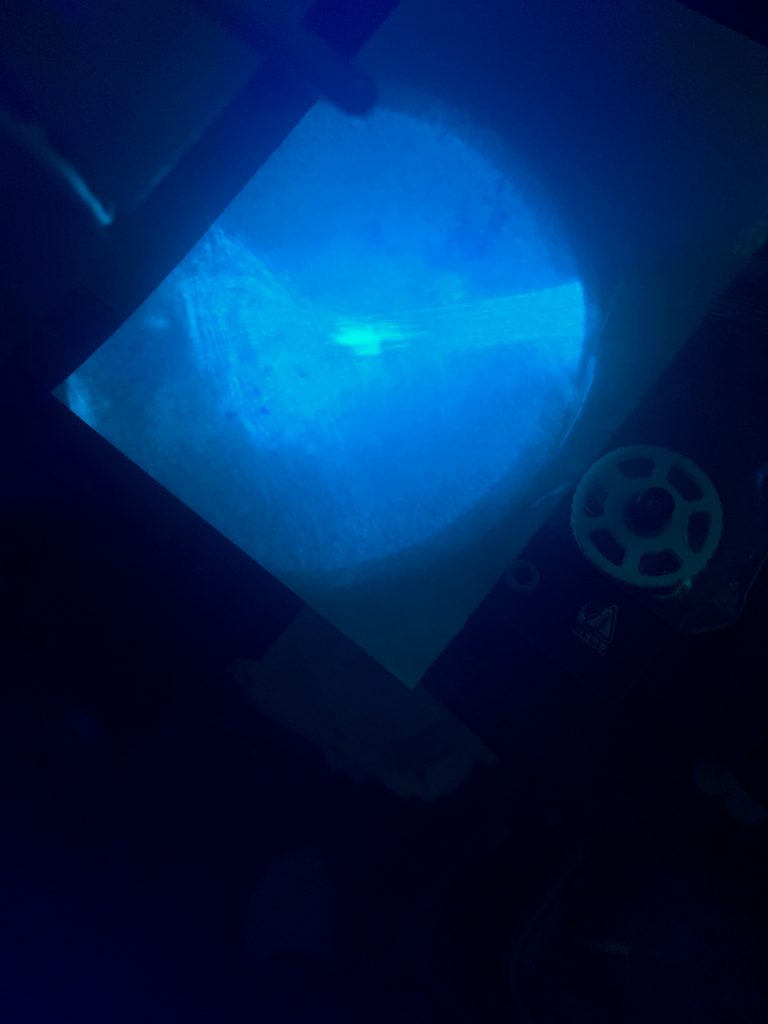 Hope you find this material is useful and practical.
Please post your questions and comments and we will be happy to answer.