Precision Meets Affordability: Black Friday Deals at Endurance Lasers – Engrave with up to 70% Off!!!
Eastertime is a beautiful time and the theme brings many unique ideas that can be made this Easter holiday. There are many symbols of Easter like the Easter bunny, decorated Easter eggs, Easter baskets, and much more! We've reviewed and found ideas that are all great designs and they will be perfect for 3d print this year. The meaning of Easter is celebrated and has been prevalent around the world. We have put together an awesome list of top 3d printable ideas you can do for Easter. These Easter DIY projects are creative and they will show off your 3d printing abilities this Easter holiday.
EASTER BUNNY TOY/POT/PLANTER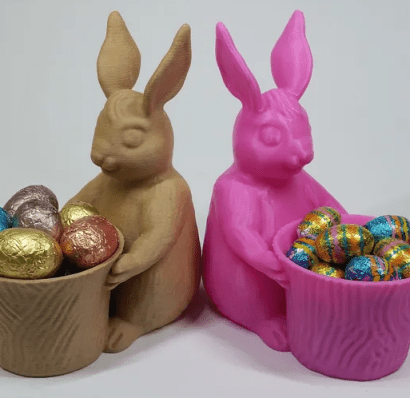 This 3d printable sculpture is a multi-purpose pot. The model can be used either as a planter or decorative item. Print multiple for many flowers you may have or for matching decorative sets. The Easter season is a perfect time to start or add to your garden. Adding plants will look great and they will add a stylish look to a window or patio. The containers have enough space to contain most plants you may have for this spring. It is not recommended to print this with wood filament because it is prone to excessive stringing and missing layers.
Link to download: Download free STL file Easter Bunny Toy/Pot/Planter • 3D printer template ・ Cults (cults3d.com)
Easter Egg Cookie Cutters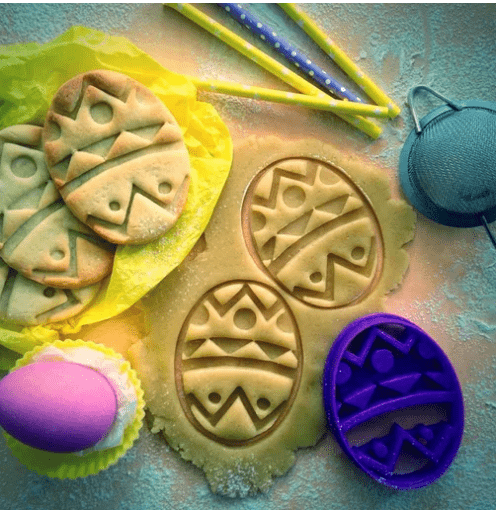 This 3D printed cookie cutter can be a great and tasty part of your Easter season. Easter eggs are a great traditional part of Easter, especially well-decorated eggs. The eggs from this cookie cutter will imprint an eye-catching design on each cookie or biscuit and bring out patterns that will make batches of good-looking cookies. This cookie cutter can be used for any upcoming easter and all that is missing is your recipe. With your recipe, you can bake biscuits and cookies that can decorate a dining table this Easter.
Link to download: Download free STL file Easter Egg Cookie Cutter • 3D print design ・ Cults (cults3d.com)
Cross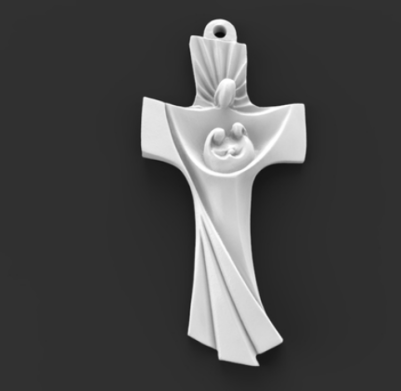 Create this 3D-printed DIY Easter cross. During Easter, renewal of new life and resurrection is a big theme that is celebrated during the holy season. This 3d printed cross is designed with a small nativity scene at its center. The design has Christ folding his arms around two parents with their children. The arms open represents how Christ opens his arms to all who seek him. The design is dell detailed and it is great if you would like to mount it anywhere in your office or home during the Easter season. This style would be great in different filaments such as wood, glow in the dark, or even metals like bronze and copper.
Link to download: Crucifix by Fabula3D – Thingiverse
Special Easter Egg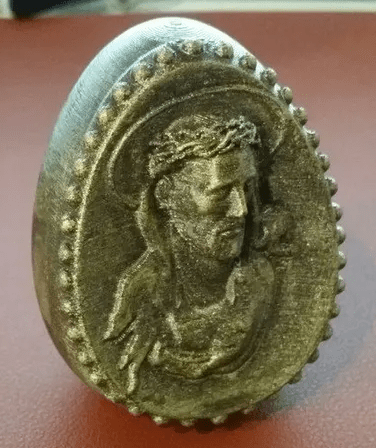 This well-designed Easter egg shows the face of Christ with a crown of thorns inside one half of the egg. The details on the face look amazing and creative. This model looks like a work of art, especially when used with metal filaments such as bronze, copper, or brass. The shape allows it to stand and balance well on different surfaces. It can be used as decorations on shelves, tables, prayer areas, or among other decorative items in your home. It is a way to add to celebrating the season with something 3D printed that commemorates the reason for the season.
Link to download: Download free STL file Easter Egg • 3D printable design ・ Cults (cults3d.com)
The Eggis Wheel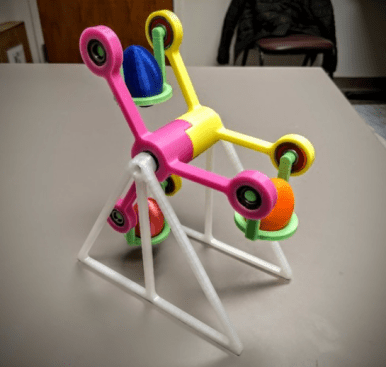 This amusing model is an Eggis wheel. The mix of Ferris wheel and powers by eggs! The Eggis wheel rotates eggactly as a Ferris wheel does. The two eggs propel it forward. This uses 8 fidget spinners in total and the remaining parts are 3D printed. The eggs too are 3D printed and they help use their weight to propel the wheel. With the gentle thrust, the Eggis wheel can move in two directions. This can be a way to add fun to tables that family and friends gather at.
Link to download: The Eggis Wheel by SuperJETT – Thingiverse
Easter Eggs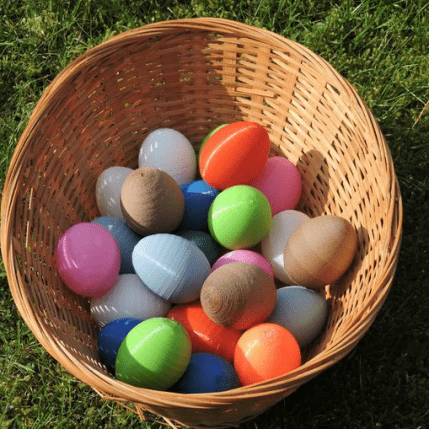 Easter can be a time for fun and games. These 3D printed Easter eggs are fun to create and families and friends can enjoy playing games like an Easter egg hunt. The eggs themselves can all be made with 3D printing and you can use any design or style that you like! The eggs can be unique, and you can add 3D printed decorative colors patterns, and more. You can also get creative and use different filament types for the Eggs like shiny PLA, glossy, wood, and even copper.
Link to download: https://cults3d.com/en/3d-model/home/easter-egg-orpegam
Easter Basket and Stand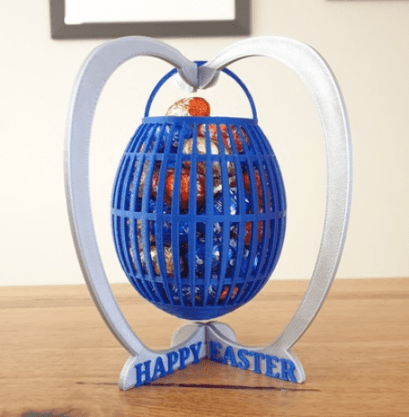 The origin of the Easter basket is from many years ago families would put their meals in a basket and take them to the church to be blessed. Easter egg baskets have grown to be a great part of Easter time. This Easter egg basket and display stand is a beautiful version of an Easter basket. The basket can be a decorative item on tables or used for Easter egg hunts and storing treats. The basket hangs on a stand that allows it to be a great tabletop item. The model is well detailed and it is a great choice to print this Easter.
Link to download: Thingiverse – Digital Designs for Physical Objects – Thingiverse
Easter daffodil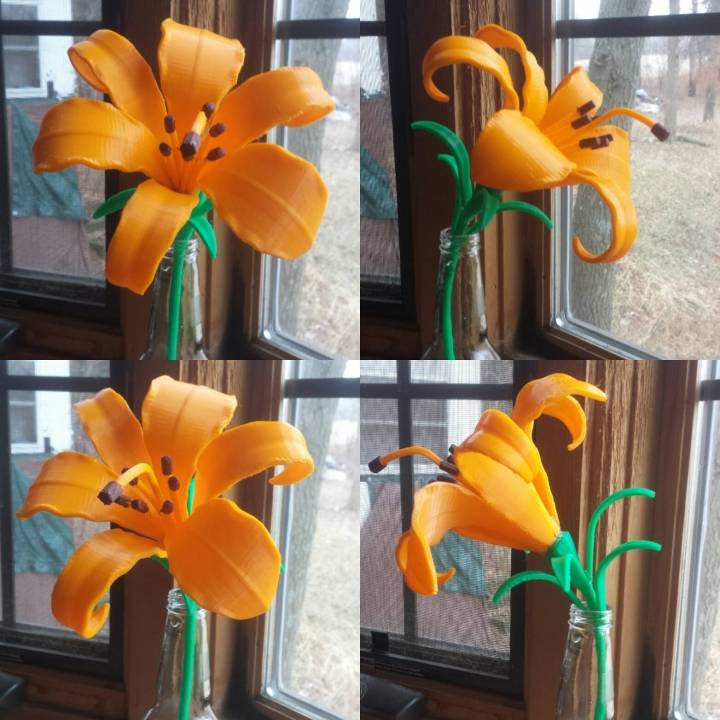 Daffodil flowers are springtime flowers with a special meaning during the Easter period. In many places during the Easter period Daffodil flowers are a symbol of purity, rebirth, new beginnings and hope.  A 3D-printed Daffodil can look great during the warm springtime when they bloom. This 3D printed lily won't wither or need maintenance and will look great year-round. A Daffodil is a 3D Easter flower that has great detail that looks very beautiful and appealing. You can put them in the living room, dinner table, or anywhere you desire for decoration.
Link to download: Easter daffodil by kthuen – Thingiverse
Easter Cookie Cutters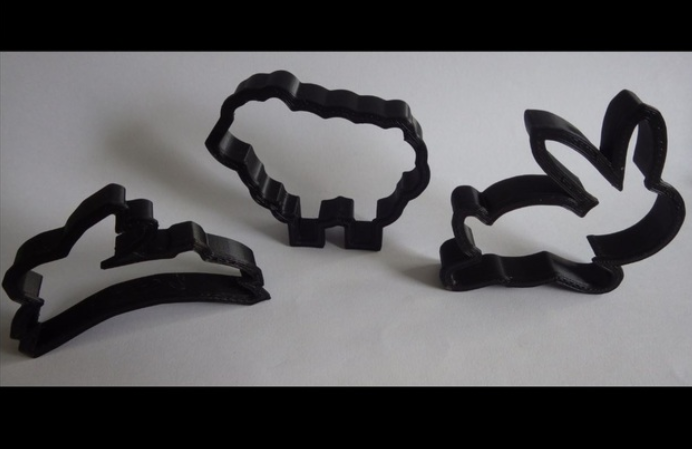 A great happy Easter DIY craft idea includes Easter cookie cutters. If you are looking for Easter Cookie Cutters, here are some great shapes of Easter cookie cutters. In the holiday period with baking different meals, you can make a signature cookie or biscuit for friends and family to enjoy. All that will be needed is your secret ingredient recipe and enjoy the cookies. Once you print, you can make as many cookies and biscuits as you can eat. Kids will enjoy the shapes by seeing the festive symbols being decorated on the table.
Link to download: https://www.thingiverse.com/thing:733707
Levitating Easter Eggs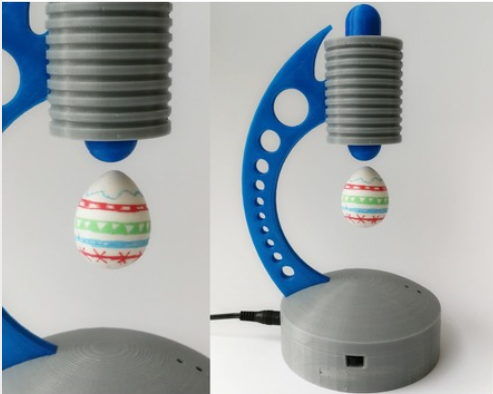 If you are bored of the same old Easter egg hunt, then upgrade your egg hunt this year with a cool magnetic levitating Easter egg! This is a great DIY project to make a magnetic levitating egg. This can be presented to your friends as a gift or kept in your collection this Easter. It is also a great display when guest come over or for creating a hidden surprise for an Easter egg hunt. Whether you're looking to impress friends or family with your science skills, this project is sure to standout.
Black Friday Brilliance: Top Laser Heads on Sale!
Link to download: https://www.thingiverse.com/thing:2841617
Link to download the levitator: https://www.thingiverse.com/thing:1966169