St. Patrick's day has deep meaning and rich history. St Patrick is a significant figure in N. Ireland and he is celebrated around the world. In fact, in Dublin, it is a week-long event. St Patrick lived more than 1500 years ago and all over Ireland, he was a blessing to many people. He is a patron saint, meaning he watches and protects people of a certain place. St Patrick's day has become one of the most celebrated days around the world. Today, the Symbols of St Patrick's day include the famous color green, lucky charms, shamrock clover, and here are the top 3D printable ideas for St. Patty's day!
Shamrock planter/box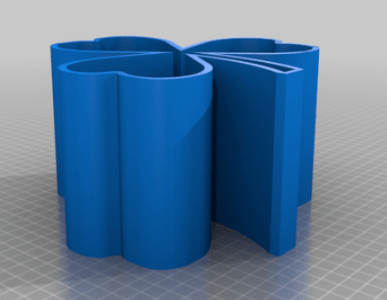 A 3d printed planter is great for adding to your garden or planting new plants. A four-leaf-clover planter is a design of nature and creativity and can be put on display for everyone to see your plants. You can bring all of your green plants for this St Patrick's day and have them look decorative inside a three-leaf-shamrock. The plants can be grown in heart-shaped pots and even the stem. The color combination options also make this great for mixing and choosing your own unique and one-of-a-kind four-leaf-clover.
Link to download: https://www.thingiverse.com/thing:4432609
Four-leaf-clover Fidget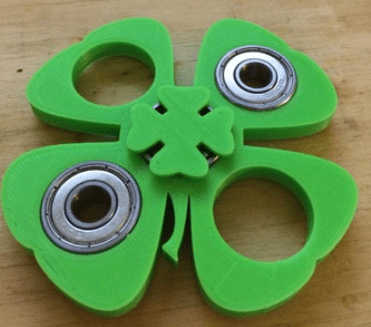 A 3D printed four-leaf-clover fidget will make you feel lucky! This is a well-designed and small fidget that can be carried everywhere. During his time, St. Patrick used to like carrying his Shamrock to places and you can too. You could also try different shades of green for printing options and even try out for glow in the dark for an amusing spinning effect. This design comes with a thumb pad that is also the shape of a clover and the bearings sit inside of two of the four clovers.
Link to download: Thingiverse – Digital Designs for Physical Objects – Thingiverse
8 Bit Shamrock glasses

Celebrate this St Patrick's Day with these DIY 8-bit glasses! These 3D-printed glasses are a great printed and wearable accessory for St. Patrick's Day. This 3d printed wearable is designed with the 8bit style around the frame front and at temple tips. The design should fit most people but you can always scale to fit and the lenses are clear so the wearer can see through them. The glasses print all in one piece with the corner of the frames in the shape of shamrocks. You can try to make them with different shades of green. and start printing!
Link to download: https://www.thingiverse.com/thing:19305
SHAMROCK DOG TAGS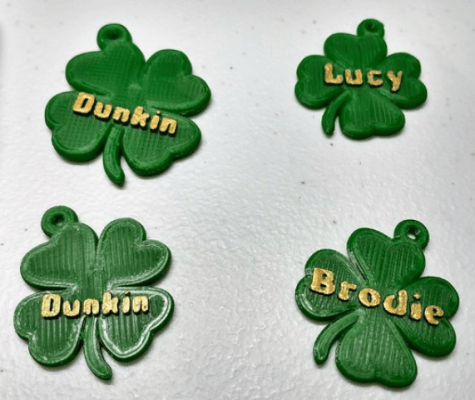 Tags are always useful for pet owners and with your 3d printer, you can have your pets join the St. Patty's day celebration with these good-looking tags. The festive period can also be for the pets you love and they can have their very own 3d printed wearable. These customized shamrock tags can include names in any font and embossed on each of them to make them a distinguishable item. You can always print as many as you like and keep spares in case they get lost or thrown off when your pet is playing. These one-of-a-kind tags are stylish in green and they will look great year-round also.
Link to download: https://www.thingiverse.com/thing:3485486
SHAMROCK EARRINGS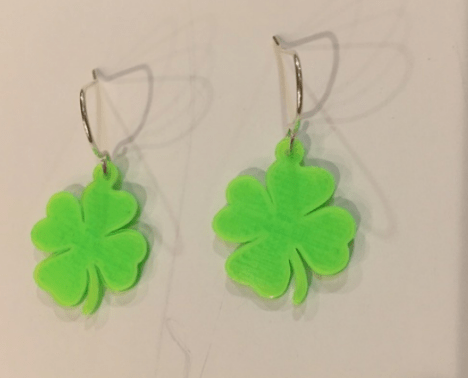 Take your St. Patricks day to a whole new level with these 3D printed earrings. 3d printed jewelry is unique and allows you to have a one-of-a-kind item you cannot find in stores. The earrings are shaped like shamrocks and they look very stylish in green for the festive time. You can wear your own 3D printed wearable instead of other jewelry from a store. These are also great as gifts and can make your significant other happy seeing the romantic gesture of something made by you.
Link to download: https://www.thingiverse.com/thing:3143181
KEYRING GYRO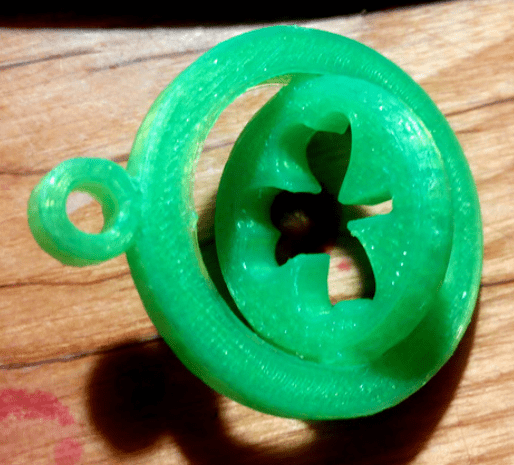 This keyring Gyro is a fun and amusing accessory for this St. Patty's day. You can carry around a three-leaf shamrock clover just like St. Patrick. This model has an outer ring and a keyring hole that rotates perfectly with the push of a finger. The gyro has a shamrock clover right in the center to commemorate the famous St. Patrick's day shamrock. The size fits perfectly along with your keys for your car, home, or office. It is a neat idea for anyone to enjoy and it also adds a fun and amusing addition to an ordinary set of keys.
Link to download: https://www.thingiverse.com/thing:726360
Laprechaun wall backgroud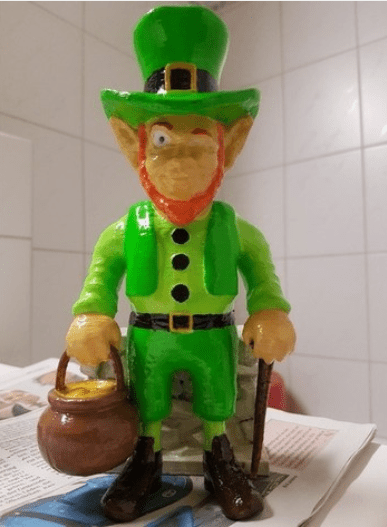 Leprechauns are known to hide a pot of gold and you can create one that always has his hands full of gold. This 3D-printed DIY leprechaun for St. Patrick's day is magical and a popular symbol. The festive character is dressed in green and traditional brown boots, a green hat jacket, and trousers. You can print a small scene with a wall background. The 3D printed leprechaun and wall can be set anywhere like near entrance doors, windows, or any tabletop. This model doesn't tip over easily and will look great when combined with the background wall.
Link to download: Leprechaun wall background by TheOldFirm – Thingiverse
Shot glass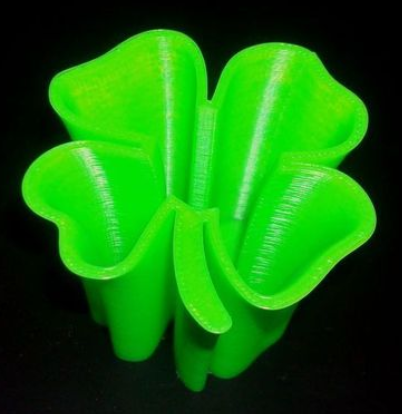 You can add to the enjoyment of the St. Patrick's Day celebration to your group of friends with this 3D printed shot glass. A fun way people like to celebrate St. Patrick's day is by having some great drinks. This awesome idea is a 3D printed shot cup for your parties and events. The shot cup is shaped like a shamrock. With many cups printed, they can be a great way to have a fun time and you can experience the joy of making things for a group of friends to enjoy a nice drink together and celebrate St. Patrick's day.
Link to download: https://www.thingiverse.com/thing:19232
SHAMROCK BOX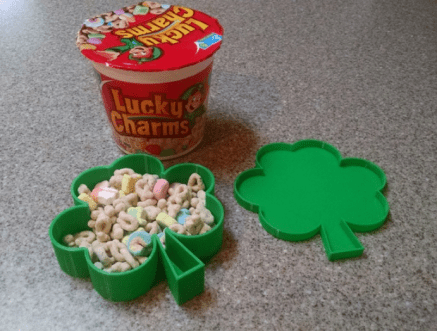 An awesome idea to make for St. Patricks day is a clover shaped box. A lot of people use a 4 leaf clover during St. Patrick's day, but many do not know that St. Patrick is known for the 3 leaf Shamrock of three-leaf-clover. The three-leaf-clover is said to represent the trinity of the father, son, and holy spirit. This box is a functional and unique shaped three-leaf-clover box that can be used for sharing treats on St. Patrick's day, eating cereals, storing grains or foods and more. The design comes with a lid that will help seal and keep the contents fresh.
Link to download: https://www.thingiverse.com/thing:1360171
Shamrock Key Tags / Pendants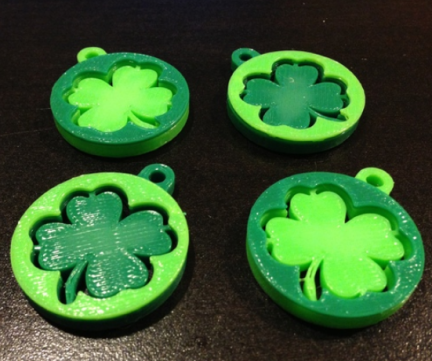 During St. Patty's day, people like to decorate themselves with green and wear a lot of festive accessories and clothes. Thingiverse user IdeaBeansNZ has created these 3d printable pendants and usable tags. The design is circular with the symbolic shamrock clover right in the center. This will be great for parties and events where you will find a mix of st. Patty's day accessories worn. You can also create your unique mix of green shades. The pendants can also double as a key tag and be carried anywhere alongside your keys.
Link to download: https://www.thingiverse.com/thing:58982