Different companies, 3D printer manufacturers offer laser upgrade kits for their units.
My Experience With Non-Branded Chinese Made Lasers. Fake laser modules! WARNING!
TOP SALES! The best laser head for your 3D printer / CNC machine / engraving frame.
Creality 3D Printer 1.6W Laser Engraver Module Attachment Kit
Premium Laser Diode: Featuring reliability, high stability, and high efficiency, the premium laser diode in this module allows for excellent laser beam quality.
Adjustable Focus: Users can adjust the focus by rotating the laser head according to the working distance to find the optimal spot size.
Fast Heat Dissipation: Equipped with a large aluminum heatsink, cooling DC fan, and an added hole to improve airflow, all of them contribute a fast and efficient heat dissipation, allowing for prolonged service life.
Easy to Use: Just clip the module magnetically to the print head, wire it to the motherboard, and installation is done. No firmware upgrade is needed.
Compatibility & Application: The laser module is compatible with Ender-3, Ender-3 Pro, Ender-3 Max, Ender 5 Series, CR-10, and printers with controllable fan ports. It can be used to engrave wood, leather, paper, and bamboo.

That is only 1.6 watt (1600 mw) laser power. Only good for engraving on wood/plywood/cardboard/hardboard and leather.
It is not good for wood/plywood cutting and will not engrave on anodized aluminum and stainless steel.
Creality 3D Printer Laser Engraver Module Ender 3 Laser Engraving Attachment 1.6W 12V/24V 450nm Blue-Violet Light, Magnetic Design, with Goggles
Learn more on SainSmart (Genmitsu) web site >>>
12/24V Blue Violet Laser Engraving Module High-Power Laser Head Kits
This laser module has three strong disc magnets. Therefore, it is suitable for 3D printers that have iron nozzle cover, which includes but is not limited to Ender 3, Ender 3 Pro, Ender 3 V2, Ender 3 Max, Ender 5, etc.
Creality's laser kit is only for engraving due to its 500 mw (0.5 watt) laser.
Wavelength: 445 nm (blue)
Power: 500 mw
Voltage: 12 V (DC)
Working current: 2100 mA
This laser module works only for engraving on plywood, wood, paper/cardboard, and hardboard at low speed. Not good for cutting at all and does not engrave or etch any metals.
Endurance lasers: all about cutting and engraving abilities of diode, DPSS, fiber, Co2 lasers.

Learn more about the laser module on Creality web site >>>
Snapmaker 2.0 : Modular 3-in-1 3D Printers
1-year warranty only!!!
Snapmaker offers a 1600 mw (1.6 watt) diode laser module for laser engraving + cutting.
• Laser Cutting Module (1600mW, Built-in Camera)
The fact is that this module is only good for soft materials laser engraving. 1600 mw laser module is not good for metal engraving/etching or marking and will not cut even 3 mm plywood or dark acrylic.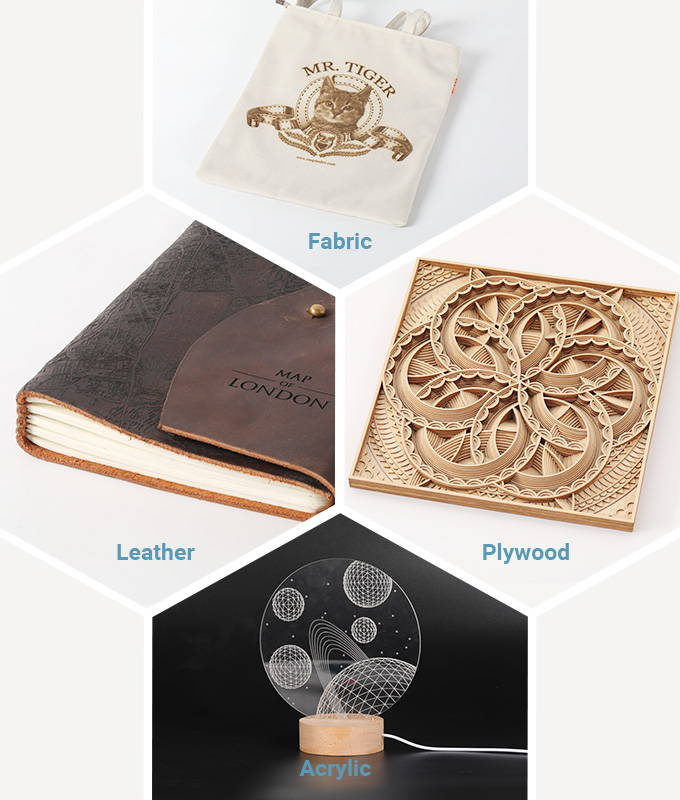 Learn more about Snapmaker 2.0 >>>
Official Formbot Laser Engraver Add On 
I
No info about the laser wavelength and about its power!

Laser Engraving Module Head Kits 5.0
(9 Reviews only)
LASER ENGRAVING MODULE HEAD KITS
Product Name: Sovol Laser Module
Compatible for: SV01, SV02, SV03, Ender 3 / Pro/ V2, Ender 5 / Pro
Engraving Material: Wood, Acrylic, Paper, Leather, Plastic, Plywood, Foam Paper, Coated Aluminum, MDF, Balsa, Fabric
Wavelength: 445 nm ± 5nm(Blue)
Power: 500 mW
Voltage: 12-24 V
Working Current: 2100 mA
Working Software: CrealityWorkshop
Working Lifetime: >8,000 Hours
Working Temperature: -10°C to 50°C
Beam Shape: Rectangular (Focus Adjustable)
This laser is only good for engraving on soft materials. Not good for any type of laser cutting.
da Vinci 1.0 Pro 3D Printer
Upgradable Laser Engraving
Make your projects a little bit more professional with an optional laser engraving add-on. Simply replace the print-head with a laser module, load our engraving software and engrave on plastic, leather, paper, cardboard or wood.
Laser Engraver Module (Optional)

Engraving Area: 20 cm x 20 cm
Laser Wavelength: 406 nm + 8 nm/-6 nm InGaN
Output Power: 350 mW ± 10%
Laser Engraving Software: XYZengraver
Supported Image Formats: .jpg / .png / .gif /.bmp
Very little power even for engraving.
Learn more about xyzprinting >>>
CREALITY 3D Laser Engraving Module with magnetic attachment
CR-10 12V laser module.
The quickest and most convenient way to add laser engraving to your Creality printer
Power: 300mW
Voltage: 12V
Frequency: 405 nm
Creality's low-cost Laser Engraving Module for 12V CR10 & Ender models. The laser power is 500mW and the module comes with convenient magnets for direct attachment to the side of the metal tool head shroud.
With its magnetic attachment, this Laser Engraving Module is the quickest and most convenient way to add laser engraving to your Creality printer and join the wide world of _subtractive_ manufacturing. The module attaches directly onto the side of the existing metallic tool head shroud and is powered by the pwm-controlled wiring that controls the active print cooling fan. Some initial wiring and software setup work is required, which can be found here.
The engraver module is compatible with any 12V Creality or Ender model with the metal print tool head shroud.
Fun engraving ideas include customized nameplates, seasonal decorations, special invitation plaques, complex decorative patterns or other stylized art.
Despite the low power, safety goggles are provided and should be worn by all people in proximity of this laser when in operation.
Learn more about RepRap laser engraving modules >>>

BoXZY The All-For-One Machine
Endurance lasers. Special deals available
Now you can do everything you want with
laser power: 2-watt Diode Laser
wavelength: 445 nm Spectrum laser beam
Laser beam spot: ~0.1 mm focal point
Laser beam spot: 50.7 focal length
Fires only when in the rapid-swap carriage
Anycubic laser upgrade kit

Laser engraving:
Image format: BMP
Engraving size: 220 × 140 mm²
Engraving Mode: Bitmap
Pixel size: 0.05-0.4mm (0.1mm recommended)
Recommended laser intensity: brown paper-15%; Wood-25%
Laser height: 1-100mm (50mm recommended)
Mirror Image: Recommended to use the default
Rated power: 1500mw
Supported materials: leather, paper, wood, etc.

ZMorph VX 3d printer + combo
The ZMorph VX is a powerful all-in-one desktop 3D printer made by ZMorph, a manufacturer based in Poland. Thanks to its interchangeable tool heads, the ZMorph VX enables users to rapidly switch between functionalities: CNC milling, laser engraving/cutting, 3D scanning, and paste extrusion.
The VX comes with Voxelizer software (Voxelizer 2). This software allows users to slice models for 3D printing but also to access the printer's CNC mill and laser engraving/cutting capacities.
ZMorph's multitool 3D printer VX is ideal for professionals and enthusiasts in the woodworking business since its CNC mill is capable of cutting several materials such as plywood, beech, oak, maple, walnut, pine, chestnut, machining wax, PCB, plexiglass, and PVC foam.
Main functionalities: CNC milling, laser cutting/engraving, paste extrusion
Learn more about ZMorph VX >>>

500mw 405nm Laser Engraver Attachment for Bibo 3D Printer.
405nm Laser engraver module for the printer used for RepRap, etc.
MOOZ 2 Plus 3-in-1 3D Printer
Laser Engraving
The powerful 1.6W (1600 mw) laser head makes it even faster to laser engrave and cut different types of materials.

Learn more about diode lasers and how to add the laser on your 3D printer / CNC or engraving machine …
The 5 Best 3 in 1 3D Printers 2021 (with Laser Engraving & CNC!)
All you need to know before buying a laser or an engraving / cutting machine
Getting started with Endurance diode lasers – focusing, settings, parameters, misc
Got a question? Ask our experts and we will help you!