Our customer is very happy with an Endurance laser
"Hi George,
I thought you would like to see this video I made of my endurance laser in action.
I am very satisfied with the laser's performance! It totally works as advertised!
Have a happy new year,
Carman Lynner"
This video is created with Lightburn and run on a CNC router frame with Mach 3/ smoothstepper card using PWM M11/M10 commands.
(0)
A real customer 10 watt PLUS laser review
Installing 10 watt Delux laser (made by Ed Macri)
Endurance lasers are fully compatible with all CNC frames:
Installing Endurance lasers on a different CNC machine
Installing a 15 watt "DUOS" ver 1.1 on a Shark CNC frame (NextWave Automation)
Use dynamic PWM for better control.
Next Wave – SHARK HD520 CNC Machine Features:
(1)
Building Your Own Laser Engraving Machine with Arduino >>>
An upgrade kit for your Ortur, Eleksmaker, CNCC Laseraxe, Neje, Insma desktop engraving machine & SainSmart Genmitsu CNC
(2) X-carve
by Sam Gironda
X-carve data specs:
Cutting area: 300 x 300 x 65mm (500), 500 x 500 x 65mm (750), 750 x 750 x 65mm (1,000)
Machine footprint: 750mm x 500mm (500), 1010 x 750mm (750), 1250 x 1000mm (1,000)
Weight: –
Firmware: GRBL
OS: Browser
Features: Hackable/expandable, open-source, free design software, enclosed/protected electronics, single sheet wasteboard
Learn more about X-carve CNC  on All3DP>>>
(3) a DIY plywood CNC router
(4)
(5)
(6)
(7)
(8)
(9)
By Alexander_Scheiflinger
Learn more about CNC 3040 CNC router on All3DP | CNC 3040 pdf guide
(10)
(11)
(12)
(13)
(14) Stepcraft – 420 CNC router
Starcraft 420 data sheet
Features
Quickly turn your ideas into finished products in no time
Stable, compact, accurate, and fast
Strong, rigid construction
Highly accurate, thanks to high-quality, precision components that are matched and test fit at the factory.
Many accessories and add-on tools are available
Works with a large variety of materials, including woods, plastics and non-ferrous metals (aluminum, brass, copper)
The system comes completely ready-to-run
Easy USB connection to PC
STEPCRAFT designed and manufactured the custom aluminum extrusions that provide superior torsional rigidity and functionality – No off-the-shelf or Chinese manufactured frame parts
Connecting elements made of stainless steel and aluminum
8-point ball bearing carriage on all axles/linear profiles
High-precision lead screws from Switzerland
Play-free movement of the carriages (continuous adjustability, freely accessible externally without disassembly)
The maximum working speed of 3000 mm/min (50mm/sec)
Inspection covers on the Y-axis for easy maintenance and care
Silicone seals used to protect the mechanism from dirt on the Y-axis
Worktop made of wear-resistant HPL (similar to Formica- countertop material), optional aluminum T-slot table
A Quick-change system allows you to switch from one application to the next in seconds
Integrated workpiece clamping system for plate materials with a thickness of up to 15mm
Flexible tool holder through Ø 43 mm clamping collar, optional adapters available for Dremel, Proxxon, Dewalt DW611, and Bosch Colt
Integrated control electronics in the machine housing. Only requires a power supply cable and USB cable to the computer – no wiring clutter.
4th-axis unit optional for rotary machining
Compact size on many models – perfect for the desktop or workbench
Our control software has been specifically designed to be easy for the novice, but to have all the functionality for the professional user
Engineered and Manufactured in Germany with Support, Parts, Service, and Assembly in Connecticut, USA.
(15)
(16) Beaver CNC
By Michel Helvensteijn
I have a Beaver CNC, running on a xpro4 CNC board with lightburn software, installation is easy for the board, the software is great, and the Endurace laser does where i bought it for,

George from endurace is 100% behind his product and the community on facebook are ready for each other if there are any questions
(17)
(18) Openbuilds C-Beam / DIY / CNC 3018
Openbuilds C-Beam Machine Specs:
X Axis Travel 350mm – (13.5″)
Y Axis Travel 280mm – (11″)
Z Axis Travel 160mm – (6″) Actual working depth is 1.250″
Available in Natural or Black versions
Machine Accuracy – 0.05mm~0.10mm
Bundle Includes:
Electronics Needed (Sold Separately):
Driver Board – We recommend the Blackbox
Power Supply – 12V or 24V Depending on your set up
Makita Router Spindle
(19)
(20)
by Balog Ferenc
Draw and NC code generator: LightBurn
(21)
(22)
By Josh Finsel
Upgraded X-Carve running an Endurance 10 Watt deluxe with Lightburn.
(23)
(24)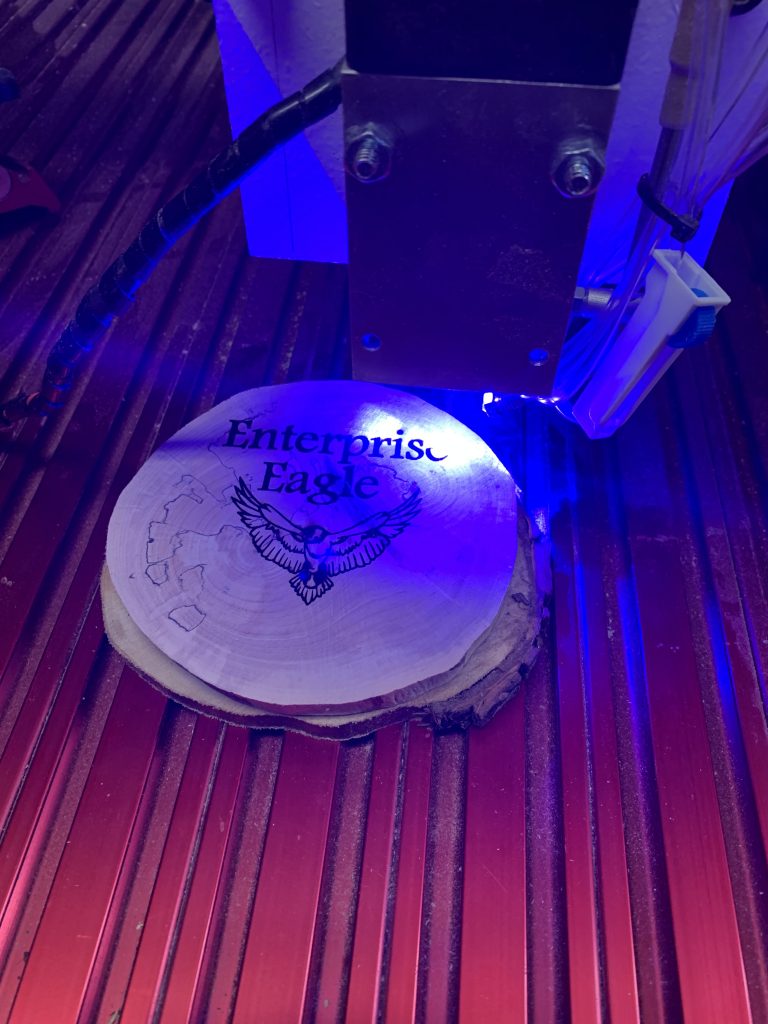 (25)
Our customers use our 10 watt laser for foam cutting!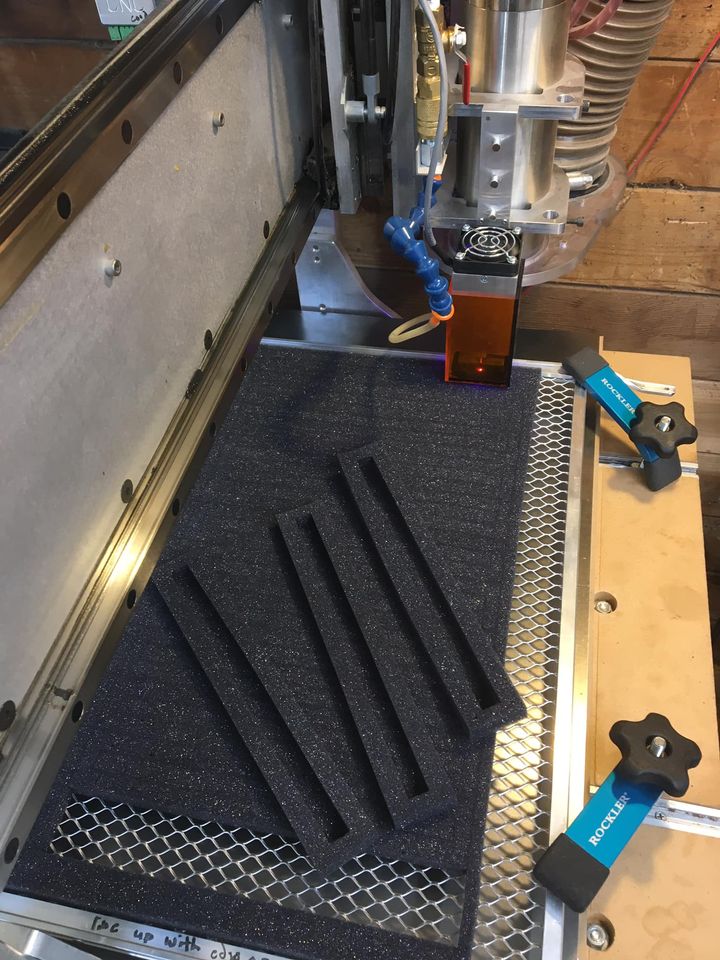 (26)
(27)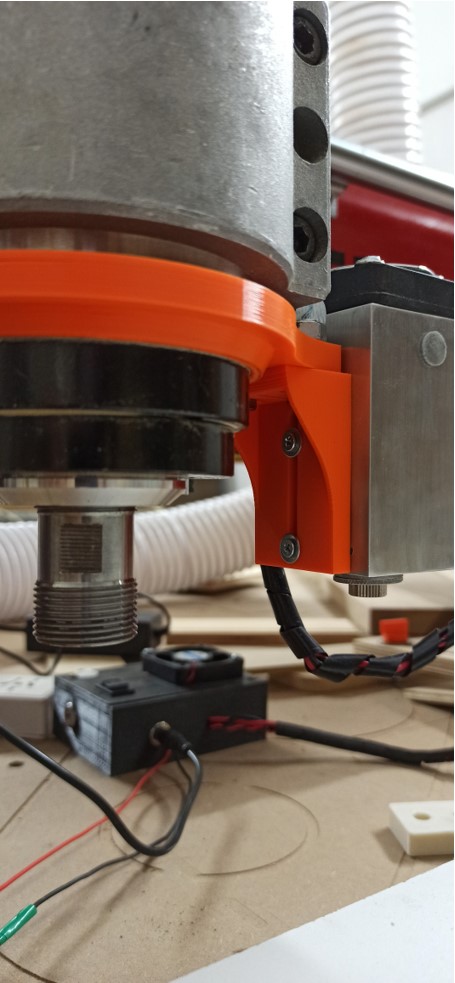 by Maxi Maz (works with MACH3)
(28)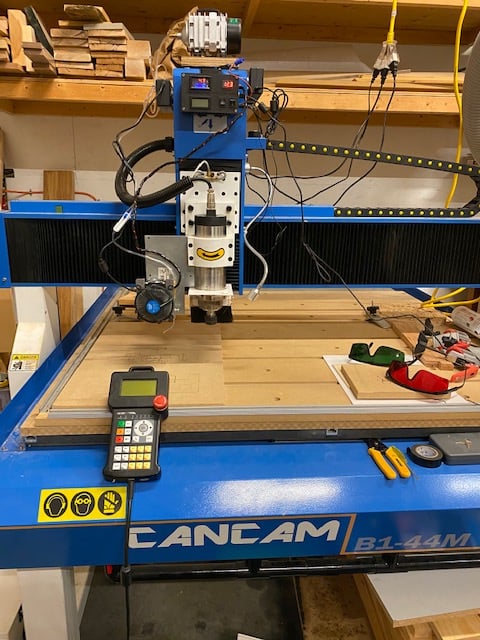 (29)
By David Strong
(30) 10 watt PLUS on an Anycubic Chiron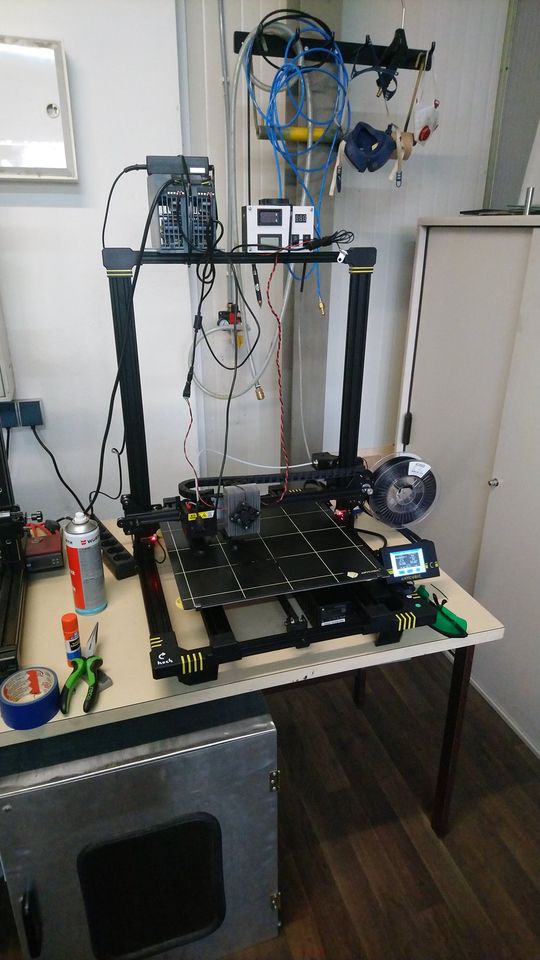 Added an Anycubic Chiron at work – mounting the Endurance laser was very easy and the printer can work with the laser still mounted…very nice 
Markus Geßner
Автор Laser is perfect since 2 years now 🙂 ….and he has worked somewhere around 500h/year.
(31) 10 watt infrared DPSS (Nd:YAG) on a CNC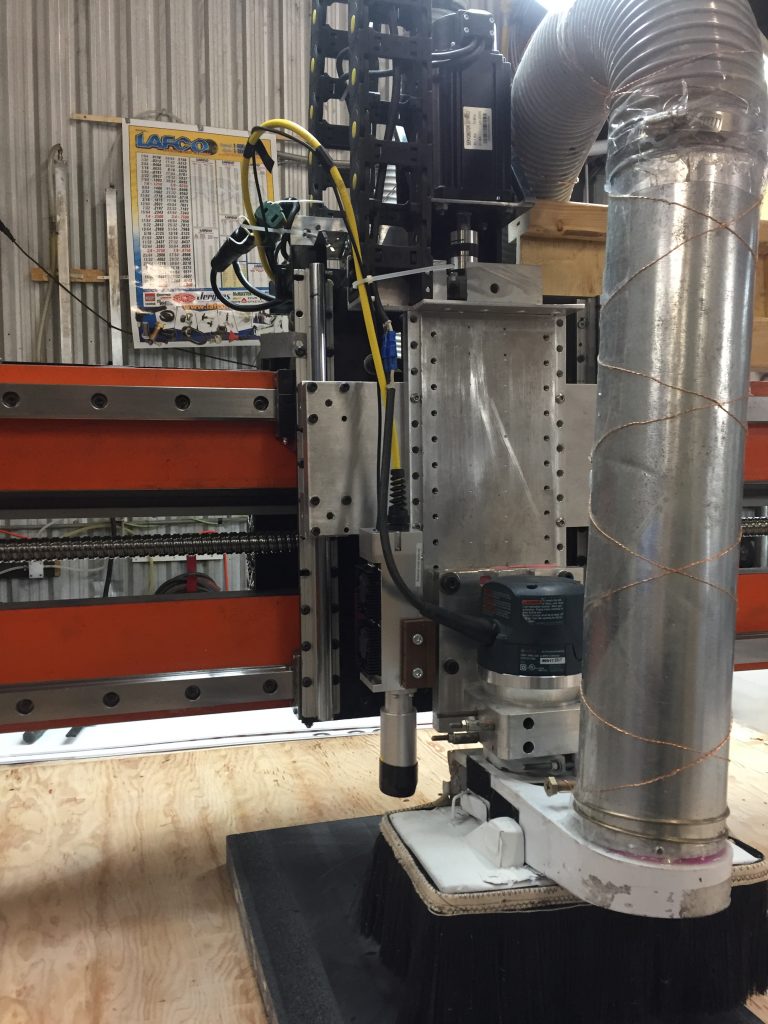 by Alain Roy
(32) 10 watt  "Invincible" set up on the x-carve
by Chip Estrada
(33) A big CNC frame
My setup: custom-made CNC router with 3hp spindle, 2250x1480mm working area, front 4th axis, 10W endurance laser head. Just want to add an ESS board so I can use Lightburn (actually running Mach3)
Maxi Mazur
(34) The laser at work is a Full Spectrum Laser 24×36". The mill is a Sherline 5800.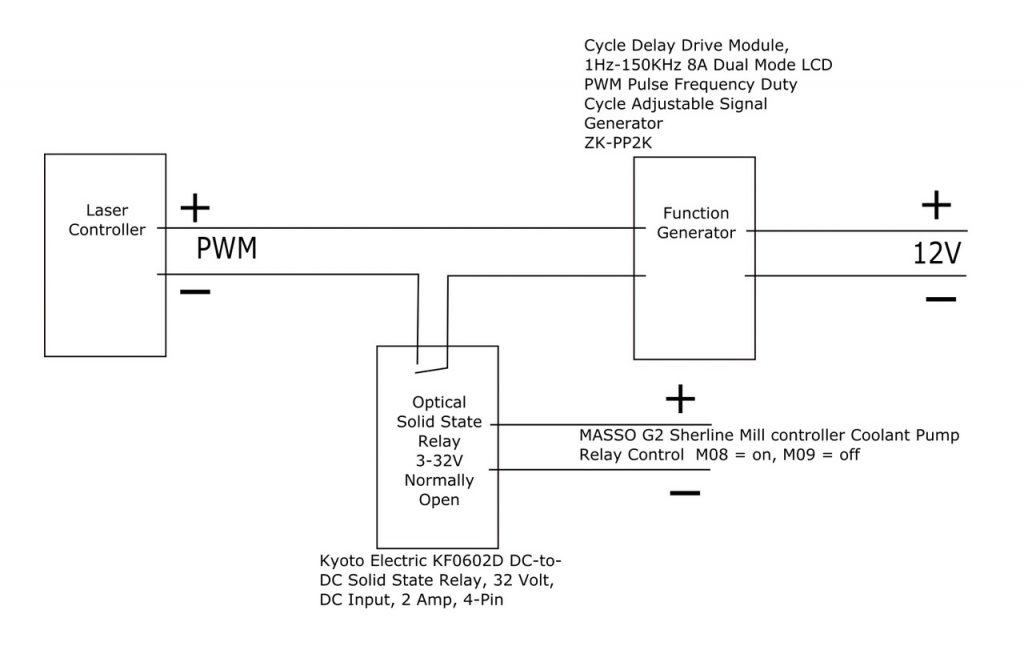 This allows me to toggle the laser on/off with the mill's manual "coolant" controls to get the power preset on the function generator, then use M08 and M09 to cycle it on and off within the G-Code.
How to connect the laser to Acorn controller (sherline 8760 driver box)
Product Highlights Sherline 5800
Sherline 5800 Series NexGen vertical milling machine
Includes many accessories in Package A
Metric EU version (needs assembly)
Features 18-inch extended mill table and 3 "T" Slots
Comes with a powerful 90V DC motor with an electronic speed controller
(35.1) 10 watt DPSSL installed on Sherline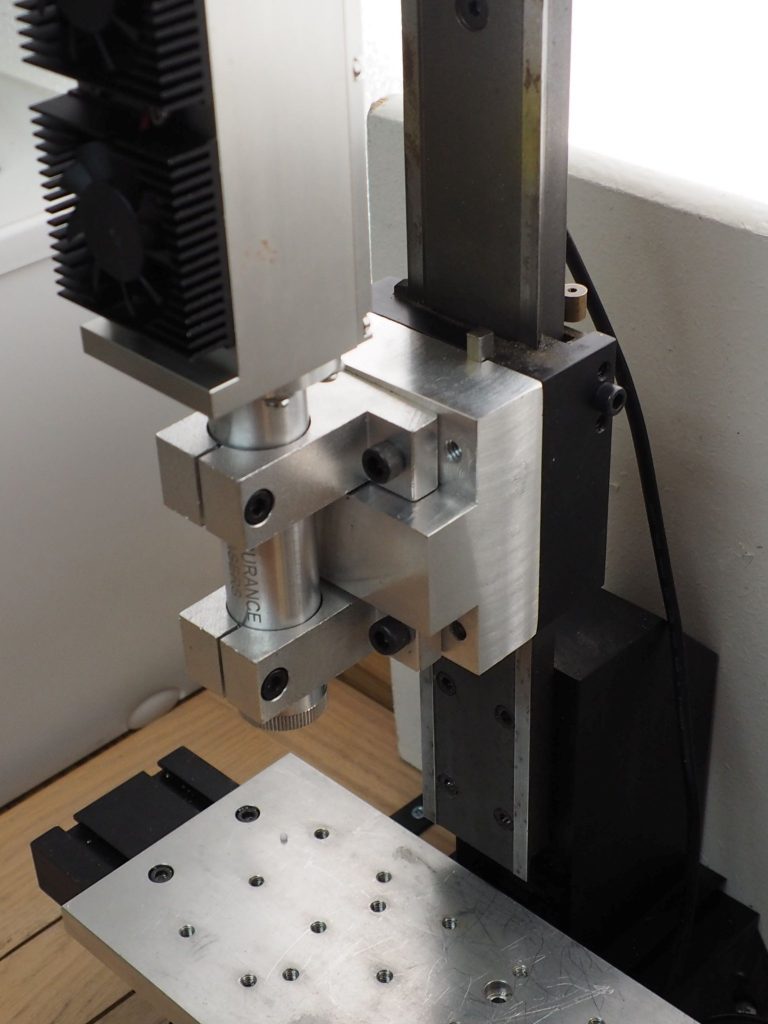 (35) 10W in tunned Acro System from Openbuilds
by Paweł Kohls
Acro Systems Openbuilds data specs
Specifications of the OpenBuilds ACRO system:
4.5 micron resolution: 30% more resolution than systems in its class
Z Axis Travel 70mm – (2-3 / 4 ") manually adjustable Z-axis length
Available in industrial black or elegant silver
The fixing plate includes mounting holes for multiple accessories and tools
AFFORDABLE – OpenBuilds budget-friendly parts allow Builders the opportunity to freely create.
EASY TO BUILD – With the V-Slot Modular Framing System and OpenBuilds Build-Along Videos, assembly is quick and easy.
OPEN SOURCE – The Builder community is encouraged to modify and build on this design.  We are excited to see what you attach to your ACRO System and the things that you make!
CUSTOMIZATION – Take it to the next level and make it your own! Share your builds with the Open Source Builders community OpenBuilds.com.
(36) 10 watt laser in action
by Chris Croft
(37) 10 watt PRO laser in installed on Shapeoko
Never finished fine tuning and tweaking setups, but this is my current setup on a shapeoko4 xxl. It's all running off a 600watt 12v power supply wired to auto/marine switches. Air assist hooked up to compressor and turned on via the switches as well the tec cooling. 4 bolts and unhook wires above laser power unit to remove and go back to cnc router. Laser mount is 1/4″ aluminum welded at a 135deg angle.
(38) 10 watt PLUS laser in installed on Shapeoko
(39) 10 watt DPSS laser on a CNC machine
CNC is a significantly modified old PCNC1100 Tormach Mill
(40) 10 watt diode lasers on a DIY gantry
(41) 5.6 watt diode laser (PRO) installed Onefinity CNC Woodworker.
8.5 watt diode 445 nm laser / 10 watt DPSSL on Beamo FLUX
Endurance lasers work with all types of CNC machines:
JFT 3040 3-Axis CNC Router,
MillRight CNC Power Router,
BobsCNC E3 CNC Router Engraver Kit,
Genmitsu CNC 3018-Pro Router Kit,
MY SWEETY 1610 CNC Machine,
Carbide 3D Shapeoko 4,
Ooznest Workbee,
Onefinity Woodworker,
Inventables X-Carve,
The MPCNC – V1,
Shark (NextWave),
Stepcraft 420 – 840