In the world of 3D printing, there are a lot of CAD software options to choose from. It can be difficult to decide which is the best for your needs. In this blog post, we will discuss the best 3D printing software of 2022. We will take a look at both paid and free options, so you can find the right one for your needs! But before that, it's important to have a look at what is required for a 3D printing software.
What is Required for a 3D Printing Software?
CAD Software: This is used for preparing models in your computer.
Slicing Program: For Converting designs into a G-code. A file format understood by 3D printers
STL Editors: For fixing errors in STL files or 3D models.
3D Printer host software: It receives the G-code file from a slicing program and delivers this code itself to the printer.
3D Printer Monitoring software: It can serve as a slicing software as well as a program for monitoring your 3D printer remotely. A good example is Octoprint.
Factors to Consider Before Choosing the Best 3D Printing Software
Ease of Use: It should be easy to use, with a simple interface. You don't want to spend time trying to learn how the software works when you could be printing! The CAD software should also make it easy to prepare your designs for printing. You shouldn't have to spend hours tweaking settings in order to get a good print.
Features: It should have all the features you need. It should support both STL and G-Code files. That is, you can import or export your models in STL and you can also generate the G-code which contains the instructions for the printer.
Supported Platforms: It should be compatible with the common platforms. That is, either operating systems or browsers to make it easier for you to work around.
Price: The software shouldn't cost too much and there should be no hidden charges.
Community: It should have a supportive community of users who can help you with any problems you may encounter.
Updates: The software should be regularly updated with new features and bug fixes.
File Types Supported: It should support a wide range of file types including STL, OBJ, and 3MF files.
Printing Speed: The software, especially a Slicing program should allow you to set your printer to print quickly, without sacrificing quality.
So these are the factors to consider when choosing the best 3D printing software. Let's now have a look at the best programs for 3D printing in 2022!
10 Best Software for 3D Printing in 2022
In this section, we will be discussing ten of the best software programs that you can use in your next project. So without further ado, let's get started!
SelfCAD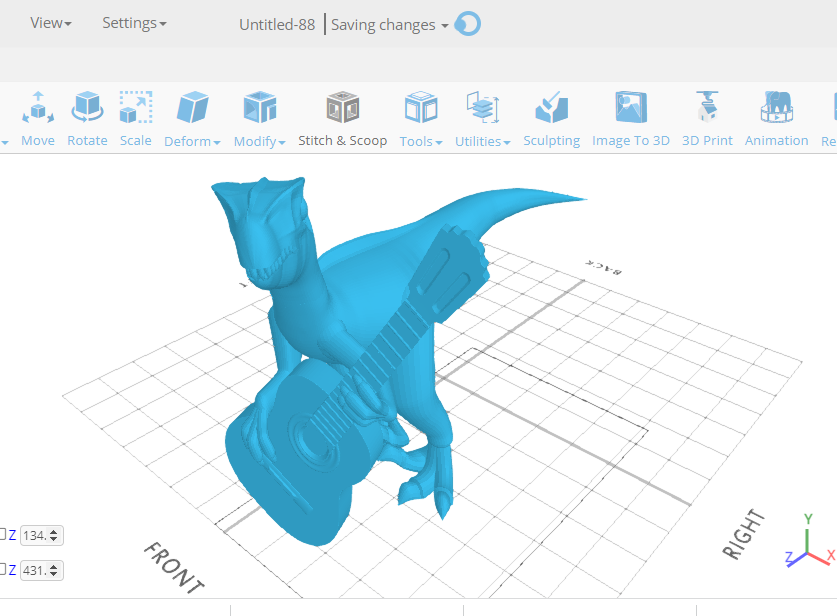 SelfCAD is one of the best 3D printing software options on the market that comes in the first position. It offers a wide range of features and tools that can be used for projects of all sizes.
Key Features:
Easy to use: SelfCAD can be learned quickly. Whether you are just starting out or you are an experienced user, SelfCAD is a great option for you. With its intuitive design and powerful tools, SelfCAD makes 3D printing easy and fun.
It's an all-in-one Software: SelfCAD is the only CAD software that has combined artistic, technical, and slicing software all in one software.
In-built Slicer: The Software has a powerful in-built slicer that you can use to slice your designs
File Supports: It supports most of the commonly available file formats.
This program also has tools that work directly on the mesh this ensures that there are no errors during the designing stage.
SelfCAD is also affordable. There is a free version as well as a paid version that only costs $14.99/m.
Site: https://www.selfcad.com/
Meshmixer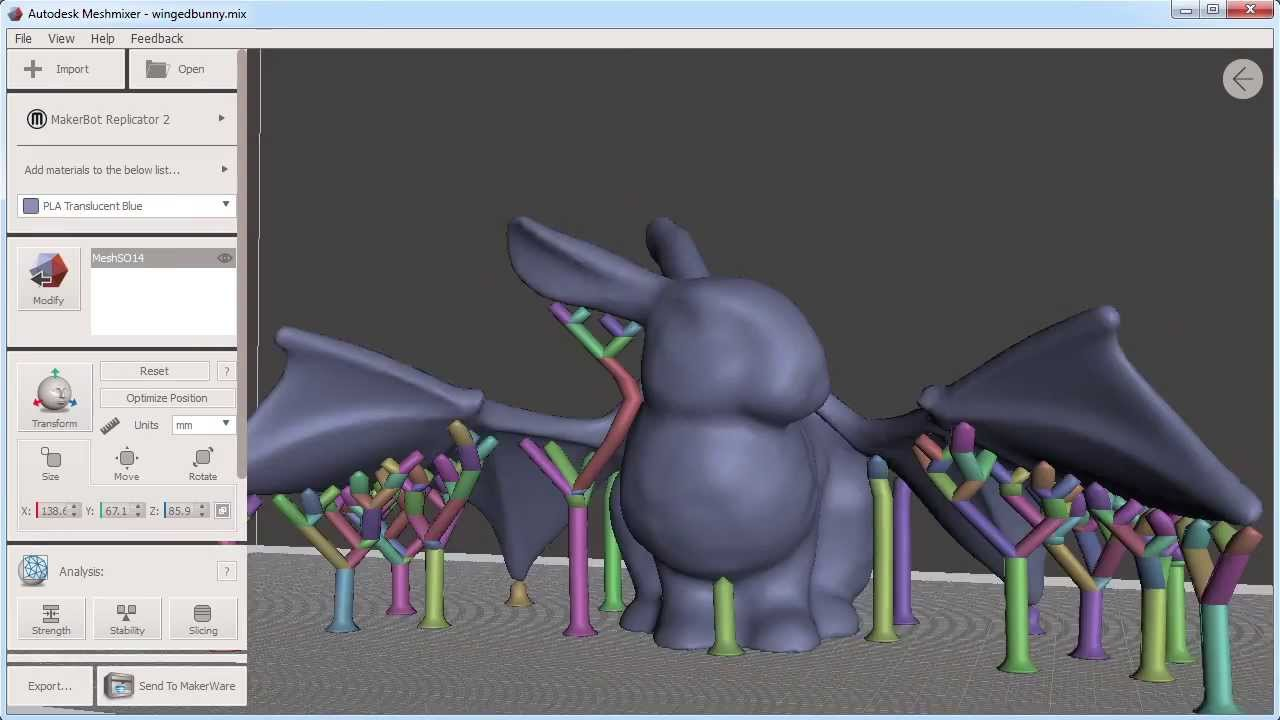 Preparing a design in Meshmixer. Image source:lib.ncsu.edu
Meshmixer is the best software for repairing and editing mesh files. It is also a great tool for creating new mesh files from scratch. It offers a wide variety of features that make it an essential tool for any printer.
Some of its key features include:
Sculpting and Editing: Meshmixer allows you to sculpt and edit mesh files with ease. You can add, remove, or modify vertices and faces as needed. This makes it a powerful tool for repairing or modifying mesh files.
Boolean Operations: This 3D printing software also allows you to perform boolean operations on meshes. This enables you to combine multiple meshes into a single file, or split a mesh into multiple parts.
Site: https://www.meshmixer.com/
Autodesk Fusion 360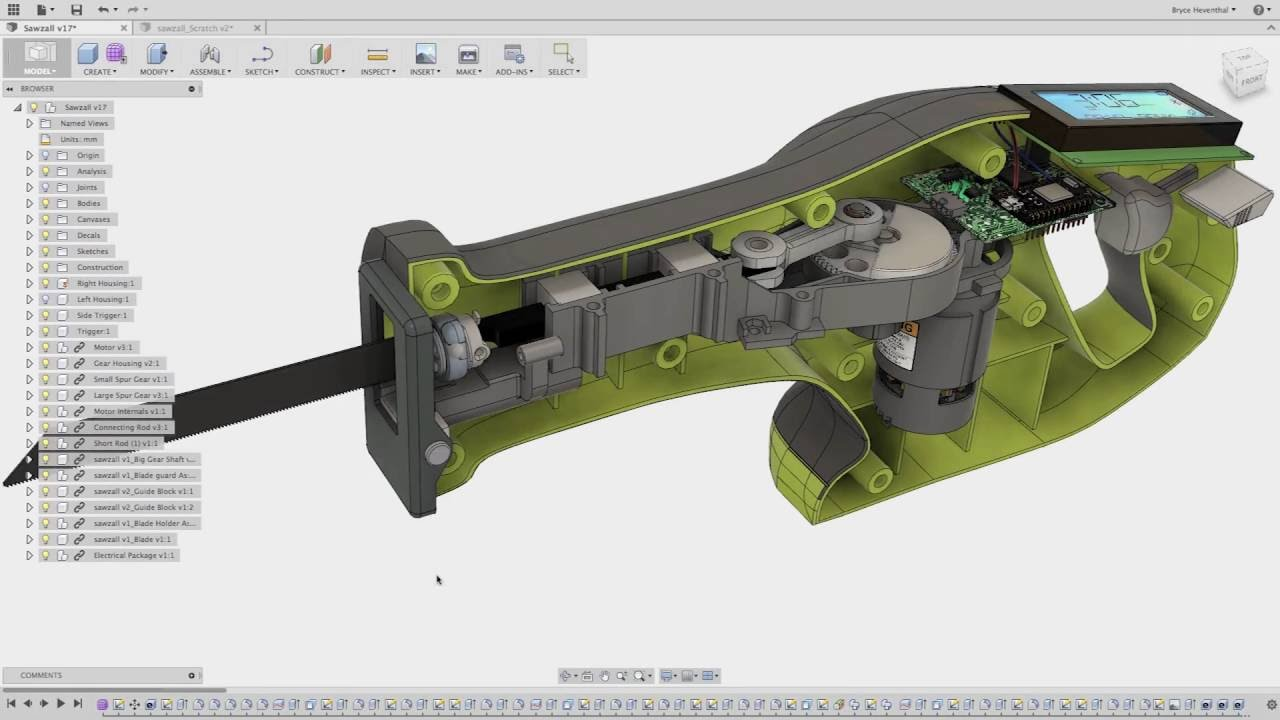 Designing in Fusion 360. Image source:Youtube
Autodesk Fusion 360 is one of the best 3D printing software out there. It has a wide range of features that make it perfect for any kind of project. You can use it to prepare both simple and complex models.
Key Features:
Ease of use: It is easy to use. This makes it perfect for beginners, professionals, and hobbyists alike.
Editing tools: Fusion 360 gives you the ability to create and edit solids, surfaces, and meshes; the ability to generate toolpaths for CNC machining, molding, and printing; and the ability
Collaboration: You can collaborate with other users in real-time.
Availability: There is a downloadable version as well as an online version. This ensures that users can access it from any device at any time.
Site:https://www.autodesk.com/products/fusion-360/overview
Cura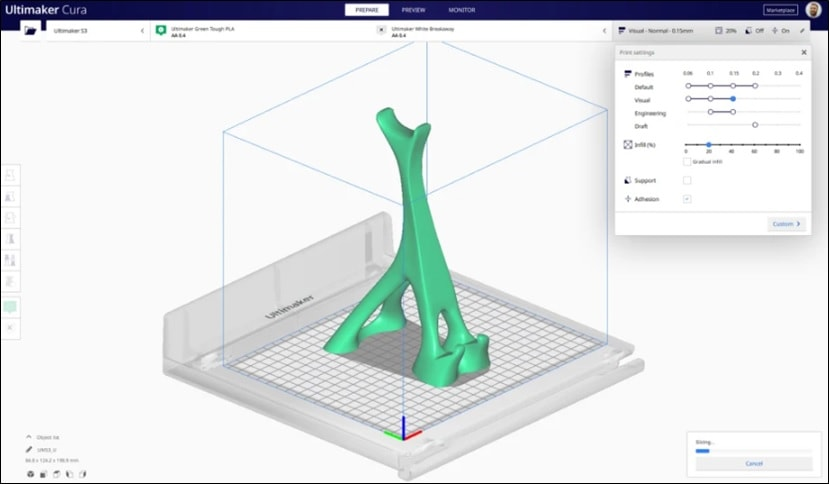 Slicing in Cura software. Image source:Manufactur
Cura software is produced by Ultimaker and is widely considered to be one of the best slicing software options that are currently available. It is a powerful slicing software that can be used with a wide range of printers. It offers a wide range of features and allows you to control every aspect of your print job.
Key Features
Supports a wide range of printers – from entry-level to professional-level.
Ease of Use: Offers an intuitive and easy-to-use interface and it also slices STL files quickly and efficiently
Provides detailed print logs and error messages.
Includes advanced options for adjusting prints, such as adding supports or changing layer heights
Lets you save printer profiles for easy recall later on
It has a built-in printer management system to help keep track of your printers' status and settings
Site:https://ultimaker.com/software/ultimaker-cura
Simplify 3D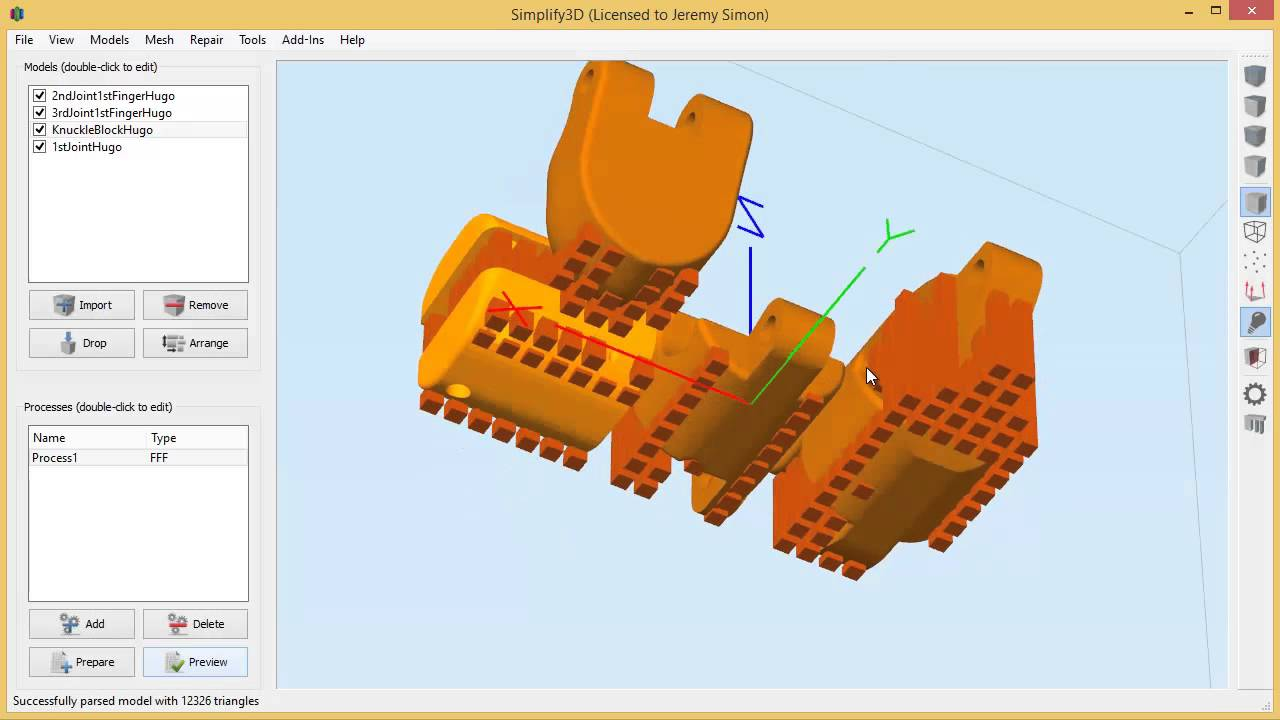 Designing in Simplify3D
Simplify 3D was created with ease of use in mind, making it a great choice for beginners. It has a simple interface and provides all the tools that you need to create beautiful prints.
Features:
The ability to slice your model in multiple ways to find the best possible print results.
Precise control over every aspect of your print, from layer height to extrusion width.
Support for a wide range of filaments, including exotic materials like carbon fiber and wood-based filaments.
A comprehensive library of settings presets to help you customize your settings based on your needs.
Integrated monitoring and troubleshooting features to help you diagnose and fix any problems that may arise.
Site: https://www.simplify3d.com/
Autodesk AutoCAD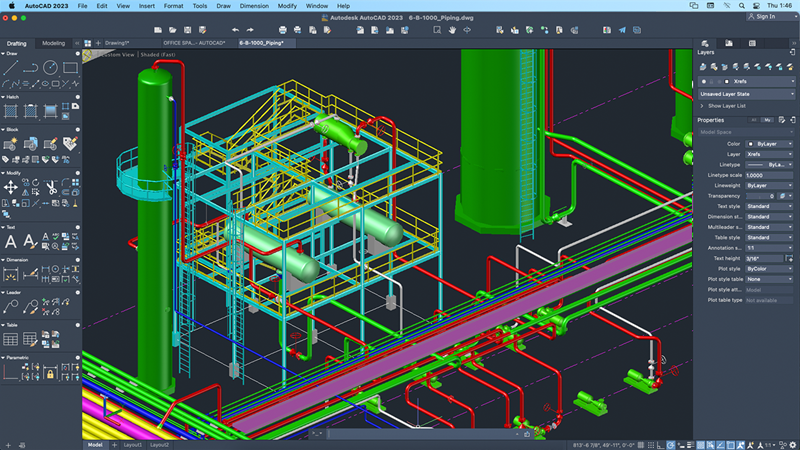 Designing in AutoCAD. Image source:Twitter
Autodesk AutoCAD is one of the best CAD software options on the market. It's versatile, easy to use, and has a wide range of features to help you create your designs. Whether you're a beginner or an experienced user, Autodesk AutoCAD has everything you need.
Key Features:
Versatility: One of the best things about Autodesk AutoCAD is its versatility. The software can be used for everything from simple projects to complex models.
Ease of use: It has a simple interface that makes it ideal for beginners, while its advanced features make it perfect for experienced users. No matter what your level of experience, Autodesk AutoCAD has something to offer you.
Wide range of features: The software includes a variety of tools that allow you to create any type of model you can imagine. From basic shapes to complex designs, this program has everything you need to create great designs.
Site:https://www.autodesk.com/products/autocad/overview
MeshLab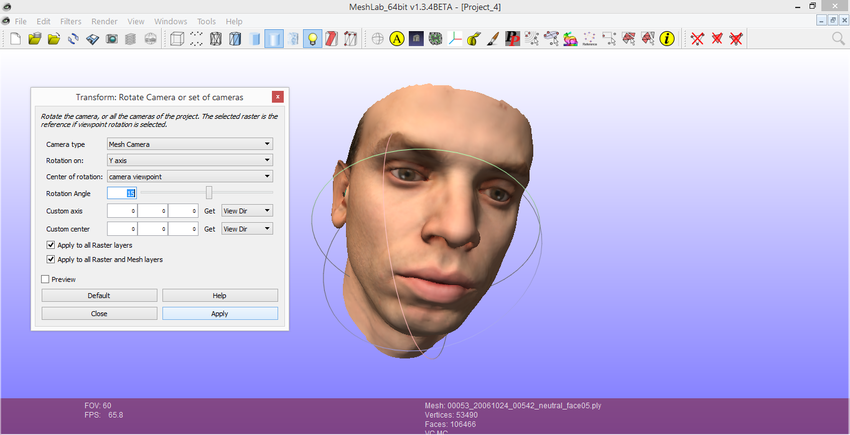 Slicing in Meshlab. Image source:Researchgate
MeshLab is one of the most popular slicing software out there. It's open-source and free to download, making it a great choice for budget-minded printers.
Key Features:
It offers a wide variety of features, including mesh editing, slicing, and UV unwrapping.
Has the ability to repair meshes. Mesh defects can often occur when printing objects, but MeshLab can quickly fix these errors so your print comes out looking smooth and clean.
MeshLab is also great for creating textures and adding details to your designs.
If you're looking for a versatile slicing program that won't break the bank, MeshLab is a great option.
Vectary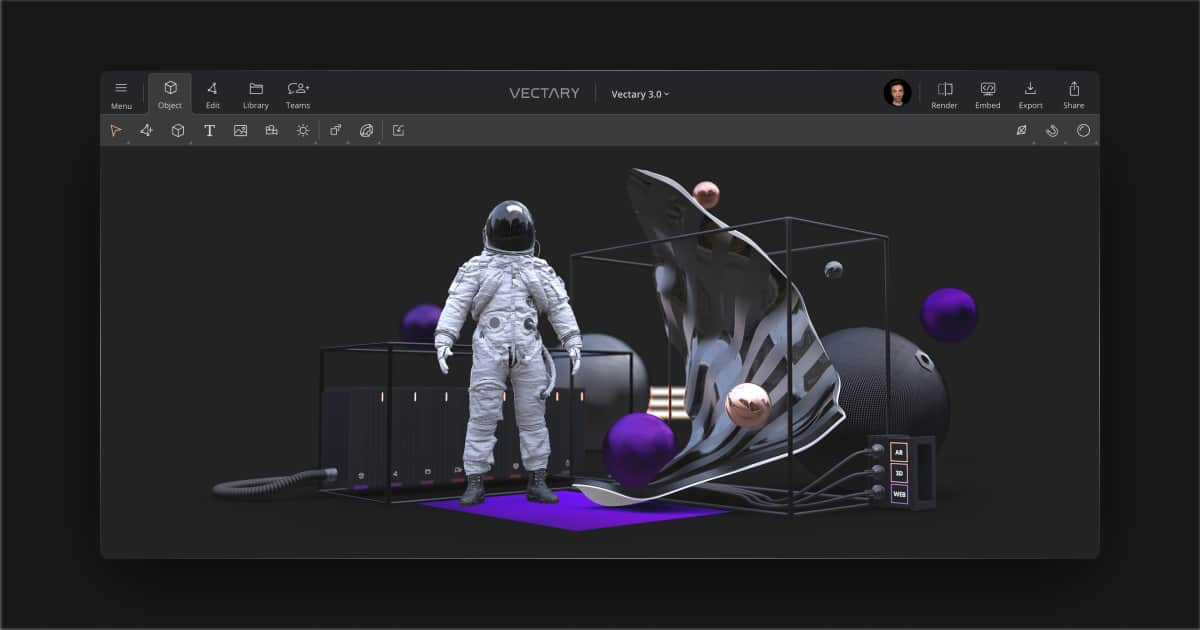 Designing in dark mode in Vectary. Image source: Vectary
One of the best 3D printing software available is Vectary. This software is easy to use for beginners, but also has features that advanced users will appreciate. With Vectary, you can create models from scratch or modify existing ones. You can also choose from a wide range of materials and colors to create your masterpiece. And if you're not sure how to do something, there are plenty of tutorials available online.
Features
User-friendly Interface and Easy to Learn: The software is easy to learn and use. Even if you've never created a three-dimensional design before, you'll be able to start creating models with Vectary in no time.
Intuitive design tools: Vectary's intuitive design interface is perfect for anyone looking to create professional models without any prior experience.
Large library of designs and textures – Vectary's library of designs and textures is second to none, making it the perfect platform for creating high-quality models.
Powerful rendering engine – The rendering engine of this program produces photorealistic images and videos of your designs, making it easy to create stunning visuals for your project.
Collaborative design tools – It is easy to work with others on your designs, ensuring that everyone is on the same page.
Comprehensive file format support – Vectary supports a wide range of popular file formats, making it easy to import and export your designs.
Customizable workspace – Vectary's customizable workspace allows you to tailor the interface to your specific needs,
TinkerCAD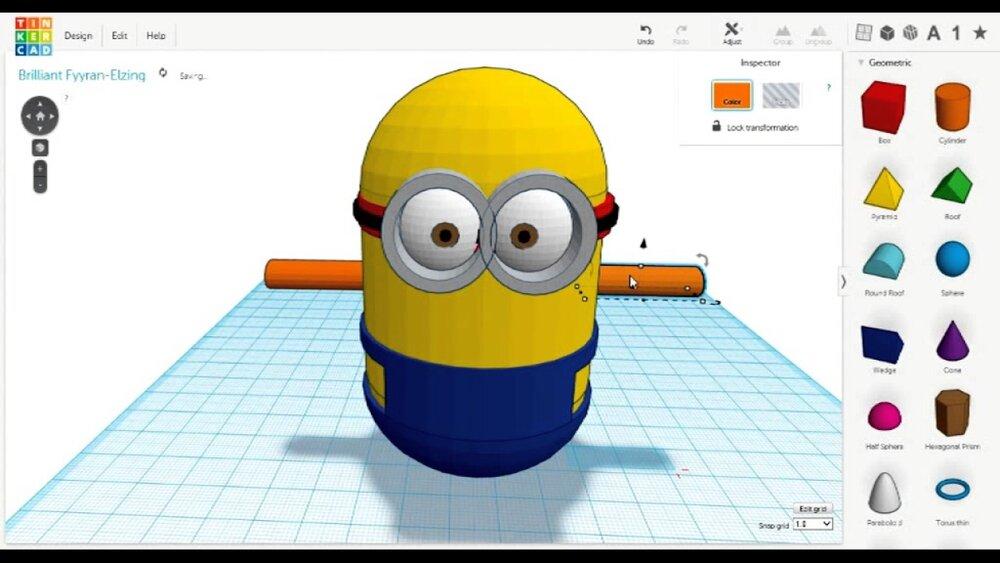 Designing in TinkerCAD. Image source:Blackworksacademy
TinkerCAD is user-friendly, cloud-based CAD software that can be used to create models for printing on a range of printers, including Fused Deposition Modelling (FDM) and stereolithography (SLA) printers. Tinkercad is free to use for personal projects, and there is also a paid subscription service for businesses.
SLA 3D printing
Making your own car part (LEXUS GS 300 headlight washer)

Key Features:
The ability to create simple or complex shapes by combining basic geometric shapes
The ability to import or export STL files, which are the standard file format for printing in three dimensions.
A wide range of pre-made shapes and components that you can use in your designs.
The ability to collaborate on designs with other Tinkercad users.
The ability to view your design in three dimensions, both inside Tinkercad and using a virtual reality headset
Site:https://www.tinkercad.com/
Blender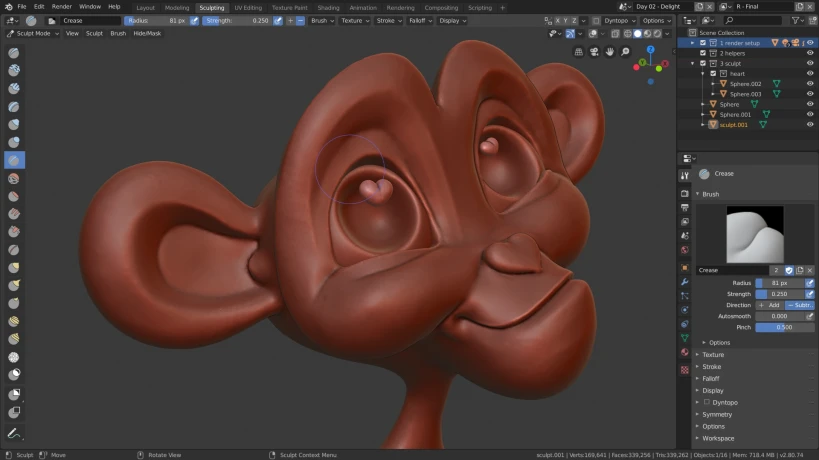 Designing in Blender. Image source:Snapcraft
Blender is a free and open-source software for creating models for 3D printing. Blender has many key features:
Key Features
A large library of modeling tools that can be used to create a wide variety of objects.
The ability to create textures for objects can give them more realism.
A wide range of export options, which allows Blender files to be exported for use in many different software programs.
A built-in slicer that prepares models for printing by splitting them into thin layers.
Blender is also free and open-source, making it an affordable option for those who are getting started in additive manufacturing.
FreeCAD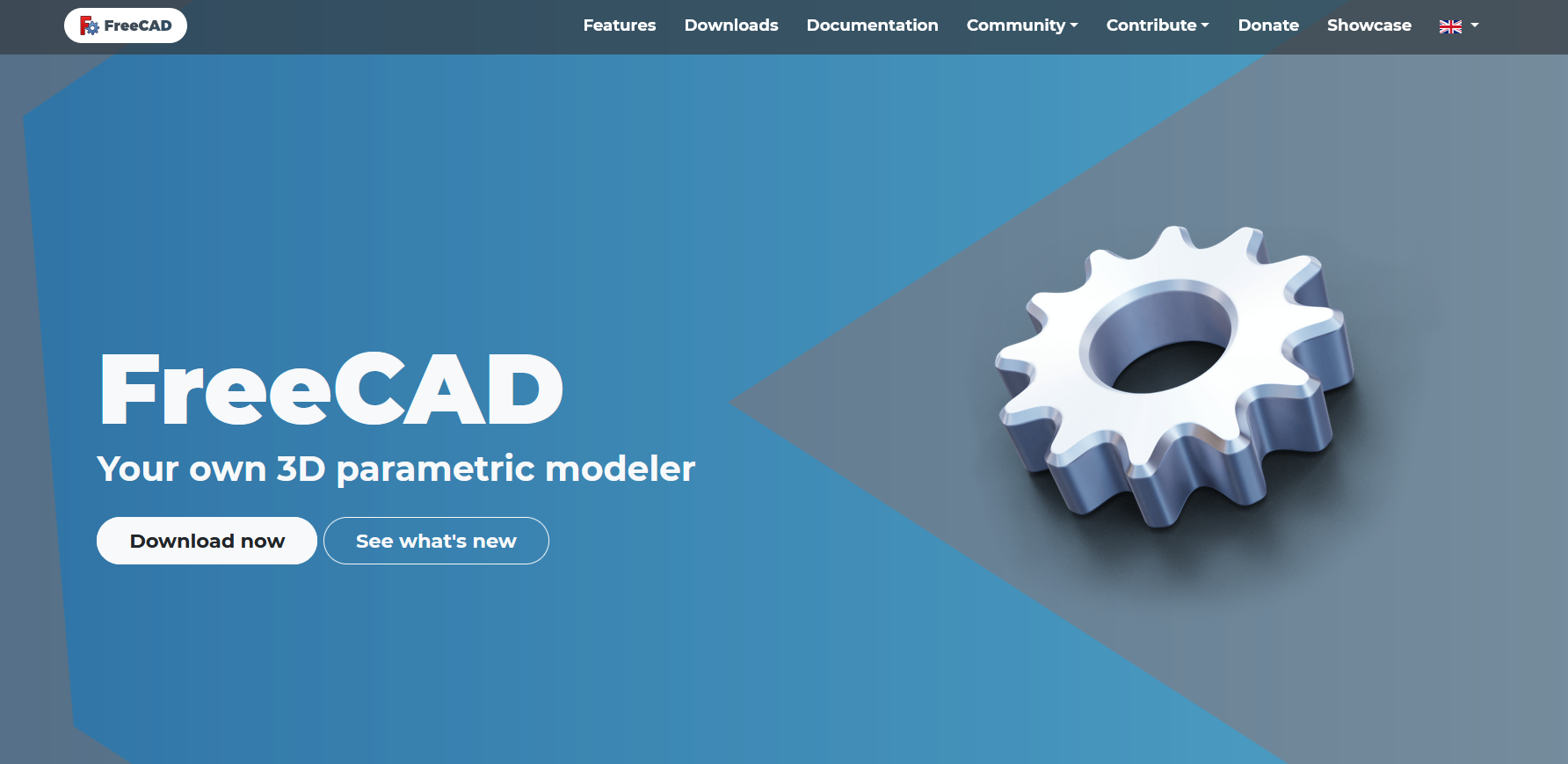 FreeCAD is a 3D printing software that is free and open-source just as the name suggests. It is available for Windows, MacOS, and Linux. FreeCAD can be used to create designs and prepare them for printing.
Key Features:
Has the ability to create parts from sketches, extrude shapes, create fillets and chamfers, and Boolean operations.
Simulation Mode: FreeCAD also includes a simulation mode that allows you to test your models before printing them.
Assembly management: In FreeCAD, you can manage assemblies using the Part Design Workbench. This workbench provides tools for creating and editing assembly structures.
Solid and surface modeling: Users have the ability to create their models either through solid modeling or surface modeling. Solid modeling is the more traditional approach and involves creating objects as if they were made of solid blocks of material. Surface modeling is newer, and allows you to create objects as if they were made of sheet metal or other thin materials.