Precision Meets Affordability: Black Friday Deals at Endurance Lasers – Engrave with up to 70% Off!!!
Any of you who are considering buying a Endurance laser, here are a few impressions and key facts about my experience with the 10W laser.
As most of the people out there I wanted a powerful system to cut some plywood. Which really works well.
For this clock I've used 3mm plywood and cutted it with 5mm/s speed and needed 5 passes to get trough.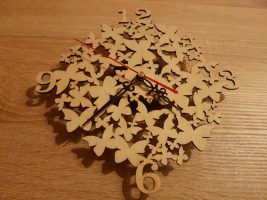 Most important thing if you want to cut or engrave wood you will need a air assist to get a clean cut/engraving.
Black Friday Brilliance: Top Laser Heads on Sale!
After I got pretty good results with cutting wood and paper I wanted to test what the possibilities of the laser are.
So I tried more materials. Like a special coated aluminium plate. I've used it to make room numbers for my company.
As a software to control my laser I'm using LightBurn. So for the coated aluminium Ive used the scan function with crosshatch option.
That means the laser will do one pass in the X direction and a second pass in Y direction. My engraving speed is set to 30mm/s.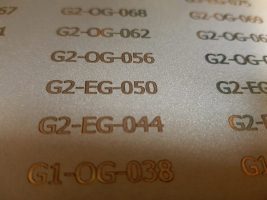 Even powder coated steel works well. But for powder coeated steel you need to test the material before.
There a two types. One type turns white after engraving on it and you only need a little coat of clear paint.
If you engrave the other type, it will remove the powder coating. In that case, you need to mask the areas you want to engrave with masking tape,
engrave it, cover the rest of the piece with masking tape to and paint it. As you can see the progress in the picture.
My settings for the engraving where 10mm/s speed and also enabled the crosshatch feature.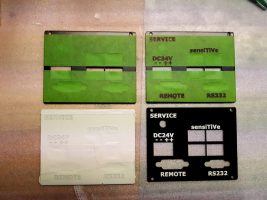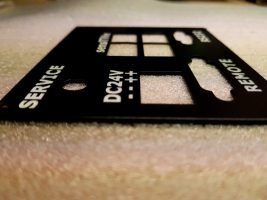 Last but not least, a very cool material is stainless steel. The 10W laser is not able to engrave on stainless steel directly.
But if you get a dry moly lube and spray it on the surface of the stainless steel and engrave. After the engraving you simply need to wash off the
leftovers of the dry moly lube. For this kind of engraving I need to run my laser at 5mm/s and also in Crosshatch.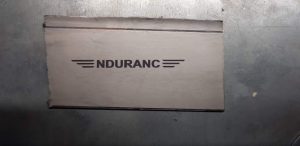 There are many more possibilities with a laser from Endurance but I think these four examples are my favorites.
I always add new engravings or cuttings to my website ( http://fizzle-grafix.net) or simply visit the Facebook group of Endurance lasers (https://www.facebook.com/groups/endurancelasers)
Stay tuned and good cut with your own Endurance Laser system 🙂
Cheers
Florian
Cutting with a 10 Watt Endurance Laser
by John Walker
This article covers some through-cut testing I did with a 10 Watt laser, compliments of George Fomitchev, CEO of Endurance Lasers.
Learn more about wood and plywood cutting >>>
All you need to know about wood and plywood laser cutting with video