Super Deals!! 40% Discount on all lasers.
Give your dad a 3D printed creation as a gift he will treasure in honor of Father's Day. 3D printed gifts can be the most memorable and meaningful gifts you'll ever give. These are custom gifts that you could never buy in stores and they make the perfect thoughtful present. Handmade gifts showcase and reflect your innovative imagination and appreciation of their personality. Not only will they feel special, but it will be unique and thoughtful. We've got the top 10 perfect 3D printable gift ideas for dad.
Bottle Opener and Cap GUN!
This opener is sure to be treasured and remembered whenever it's time for drinks.
It's perfect for drinks because it uses a curved prying edge that latches onto the bottle cap well and the design spreads out the opening force that leaves a less dented cap. An undented cap can be put back for finishing a drink later on. This father's day gift is also impressive because there is no metal whatsoever and it is still durable. It is an easy print that is portable and fits in the hand well while being durable.
Link to download: Super Best Bottle Opener by 4volt – Thingiverse
Bottle Opener and Cap GUN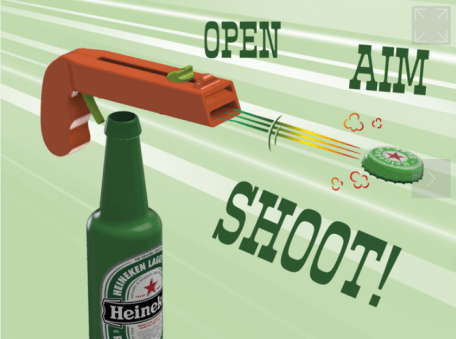 It will not cease to be an amusing time drinking with a 3D printed bottle opener and cap gun for fathers day. Each bottle cap is the only projectile so it is safe and not intended to be a realistic weapon. You will be able to add ammo with each drink and have fun. This is durable and will be able to open most bottle types. Assembly instructions are included to assist with the construction.
Link to download: Bottle Opener and Cap GUN! by 3Deddy – Thingiverse
Can Handle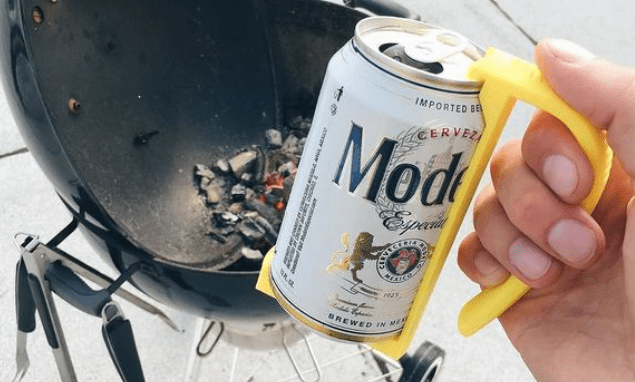 A can handle is a clever and easier way to hold canned beverages. This is perfect for cold drinks and it will conveniently provide a good grip on any beverage. This makes a great father's day gift for dad to handle other objects like a BBQ spatula while holding a drink. This is also useful for ice-cold drinks that may be uncomfortable to hold for long periods. This will fit soda can sizes (US12 oz). The curved handle can be held well and allows for more freedom of movement and mobility when carrying a drink. Handling drinks at a BBQ and other occasions will be much easier with a can handle.
Link to download: Can Handle by 3DBROOKLYN – Thingiverse
Propeller Keychain
This propeller Keychain is a very thoughtful and practical gift idea. The keychain is made up of two pieces; the propeller, and the casing. When the two are connected securely then they can spin. With additional lubrication, they can revolve around smoother. Make your father feel special by customizing something he regularly moves around with often. Keychains are a great accessory and this model is sturdy, designed for easy print, and conveniently sized to fit along with a set of keys well. A dad would love this 3D-printed father's day gift for the car, office, or home.
Link to download: Propeller Keychain by Umake – Thingiverse
Gyroscopic relaxing keychain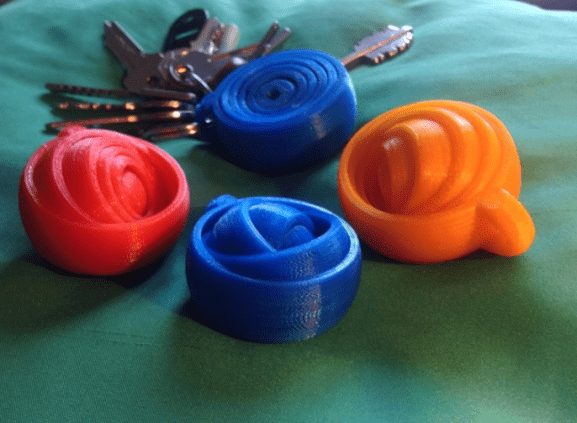 This gyroscopic (gyro) keychain is an updated version with 6 rings that can rotate freely in any direction. The design is durable and won't break apart easily so it can handle the same stress as keys throughout the day. The size and mobility will help you relax as it's gently rotated around the axes. It is a well-deserved Christmas present for a Dad who would like a thoughtful gift to help him relax.
Link to download:gyroscopic relaxing keyring – 6 rings by gianfranco – Thingiverse
Gearbox Keychain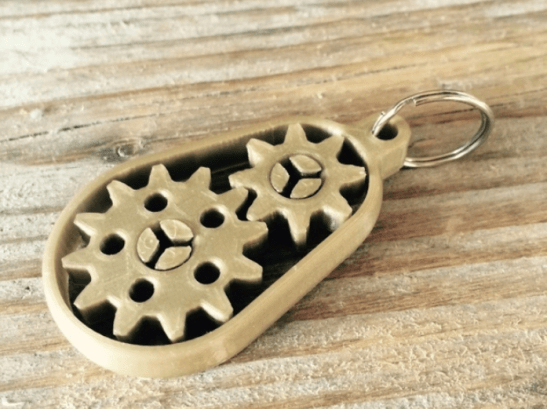 This movable key chain is a portable and amusing key chain that a father will enjoy. This is great for those who like fidgets as it's very lightweight, securely built, and fits well between keys. This is good stress relief as the two gears interlock and rotate.
Link to download:Gearbox Keychain by Umake – Thingiverse
Better Whistle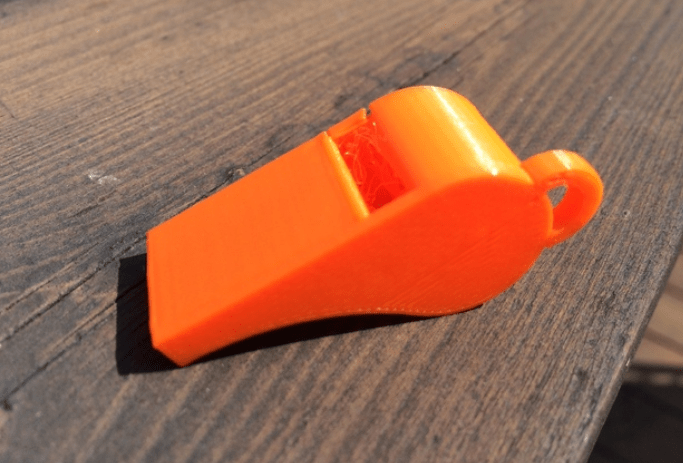 This whistle is a good-sounding whistle that does not have whooshing air noise when blown. This whistle is loud and can replace an already existing whistle. The design is like a traditional whistle with a keychain hole to carry.
Link to download:Better Whistle by crkoolkid – Thingiverse
Skull and Ratty Bones Keychain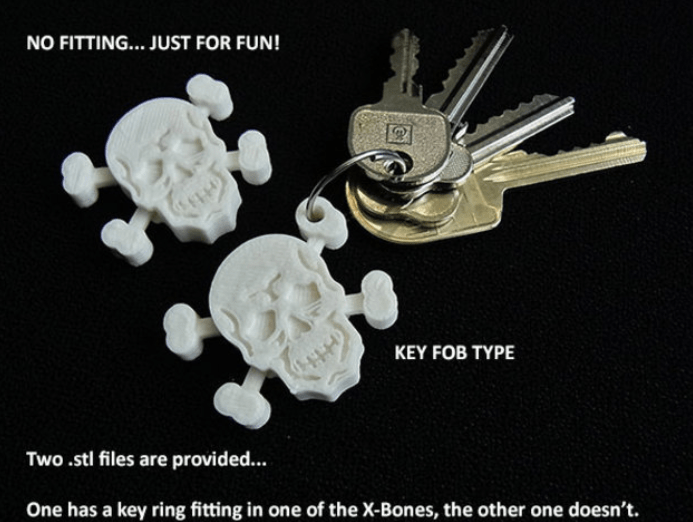 This Skull and Rattily Bones is a nice gift with movable parts. This 3d printed gift idea has bones that intersect across the skull are movable and align well with the entire design and they rattle! There are two versions One includes a key ring fitting, the other doesn't. This is smaller than some keys so it will not obstruct a ring of several keys, while still having functionality to move the intersecting bones.
Link to download:Skull and Rattly Bones by muzz64 – Thingiverse
Love Dad Keychain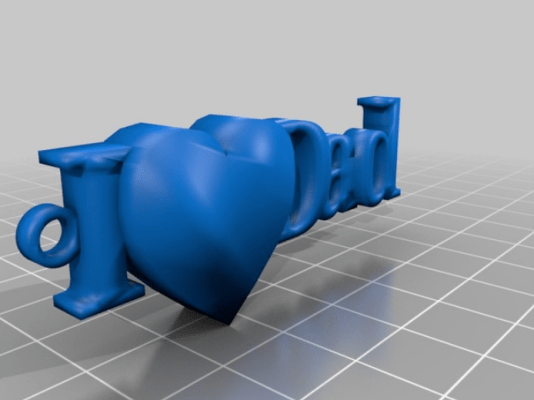 A great way to give your father a memorable gift this father's day is with something you made showing a strong sign of love. A 3d printed keychain is great for its size and it will be good for organizing keys.
Link to download:I_Love_Dad keyChain by Techie_Baksh (Fixed Heart Issues) by Techie_Baksh – Thingiverse
Low-Poly Space Toys Make Card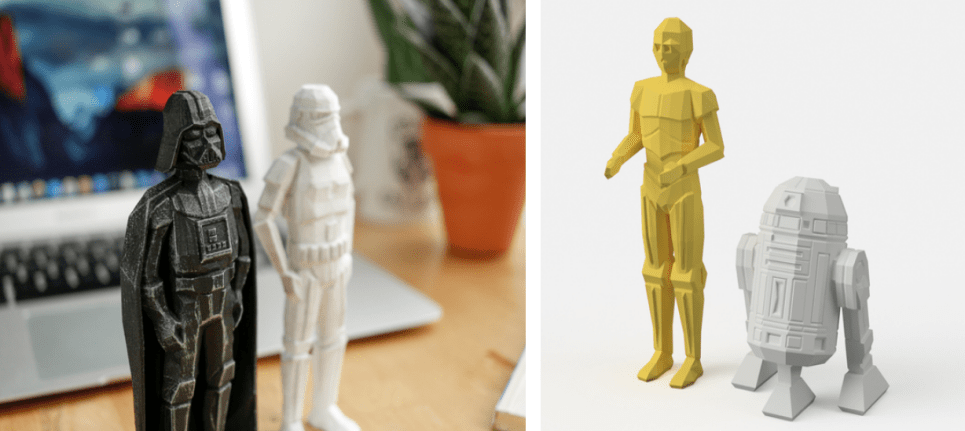 Star Wars Toy collection is a unique project for fathers who are into everything from the world of Star Wars! This set of gifts is for Star Wars fans who would enjoy adding these characters to their other collections, shelf, desk, computer area, or any other part of their space. With these 3D-printable Space characters, you can bring a little extra Starwars into your life. Print Darth Vader, a stormtrooper, C3PO, and R2d2. You can print as many as you would like and even create an army of stormtroopers to use as decoratives. You can also experiment with the ability to try different materials and get authentic-looking results like wood, brass, gold color, and more!
Link to download: Low-Poly Space Toys by flowalistik – Thingiverse
Sir Nigel Squintsworth Glasses Holder
The Sir Nigel Squintsworth glasses holder will help to organize and become a stylish place to keep glasses. The DIY glasses holder is perfect for home or office and it will make sure you never easily lose your glasses again! These will look great on any table and they can hold most sets of glasses.
This 3D printed model has a very practical and fun look when you place the glasses to sit on the bridge of the nose. It features a large nose with a mustache or a large nose with a large lip. The triangular-shaped nose can be used to hang each pair of glasses and the base of the design make it a sturdy tabletop item.
Link to download: Sir Nigel Squintsworth Glasses Holder by Zyltech – Thingiverse
Dad Glasses Holder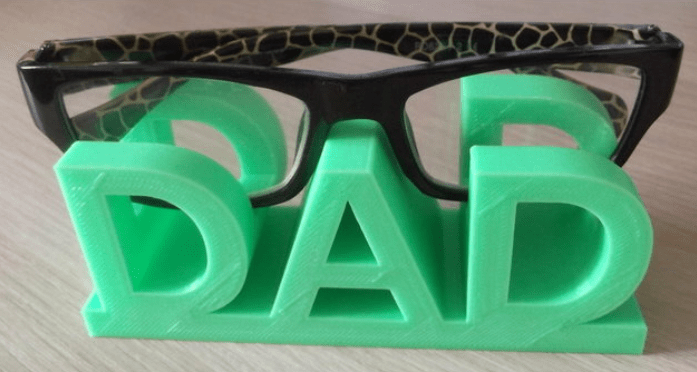 3d-printed gifts are more special when they come from you and these 3D printed glasses stand are a well-designed father's day gift. The glasses stand holds one pair of glasses with a clever design that uses the word 'DAD' to hold the glasses securely.
Link to download:Dad Glasses Holder by sej7278 – Thingiverse
Tool Holder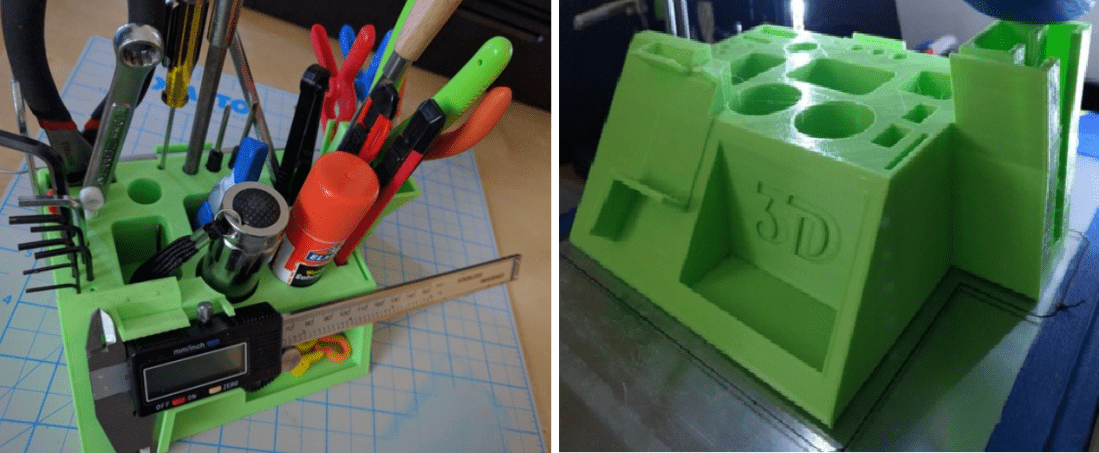 A great and helpful fathers day gift is a 3D printed tool stand.
You can choose from different color choices to create and you can also find open spaces to have initials embedded to make it more personal.
TOP SALES! The best laser head for your 3D printer / CNC machine / engraving frame.
This can be made for tools in storage sheds, workbenches, or other spaces where tools are kept. The size is portable and can allow for less distraction of work without having a disorganized and messy workspace. You can fit a caliper, pliers, Allen wrenches, screwdrivers, bolts, bits, and much more on this model.
Link to download: 3D Printer Tool Stand by STIG_ – Thingiverse
Repeating mini crossbow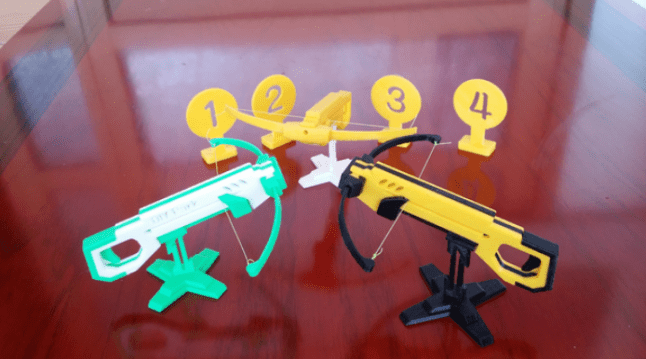 This custom 3d-printed repeating mini crossbow is made for easy operation and You can choose the colors to make them stand out. The crossbows are lightweight and easily operated and easy to assemble.
you can create several crossbows for fun archery games with friends.
Please feel free to watch the video for assembly and demonstration : https://youtu.be/N4zxyb1klb0
Link to download:Repeating mini crossbow by DIYPark – Thingiverse
Ballista Crossbow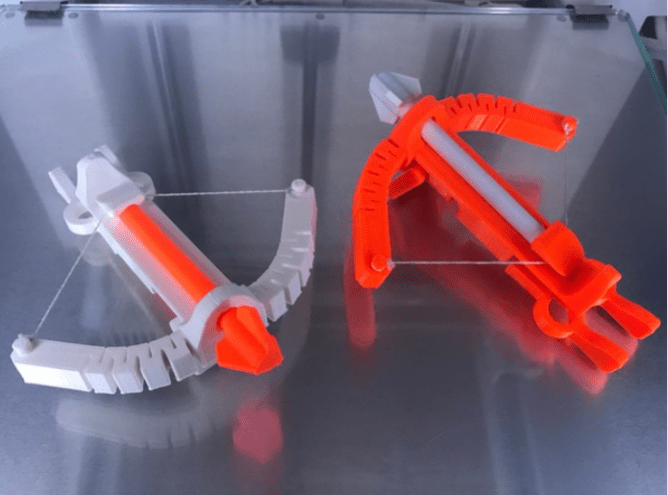 This ballista crossbow is a well-designed and creative gift for fathers, especially if they appreciate crossbows. The model is an easy to assemble design. The bowstring can be made with a sewing thread and the bow itself doesn't jam and fire without any problems. This 3d printed gift can give a DAD the chance to practice their arching skills. The crossbow is miniature and not harmful in any way.
Please feel free to watch the video demonstration: https://youtu.be/olYlUPdZJGM
Link to download:Ballista (crossbow) print in place by senns – Thingiverse
Spiral Chess Set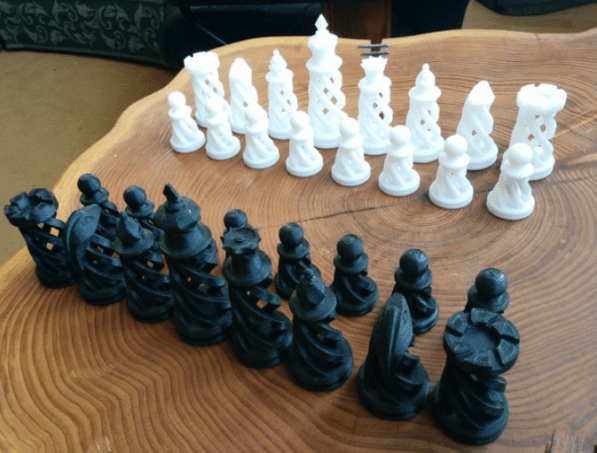 This is a DIY 32 piece 3D printed chess set for a father that would enjoy the art as well as the strategy of the game. These 3D prints can be printed to scale and assembled on a board for a great game. This is a wonderful gift customized for fathers to liven up a room or office and have it as an available activity. The bold design is an attractive display piece, showing off your 3D printing capabilities. Each solid plastic chess piece holds up exceptionally well, while also looking amazing with fine detail of spiraling lines across each piece.
Link to download: Spiral Chess Set by BigBadBison – Thingiverse
Puzzle Chess Board
These chess pieces and board are well designed to be visually pleasing when playing. This is a perfect and unique gift for a dad who enjoys a fun and strategic game of chess. All the chess pieces are included along with a nice board that friends and family can enjoy.
Link to download:Puzzle Chess Board by pbreeden0 – Thingiverse
Pen Holder or Organizer
This 3D printed Pen holder will be a great gift for a father. The Pen holder is a great father's day gift that fits perfectly on any desk space. A 3D printed pen holder is something helpful and serves a purpose for keeping track of markers, paintbrushes, pens, pencils, and other office stationery that fits inside it. It features an innovative design that is durable and strong, which enables it to store more than the average pen holder. It's easy to place, anywhere in the house and it'll be a great decoration for a home or office desk and it's for organizing your items so they don't get lost.
Link to download: Pen Holder by damm301 – Thingiverse
Trash Walker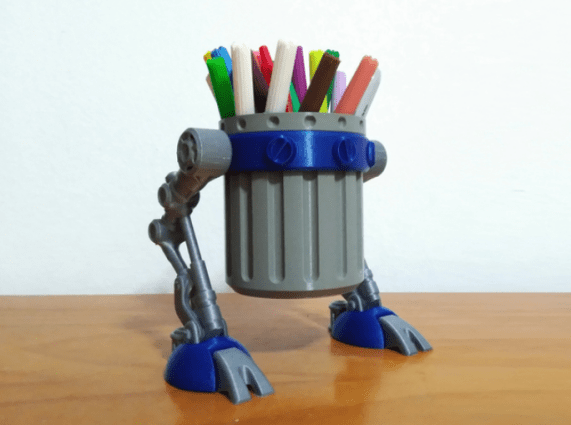 This organizer and stationary storage is a great father's day gift for those that like robotics. This customizable trash walker is for storing pens, pencils, markers, small tools, and more. This design has mechanical legs with a bin that balances in the center.
Link to download:Trash Walker by Ferjerez – Thingiverse
Rugged Desktop Organizer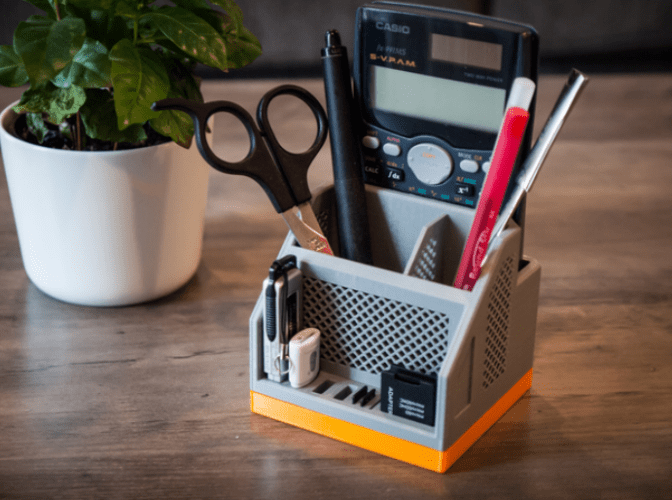 This can hold several stationery items such as pens, scissors, and calculators. The organizer is especially useful in keeping USBs and micro USBs, which are easy to lose and hard to find. Dad will appreciate the multi-purpose organizer that can hold and organize such a variety of items.
Link to download:Rugged Desktop Organizer by Byzantium3D – Thingiverse
3D print Dad Car
Create an iconic 3D printed RWB Porsche 911 (964) Turbo for this father's day. Upon its launch, the Porsche 911 remains Germany's most reliable car. Today, Porsche's are among one of the best cars in the world and this Porsche Turbo is a miniature scale model that you can assemble and the final result looks stunning. This model comes with a variety of practical accessories, four tires, and four wind supports. This 3D-printed RWB Porsche 911 (964) Turbo is a well-detailed scaled model that will be great in colors to decorate a home or office.
Link to download: RWB Porsche 911 (964) Turbo by whega – Thingiverse
Father's Day decoration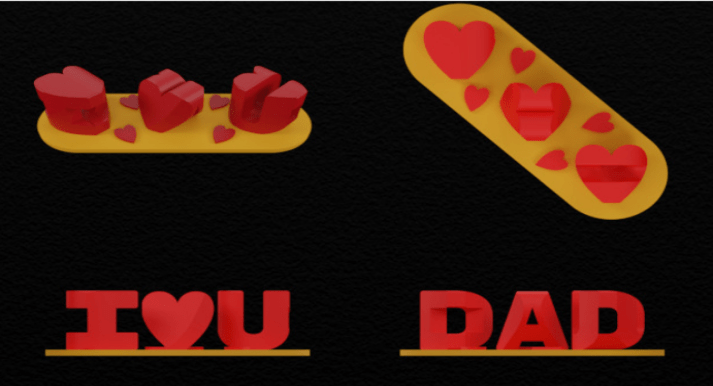 This 3D DIY printed Triple Letter Blocks Ambigram is a customizable set of customizable blocks that can be read in a different way when oriented in different angles. This is a really clever and amusing present for father's day. The letters can be customized with numbers, UPPERCASE letters, a space character, or any of the special characters to make any word or phrase. Nearly all letter combinations can be made and they can even be printed to fit both long and short words and phrases. This model comes with a stand so it can display be displayed anywhere to by an eye-catching model.
Link to download: Customizable Triple Letter Blocks Ambigram by Lyl3 – Thingiverse
Dad sculpture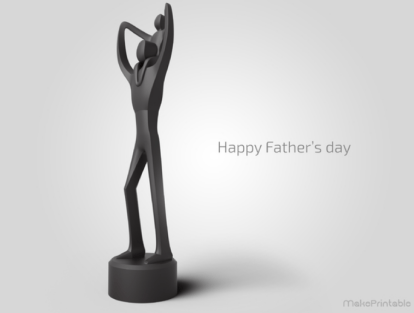 This is a great gift to show appreciation for how your father has raised and been a major part of your life. The design of the sculpture has smooth and will look great with different material filaments like brass or bronze.
Link to download:Fathers Day Sculpture by MakePrintable – Thingiverse
Worlds Greatest Dad Token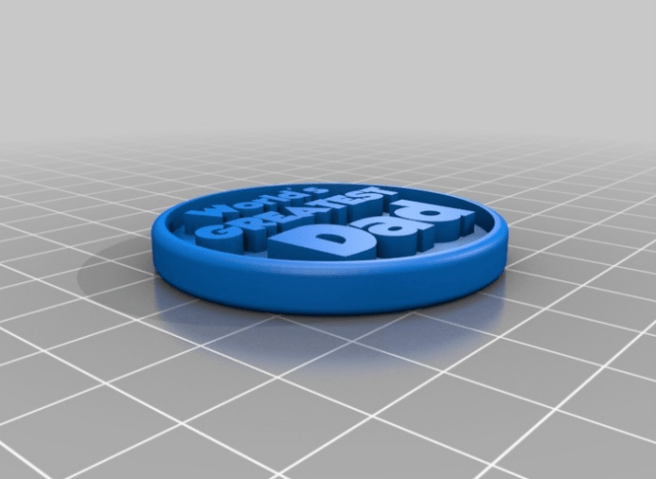 This is a gift that you can create that all dads will cherish forever. This is a good 3d printed gift to let dad know he is the world's greatest dad.
Link to download:World's Greatest Dad Token by dadhoc – Thingiverse
Dad's Nameplate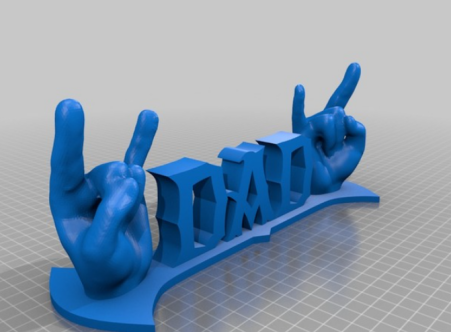 This design is great for fathers who you would like to tell them they rock. Dad's are also rockstars and you can celebrate them with a decorative piece like this. This is well designed with a stand to carry both hands and the word 'DAD'.
Link to download:Dad's Nameplate by ejdittus – Thingiverse
Dad nic-nac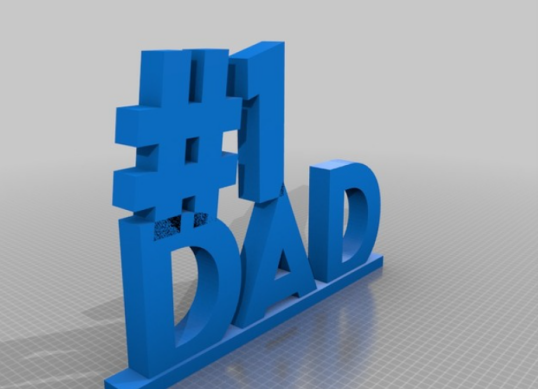 You can let your father know he is #1 with a design you 3D printed. This model will put a smile on his face and remind him that he's your number 1. This is great for home, office, or any tabletop
Link to download:#1 Dad nic-nac by hidazfx – Thingiverse