All you need to know is how to make a color engraving on silver. A detailed guide. Get an impressive result!
Task: To create a color image on a silver surface without using coloring agents. Metal coloring is based on the so-called "tarnish effect".
The course of work:
Material preparation
First of all, it is necessary to mirror polish the surface of the ring, which will be colored. The surface should be very smooth and even. We fix the ring on the worktable of the laser machine as shown in the picture.
Image preparation
We use the "Eye of Horus" as a basic pattern. The entire pattern is to be made in one pass. Its size is adjusted to the size of the processed surface of the ring.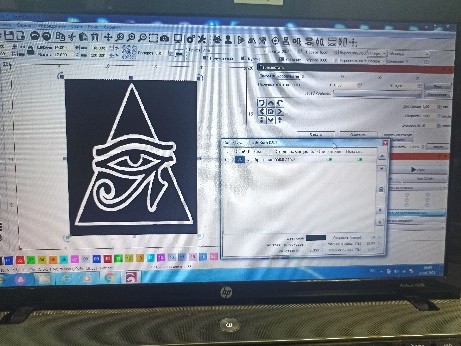 Processing
In the Lightburn program, we select speed 700 mm/min, power 10% (to obtain a color image we need power in a range of 6%-17%. The color of the pattern depends on this parameter.), interval 0.05 mm.
Important: the range between the laser lens and the processed surface should be 17,6 mm. In case of deviation from this value, the image will not acquire color.
Enjoy the result
An engraved image on the silver ring. But there's one but. The image is not lasting and can be easily erased. Still, we plan to fix the problem and will do it by all means.
Hope that you liked this post! If you have any more questions – let us know and we will be happy to answer your questions in our Livechat!