Do you look forward to upgrading your 3D printer / CNC router or an engraving / cutting machine you have?
If so, please fill in the form, and we will help you with advanced solutions from Endurance.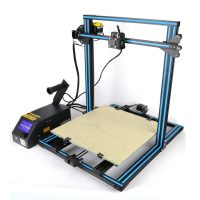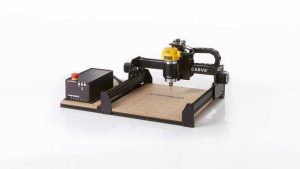 Leather Laser Engraving with the Subsequent Coloring of the Engraved Pattern Using a Diode Laser (Endurance 10 Watt DPSS Laser Nd: YAG, 1064 nm, F = 30mm).
We are getting ready for Black Friday sales! and we continue to make accessories dedicated to this day. Today we will tell you how to use a laser to make a leather business card holder and decorate it with a color engraving. For work, we need a leather piece of a suitable size (black leather,1.3 mm thick), white and colorless wax for processing leather, and a laser engraver.
Stages of work:
A leather cutting template and the processing parameters
Laser cutting of the leather is carried out according to a pre-selected template using the LightBurn program. The template size is 180mm x 77mm. The cutting parameters are as follows: cutting speed 600 mm / min, power 99%, number of passes 2. For engraving, we use a vector image of a Black Friday logo. The engraving parameters are as follows: power 20%, speed 1000 mm / min, number of passes 1, fill density 0.1 mm. The focal point is on the surface of the workpiece.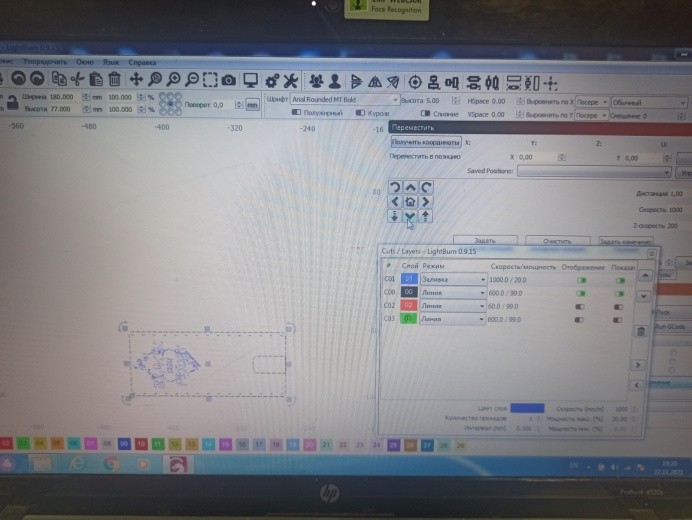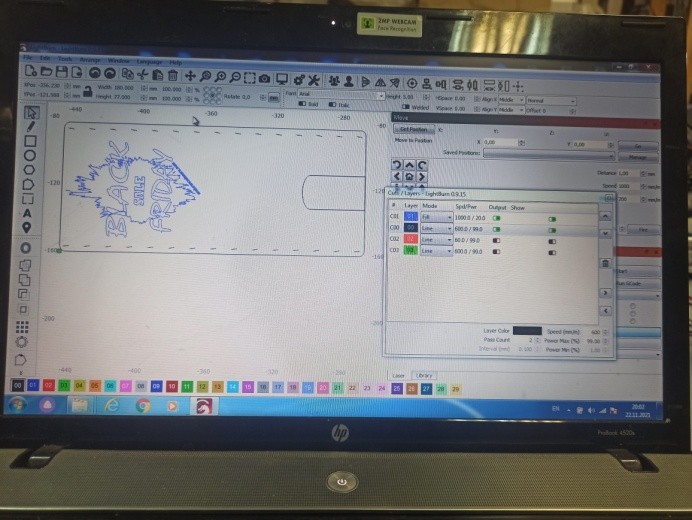 Preparation for leather laser engraving
We place the leather sheet on a ceramic plate and fix it with double-sided adhesive tape. Then we place the ceramic plate with the leather sheet onto the laser work table.
Since we have to cut and engrave leather, it is necessary to use an air assist (burning leather generates a lot of smoke).
After preparation, we start the laser. The total laser processing time is approximately 30 minutes.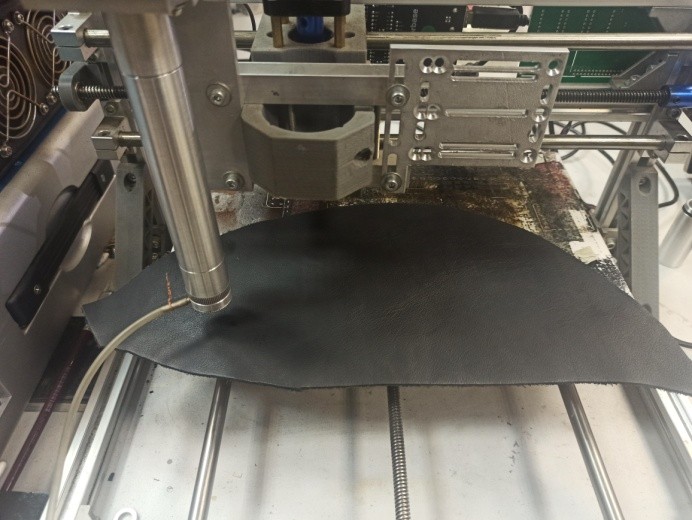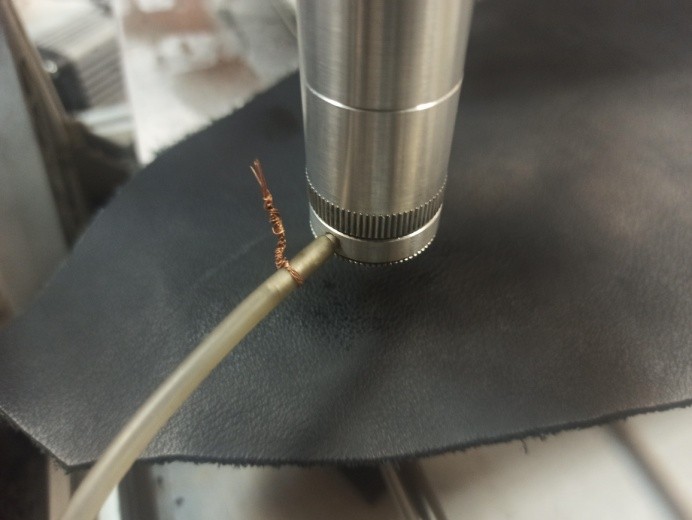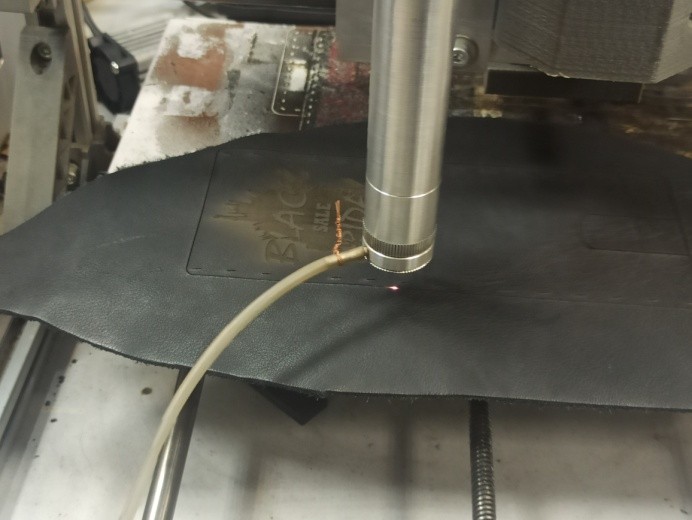 Coloring and stitching.
To give the engraved image contrast, we treat it with white wax. After the wax coat has dried, we apply one more coat, of colorless wax this time. Since the laser engraved area of the leather sheet has a relief surface, the white wax adheres better to it and does not wear off when covered with colorless wax. The result of this processing method is a contrast black-and-grey image. After the colorless wax coat has dried, we stitch the item along the perforation lines made by the laser.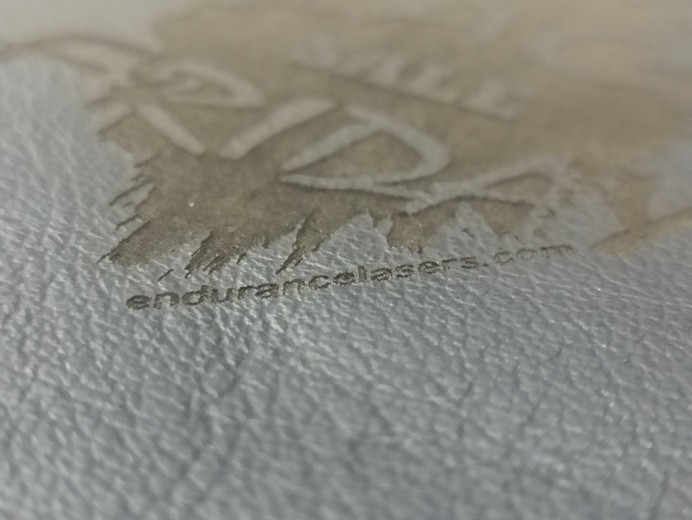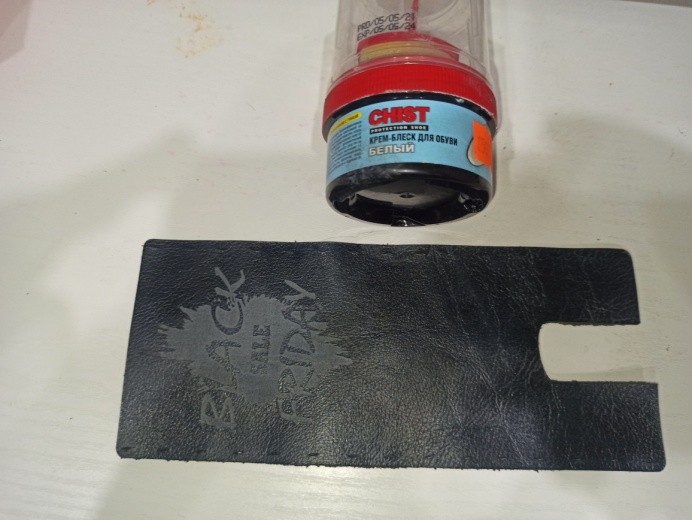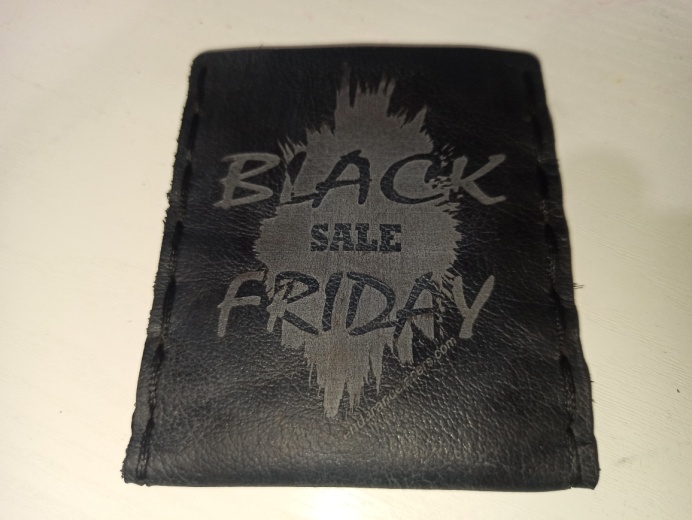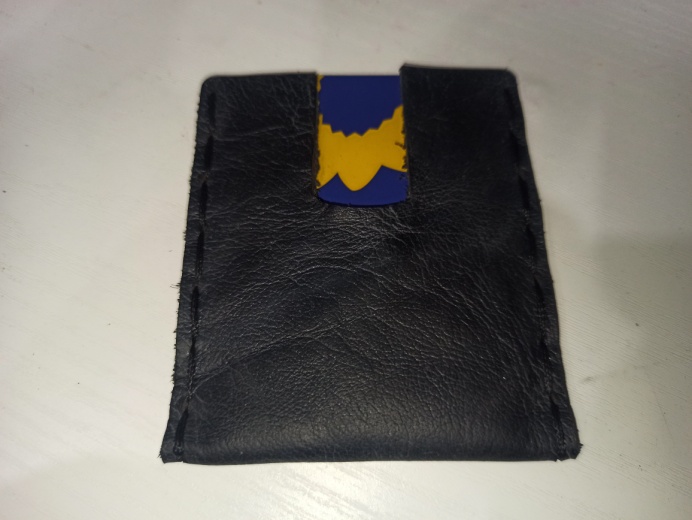 Laser Engraving on Leather – more details
The reason for scrap leather is pricing is normally low cost. You can find this online by just searching or in local hobby stores. We purchase a sample square for 8 dollars the first time because I did not see on the bottom shelves scrap bags with 3 pounds of scrap leather for 8 dollars. I got the bag this time. Scraps come in different colors and shapes because they are scraps from big sheets of leather used by furniture manufacture who make chair coverings and sofa and Automotive seats.
To find something practical to make with scraps of leather I thought of a belt pocket that can hold plastic cards such as Credit cards, bank cards, Identification cards.
Laser photo engraving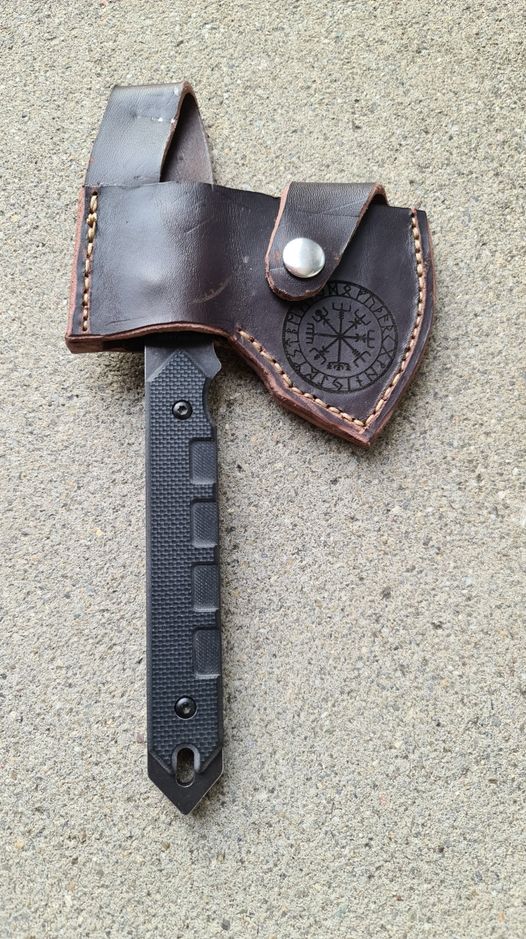 Leather is interesting to work with and will engrave with an assortment of power ranges and focal points.
The First engraving was on Buck Knife cover and we did this with the tiny 2100mw module with the focal point of .1mm. We basically started with a picture of an owl in the fight from a nature group in Facebook copy past into Lightburn. The leather on the knife case is old and hard. I did it at 600 dpi 1200 speed setting. It came very nicely on the old hard leather case. We also engraved on the hickory wood with pretty much the same settings getting used to the 3500mw laser module was fun. It is a 445 nm wavelength.
Right off we put it under Endurance 10-watt output laser with CNC 3018 machine. We setup in lightburn a rattlesnake with my logo information under it. It was of fair size and we did image 400dpi Stucki 2400 speed one pass we did not want to burn thru it. Pushed-go engraving was nice but it bubbled the image from the heat.
Later on, we explored that leather needs to be wet soaked with water. This way it engraves without distortion especially if it is raw soft leather you working with. Not only engraves nicely but cuts clean when wet.
We have found if the leather is sitting on a bed that is not clean it will pick up carbon from other material priorly cut with your Laser. We have put my wet leather material that lays flat as can be when soaked with water on a clean glass bed and found out just how many passes is needed to be cut thru by the light coming thru the glass. Wear your laser glasses. Note an extra pass might be needed all though you have seen the light the next pass will ensure dropout parts. Speed settings vary depending on the laser power used.
Engraving on leather is a great way to create an original gift or souvenir for yourself or your loved ones.
With the help of the Endurance DIY, you can decorate leather items with a variety of labels or drawings.
Laser Engraving Advantages
Traditional means of mechanical and thermal engraving on leather do not provide the same high level of engraving precision as do laser devices. Laser engraving is a completely automated process without any additional technological stages, taking minimal time. Our equipment works without failure even when engraving large drawings. Certain simple operations are performed in just a few minutes or even seconds. The Endurance DIY desktop laser engraver is ideal for the engraving of single items or small series.
Availability
Laser engraving seems, at first glance, unsuitable for home use. However, with the help of Endurance devices, you can make small souvenirs right at home. Thanks to the affordable and easy-to-use CNCC LaserAxe software, everyone, even an absolute beginner, can master this task. CNCC LaserAxe does not require a pre-installation on the computer, it is enough just to run the exe. file in the program folder and the program will be ready for use.
Connection and Initial Setup
Connect the laser engraver to the computer using a USB cable, run the program, click the "Connect" button. In a few seconds, your new equipment will be ready to work. Open any image you like with the "Open" button and vectorize the image by clicking on the "PR" button.
Fig.1 Image vectorization by Outline
In the settings, there are several ways of vectorization. BlackWhite is an inversion of colors. Any picture always opens in black and white. You can choose what to engrave: the background or the picture itself. Outline automatically selects the outlines of your drawing. With the help of the "Scale" button you can manually set the size of the drawing, but not bigger than the working area of the laser engraver.
G-code Generation Without Additional Programs
When the picture is ready it is necessary to generate the G-code.
Set the print speed in the PrintSpeed line equal to 350 mm/min and save the settings by clicking the "Save" button, then click "Create". In just a couple of seconds, your code will be ready, and the program will automatically open the "Code" tab. The power will be set by default to 100%, you can adjust it with the slider "SpPower". To make the engraving look attractive on the leather sample, we recommend setting the power to 75%. The proper control of the laser beam parameters makes it possible to adjust the effect of the laser radiation on the treated surface.
Always wear google when you work with a laser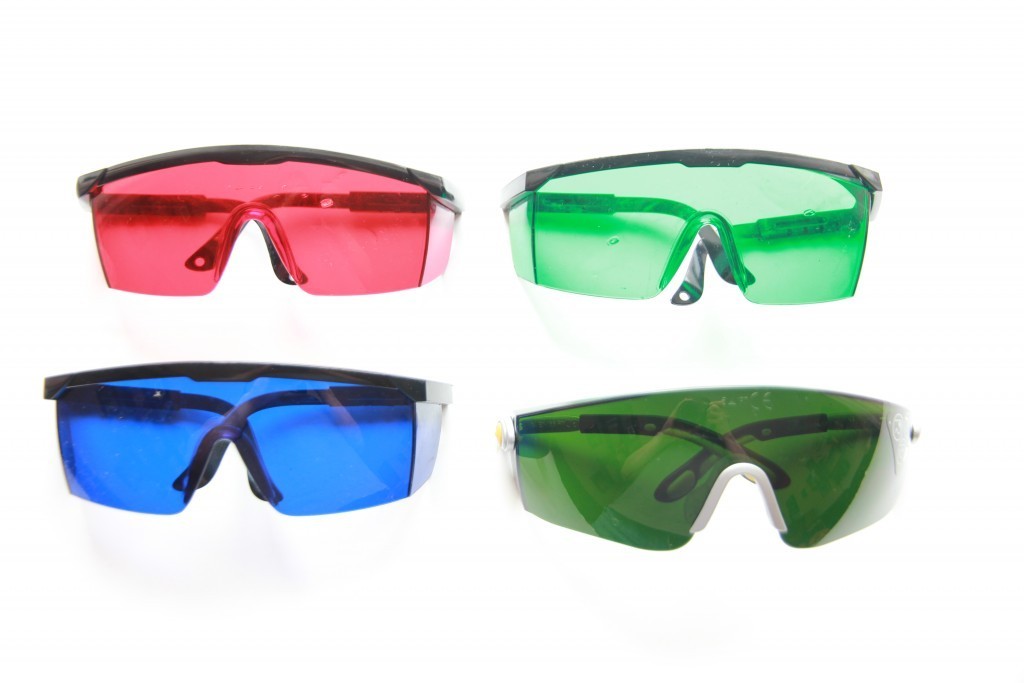 When everything is ready, put on safety goggles to prevent damage to your eyes while watching the engraving process, and press the "Run" button. Now the laser will do everything itself and, when finished, will return to its home position, and go out. It will take 1 minute to engrave a small pattern, 50 mm x 20 mm by size.
When engraving on artificial materials surfaces such as "leatherette" and "eco-leather", their low melting point should be taken into account. To ensure that the edges of our engraved image or inscription do not look scorched and unattractive we apply a protective layer to the surface of the artificial leather using a black self-adhesive film.
Multi-level testing system.
Industrial components.
The guaranteed duration of the continuous operation ~48-72 hours.

True continuous power output
Our products have the rated power output as advertised – unlike Chinese analogues.
Can be turned on and off with 3.5-24V.
Variable power output.
Universal and compatible mount.
Compatible with most 3D printers and CNC machines.
Do not like the laser?
Simply return within 30 days and get a full refund.
Why do our customers buy
lasers
and engraving machines from Endurance?
We assist and give advice by Phone / Email / Facebook messenger / Telegram / Whatsapp / Viber.
We help to install and tune the laser. We offer qualified after-sales support.
We ship everything you need in one parcel to get started.
We ship all units within 4-24 hours. DHL express delivery allows you to get the package in 3-5 days.
All our lasers are tested and could work up to 10000 hours.
Do you have an old model? Upgrade your unit with more powerful one.
Leather and ceramics engraving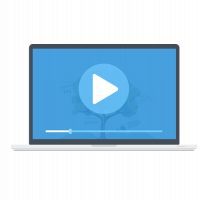 Video available upon request. Just email to [email protected] or text: 12393020053 [whatsapp, viber, telegram, wechat]