The Tsar´s gemstone
In 1830, the Finnish mineralogist Nils Gustaf Nordenskiöld discovered the first natural Alexandrite in the southern Urals, and named it after the future Tsar Alexander II.
The Alexandrite effect
The Alexandrite is known as the emerald by day and ruby by night because of its color change: it looks bluish-green in daylight, and purple to raspberry in candlelight. This so-called " Alexandrite effect" is caused by chrome contained in the crystal, which actsas a color filter.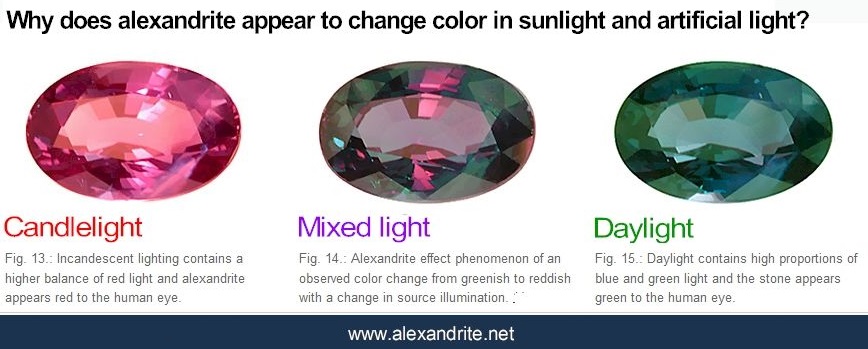 Color change of alexandrite crystal
Alexandrite chemical formula and growth
Alexandrite is Beryllium aluminum oxide doped with trivalent chromium and its chemical formula is Cr3+:BeAl2O4
Common methods for growth alexandrite crystals are Czochralski and Horizontal Directed Crystallization method.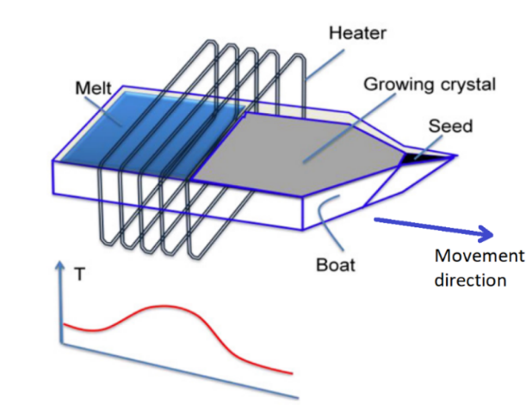 Schematic of the HDC crystal growth method (HDC) and Czochralski crystal growth method (CZ)
Alexandrite crystals are grown by HDC- (a) and Cz- (b) technique.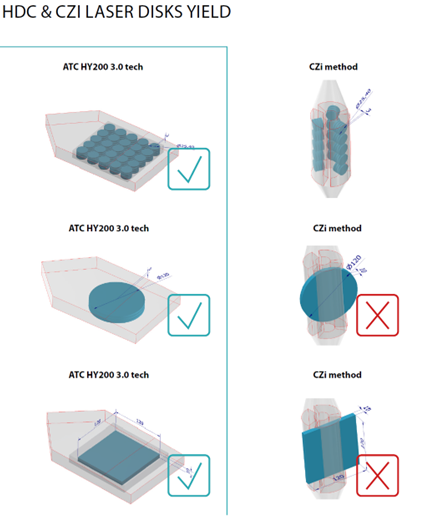 Comparing the Yield of conventional Czochralski and Horizontal Directed crystallization method
Alexandrite vs Nd:YAG laser
Nd:YAG laser wavelength is fixed to 1064nm. Alexandrite laser crystals, however, are tunable from ~700 to 858nm, and have a higher thermal conductivity and breaking strength. In picture bellow is comparing emission spectrum of both laser crystals.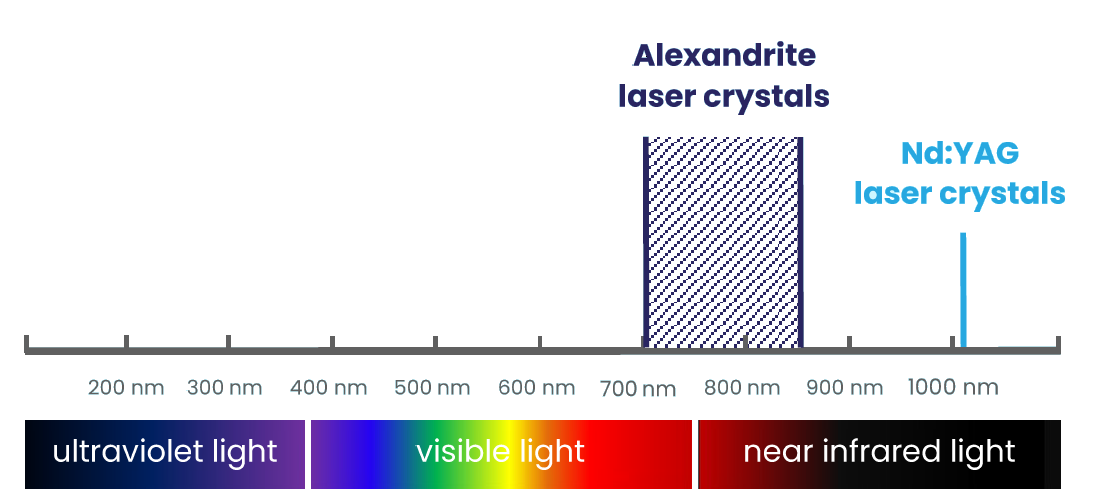 Alexandrite laser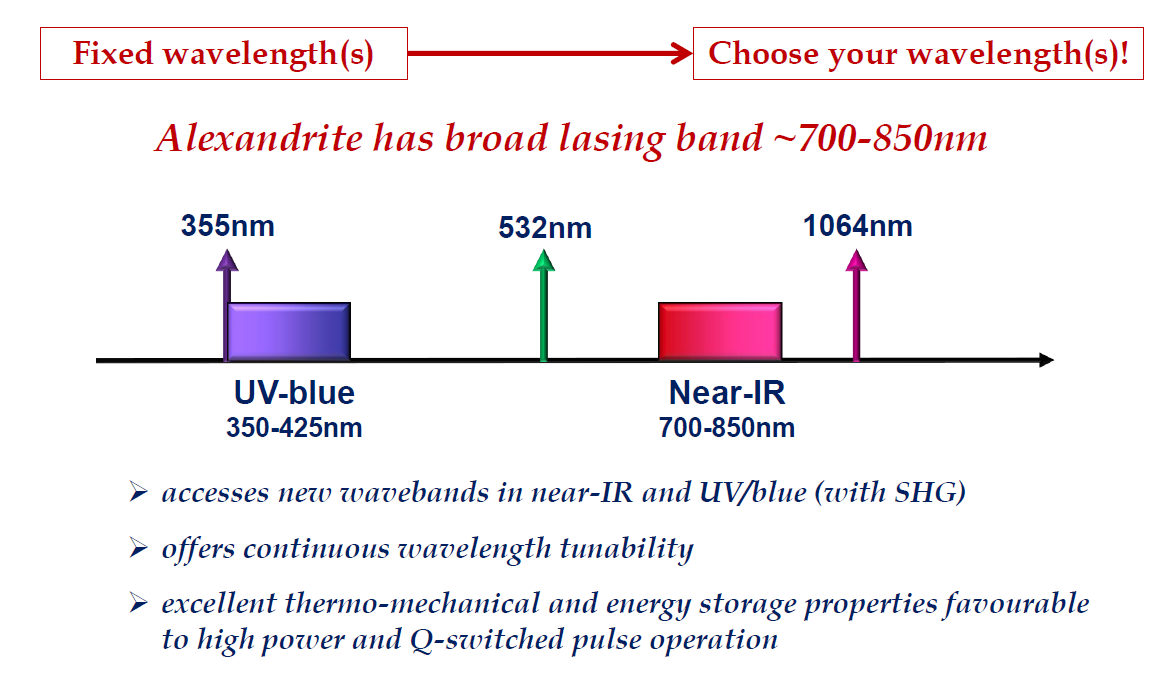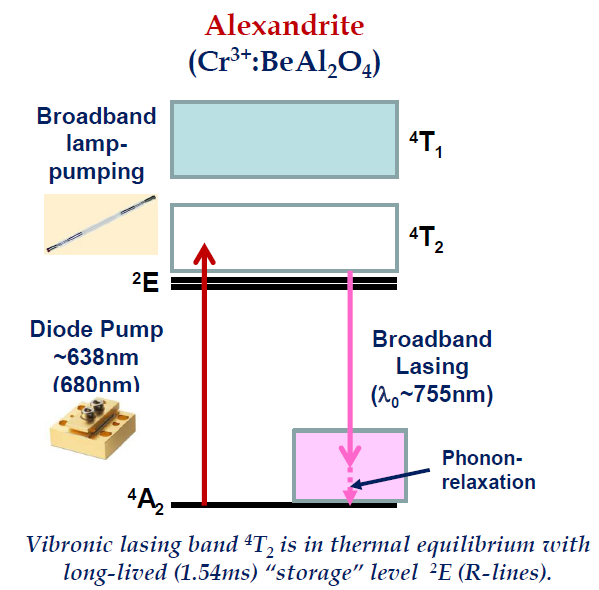 Alexandrite laser resonator and pumping designs
(a) Schematic of fiber-delivered double-end-pumped compact L-shaped alexandrite laser. (b) Measured Gaussian and 'top-hat' pump profile.
Diode-sided-pumped Alexandrite slab with single-pass pumping with a) a linear laser cavity; and b) a variant 3-pass Z-fold cavity.
a) Schematic and b) photograph of dual-sided double-pass diode-pumped Alexandrite slab laser system: the Alexandrite slab can be seen near the centre of the photograph with strong fluorescence visible from the two separate pump regions. Schematic diagram of an Alexandrite slab laser using a bounce design where the laser mode undergoes total internal reflection at the side pump face of the slab crystal, at angle θB.
Side-pumped Alexandrite slab laser in double-bounce geometry: a) schematic of the double-bounce design; b) photograph of an experimental system for compact cavity arrangement. Side-pumped Alexandrite laser in double-bounce geometry cavity configuration, with extended output arm and vertical cylindrical lens (VCL) for TEM00 mode matching to gain region.

Alexandrite TEM00 laser design for Q-switching and wavelength tuning.
written by: By Dr. Juraj Kajan
Resources
www.alexandrite.net
http://www.galleries.com/chrysoberyl
M. J. Damzen, G. M. Thomas, and A. Minassian, "Diode-side-pumped Alexandrite slab lasers," Opt. Express 25, 11622-11636 (2017)
Damzen, M. & Thomas, Gabrielle & Teppitaksak, A. & Minassian, A.. (2017). Progress in diode-pumped alexandrite lasers as a new resource for future space lidar missions. 107. 10.1117/12.2304167.
V.V. Gurov, E.G. Tsvetkov, A.M. Yurkin, Laser alexandrite crystals grown by horizontal oriented crystallization technique, Optical Materials, Volume 30, Issue 9, 2008, Pages 1399-1404, ISSN 0925-3467, https://doi.org/10.1016/j.optmat.2007.08.004.
Vývoj a výskum výroby kryštálov na Slovensku
Kajan, J., Volkov, M., Damazyan, G., Mukhin, I., Gregor, T., Palashov, O., Fabrication and Characterization of High-Dimension Single-Crystal Yb:YAG Ingots Grown by Horizontal Directed Crystallization Method. Crystal Research and Technology 2020, 55, 2000105. https://doi.org/10.1002/crat.202000105
https://shinojvk.uccollege.edu.in/wp-content/uploads/sites/196/2016/12/Crystal-growth-from-melt.pdf
https://h2020-galactic.eu/wp-content/uploads/2020/09/galactic-alexandrite-infographic_final.pdf
https://www.rp-photonics.com/alexandrite_lasers.html
Goronwy Tawy, Ara Minassian, and Michael J. Damzen, "High-power 7.4W TEM00 and wavelength-tunable alexandrite laser with a novel cavity design and efficient fibre-coupled diode-pumping," OSA Continuum 3, 1638-1649 (2020)Začiatok formulára
Mike Damzen, Achaya Teppitaksak, Gabrielle Thomas & Ara Minassian*
Photonics Group, Imperial College London, Progress in diode-pumped Alexandrite lasers as a new resource for future space Lidar missions