Do you already have a 3D printer or an engraving / cutting machine and you are looking forward to upgrade it?
Please fill in the form and we will help you with advanced solutions from Endurance.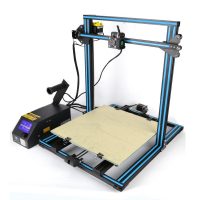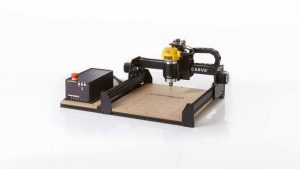 Laser beam focusing on a diode laser
How to do a laser beam focusing
Laser focusing using 3 element regular lens
It is very important to setup a proper focus range on your diode lasers.
Here is a guidance of how to setup a focus range on a 3D printer or CNC machine:
Our experiment was made on Endurance Anet A8 3D printer combo (laser engraver + laser cutter)
1. We need to setup "home". Define where is 0 for Z axes will be. Use command "G28 Z0" for Anet A8 3D printer.
2. Move laser up on 50 mm over Z axes.
3. Measure the range from the lens to the worktop, we got 37 mm, it means that the laser is 13 mm down (50 mm – 37 mm).
4. Move the laser to an expected focal range (we estimate ~60 mm for 3 element regular lens) + add 13 mm (the difference between 0 and actual laser position). So we have 60 mm + 13 mm = 73 mm
5. Run a g-code (test1.gc)
This g-code draws 20 different lines by changing Z axes in range (-9; 10 mm) from our initial setting 73 mm. Another words we draw lines starting from 64 mm up to 83 mm.
Where the line is the thinnest (on a wood pr plywood) or the most visible (anodized aluminum plate) – that line is in focus and you must use parameter for Z axes always on that level if you want to keep you laser in focus.
Nota bene:
Do not forget to measure the thickness of the initial material that you are going to cut or engrave and add it to initial height.
We use aluminum anodized plate with 0.5 mm thickness (not thick at all).
However if you want to get even better results then you may run another g-code (test2.gc) where you have smaller steps (0.1 mm) and check where the line had the most thinnest or most visible.
We have got that 71.1 mm is the best focus we got on regular (long focal 3 element lens) from the Z 0 position.
As for this 10 watt diode laser you need to do final adjustments: 71.1 mm – 13 mm (difference between the laser and Z 0 position) – 0.5 mm (thickness of the material = 57.6 mm is the focal range to make the best engraving from the lens to the surface of the engraved / cut material.
Laser focusing using G2 lens
For the short focal G2 lens we have started to make measurements on Z hights o 19.3 mm + 0.5 mm the thickness of the anodized aluminum plate and we got the best focal range on 6.8 mm hight.
Conclusion
We made a lot of different tests and for each laser and each lens the focal range is setup manualy and it may varies for 3 element lens 20-100 mm, for G2 lens 2-10 mm.
For 3 element lens the best focal range is 57.6 mm
For G2 lens the best focal range is 6.8 mm
Learn more about laser beam focusing
Laser cutting and laser engraving for home and for business.
Advantages of Endurance lasers
Multi-level testing system.
Industrial components.
The guaranteed duration of the continuous operation ~48-72 hours.

True continuous power output
Our products have the rated power output as advertised – unlike Chinese analogues.
Can be turned on and off with 0-12V.
Variable power output.
Universal and compatible mount.
Compatible with most 3D printers and CNC machines.
Do not like the laser?
Simply return within 14 days and get a full refund.
Laser attachments and laser engraving (marking) machines.
Why do our customers buy lasers and engraving machines from Endurance?
We assist and give advice by phone / email / messenger / telegram / whatsapp / viber.
We help to install and tune the laser. We offer qualified after-sales support.
We ship everything you need in the parcel to get started.
We ship all units within 4-24 hours.
All our lasers are tested and could work up to 10000 hours.
Do you have an old model? Upgrade your unit with more powerful one.
Follow us in social media
Please share with your friends