An Endurance Makeblock XY engraver (Plotter) 2.0 engraving machine
Multi-level testing system.
Industrial components.
The guaranteed duration of the continuous operation ~48-72 hours.

True continuous power output
Our products have the rated power output as advertised – unlike Chinese analogues.
Can be turned on and off with 3.5-24V.
Variable power output.
Universal and compatible mount.
Compatible with most 3D printers and CNC machines.
Do not like the laser?
Simply return within 30 days and get a full refund.
Why do our customers buy
lasers
and engraving machines from Endurance?
We assist and give advice by Phone / Email / Facebook messenger / Telegram / Whatsapp / Viber.
We help to install and tune the laser. We offer qualified after-sales support.
We ship everything you need in one parcel to get started.
We ship all units within 4-24 hours. DHL express delivery allows you to get the package in 3-5 days.
All our lasers are tested and could work up to 10000 hours.
Do you have an old model? Upgrade your unit with more powerful one.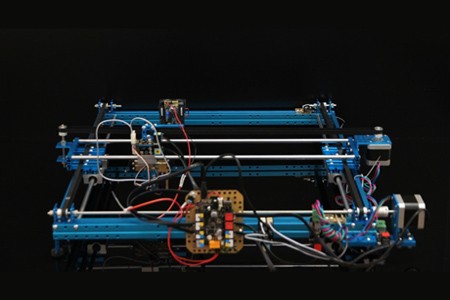 Introduction
An XY Plotter Robot Kit is a drawing robot that can move a pen or other instrument to draw digital artwork on a flat surface. It can also be developed into a laser engraver by adding the Laser Engraver Upgrade Pack.
An XY Plotter V2.0 can be controlled by 2 programs: mDraw and Benbox.
Note: We occasionally get reports from users that Benbox is blocked by an antivirus software during installation.
This is because Benbox is not in the whitelist of the antivirus software. Please rest assured that Benbox is safe to download and install. Make sure to turn off the antivirus software before installing Benbox on your computer.
How to get started with the XY Plotter?
1. Download the User Guide
We provide an instruction for the XY Plotter. You can follow the instruction to finish 2~4 steps.
XY Plotter V2.0 Assembly instructions(2016.6)(update)
Download XY Plotter User Guide
2. Unlike to basic Makeblock Kit, Endurance Makeblock engraving machine is already assembled and ready to go
This kit consists of over 60 kinds of components from Makeblock, including beams, brackets, motors, etc.
Enjoyed the video on our YouTube channel? Like what we do?
Subscribe on our Youtube channel and do not miss our news and guidance.

If you are not able to watch our video – let us know. All video are free for Endurance customers. We have more than 500 video guidance and tutorials.
3. Install and use software mDraw
mDraw is a cross-platform open-source software developed by Makeblock.
4. Install and use software Benbox
5. Useful links
XY Plotter User Guide Download Pack (Include the User Guide, Software, and all the needed materials.)
mDraw(Mac)(New)
mDraw(Windows)
XY Plotter 3D Model @Grabcad
6. Enjoy Endurance MakeBlock engraving machine with 2.1W, 3.5W, 5.6W, 8W, 8.5W, 10W, 10W+ lasers
Video available upon request. Just email to [email protected] or text: 12393020053 [whatsapp, viber, telegram, wechat]