Precision Meets Affordability: Black Friday Deals at Endurance Lasers – Engrave with up to 70% Off!!!
Do you look forward to upgrading your 3D printer / CNC router or an engraving / cutting machine you have?
If so, please fill in the form, and we will help you with advanced solutions from Endurance.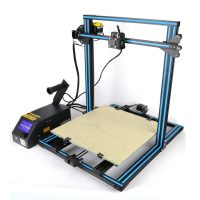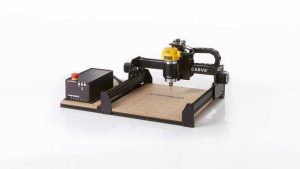 Laser engraving as a business
In this article, I'd like to tell how to organize a laser engraving business.
My personal work experience at Geek Picnic in the Moscow park Kolomenskoye, June 17-18 2017 inspired me to write it.
I had to try it myself before asserting that laser engraving is really a super business.
WHAT IS A LASER ENGRAVER AND CAN MAKE MONEY WITH ONE?
Laser engraving machines are available around the world and accessible through many vendors.
Many lasers are priced from affordable desktop lasers at approximately $200.00 to high-powered lasers that cost thousands of dollars. You can find reliable vendors through different name brand laser websites, Amazon, Ali Express, eBay, and more. Always look into the machine you are buying because finding a laser is easy however, searching for a reliable laser is a difficult part. The laser should have proper labeling instead of minimal to no labeling. Proper labeling for a laser should include; Product model, Wavelength, Max input of laser, Maximum laser power, and regulation compliance.
Some popular categories of lasers for businesses include and are not limited to, Diode lasers, CO2 laser machines, and Fiber lasers. A diode laser is a good laser for beginners to understand the features, abilities, and limitations. A diode laser is made for engraving and with an air assist, it can be used for laser cutting. A CO2 laser is a high-powered laser with the ability to easily cut and engrave. The fiber laser is an excellent choice for laser marking certain materials that others cannot such as metals.
Knowing what to engrave and what type of material is a starting point. The category of laser power determines what can and cannot be put under the laser. Here are some tips for starting up a laser engraving business.
START LOCALLY
The laser engraver becomes a worthwhile investment once you start your business and start making sales. You can start locally and market to friends and family. As you are starting up, think of a unique name and logo with a general description for your business.
Starting local will allow you to answer questions about what you will like to create and to whom, and also will it be worth it to produce over the long term?
This will help you know the production capacity and how much you intend to price your items. Take into account the cost of production, time, and also costs such as packaging, and accessories and this will help determine whether it is worth it or not to make a decision to buy in bulk for supplies and sell the item.
Another great way to make your laser engraver a worthwhile investment is by taking your finished items to a local pop-up event. During the year, there are opportunities at local fairs and trade events to display finished items. Prepare items in different categories that you feel are appealing and people will discuss and ask you to customize something for them.
ONLINE
An online presence will help maintain your business. Many platforms allow you to reach the right audiences. There are multiple platforms to help you start a shop. A business can start online through a website registered domain or web presence through the many online platforms like Facebook, Etsy, Pinterest, Instagram, and more. You do not need a business license to operate the business in an early stage of making sales locally, but check your local laws about operating as a legal entity such as a sole proprietor.
Your chosen business name and logo is can be a great way to have a web presence so your potential customers can reach you.
Post your projects and content like videos consistently for people to follow and engage with your business.
You can also use the web tools these sites offer as business dashboards to understand your audience and know what posts are doing well and how your reach-ability is doing. You can even use insights to make decisions on current and promotional offers.
Holidays are great opportunities during the year to make sales. Do not wait for the last week to Christmas to begin thinking about projects. You can design and offer items a month before a holiday. This helps to reduce time constraints for managing unexpected large volumes of orders that will come your way. Some important holidays and occasions to catch onto include; Christmas, Valentine's Day, Mother's Day, Birthdays, Weddings, Graduations, and any other you celebrate.
Facts and tips
Fact 1
The public at mass events is really very interested in the work of laser engravers.
It is important to observe safety rules and keep children away from the working engraver. If someone wants to see the laser at work, be sure to suggest wearing protective goggles, especially take care of little ones. Safety goggles are a must!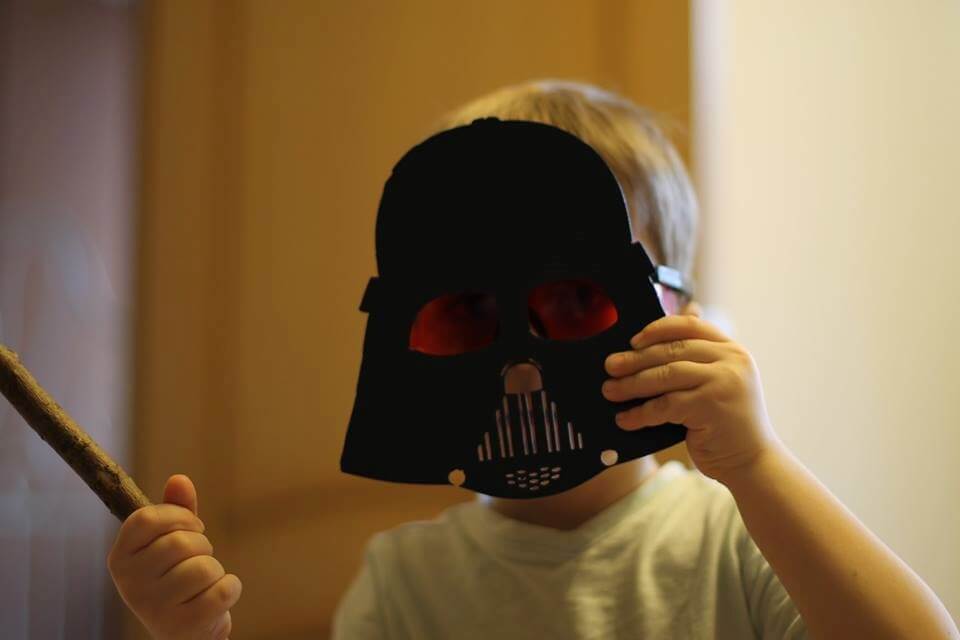 During the 20 hours of our tent work at the event, our tent never stood empty. Other participants were even envious of our success… )
The flow of people was simply enormous. By the end of the day, I was already talking about laser cutting and engraving and about the advantages of our lasers in autopilot mode.
Fact 2
Most often people order engravings on cell phone cases, on purses, and wallets.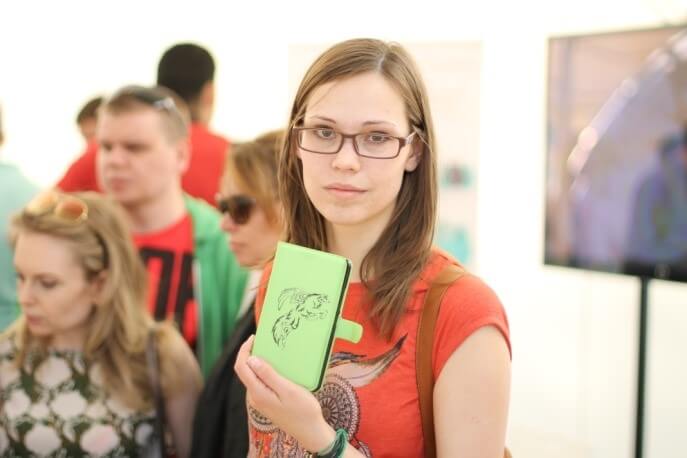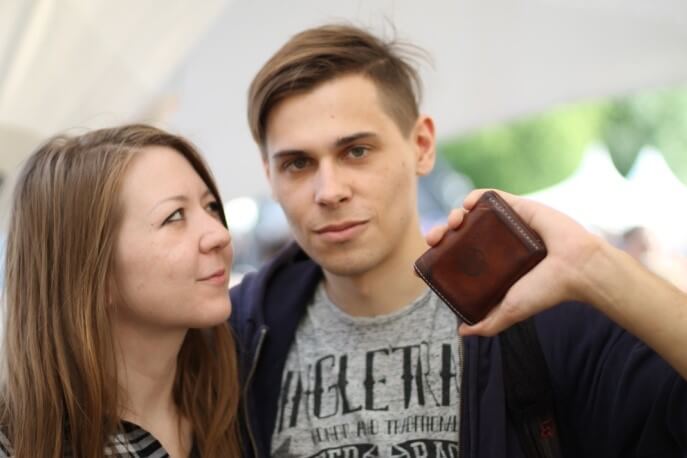 Leather and faux leather are very easy materials for laser engraving.
Technology is very simple. You ask 5-10$ for a customer's item.
The customer agrees as a rule. Then let him choose an image. Usually, customers know what they want to have engraved. If not so, be ready to help them.
The customer emails you the image or sends it via Bluetooth to your PC.
Such as images.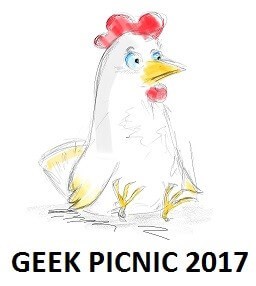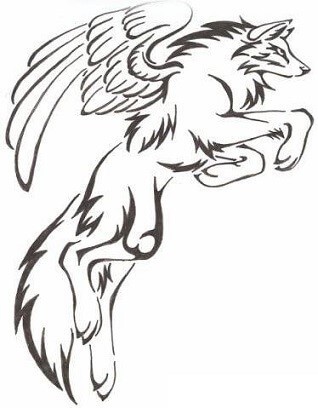 The image processing takes not more than 30 sec.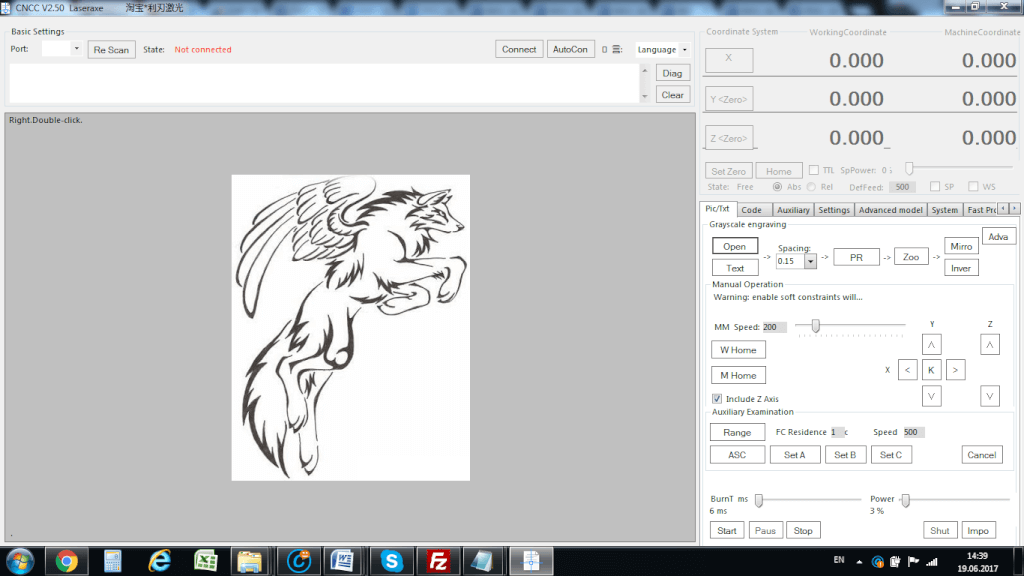 The engraving process takes about 5-15 minutes depending on the laser engraver.
I used 2.1 W DIY mini and 3.5 W Endurance DIY.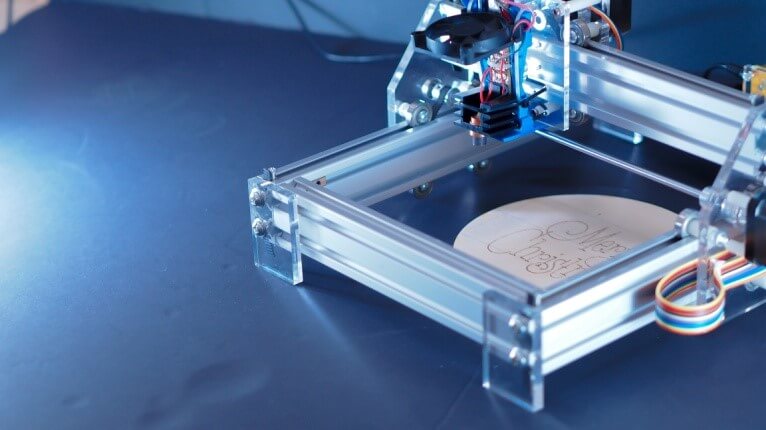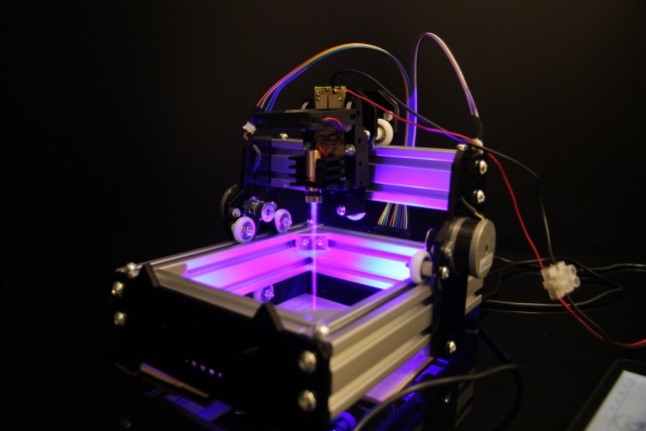 They are almost similar. The first one is better for vector images and the other one for rasters.
The laser engraving programs CNCC LaseAxe and ACAN Mini are simple enough, though have some peculiarities, not so very important.
This is what you have as a result.
Fact 3
The most complicated thing we faced was the choice of the optimal engraving parameters.
You need to set two key parameters – the laser speed and power (intensity). This is the most difficult part. You need some skill to see at first glance what parameters to choose.
If the power (intensity) is too weak the picture will be too dull. If the power is too great the laser beam can burn through the material or even inflame it.
The CNCC LaserAxe and ACAN mini-programs are good because you can change the parameters while engraving. Here, however, you still get a little worried, knowing not what results to expect.
Of course, you can put on safety goggles, watch the process and adjust the parameters. But still, we recommend experimenting "on cats" beforehand, so that when working with a customer, you knew what parameters to use.
For example, to engrave such a photo with a 3.5 W laser you need to use the speed of 500, the intensity of 60%, and the exposure time of 6 ms.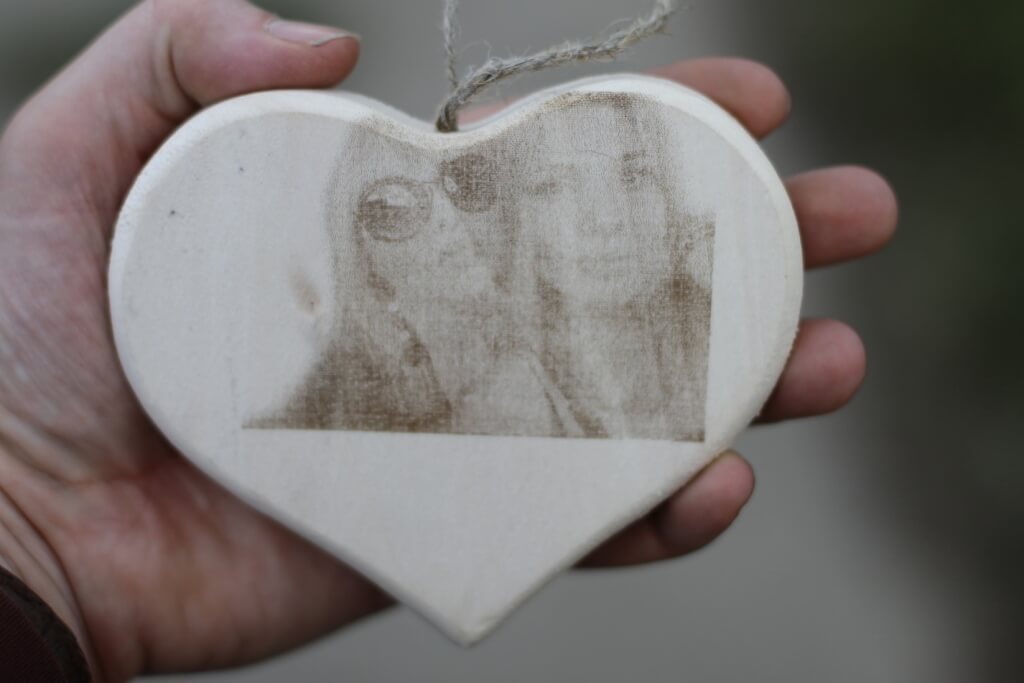 If the power is weaker the image will be less clear, and if the power is greater the laser can blacken the material.
Ours fits the bill!
Fact 4
But not everybody wishes to have their personal items engraved, such as cell phone cases, wallets or flashcards.
I would recommend buying a set of various workpieces for such cases. You can buy them in stores for craftsmen and handy people. Such workpieces usually cost 1-3$.
The optimal cost of a laser engraving is approximate: 200-500 p. This is quite an acceptable price for Moscow . Perhaps, in other regions of Russia, the price of engraving will be less, but not significantly.
I asked for an engraving 10 $ + the cost of a workpiece. The client either offered his own workpiece or bought mine.
For example, these two ladies ordered an engraving on a plate as a gift for one of their friends and got an original thing.
They were very happy!!!
Here is another sample with a stylish engraved owl.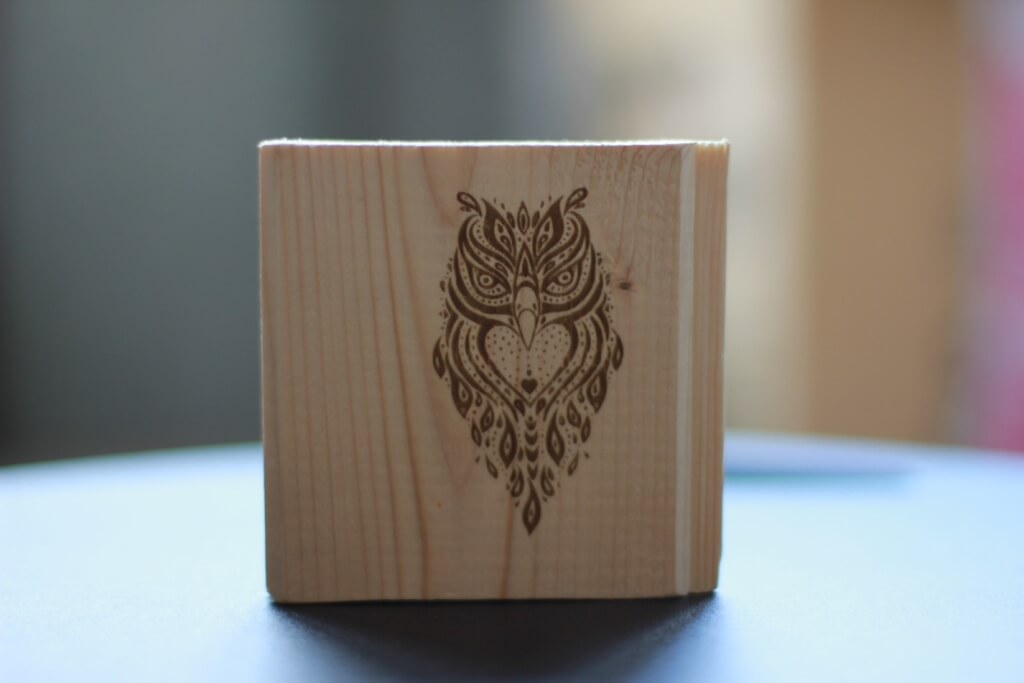 Fact 5
Perhaps the most important thing is that such events are not just a way to earn money or a chance to spend all day in the open air, it's also an excellent opportunity to find more customers and take orders for engraving.
This couple, for example, wanted to order 100-200 engravings of this kind for their business.
Always happy customers
And this is 2$ * 200 units. = 400$ only from one order.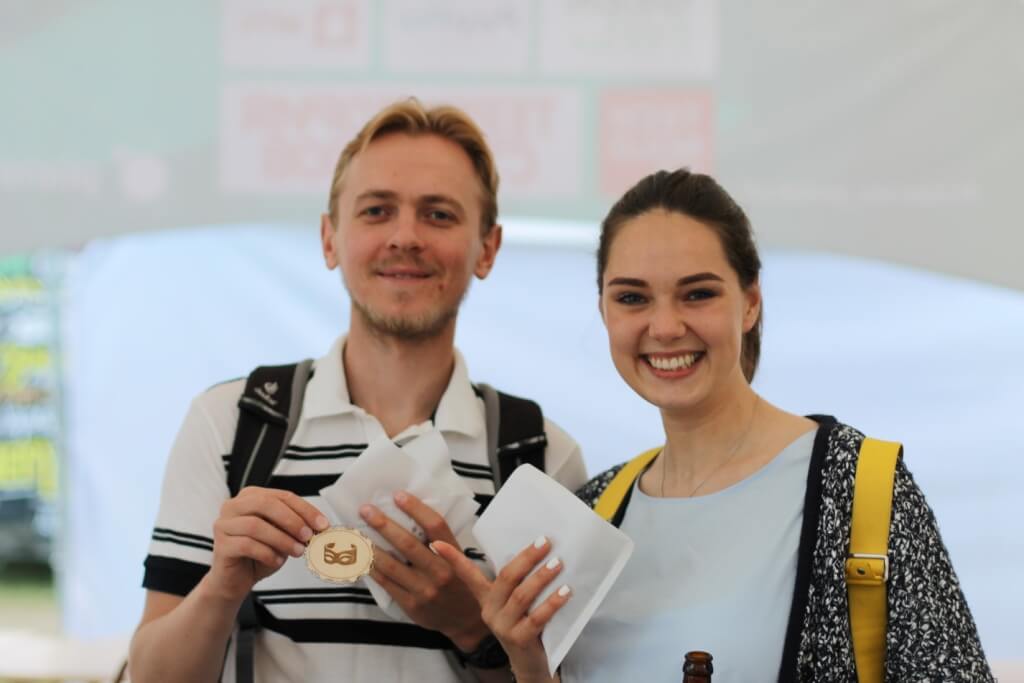 As it turned out many of our customers would like to cooperate in the future.
As we see such events are excellent for your business advertising and PR.
This is a source of real customers, who like your work and who are ready to follow you and rejoice at your success. It is also important to offer your visitors to send friend's requests to your Facebook, Twitter, LinkedIn, and Instagram.
FIRST STEPS TO START ENGRAVING
Instillation using Lightburn Software
Visit the Lightburn website and download the latest version at Download & Trial – Try before you buy – LightBurn Software
Choose the appropriate version of Lightburn for your computer type.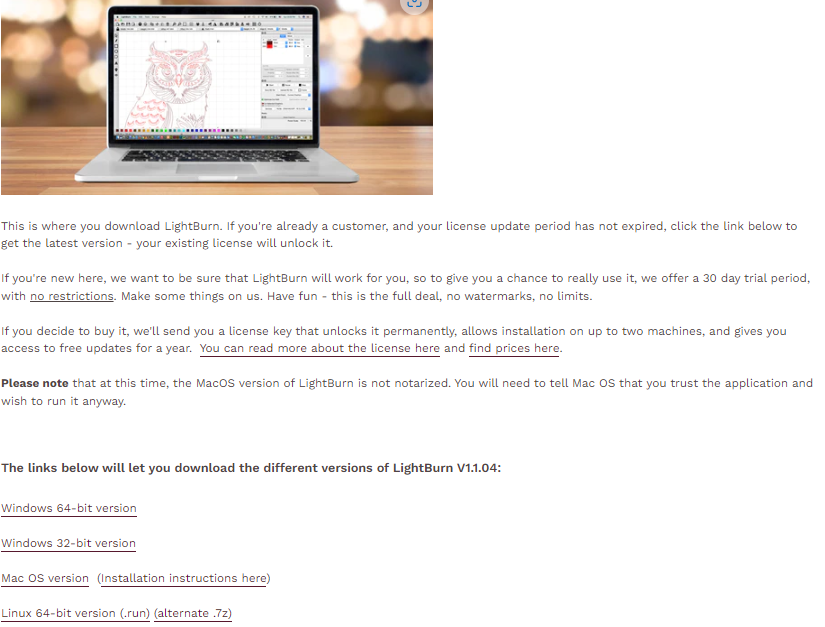 Once you have completed the installation and launch Lightburn, you will be prompted by a window to add your device.
Click on FIND MY LASER or create manually and follow the instructions to connect.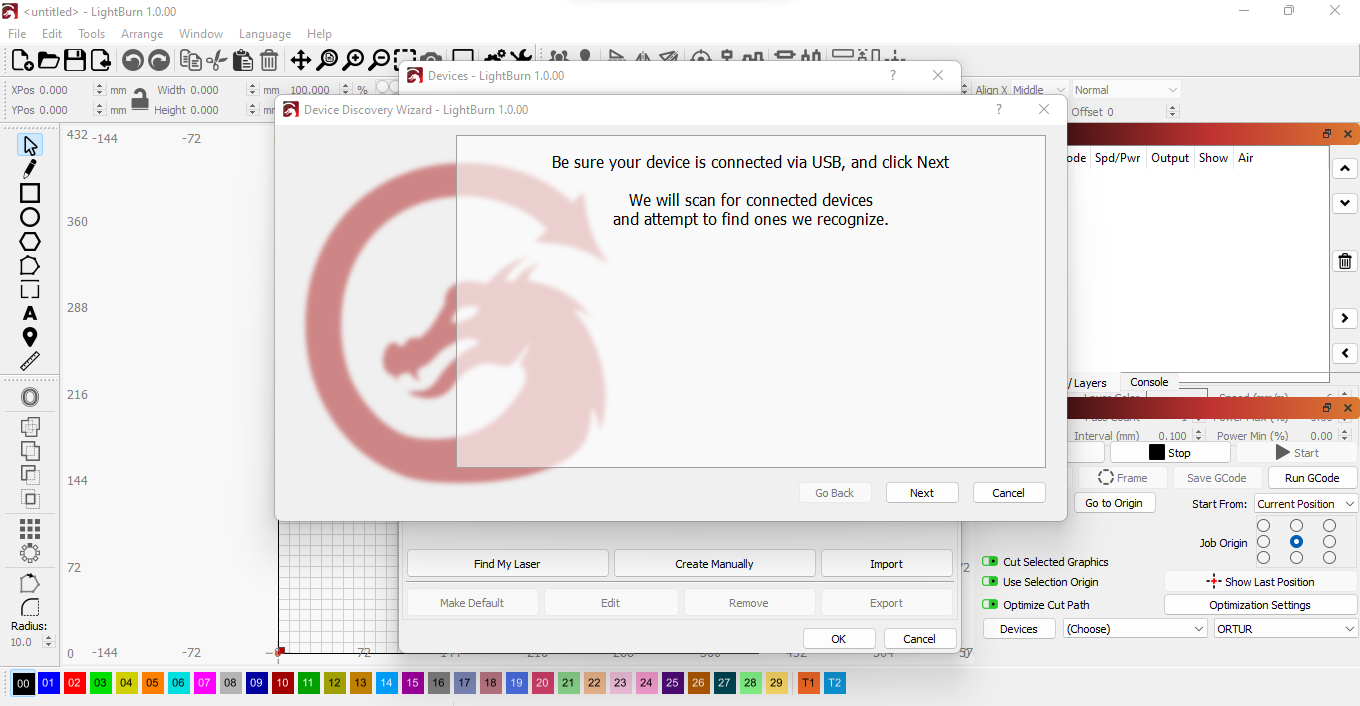 On the right side of the display, you will find the control panel with controls for engraving, Tab for controlling the laser movement, cuts/layers, and a console. This is can be customized by drag gin and dropping anywhere on the screen. Click on 'WINDOWS' on the top to add or remove features.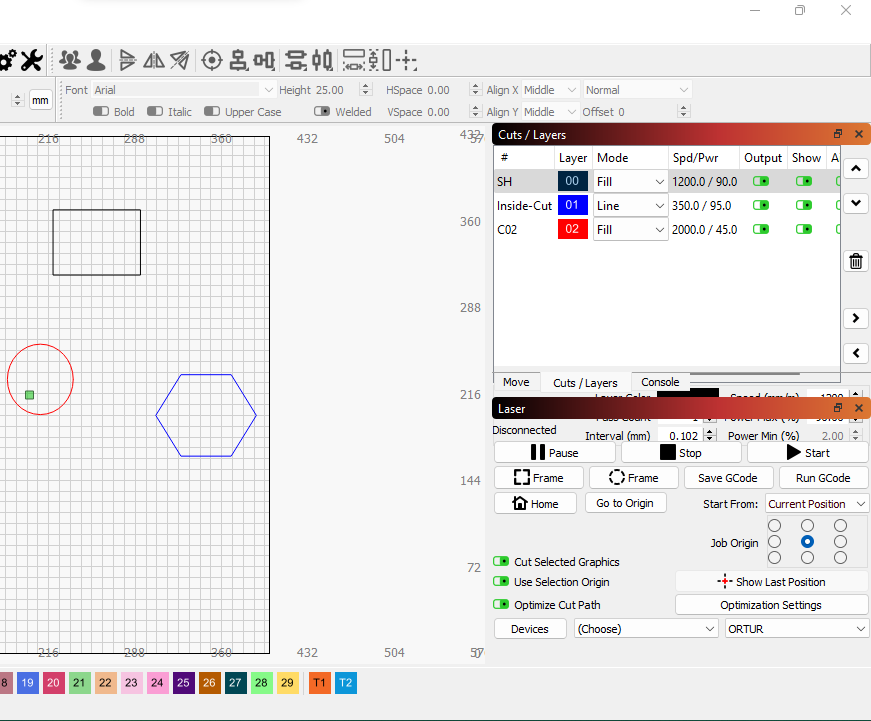 Lightburn works with layers and if you double-click the layers, you will find settings to modify the selected object.
You can set a different layer for each shape. Notice the hexagon, square, and circle each have a color layer with their name, laser mode, and speed/power.
Hold the SHIFT key to select multiple items
The two laser modes are Line and Fill.
LINE
The line feature will create a line path of the design. You will use the line when you want to do a laser-cut and this requires changing the settings with increased power, slower speed, repeated passes and the help of air assist.
FILL
Fill will raster engrave the chosen file or image file. It will not cut, but instead, fill all the selected paths the laser will follow.
Importing a New project
To begin using the laser engraver you will need to know what you want to design and what material you will like to engrave.
When a project is imported to Lightburn project it must be a file type that Lightburn support. Lightburn currently supports AI, SVG, DXF, PDF, HPGL, PLT, RD, PNG, JPEG, BMP, TIFF, TGA, and GIF.
The laser engraving work area contains the space the laser can operate.
This should be a flat solid work area. The position of the laser within the work area should be properly set before starting any job. Some lasers do not use limit switches and you will have to use a particular 'ORIGIN' setting before starting a job. Lightburn can tell the laser to start at a chosen point inside the laser space instead of the bottom left default of the absolute coordinates. The green dot is where your laser will start from. The image below demonstrates a central starting point for the laser.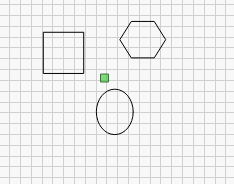 ORIGN
This is where your laser will start from on the laser bed.
Use selected Origin to set the origin where the laser is presently, and begin the job from there.
Note: There should be enough space between the starting point of the laser, the design, and the edge of the bed. Your design size or placement can cause your laser to run into the rail because it is starting at a point inside the laser bed and that will give a smaller space to work with.
Absolute coordinates will start the job from the lower left of the device. Note: This is for machines with limit switches. 3d printers and some machines such as 3018 do not have limit switches.
When the home at start up is enabled, it will run a homing sequence to find your start point.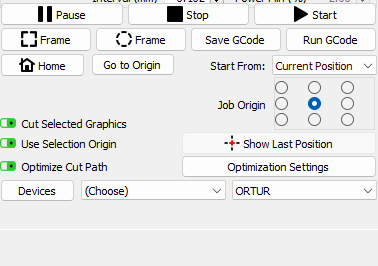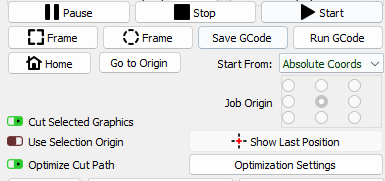 If you do not have limit switches then you will need to use start from 'current position'. This will define the start point of the design. This is movable and it is up to you how you will like to position it.
FRAMING
Framing will allow you to move the laser around the edge of your design.
This feature previews where the laser is on the workpiece without burning anything you need to turn on the laser fire button.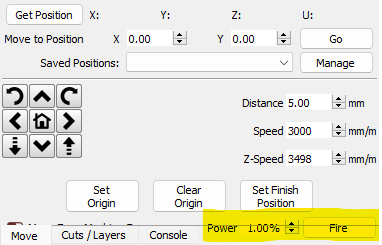 Click on the Move tab and set the fire button at 1%
Go to settings
To add the the fire button.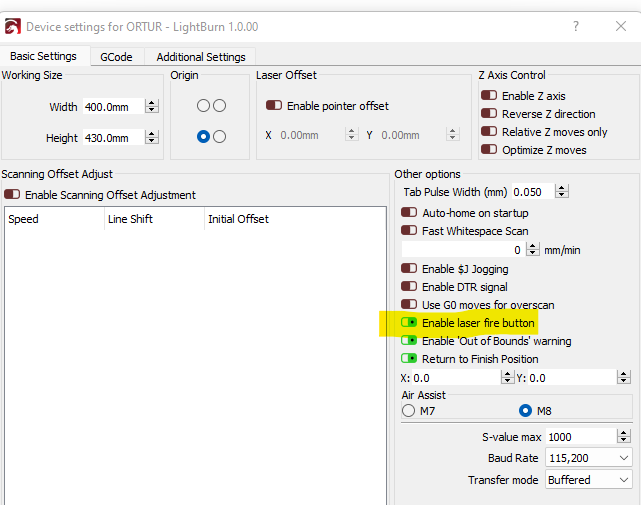 Click on Enable Laser Fire button
Line up your project and laser.
Focus-The Laser engraver will give better results when it is within the best focal length to achieve high-quality results. Line up the engraver and then use a measuring tool to measure the surface of the laser and adjust accordingly to your laser's focal length.
Set up image file.
The file types below are SVG and .lbrn
These settings will be adequate for preparing an image and start engraving.
TEST FILE 1
Change the speed power and pass settings
1800mm/s
40%power
Line per inch: 254
Click the preview button on the top panel to see details of the estimated time and the pathway the laser will take during the entire job.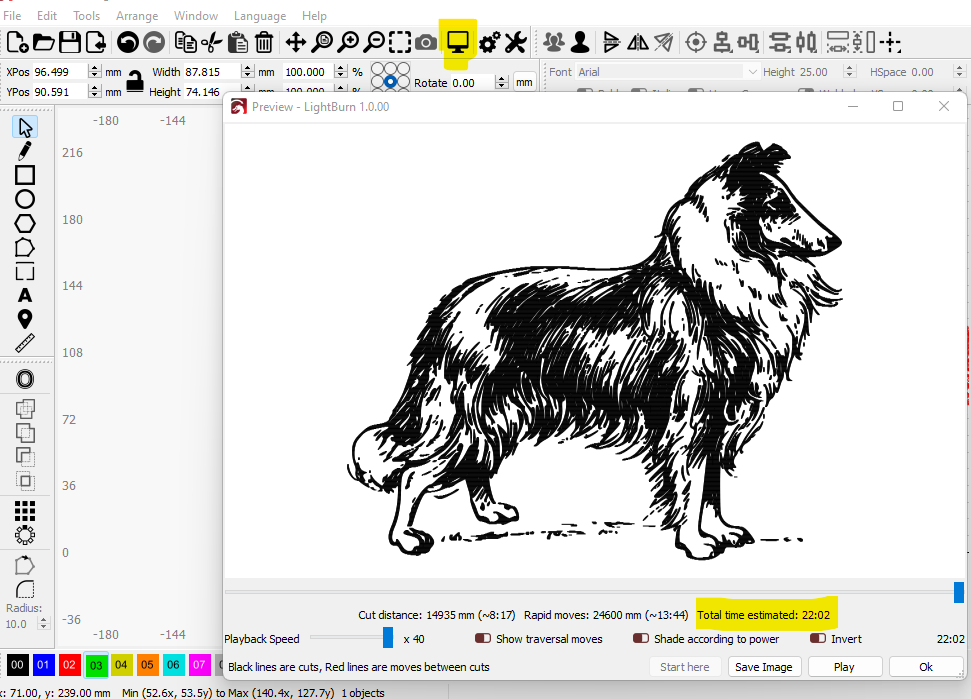 TEST FILE 2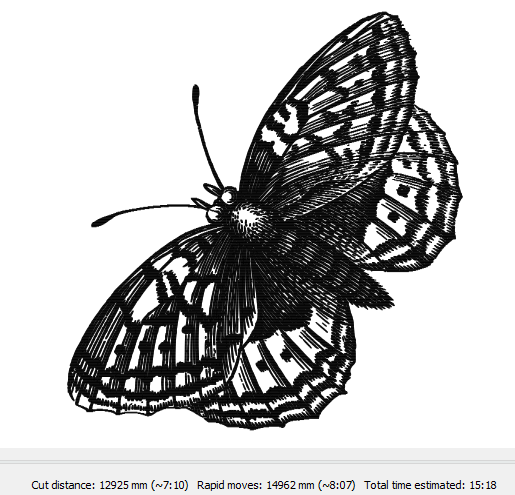 Making an offset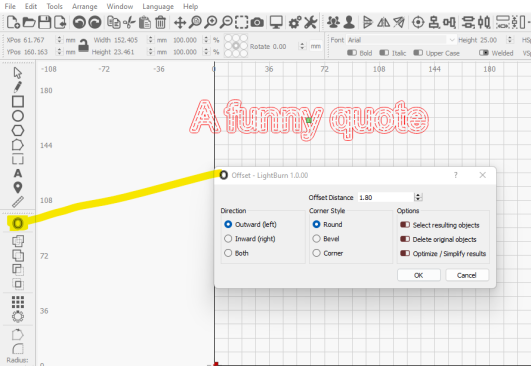 Settings
Mode: Fill
Speed: 1800MM/S
Power: 40%

When you check the output, it will send the data to the laser and you're ready to go.
You're all SET!
You will notice the time difference between the three test files. You can change this if you scale the images to be a different size. The amount of DPI and travel time required across the white space will also make a difference in the duration to complete a project.
Conclusion
A laser engraving business including participation at various events can give 100$ and more of revenue per day. And this is only the beginning. As soon as you have a promoted Instagram, subscribers on Facebook and Twitter, your chances to earn more will increase.
In addition, you attract new customers and gain a client base.
To my mind, it will take you 2-3 months to develop the business from scratch.
All you need is a laser engraver, a laptop, workpieces and the desire to work for yourself.
I do not see any big limitations and difficulties in this business.
PS. While I was writing this article, one guy came to my office for a DIY mini engraver and said that he wanted to open his workshop in the garage and start making leather goods (purse, purses, thongs, etc.). And for a tidbit he would like to offer his customers a personal engraving.
I will be happy to help.
Run your business as successful as Florian Kelsh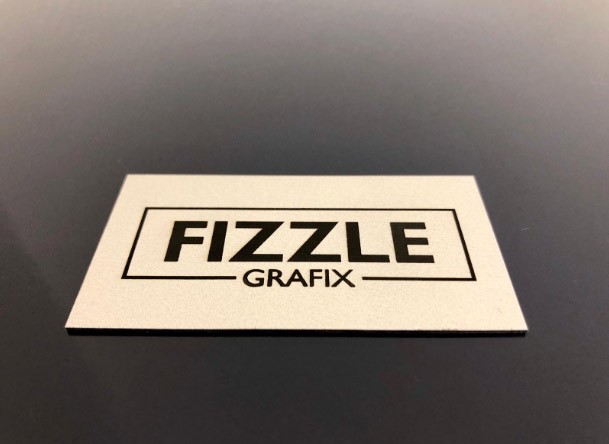 Multi-level testing system.
Industrial components.
The guaranteed duration of the continuous operation ~48-72 hours.

True continuous power output
Our products have the rated power output as advertised – unlike Chinese analogues.
Can be turned on and off with 3.5-24V.
Variable power output.
Universal and compatible mount.
Compatible with most 3D printers and CNC machines.
Do not like the laser?
Simply return within 30 days and get a full refund.
Why do our customers buy
lasers
and engraving machines from Endurance?
We assist and give advice by Phone / Email / Facebook messenger / Telegram / Whatsapp / Viber.
We help to install and tune the laser. We offer qualified after-sales support.
We ship everything you need in one parcel to get started.
We ship all units within 4-24 hours. DHL express delivery allows you to get the package in 3-5 days.
All our lasers are tested and could work up to 10000 hours.
Do you have an old model? Upgrade your unit with more powerful one.