George I Fomitchev is a speaker on an international conferences.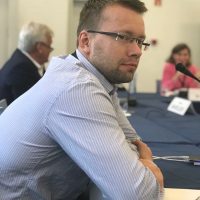 George I Fomitchev is a speaker at international conferences.
About George I Fomitchev
On May 2018, George was a panelist at the Horasis Global meeting in Cascais (Portugal) talking about the future of AI and chatbots on "Embracing AI" panel.
George is an official speaker about chatbots in IIDF (Russia)
In September 2017, George was a keynote speaker in Malaga (Spain) on Once foundation talking about Chatbots and robots for disabled people.
In March 2017 George spoke on MoNage conference in San Jose (USA) talking about "Chatbots for Alzheimer's"
In 2016 George gave a talk on RoboBusiness in San Jose (USA) about robotics and afterward on a great New York show "Make and tell" in the Maker Faire 2016.
George is invited to perform as a guest speaker on stages all over the world, including US universities.
The key topics George is knowledgeable in are entrepreneurship, AI, chatbots, robotics, laser technologies, future of a mobile tech and others.
If you want to have a great speaker at your event who will bring a lot of useful and amazing information to the public, let us know and you will get him.
Live interview with Mark Johnson and George I Fomitchev
Live stream with Salvatore LaCorte and George I Fomitchev 03/30/2019
Read a full interview to 3DNatives.
Skype: george.fomitchev

E-mail: gf@endurancerobots.com
Facebook messenger: @george.fomitchev

Google hangouts: gfomitchev@gmail.com

US number: +1.239.302.0053
International number: +7.916.225.4302 (including Telegram, Viber, WhatsApp & WeChat)


P.O. 6528, Trail Blvd, Naples, FL 34108, USA