Precision Meets Affordability: Black Friday Deals at Endurance Lasers – Engrave with up to 70% Off!!!
George I Fomitchev is the CEO and founder of Endurance Lasers LLC. Endurance Lasers makes and delivers powerful diode lasers for the maker community. Since 2019 Endurance lasers have started to develop custom CNC frames of huge sizes. In 2020 Endurance lasers began to work at powerful 75-200 watt diode-pumped solid-state lasers. George I. Fomitchev holds a master's degree in finance and economics from the International University of Business and Management. George I. Fomitchev makes a contribution to the growing and strengthening of the maker community with Endurance's production: 3D printing, laser engraving, and laser cutting, modeling, etc.
The Changing World of E-commerce
October 01, 2020, 08:15 AM – 09:00 AM MSK(+03:00)
Brendon Dennewill, Tina Mani, Fahim Naim, George Fomitchev, Sandi Češko, Sherry Roberts
The lockdown of individuals and families due to COVID-19 has boosted remote shopping and strongly personalized digital trade shows have united consumers. How to decide between the personal touch or the digital persuasion? Will the digital trend continue and what are its ramifications? Are the returns of digital goods significantly higher than for traditional purchases thus increase pollution?
"The Global Visions Community Horasis Extraordinary Meeting on the United States of America Virtual Event, 18 March, 2021 06.30-23.00 US Eastern Time"
George I Fomitchev is a speaker at international conferences.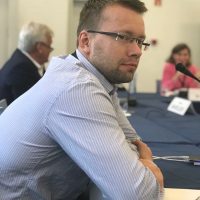 George I Fomitchev is a speaker at international conferences.
About George I Fomitchev
In May 2018, George was a panelist at the Horasis Global Meeting in Cascais (Portugal) talking about the future of AI and chatbots on the "Embracing AI" panel.
George is an official speaker about chatbots in IIDF
In September 2017, George was a keynote speaker in Malaga (Spain) on Once foundation talking about Chatbots and robots for disabled people.
In March 2017 George spoke on MoNage conference in San Jose (USA) talking about "Chatbots for Alzheimer's"
In 2016 George gave a talk on RoboBusiness in San Jose (USA) about robotics and afterward on a great New York show "Make and tell" in the Maker Faire 2016.
Black Friday Brilliance: Top Laser Heads on Sale!
George is invited to perform as a guest speaker on stages all over the world, including US universities.
The key topics George is knowledgeable in are entrepreneurship, AI, chatbots, robotics, laser technologies, future of a mobile tech and others.
If you want to have a great speaker at your event who will bring a lot of useful and amazing information to the public, let us know and you will get him.
Live interview with Mark Johnson and George I Fomitchev
Live stream with Salvatore LaCorte and George I Fomitchev 03/30/2019
Read a full interview to 3DNatives.
https://www.3dnatives.com/en/endurance-lasers-easy-to-install-3d-printer-070120194/
Skype: george.fomitchev

E-mail: [email protected]
Facebook messenger: @george.fomitchev

Google hangouts: [email protected]

US number: +1.239.302.0053
International number: +7.916.225.4302 (including Telegram, Viber, WhatsApp & WeChat)


P.O. 6528, Trail Blvd, Naples, FL 34108, USA