Best selling models
5.6W (5600 mW) solid-state diode laser.


– Cuts up to 10 mm (0.4″) of wood and acrylic.
– Cuts up to 8 mm (0.3″) of plywood.
– Engraves on stone, aluminum, glass, PCB.

Use promo code "EnduranceDiscount" and get a free shipment when you place an order.


8W (8000 mW) Endurance DIY engraving machine


– Portable 20 * 20 cm solid-state laser engraving machine.
– Very easy to operate.
– Excellent solution for makers, hobbyists and workshops.

Use promo code "EnduranceDiscount" and get a free shipment when you place an order.


Laser engraving as a business
In this article I'd like to tell how to organize a laser engraving business.
My personal work experience at Geek Picnic in the Moscow park Kolomenskoye, June 17-18 2017 inspired me to write it.
I had to try it myself before asserting that laser engraving is really a super business.

Fact 1
The public at mass events is really very interested in the work of laser engravers.
It is important to observe safety rules and keep children away from the working engraver. If someone wants to see the laser at work, be sure to suggest wearing protective goggles, especially take care of little ones. Safety goggles are a must!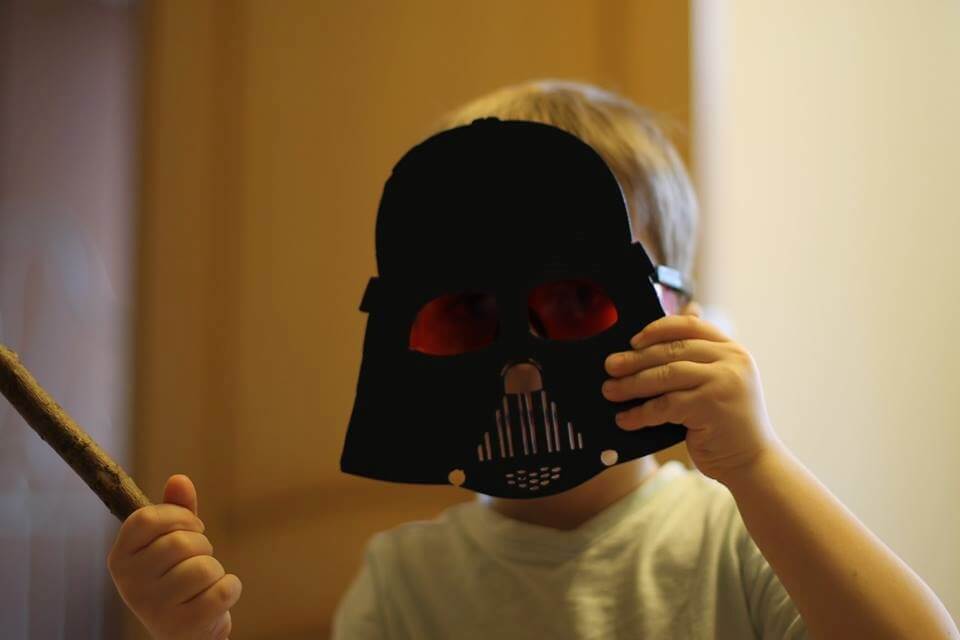 During the 20 hours of our tent work at the event our tent never stood empty. Other participants were even envious of our success… )
The flow of people was simply enormous. By the end of the day, I was already talking about laser cutting and engraving and about the advantages of our lasers in autopilot mode.

Fact 2
Most often people order engravings on cell phone cases, on purses, and wallets.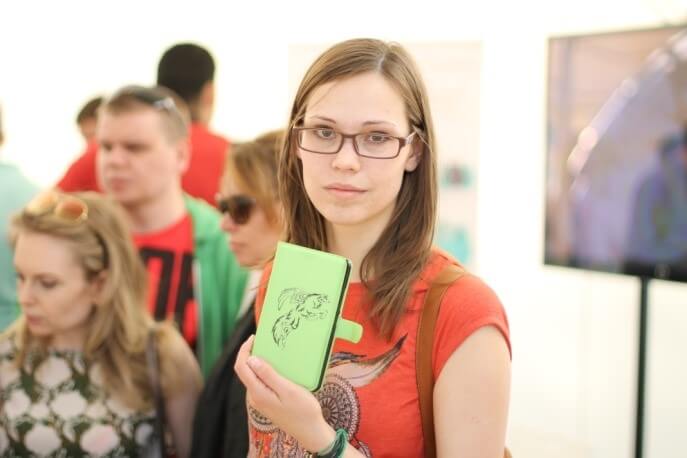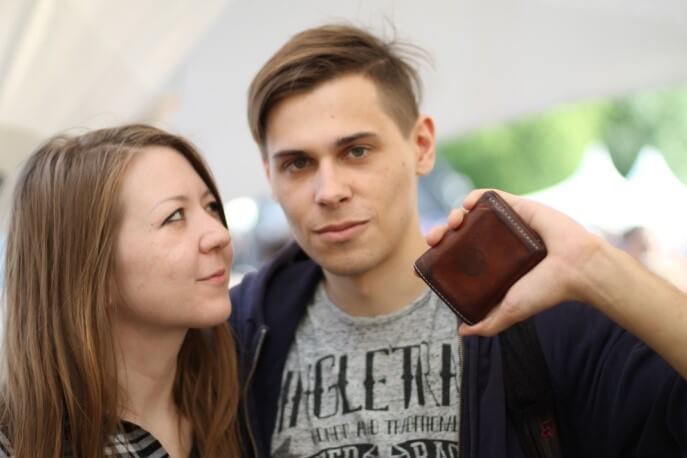 Leather and faux leather are very easy materials for laser engraving.
The technology is very simple. You ask 5-10$ for a customer's item.
The customer agrees as a rule. Then let him choose an image. Usually customers know what they want to have engraved. If not so, be ready to help them.
The customer emails you the image or sends it via Bluetooth to your PC.
Such like images.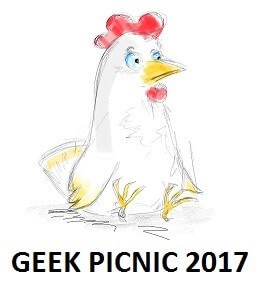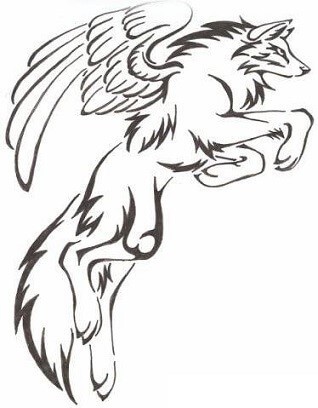 The image processing takes not more than 30 sec.
The engraving process takes about 5-15 minutes depending on the laser engraver.
I used 2.1 W DIY mini and 3.5 W Endurance DIY.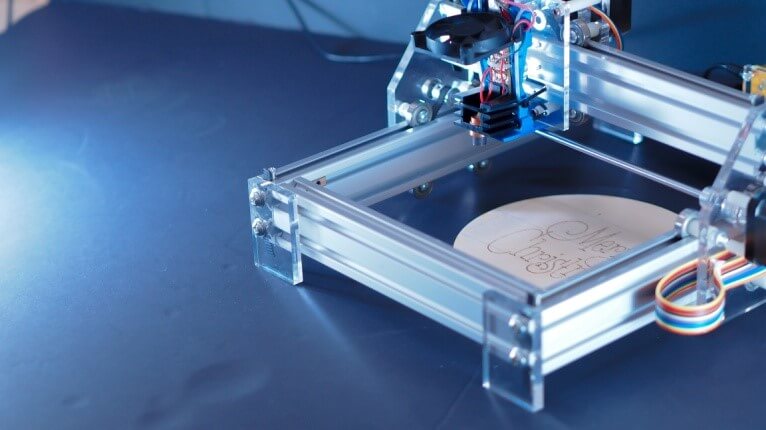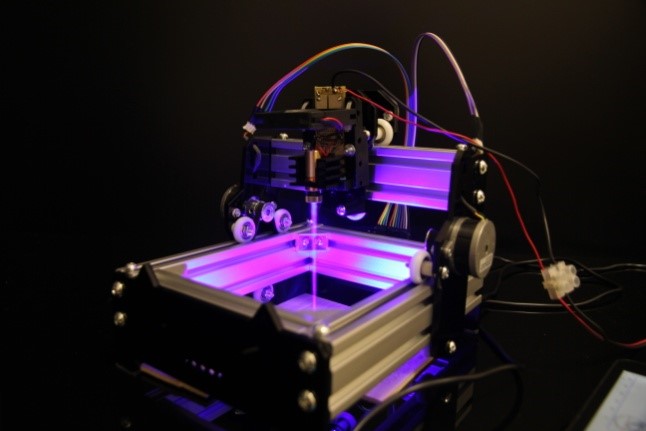 They are almost similar. The first one is better for vector images and the other one for rasters.
The laser engraving programs CNCC LaseAxe and ACAN Mini are simple enough, though have some peculiarities, not so very important.
This is what you have as a result.
Fact 3
The most complicated thing we faced was the choice of the optimal engraving parameters.
You need to set two key parameters – the laser speed and power (intensity).This is the most difficult part. You need some skill to see at first glance what parameters to choose.
If the power (intensity) is too weak the picture will be too dull. If the power is too great the laser beam can burn through the material or even inflame it.
The CNCC LaserAxe and ACAN mini programs are good because you can change the parameters while engraving. Here, however, you still get a little worried, knowing not what result to expect.
Of course, you can put on safety goggles, watch the process and adjust the parameters. But still we recommend experimenting "on cats" beforehand, so that when working with a customer, you knew what parameters to use.
For example, to engrave such a photo with a 3.5 W laser you need to use the speed of 500, intensity of 60%, and the exposure time of 6 ms.

If the power is weaker the image will be less clear, and if the power is greater the laser can blacken the material.
Ours fits the bill!
Fact 4
But not everybody wish to have their personal items engraved, such as: cell phone cases, wallets or flashcards.
I would recommend buying a set of various workpieces for such like cases. You can buy them in stores for craftsmen and handy people. Such workpieces usually cost 1-3$.
The optimal cost of a laser engraving is approximately: 200-500 p. This is quite an acceptable price for Moscow . Perhaps, in other regions of Russia the price of engraving will be less, but not significantly.
I asked for an engraving 10 $ + the cost of a workpiece. The client either offered his own workpiece, or bought mine.
For example, these two ladies ordered an engraving on a plate as a gift for one of their friends and got an original thing.
They were very happy!!!
Here is another sample with a stylish engraved owl.
Fact 5
Perhaps the most important thing is that such events are not just a way to earn money or a chance to spend all day in the open air, it's also an excellent opportunity to find more customers and take orders for engraving.
This couple, for example, wanted to order 100-200 engravings of this kind for their business.
Always happy customers
And this is 2$ * 200 units. = 400$ only from one order.
As it turned out many of our customers would like to cooperate in the future.
As we see such events are excellent for your business advertising and PR.
This is a source of real customers, who like your work and who are ready to follow you and rejoice at your success. It is also important to offer your visitors to send friend's requests to your Facebook, Twitter, LinkedIn, and Instagram.
Conclusion
A laser engraving business including participation at various events can give 100$ and more of revenue per day. And this is only the beginning. As soon as you have a promoted Instagram, subscribers on Facebook and Twitter, your chances to earn more will increase.
In addition, you attract new customers and gain a client base.
To my mind, it will take you 2-3 months to develop the business from scratch.
All you need is a laser engraver, a laptop, workpieces and the desire to work for yourself.
I do not see any big limitations and difficulties in this business.
PS. While I was writing this article, one guy came to my office for a DIY mini engraver and said that he wanted to open his workshop in the garage and start making leather goods (purse, purses, thongs, etc.). And for a tidbit he would like to offer his customers a personal engraving.
I will be happy to help.
Share with your friends