Infinite Abilities Of This Diode Laser
Independent laser cutting test results
Technical information
Do not miss our current discount!
Proceed with the purchase and get the best price!
Laser module photo
Our customer support rating
Read a story by Graham Ham Adapting Endurance LASER to MT CNC Router V2
Endurance Test Results Summary (8 watt laser) ver. 1 made by Graham Ham (PDF)
About an 8.5 watt diode laser
The Endurance 8.5 watt+ laser attachment for your 3D printer / CNC mill. A perfect tool for laser cutting / engraving. Light. Easy to use.
Get everything you need in the package to get started with an Endurance laser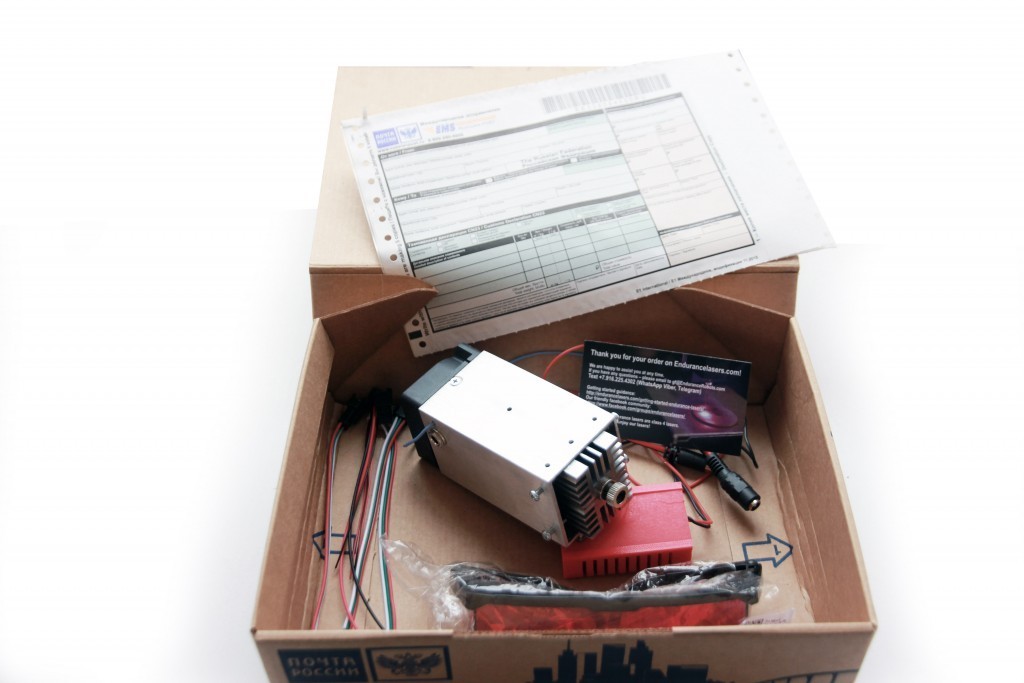 Power supply
8.5 watt laser supports 9 – 16 volts. To operate 24 volts you need an additional step down "buck" converter (available when you place an order). Learn more about useful accessories.

A small story from Grant Emsley: "New laser from Endurance Lasers"
Laser cutting and laser engraving for home and for business.
Advantages of Endurance lasers
Laser attachments and laser engraving (marking) machines.
Why do our customers buy lasers and engraving machines from Endurance?
Compatible 3D Printers and CNC Machines
Learn more about compatible 3D printers / XY plotters and CNC machine
Buy the "Infinite" powerful 8.5 watt+ (8500mW) laser today!
What goes in the box?
We will put everything you need to get started with our 8.5 watt+ laser attachment.
Add an air assist with an air nozzle to your laser instrument
Galleries of the product
Got a question? Ask us now…
How to do a laser print on leather belt and how to engrave on synthetic stone using 8W Endurance laser
Laser grayscale lifehack. Engraving on piece of glass using 8W Endurance laser.
Laser cutting of 8 mm 1/3'' black acrylic and engraving on anodized aluminum using 8W Endurance laser
Endurance MO1 pcb with modification
More guidance and tutorials:
Samples of engraving and cutting
Highly efficient cooling system
Buy the "Infinite" powerful 8.5 watt+ (8500mW) laser today!
Some Endurance drawings
Aluminum housing for 8 watt and 8.5 watt+ laser.
Endurance custom build heatsink
Our customers make & share
Contest Gallery – Best Endurance Photo Maker (winners announcement)
Best Endurance Photo Maker Competition (Winners are announced)
We make, experiment & share
Keywords: 3D printer, materials, size, speed, blue laser, 445 nm, 8.5 watt.
Key concepts: laser cutting, laser egraving, laser tool, laser device.
Support and guidelines