Do you already have a 3D printer or an engraving / cutting machine and you are looking forward to upgrade it?
Please fill in the form and we will help you with advanced solutions from Endurance.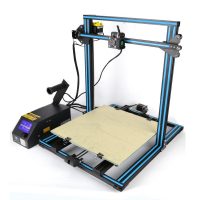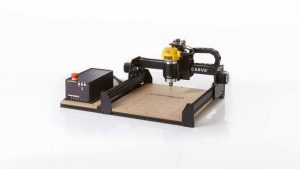 Connection of the laser, 1 watt and more (1000 mW) to a laser engraver, a CNC machine, a plotter and a 3D printer
Connection of the laser, 1 W and more (1000 mW) to a laser engraver, a CNC machine, a plotter (MakeBlock Plotter XY 2.0, DIY), and a 3D printer (WanHao, Reprap, Ultimaker)
Customers often ask us how to connect a powerful laser to this or that CNC machine or plotter, if the circuit board of the device does not have a separate power supply for a laser, and the current going through the control board is minimal and does not exceed, for example, 0.5 A.
The DIY и MakeBlock engraver board is powered with 12 v and 0.5-1 А current, not more.
1W diode lasers require 1-2 А и 12 v current; 5 W lasers and higher need more than 3 A.
To mount a more powerful laser on a plotter (such as a MakeBlock XY plotter 2.0 KIT) or on a small Neje engraver additional power supply is needed. It is possible to install a separate battery unit and a driver, for instance.
Endurance

circuit

MO

1

schematics

Connect the laser control to the МК and GND1 pins. The supplied power must not exceed 24 v. Connect the laser «+» to «+12v», the laser «-» to the «Drain» of the field transistor.
The GND1 and GND2 contacts may not be necessarily located on the same line. It is possible to use the «+12V» and «GND2» contacts of the lead-acid battery.
It is enough to have a bread board of 20х20 mm to place all the elements.
This schematics furnishes
12 v lasers with the current up to 5 A.
Use the current powering the DIY or an additional battery unit.
The schematics connection

The laser «+» and «-» contacts are controlling and located at the top on the right-hand side of the circuit board picture of the NEJE engraver. Connect them to the «МК» and «GND1» contacts of the Endurance circuit MO 1.

You can

place

the Endurance circuit MO 1 board inside a

telephone box

. When choosing wires, take into account the current stregnth depending on the laser power. A 5.6 W laser draws up to 3.5

А

.
Connection of the Endurance circuit MO 1 schematics to a mini engraver Neje
Endurance schematics on a MakeBlock plotter XY 2.0

Anyone can assemble it independently.
We are happy to share useful technologies with the community of laser enthusiasts and laser engraving fans.
But if you want to get a ready Endurance circuit MO 1 board, let us know, and we'll send it to you.
Its price is 19.95$

 + shipping fee.
skype: George.fomitchev
Cell phone: +7.916.225.4302 (including whatsapp, viber, telegram)
Laser cutting and laser engraving for home and for business.
Advantages of Endurance lasers
Multi-level testing system.
Industrial components.
The guaranteed duration of the continuous operation ~48-72 hours.

True continuous power output
Our products have the rated power output as advertised – unlike Chinese analogues.
Can be turned on and off with 0-12V.
Variable power output.
Universal and compatible mount.
Compatible with most 3D printers and CNC machines.
Do not like the laser?
Simply return within 14 days and get a full refund.
Laser attachments and laser engraving (marking) machines.
Why do our customers buy lasers and engraving machines from Endurance?
We assist and give advice by phone / email / messenger / telegram / whatsapp / viber.
We help to install and tune the laser. We offer qualified after-sales support.
We ship everything you need in the parcel to get started.
We ship all units within 4-24 hours.
All our lasers are tested and could work up to 10000 hours.
Do you have an old model? Upgrade your unit with more powerful one.
Follow us in social media
Please share with your friends